Junior Dos Santos vs. Mark Hunt: Key Takeaways from UFC 160's Co-Main Event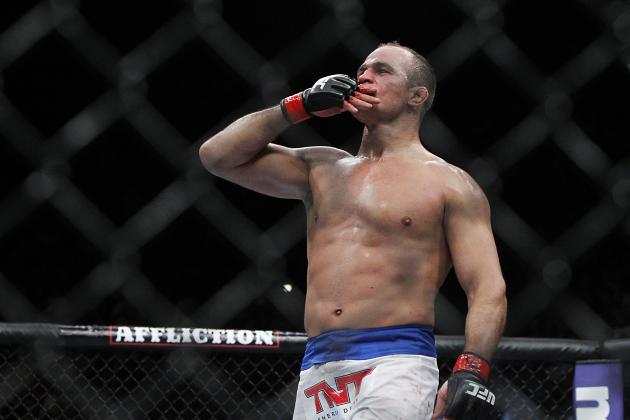 Gary A. Vasquez-USA TODAY Sports

Heading into his bout with Junior dos Santos, Mark Hunt, for all the support he and his incredibly entertaining style of fight have received of late, was thought by many to be in over his head.
It wasn't just a matter of how lacking his ground game has always been. In Dos Santos, Hunt was facing a younger fighter who many still believed was close to unbeatable.
After all, the Brazilian ex-heavyweight champion is the only man to have ever defeated current champ Cain Velasquez, not to mention Frank Mir, Roy Nelson and a score of others—battering them bloody and leaving them looking wholly out of their depth.
If that wasn't enough, some people simply didn't know much about Hunt, save for what they had seen in his last few performances and his 9-7 record in MMA.
Hunt has always looked like a tough, heavy hitter, but he also looked similar to Roy Nelson, drawing too many simplistic and unflattering comparisons to a man who is a totally different fighter with a totally different style.
But as so often is the case in the world of MMA fandom, look-alikes are associated, and thus Hunt found himself quickly dismissed as another game victim, but a victim nonetheless.
Dos Santos, for his part, was coming in under a great deal of pressure.
His last effort in the Octagon saw the title ripped from his waist by Velasquez, who battered him consistently for the full five rounds, leaving him looking every inch the broken man when the judges scorecards were announced.
Were his comeback bout scheduled against anyone else in the division, Dos Santos would have such a clear advantage in firepower and offensive striking that it would be a given that he would be making the kind of statement that only a brutal KO can render:
"I'm back and I'm better than ever."
But against Hunt, it seemed like he was in a no-win situation. If he stood and traded in an attempt to look like the Dos Santos of old, he faced the very real possibility of eating heavy counters, and when they come from a man like Hunt, one is really all it takes.
If he decided to play it safe and go for the easier, more probable victory, via the takedown and submission game, it might look as if he was somewhat lesser than we have always known him to be.
He was proven to be second best to Velasquez. If he didn't go out there and prove that he was at least still the best striker in the division, then it would look like he was conceding he was second best again, to Hunt, and what would he have left after that?
Now the battle is over, and we have most of our answers and, with them, a clearer picture of how each man stands in the division.
Here are the key takeaways from perhaps the best fight of the night at UFC 160, Junior dos Santos vs. Mark Hunt.
Begin Slideshow

»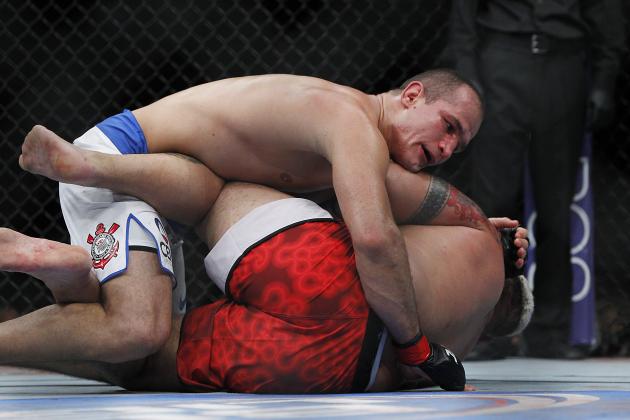 Gary A. Vasquez-USA TODAY Sports

After a highly successful first round, Junior dos Santos came out fighting smart and lashing out at Mark Hunt from a distance.
When Hunt finally managed to land his heavy punches, buckling JDS, he took Hunt down in short order, ignoring the boos from the crowd and doing what he needed to do: clear out any cobwebs while scoring points and winning the round.
Thus, the former heavyweight champion showed that when things get rocky, he could tell the difference between an escape and an opportunity for advantage, which is not always as easy as it sounds for a fighter in the heat of battle.
He could have easily frozen in that moment or tried to go toe-to-toe in order to please the crowd and prove he's still the same man who KO'd Cain, but he followed his head instead of his heart and got the takedown.
Then, in the third frame, dos Santos worked behind his jab, keeping Hunt at bay while moving around the ring, wisely choosing to present Hunt with a moving target while successfully landing in bursts of offense that allowed him time and room to employ defense.
And it also seemed to help him nail down the distance necessary to land the incredible kick that toppled the man-mountain that is Hunt.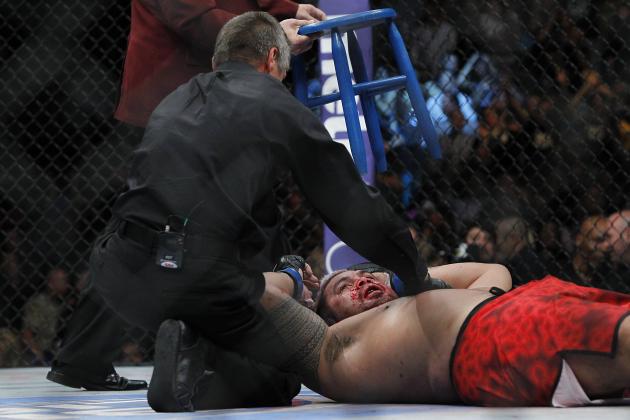 Gary A. Vasquez-USA TODAY Sports

Going into the bout, nearly everyone who has followed the career of Mark Hunt any deeper than his time in the UFC knew just how incredible his chin was.
But we also knew that he was human. We just forgot that fact, and we really shouldn't have; he did get cleanly knocked out by a punch from Melvin Manhoef years ago.
But like the rest of us, Hunt clearly thought that night was just a very bad night for him and a very good night for his Manhoef.
Truth be told, Hunt has always led with his head. That's been the bait he's used to lure fighters into his range—happy to eat three or four shots if he can land one in return.
He showed just how sturdy his chin was when he took a monster right hand from dos Santos, eating it flush, then simply hopping back up if nothing was wrong.
But on a long enough time line, even the deepest of wells run dry, especially if there is no real tax on those taking the water, 10 buckets at a time.
Hunt still has the best chin in the sport, but if he wants to continue fighting, he needs to rely upon it only as a safe haven in a siege instead of letting the front gates swing wide and the enemy to march right into the keep, over and over again.
No matter how exciting his style of fighting is, Hunt is 39 years old—an old man in a young man's game. Given how many times he's had his dome checked by the hardest strikers in combative sport, it's time to start tucking that granite chin and keeping his hands high.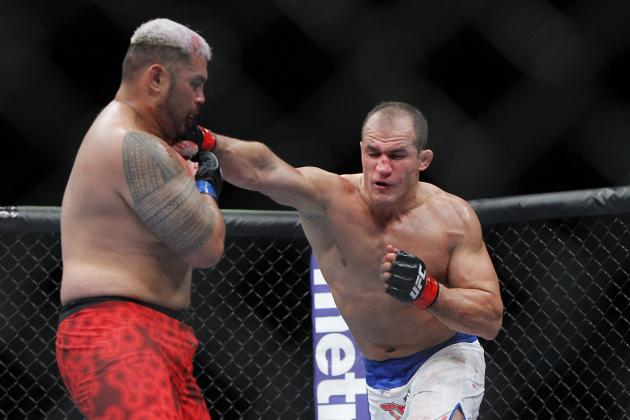 Gary A. Vasquez-USA TODAY Sports

After his brutal beating at the hands of Cain Velasquez at UFC 155, many honestly wondered if Junior dos Santos would play this one safe and shoot in on Hunt, early and often.
No one would have blamed him if he had. A shot at the heavyweight title was at stake, and if a fighter doesn't want to be the champion, why fight at all?
But that isn't the kind of fight fans of dos Santos wanted to see, and he knew this because he's always fought in a way that was true to himself: as an aggressive fighter, hunting the finish with his bare hands.
Yes, his detractors will say he played it safe…once, in a three-round fight. The rest of the bout was contested on the feet, and the man we saw take the title by storm the first time in 2011 had no crisis of identity as he squared off against Hunt.
The man we saw win the next shot at the heavyweight title pushed all his chips in and said: "This is who I am and who I've always been, and this is how I fight."
And he won, by KO.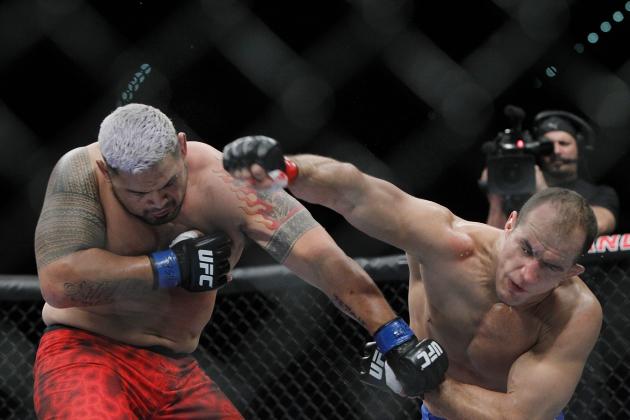 Gary A. Vasquez-USA TODAY Sports

Given all the natural attributes Mark Hunt has, even at age 39, he still has some time left to make some serious money and perhaps even earn a shot at the title down the road, but only if he can bounce back.
Up to this point, Hunt has been content to plod forward, looking to connect his sledgehammer fists to the head of his opponents, and that's been about the extent of his plans.
Yes, he's gotten into better shape than he used to be, but there are still a lot of basic changes he can make in order to maximize the time he has left in the sport while increasing his chances of starting another winning streak.
Clearly, it would be good if he utilized something more than token defense; there's no shame in blocking strikes, or even taking a step or two back in order to let them pass harmlessly by.
And getting in even better shape would be, of course, in his best interest. It would certainly help his cardio, not to mention his speed.
If he could achieve that, he could be showing much more movement in the fight, making the task of cutting off the cage easier while being unpredictable all at the same time, and that is what he really needs more than anything: the ability to be unpredictable for an entire fight.
There can be no doubt that he is working on his ground game and takedown defense, but he's first and foremost a striker, and he's probably never going to get to the point where he stuffing takedowns like Chuck Liddell.
The power in his hands is going to be around for quite a while; now would be a good time to really become a more well-rounded and thus dangerous fighter.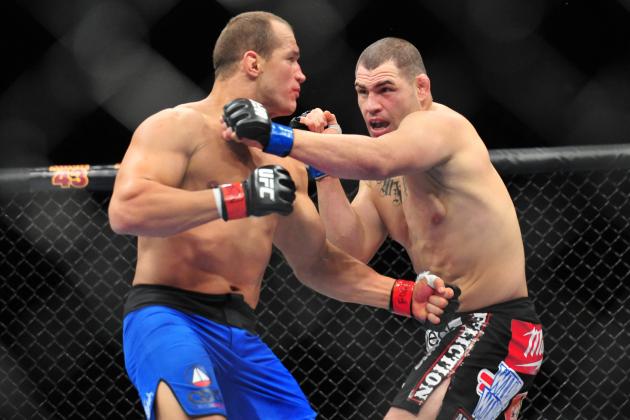 Gary A. Vasquez-USA TODAY Sports

After Junior dos Santos defeated Hunt, Cain Velasquez took Antonio "Big Foot" Silva apart with embarrassing ease, flooring him with a heavy punch and then swarming on him until the bout was called.
After such impressive performances by both men, now is the perfect time for their rubber match. They are both clearly at the top of their games, and in truth, there is really no other honest competition for either man than each other.
Given how there have been some puzzling fights made of late, all under the notion that they "just make sense," a third bout between Velasquez and dos Santos actually does make sense, for all the right reasons.