Love & Basketball: Is Kevin Durant Dating WNBA Lynx Star Monica Wright?
Use your ← → (arrow) keys to browse more stories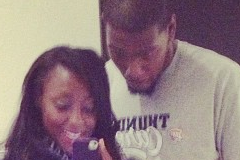 Could we be witnessing another "Love & Basketball" type relationship with the Oklahoma City Thunder? We already know Russell Westbrook and his girlfriend Nina met in college when they were both playing for UCLA. ...