Biggest Takeaways from Saturday's NHL Playoff Action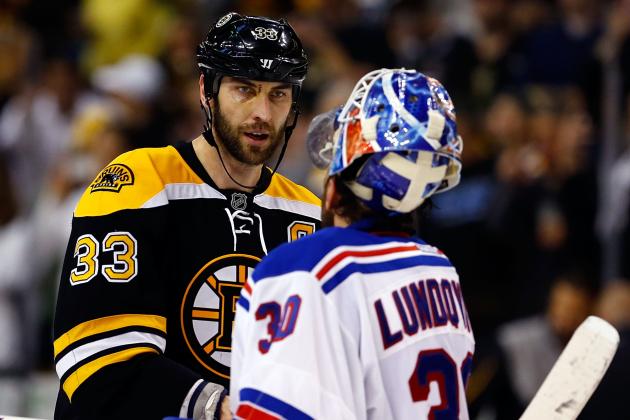 Jared Wickerham/Getty Images
The Bruins move on after defeating the Rangers 3-1 in Game 5.
Two teams facing elimination handled their challenges in very different ways during Saturday night's NHL playoff action.
In the Eastern Conference semifinal, the confident Boston Bruins were able to parlay their 3-1 series lead into a trip to the next round with their 3-1 victory in Game 5 over the stumbling New York Rangers.
In Chicago, meanwhile, the Blackhawks were not about to roll over in a 3-1 series deficit of their own.
Their leaders stepped up, and their role players scored goals as they threw a dominating blanket over the upstart Detroit Red Wings with a 4-1 win to send the series back to Detroit for Game 6 of the Western Conference semifinal on Monday.
One series ends; the other extends. Here's a look at the top takeaways from Saturday's action.
Begin Slideshow

»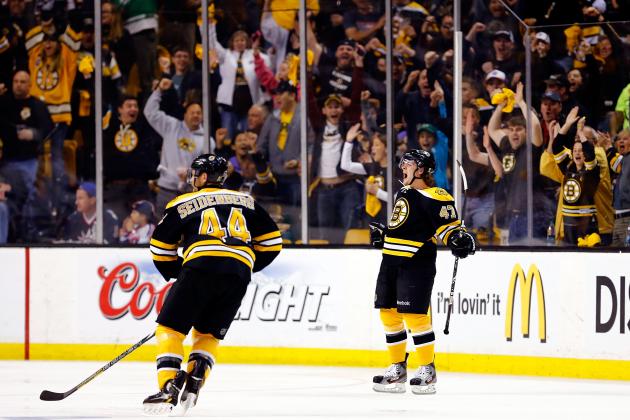 Jared Wickerham/Getty Images
Torey Krug is the toast of the town in Boston.
The Boston Bruins beat the New York Rangers 3-1 on Saturday to win their Eastern Conference semifinal 4-1 and advance to the next round against the Pittsburgh Penguins.
The game was close, but the writing was on the wall. The Rangers got out to an early 1-0 lead, but Boston methodically took over the game, limiting chances and keeping momentum until the clock finally struck midnight.
The Bruins' "Merlot Line" was impactful again, as Gregory Campbell potted two goals, including the empty-netter. But Boston's offensive hero of the series was rookie Torey Krug. The youngster picked up another power-play goal on Saturday, becoming the first rookie defenseman in the NHL expansion era to score four goals in his first five playoff games.
Krug is an undersized player with a rocket from the blue line who has become an instant fan favorite. Fans in Boston love an underdog who exceeds expectations. Alongside players like Daniel Paille, Shawn Thornton and Johnny Boychuk, Krug is becoming an important face of Boston's playoff run.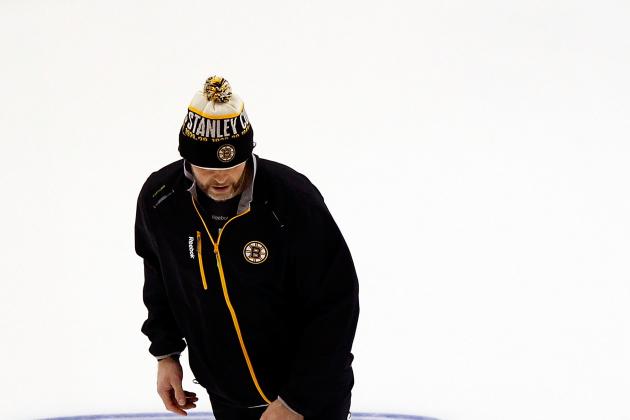 Alex Trautwig/Getty Images
Jaromir Jagr will be facing off against his old team in Round 3.
Boston will face the Pittsburgh Penguins in the Eastern Conference Final, which will be a homecoming for 41-year-old right-winger Jaromir Jagr. Jagr was drafted by the Penguins and won his only two Stanley Cups during his 11 years in Pittsburgh, in 1991 and 1992.
Now that Boston has made it to Round 3, it will owe Dallas a first-round draft choice for its late-season acquisition of Jagr.
The Bruins have to be pleased to have reached the final four, but it Jagr hasn't produced as expected. The Czech sniper is a minus-two and has now taken 36 shots in the playoffs without scoring a goal, the highest rate of futility so far this year.
As a member of the Flyers in 2012, Jagr had seven points in six games as Philadelphia handed Pittsburgh an unexpected first-round defeat. If he can replicate that production for Boston this year and help catapult them to another Stanley Cup Final, that first-rounder will be a draft pick well spent.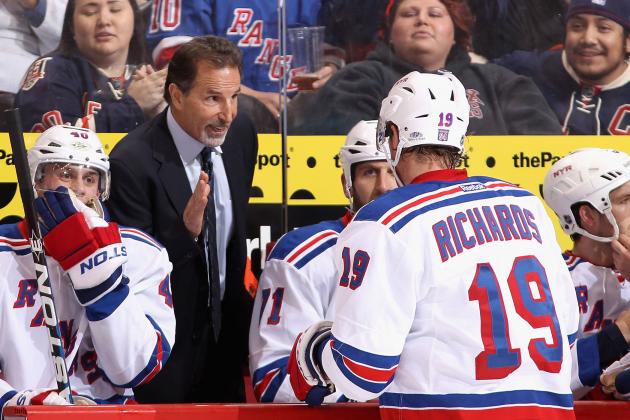 Christian Petersen/Getty Images
Will John Tortorella and Brad Richards both return to New York next season?
In 2004, coach John Tortorella and center Brad Richards lifted the Stanley Cup together in Tampa Bay, where Richards won the Conn Smythe Trophy as playoff MVP.
In 2013, Richards spent the last two games of his team's playoff run as a healthy scratch with a $60 million contract. Tortorella stuck with his belief that the New York Rangers were better served by Kris Newbury at center for the Rangers' must-win Game 5 against Boston.
Newbury played just seven shifts in the game for 5:03 in total ice time and was on the ice with linemates Derek Dorsett and Michael Haley when Roman Hamrlik coughed up the puck that led to Gregory Campbell's game-winning goal at 13:41 of the second period.
To his credit, Tortorella accepted responsibility for failing to get the best out of top players like Richards and Rick Nash after his team's defeat. "It falls on me," he said at his series-ending press conference, via Katie Strang of ESPN.
Will this be the end of Tortorella's often-explosive tenure behind the Rangers bench?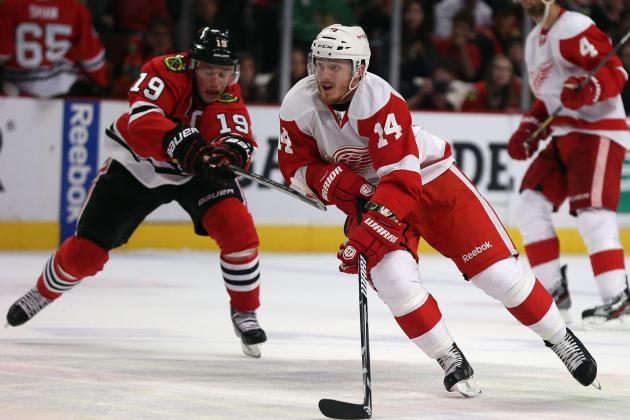 Jonathan Daniel/Getty Images
Jonathan Toews got out of the penalty box and onto the scoresheet in Game 5.
In Game 5, the Chicago Hawks got better and better as the game went on, matching their Game 1 success with another 4-1 win against Detroit.
Joel Quenneville turned back to his Cup-winning core, reuniting Patrick Sharp, Jonathan Toews and Patrick Kane at forward along with Duncan Keith and Brent Seabrook on defense. Seabrook, in particular, responded with one assist and seven shots in 23:20 of ice time, while Toews finally notched his first goal of the playoffs.
Chicago's role players also made important contributions. Andrew Shaw scored two goals, while Bryan Bickell potted the Hawks' first tally to grab the important early lead.
When the Hawks fell behind Vancouver 3-0 in the 2011 playoffs, they battled all the way back to overtime of Game 7 before eventually losing that series. Fans saw the same resiliency Saturate night.
Detroit may be the Cinderella of the 2013 playoffs, but it will have to mount a much better effort at Joe Louis Arena on Monday if it hopes to avoid a Game 7 showdown.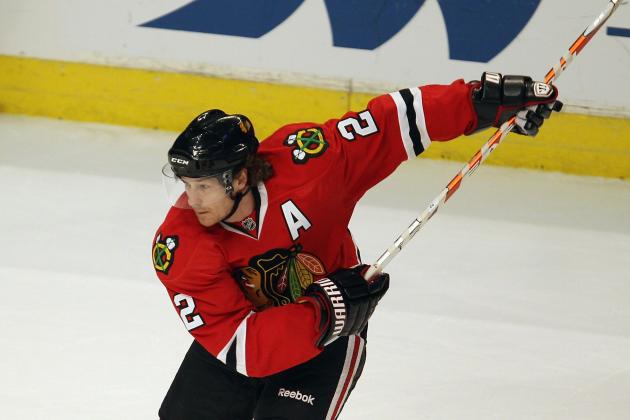 Jonathan Daniel/Getty Images
Duncan Keith was a monster power-play quarterback.
Saturday's game was tied at 1-1 midway through the second period when Detroit took two uncharacteristic penalties in quick succession. Chicago burned the Red Wings on both, and that was basically the game.
Chicago hadn't scored with the man advantage since the first period of Game 1, meaning Detroit had successfully killed 15 straight penalties, including a Carlo Colaiacovo holding minor in the first period. But Drew Miller is an important part of that penalty-killing unit, so when he took a hooking penalty at 11:39 of the second, the Hawks sprung into action.
They owned the puck for almost the entire two minutes until Andrew Shaw was able to deflect a Duncan Keith slapper past Jimmy Howard to give Chicago the lead at 13:08. Just over two minutes later, Justin Abdelkader found himself in the box for cross-checking, and this time it took the confident Hawks snipers only 12 seconds to extend their lead to 3-1.
The Red Wings stayed out of the box for the rest of the night. With Chicago's power play suddenly a thing of beauty once again, Detroit would be well-advised to keep the penalties to an absolute minimum on Monday in Game 6.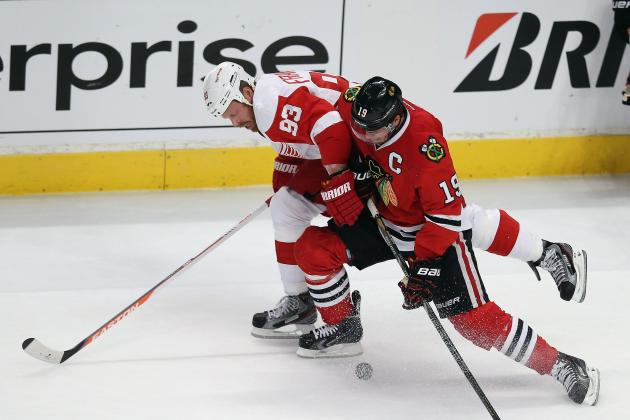 Jonathan Daniel/Getty Images
Jonathan Toews rebounded from his uncharacteristic meltdown in Game 5.
Jonathan Toews is a 2013 finalist for the NHL's Mark Messier Leadership Award, which made his undisciplined play in Game 4 so noteworthy.
A Stanley Cup winner and Olympic gold medalist, Toews has been showered with accolades over the course of his career. But as the Hawks fell into a 3-1 hole against Detroit, he simply looked like a pouty 25-year-old who wasn't getting his way.
Toews' unraveling drew attention from hockey writers throughout North America, including Cam Cole of The Vancouver Sun. He quotes Toews as understanding that he needed to move on and play a different role in Game 5:
When things go well for our team, sometimes maybe I get more credit than I deserve, and I think same goes the other way. And I understand that's part of it. Our best players need to be our best players. We need to lead, we need to grab the rope and start pulling for the rest of the guys, and it starts with myself.
Toews did his bit on Saturday. He played inspired hockey, stayed out of the box and finally potted his own first goal of the playoffs—a power-play marker that gave the Hawks a 3-1 lead and essentially sealed the game.
If Toews can continue to put his best foot forward, the Wings could have a tough time grabbing that final victory they need to advance to the Western Conference Final.
Thanks for reading. Feel free to follow me on Twitter for early links to my upcoming stories and other hockey news: Follow @pool88