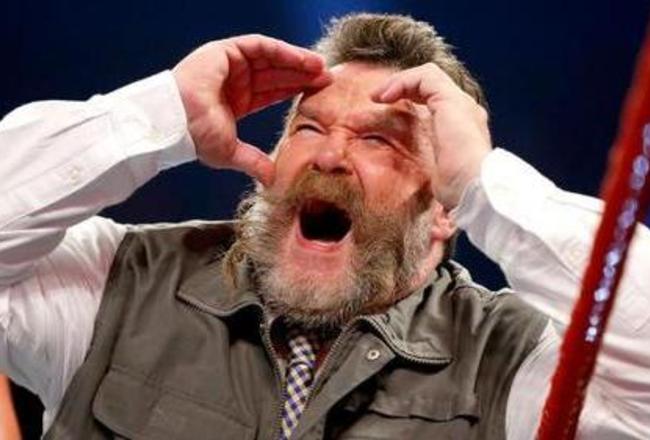 photo via ign.com

This was the week of extreme.
We had John Cena and Ryback in a Last Man Standing match, Big Show getting punted in the head and perhaps the most punishing of all, having to sit through 3MB and The Usos for 15 minutes on Main Event.
Most fans probably tapped out at that point, or threw themselves through an electronic wall like Cena and Ryback.
It was also the week of concussions. Triple H showed us what a wuss Dolph Ziggler has been by not showing up to work. Hunter gladly took on Michael McGilliAxeHennig after his head injury, even going so far as to threaten to fire the company doctor.
Hunter doesn't have time for the Hippocratic Oath!
Well, I spent enough time ragging on Hunter earlier this week, so now enjoy this free Hunter-less edition of Worst of the Week and hope that the next seven days will be better!
No. 5: Where's My Match?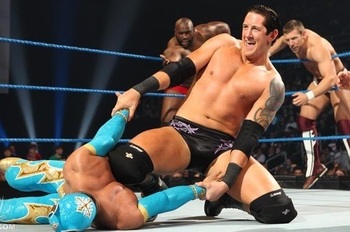 photo via fanpop.com
While Wade Barrett vs. Sin Cara on Main Event wouldn't have set the world on fire, it was better than the old bait-and-switch that WWE pulled on us.
Not only did the advertised match not happen, but there was also no explanation as to why it didn't.
With this match not airing, we saw Alberto Del Rio take on Big E Langston. It wasn't a good call.
On Raw, Langston defeated Del Rio, who is the No. 1 contender to the World Heavyweight Championship. That's a big deal. WWE decided to undo that two days later because it felt like it.
Besides the strange booking, not bothering to explain why a match didn't take place is just lazy. It took advantage of the fans who were interested in watching the match and further destroyed the credibility of the nearly worthless Intercontinental title.
No. 4: No One Standing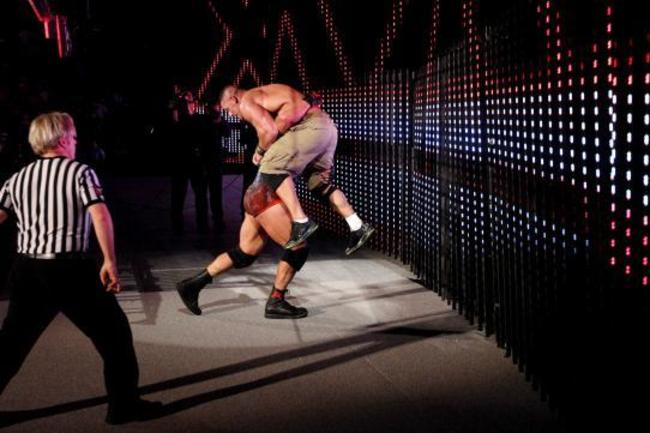 photo via wwe.com

It's WWE's fault that it couldn't give us a finish to Ryback vs. John Cena.
Ryback has lost six pay-per-view matches in a row, so a seventh would have greatly damaged his heel run. John Cena just won the title, so a loss this soon would have undercut all of that build to him finally winning the title back.
So, WWE had to give us a non-finish.
In a Last Man Standing match that goes past the 10-count, shouldn't the winner just be the first man to stand up? The match was supposedly so brutal that neither man could get to their feet. The next night, though, WWE showed us that John Cena was able to get up and walk out on his own, and Ryback was healthy enough to climb an ambulance.
Why, that's not very extreme at all!
Had WWE built up some credible heels over the past few years, it wouldn't have been put in this position. And what's to stop them from giving us another wonky finish in the ambulance match? Maybe they'll call it another no-contest after we find out the ambulance driver didn't have his EMT-1 certificate.
No. 3: Worst. Election. Ever.
photo via wwe.com
There is nothing more patronizing in WWE than the voting choices it gives their fans.
We're not controlling the show like the company claims. We're just booking a match that would have been booked anyway.
On Raw, we were graciously given the opportunity to decide who should take on Jack Swagger. The choices were a bit of a slap in the face, though.
Would it be The Great Khali, R-Truth or Randy Orton? It would have been nice had Disco Inferno, Gene Okerlund or K-Kwik been added just for fun.
Instead, it was the expected voting massacre, with Orton picking up more votes than the other two guys did combined, times three.
This most recent voting debacle would be like baseball fans getting to vote on who should face the Red Sox: the Miami Marlins, the Houston Astros or the New York Yankees?
Overall, though, WWE was bragging that it received more than 100,000 votes. That's like one in every 30 people watching the show voting. Congratulations?
No. 2: I'd Rather Knot Watch This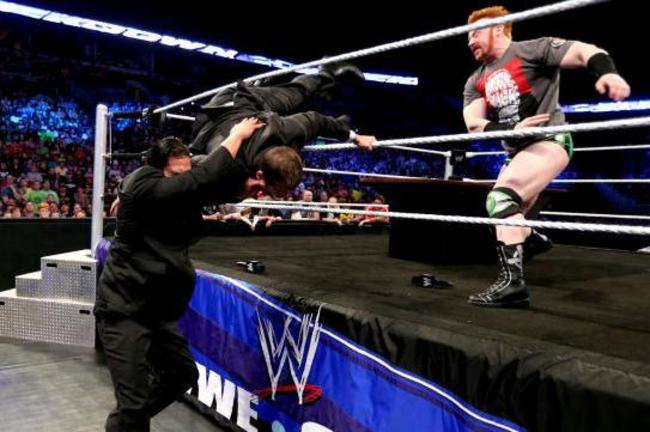 photo via wwe.com

The only thing more mysterious than the Gordian Knot is trying to figure out who thought this segment was a good idea.
SmackDown subjected us to Damien Sandow heeling on the crowd and trying to get Matt Striker to figure out the dreaded Gordian Knot. After he failed, a jovial Sheamus joined in on the fun and brought a set of jokes he probably wrote on a napkin at Denny's that morning.
The question is: Which match exactly is this segment actually going to lead to?
Sheamus has already beat Sandow in five singles matches, so that's not too exciting. Maybe it was just a way to kill some time, and Sheamus will squash him next week.
Also, let's be honest, Sheamus is a bit of a jerk. He threw an innocent man into Sandow and then had a good laugh about it. What did Striker do to deserve that? Sure, he's annoying, but that's not a crime.
If it was, then it would be Sheamus who gets thrown into someone else every week.
No. 1: Shut Your App!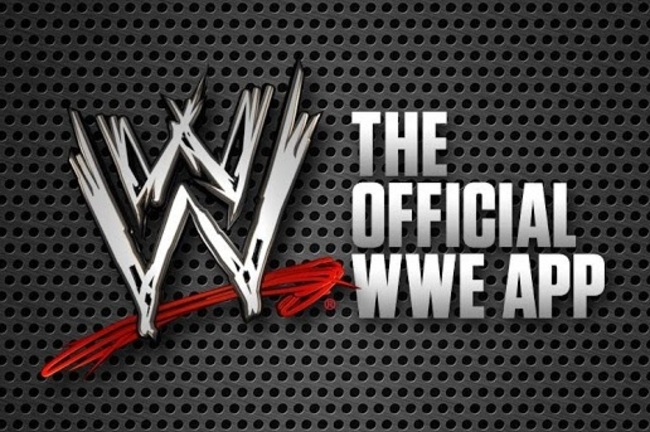 photo via play.google.com

It seems that every week WWE is shoving something down our throats.
Whether it's Twitter, Sonic, how to order pizza, doing the Fandango or downloading their app, it hits us over the head with it until you suffer a concussion worse than Triple H's (well, this article was almost Triple H-less).
Countless times on Raw, WWE mentioned its app, and how we can use it to vote and watch other Superstars cutting promos or watching matches. Really, if what was on the app was that important, the company would just air those segments on the show itself.
Basically, the entire concept of the app makes no sense.
The backbone of WWE programming is the wrestling itself. WWE doesn't want us to watch that, though. Instead of promoting wrestling as an entertainment form, it's promoting watching other people watch wrestling as entertainment.
Will we soon have pay-per-views where we pay $50 to watch Ryback watch the entire show and awkwardly grunt now and then?
Well, that's all for this week. Agree? Disagree? What was your worst moment of the week? Sound off below!
Keep Reading