MLB's Longest Home Run Blasts of the Week (May 19-May 25)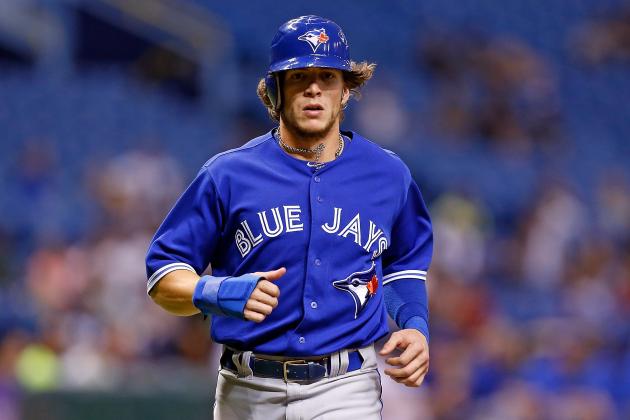 J. Meric/Getty Images

As the week wraps up, it's time to take a look back at the longest home runs of the past seven days, an exercise made much easier thanks to the ESPN Home Run Tracker.
Entering the week, the longest home run of the season was a tie between Angels left fielder Mark Trumbo and Cubs first baseman Anthony Rizzo. They each hit 475-foot bombs earlier this year.
Did anyone knock them off in the past week? Take a look at the 10 longest home runs of the past seven days to find out.
Begin Slideshow

»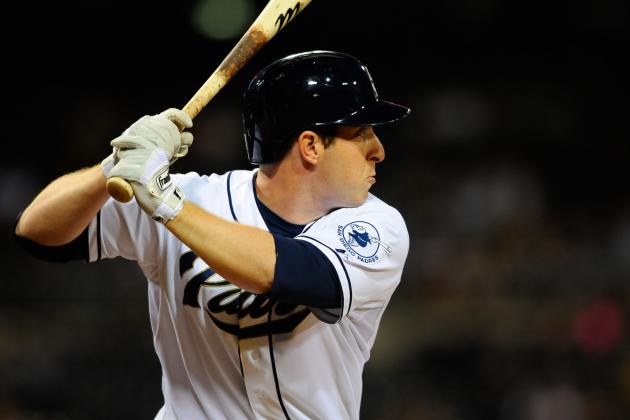 Christopher Hanewinckel-USA TODA

Date: May 22
Vs: Tyler Lyons, St. Louis Cardinals
Season HR: 5
Average 2013 HR Distance: 409.4 Feet
One of the NL Rookie of the Year front-runners entering the season, Jedd Gyorko has started to heat things up for the Padres and is currently hitting .269/.333/.427 with 16 RBI and 23 runs scored.
He flashed great power in the minors, hitting 55 home runs over the past two seasons, and he should wind up being one of the most productive second basemen in the league before too long.
He took Cardinals' starter Tyler Lyons deep in his major league debut in this one. That would be all the Padres mustered against him though, as he went seven innings and allowed just four hits and one run to pick up the victory.
Date: May 25
Vs: Alfredo Figaro, Milwaukee Brewers
Season HR: 10
Average 2013 HR Distance: 404.7 Feet
Pedro Alvarez continues to be one of the most frustratingly inconsistent hitters in all of baseball, but when he gets hot, he has as good power as anyone in baseball.
Saturday was one of those good days, as he went 2-for-3 with a pair of home runs and a walk in the Pirates' 5-2 victory.
After hitting a two-run homer off Brewers starter Mike Fiers in the bottom of the second, he launched this one over the second deck in right field off reliever Alfredo Figaro in the top of the ninth to the extend the Pirates' lead to 5-1.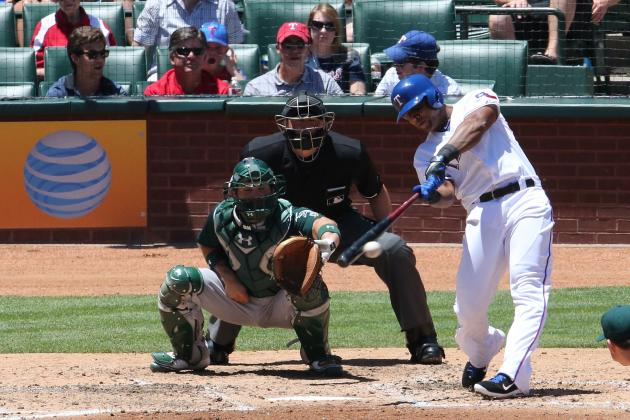 USA TODAY Sports

Date: May 22
Vs: Jarrod Parker, Oakland Athletics
Season HR: 10
2013 Average HR Distance: 393.8 Feet
The Rangers jumped on A's starter Jarrod Parker early in this one, scoring three runs in the first inning on the strength of home runs from David Murphy and Adrian Beltre.
Murphy hit a two-run shot, but it was Beltre who crushed a moonshot into the batter's eye in dead center field, putting the Rangers up 3-0.
The home run was the 11th of the season surrendered by Parker in just 54.2 innings of work. He allowed just 11 all of last season in 181.21 innings as a rookie.
Justin Edmonds/Getty Images

Date: May 21
Vs: Ian Kennedy, Arizona Diamondbacks
Season HR: 9
Average 2013 HR Distance: 405.3
After missing all but 47 games of the 2012 season with a nagging groin injury, Troy Tulowitzki is back healthy this season and is once again the top all-around shortstop in the game.
With a .338/.405/.616 line he's not only been the top offensive performer at his position, but one of the best in all of baseball, leading the potent offense of a Rockies team that has been surprise contenders.
This solo shot off Ian Kennedy in the bottom of the third put the Rockies up 3-0, as they went on to win 5-4 with a walk-off single from Wilin Rosario in the bottom of the 10th.
Date; May 25
Vs: R.A. Dickey, Toronto Blue Jays
Season HR: 9
Average 2013 HR Distance: 404.7 Feet
After enjoying a breakout season last year, Adam Jones has continued his climb to stardom this year, hitting .316 with nine home runs and 33 RBI entering play on Sunday.
Jones connected off reigning Cy Young winner R.A. Dickey for his ninth of the season on Saturday, chasing Dickey from the game and putting the Orioles up 6-3. They wound up winning 6-5, as the long ball proved to be the difference.
The shot was the second-longest of his career so far, as he hit one 452 feet off another Blue Jays pitcher in Kyle Drabek last April.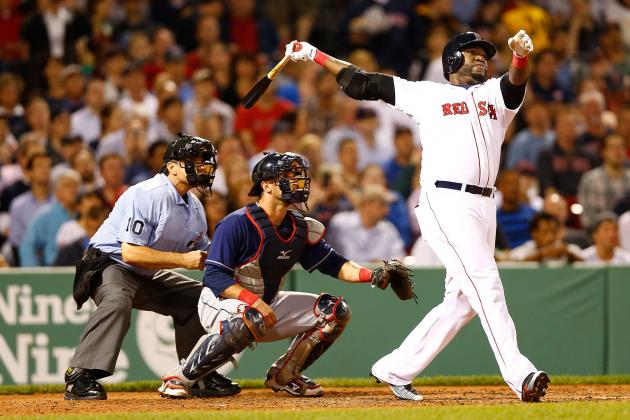 Jared Wickerham/Getty Images

Date: May 23
Vs. Zach McAllister, Cleveland Indians
Season HR: 8
Average 2013 HR Distance: 416.1 Feet
After missing the first 15 games of the season this year, David Ortiz has made up for lost time, as he has eight home runs and 34 RBI through his first 31 games this year.
Even at 37 years old, he remains one of the most dangerous sluggers in the game, and he is capable of absolutely unloading on a pitch.
This one off Indians starter Zach McAllister cut the Red Sox deficit to 4-3 in the bottom of the third, but that would be the end of their scoring as they went on to get crushed, 12-3.
Date: May 19
Vs: Derek Holland, Texas Rangers
Season HR: 9
Average 2013 HR Distance: 407.9 Feet
Coming off an MVP season that saw him capture the Triple Crown, many wondered what Miguel Cabrera would do for an encore as he tried to duplicate those phenomenal numbers.
Somehow, he's managed to be even more impressive, as he currently leads the AL with a .385 average and 57 RBI and has hit six home runs in his past five games.
His bomb off Rangers' starter Derek Holland in the top of the third was his first of three in the game, for the second three-homer game of his impressive career. It tied his longest home run of the season, but was made more impressive by the fact that it was to the opposite field.
Date: May 23
Vs. Ervin Santana, Kansas City Royals
Season HR: 10
Average 2013 HR Distance: 426.3 Feet
After turning in perhaps the greatest rookie season in baseball history, Mike Trout entered 2013 with tremendous expectations, and so far he has been great once again with a .957 OPS to kick off the season.
His 10th home run of the season was a bomb to dead center field off Royals newcomer Ervin Santana in the top of the first inning, helping the Angels jump out to an early lead on their way to a 5-4 victory.
The shot marked the longest of his young career, as his previous longest was a 445-footer off Red Sox starter Clay Buchholz last season.
Date: May 21
Vs: Yuniesky Maya, Washington Nationals
Season HR: 8
Average 2013 HR Distance: 405.9 Feet
Though their pitching has been inconsistent, the Giants offense has exceeded expectations so far this season, and with a .302 average and .802 OPS, Pablo Sandoval has been a key bat in the middle of the lineup.
After homering in three straight games from May 11-14, Sandoval went six games without a long ball before crushing this one to dead center.
The blast gave the Giants a walk-off win in the bottom of the 10th and was the longest of the 84 home runs Sandoval has hit in his six-year big league career.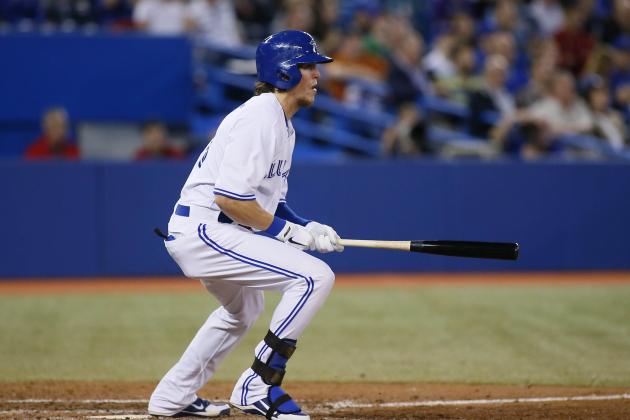 John E. Sokolowski-USA TODAY Spo

Date: May 21
Vs: Alex Cobb, Tampa Bay Rays
Season HR: 7
Average 2013 HR Distance: 426.4 Feet
Colby Rasmus looked the part of a future star when he first broke into the league with the Cardinals, but he has yet to put it all together in this his fifth big league season.
After tying a career-high with 23 home runs last season, he has hit seven through his first 156 at bats so far this season.
The shot off Cobb came in the bottom of the fifth inning and was the only run the Rays' breakout star allowed through 6.1 innings of work on his way to his fifth win of the season. Rasmus has actually hit one further this season, with a 468-footer off Alfredo Aceves back on April 6.