New Kings Owners Considering Front-Office Changes?
Use your ← → (arrow) keys to browse more stories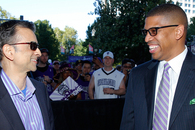 Rocky Widner/NBAE via Getty Images
The new ownership won't take control of the Kings for at least another week, but the process of sorting out the future has already begun. New majority owner Vivek Ranadive met briefly with Kings basketball president Geoff Petrie on Thursday. Petrie's contract expires at the end of June. Ranadive said there will be an urgency in sorting out the basketball operations. Besides Petrie, a decision has to be made on coach Keith Smart. While the rest of the coaching staff is not under contract for next season, Smart's contract runs through the 2013-14 season.