Velasquez vs Silva 2 Fight Card: Live Blog for UFC 160's Main Event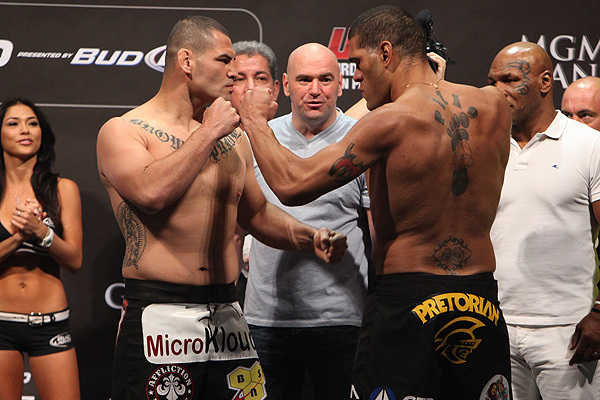 Photo by sherdog.com (Dave Mandel)

Saturday night's UFC 160 fight card will be headlined by a heavyweight title match between Cain Velasquez and Antonio Silva.
The pairing marks a rematch of a prior fight less than a year ago, which Velasquez utterly dominated. He later went on to recapture the heavyweight crown from nemesis Junior Dos Santos, who will also compete at UFC 160.
Silva's road to redemption began with a victory over Travis Browne, continued with a shocking come-from-behind knockout win over Alistair Overeem and ends tonight at the MGM Grand. Whether it ends in success or failure remains to be learned, but if you keep your browser here, learn it you will.
That's because Bleacher Report will be keeping you posted on all things Velasquez vs. Silva throughout the night, including pre-fight hype, play-by-play coverage and live post-fight reaction.
Please note that this blog will follow UFC 160's main event exclusively. For coverage of the larger event, tune it to the Bleacher Report's full event coverage blog.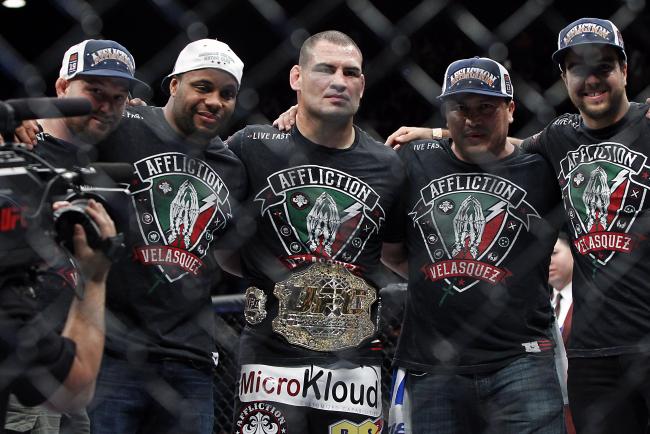 Alright folks, that wraps up our coverage for the night. Thanks for following along.
It was a great night of action capped off by a brilliant display from the best heavyweight fighter in the world. I hope you enjoyed UFC 160 and the coverage we had for you.
See you next time!
Serious question: Who can beat Cain Velasquez now? In my mind, only guy is @dc_mma, and that fight isn't happening.

— Jeremy Botter (@jeremybotter) May 26, 2013
Agree? Or did JDS do enough tonight to make you believe he's still knocking on the door?
Cain makes quick work of Bigfoot despite the fact that Bigfoot stuffed a couple takedowns. Cain vs JDS III, please.

— Ariel Helwani (@arielhelwani) May 26, 2013
I think with the results of the co-main event and the main event, a rubber match is definitely in order.
Believe Cain Velasquez will one day go down as the greatest heavyweight of all time.

— Jon Anik (@Jon_Anik) May 26, 2013
Instead of 25 minutes of ground and pound and out positioning… we got 81 seconds of ass whopping. Awesome fight. #UFC160

— Joe Lauzon (@JoeLauzon) May 26, 2013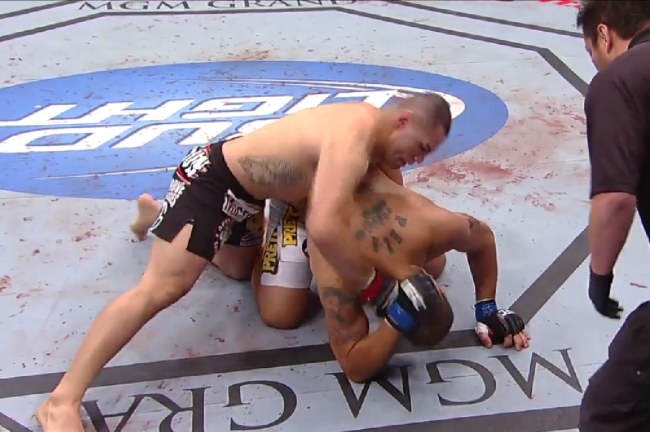 Cain Velasquez vs. Antonio Silva Results: Velasquez def. Silva via TKO (Round 1, 1:21)
Well, as much of a cake-walk as their first fight was for Velasquez, this one looked ten times easier. I'm not sure he was ever touched.
The fight only took 1:21 and it was all Velasquez. He is turning into a truly dominant fighter.
Cain Velasquez vs. Antonio Silva: Live play-by-play and results
Round 1 - Velasquez takes the center of the cage and immediately dives for a takedown, which Silva defends. Cain launches a right hand that is avoid, then comes up short on another takedown attempt. A kick from Cain slaps hard on Silva's leg.
Velasquez lands a big right hand that drops Silva. He jumps on and swarms his wounded foe. That's it! Velasquez retains his title without breaking a sweat.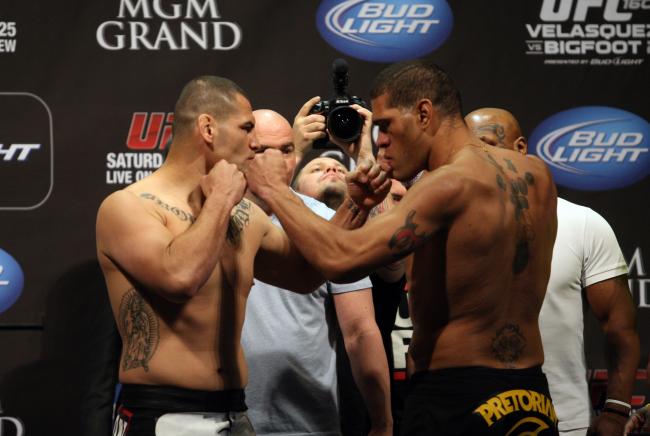 Cain Velasquez vs. Antonio Silva: Live play-by-play and results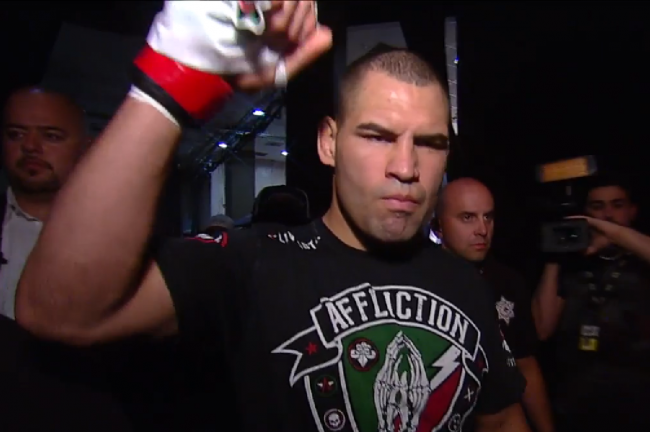 And the champ, on his way to defend the title.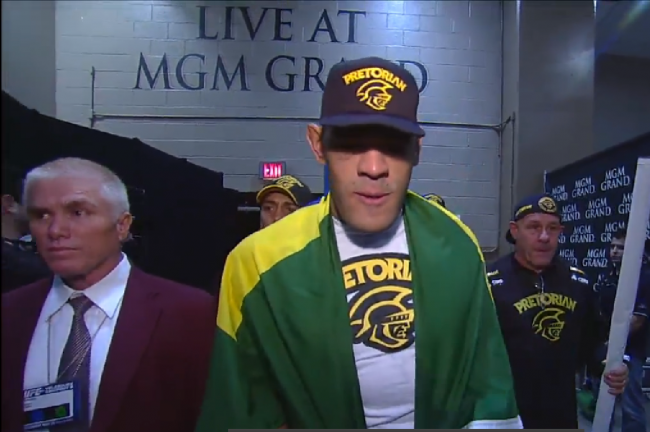 Silva, en route to the Octagon.
OK, with Dos Santos vs. Hunt in the books it's time for the main event. Here we go!
Before Velasquez vs. Silva, another big heavyweight fight is up. Dos Santos vs. Hunt. I'm thinking a knockout may ensue, but each guy's chin can withstand a lot, so it could go the full 15.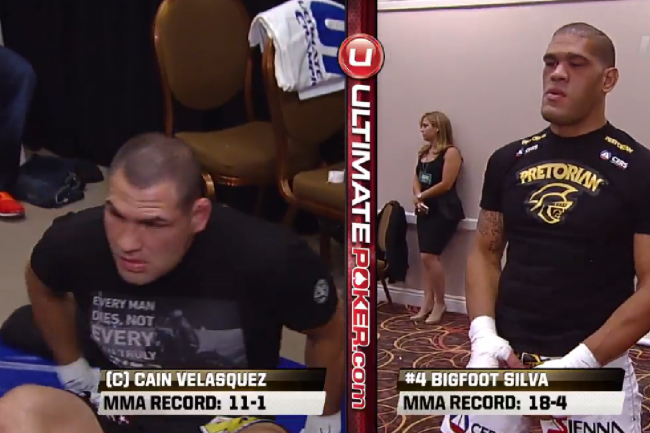 Bigfoot and Velasquez warming up backstage prior to their UFC 160 main event.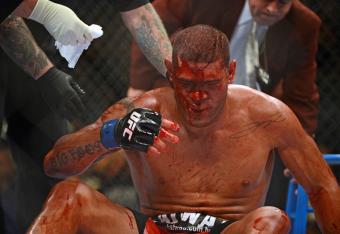 UFC 160 has been an extremely bloody event. Velasquez is going to have to improve upon his last beating of Bigfoot if he wants to standout tonight.
On to the main card!
Four fights to go before the UFC 160 main event gets underway.
UFC 160!

— Alistair Overeem (@Alistairovereem) May 26, 2013
Given Overeem's recent encounter with Bigfoot, I'm surprised he is so enthusiastic.
Anyone who wants free @ufc tickets to @ufc160 meet me at the sports book at MGM in 10 minutes

— Johny Hendricks (@JohnyHendricks) May 26, 2013
You can still catch the main card!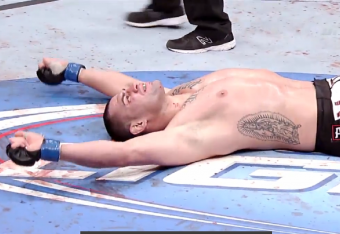 Winning his title back from Dos Santos was the defining moment of Velasquez's career, but getting that first defense would be a nice accomplishment.
Think he'll be able to do it?
Alright ladies and gents, we are officially into the FX prelims. That means 9 fights left before the main event, counting several good ones.
Great card on the whole.
BOOOOOO Facebook feed....
The play-by-play for the prelim fights can be found HERE.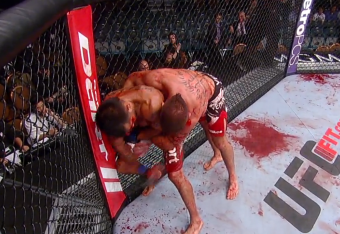 Sometimes the Roman empire would flood the Colosseum and reenact navel battles. Not to be outdone, the UFC used the first fight of 160 to fill the Octagon with Estevan Payan's blood so that subsequent fights would take place in "water."
That was gruesome.....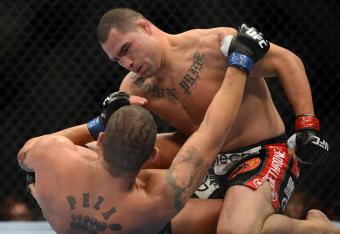 Well, the first fight of the night is about to get underway. That means we are still circa six hours out from the UFC 160 main event. But don't fret. This is a wonderfully balanced card, with many good matchups throughout.
Looking ahead, who are you taking between Velasquez and Silva? I see Velasquez repeating the type of performance he put in last time the two of these guys met.
This article is
What is the duplicate article?
Why is this article offensive?
Where is this article plagiarized from?
Why is this article poorly edited?