Selecting the All-MLB Team After 2 Months of Baseball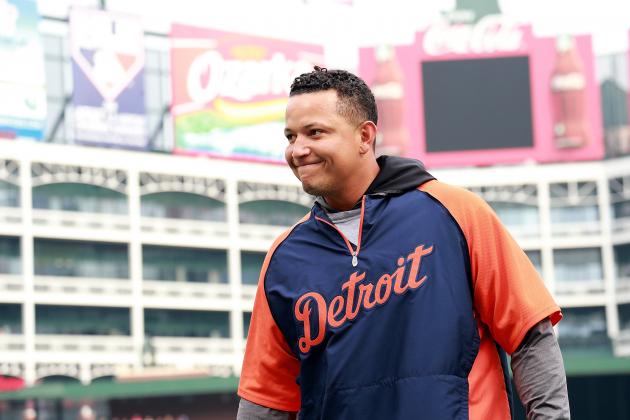 Rick Yeatts/Getty Images

I must be the owner of a faulty calendar.
We can't possibly be two months into the 2013 MLB regular season, can we? Is it possible that, in what seems like the blink of an eye, 30 percent of the season is already behind us?
Sadly, yes.
But what a two months it's been.
We've seen Yu Darvish come within an out of the 24th perfect game in baseball history, not to mention multiple no-hit bids by pitchers in both leagues be broken up late.
Multi-home run games, inside-the-park home runs, clutch hits, superb fielding...through two months, the 2013 season has had something for everyone.
Yet for all the great performances that we've seen, who has been the best of the best?
Taking a page from the NBA, imagine, if you will, that baseball names three All-MLB teams at the end of the season. Each roster is composed of a starting pitcher from each side of the mound, a closer, a designated hitter and one player at each position on the field.
Consider the players that follow your first All-MLB team.
*Unless otherwise noted, all statistics courtesy of Baseball-Reference.com and current through games of May 26.
Begin Slideshow

»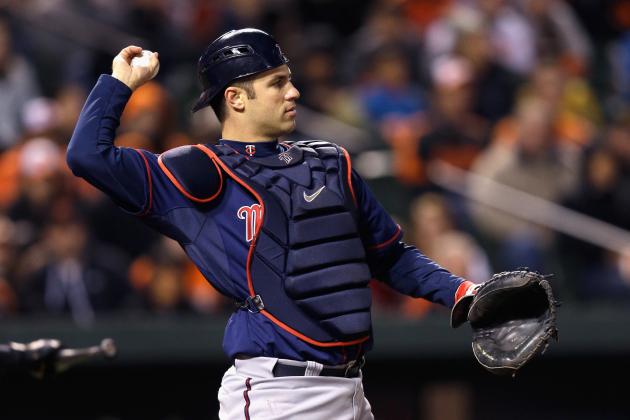 Rob Carr/Getty Images

2013 Stats: .339 BA/.894 OPS, 3 HR, 15 RBI
He might not offer much in the power department, but Joe Mauer is as polished a hitter as you'll find in baseball and the pick behind home plate for our All-MLB squad.
Mauer didn't get the nod easily, as Yadier Molina, Buster Posey and Carlos Santana are all equally deserving of the honor. But of that group, Mauer has been the most impressive in 2013.
Not only has the veteran made it clear that he's going to battle Miguel Cabrera for the AL batting crown this season, but he's calling a good game and playing solid defense behind the plate.
Take a look at Mauer's numbers compared to the other contenders for the starting spot in four defensive categories: fielding percentage (FP), caught-stealing percentage (CS), catcher's ERA (CERA) and defensive WAR (DWAR), courtesy of ESPN:
| | | | | |
| --- | --- | --- | --- | --- |
| | FP | CS | CERA | DWAR |
| Joe Mauer | .991 | .500 | 4.18 | 0.6 |
| Yadier Molina | .995 | .417 | 3.16 | 0.3 |
| Buster Posey | .997 | .206 | 3.98 | 0.1 |
| Carlos Santana | .996 | .125 | 4.44 | minus-0.7 |
Now consider the pitching staffs that each of those catchers has to work with.
Molina and Posey catch two of the best rotations in baseball, while Santana has a handful of quality, yet underachieving starters to work with.
Joe Mauer has Scott Diamond...and not much else.
That he has been as good, if not better than the rest of the contenders behind the plate despite having far less to work with on the mound is only a testament to the high level that Mauer has played in 2013.
Honorable Mention
Yadier Molina (STL): .339/.823, 2 HR, 23 RBI
Buster Posey (SF): .317/.939, 7 HR, 29 RBI
Carlos Santana (CLE): .290/.938, 8 HR, 21 RBI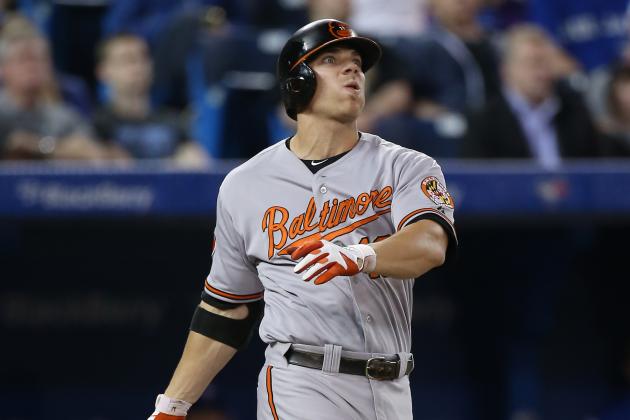 Tom Szczerbowski/Getty Images

2013 Stats: .339 BA/1.153 OPS, 16 HR, 46 RBI
I'll be the first to admit that I didn't believe in Chris Davis.
When he got off to a hot start to the season, smacking four home runs in his first four games, I wasn't impressed. As he continued to hit the ball, I remained skeptical, saying "Any minute now he's going to morph into Adam Dunn...just wait."
It's not that Davis didn't have talent, but with his penchant for striking out and his aversion to drawing walks—he set a career high last season when he walked 37 times—a fall from grace was inevitable.
Well, I'm done waiting for him to fall apart.
Already with 28 walks on the season, Davis has become a far more patient hitter, resulting in higher numbers across the board. He's picking his spots and making pitchers pay for their mistakes, assuming teams decide to pitch to him at all.
Case in point: against Toronto this past Sunday, Davis was intentionally walked twice before the game reached the sixth inning.
He leads the majors in home runs (16), slugging percentage (.721), intentional walks (seven) and OPS (1.153) while his batting average (.337) and on-base percentage (.432) are among the five highest in baseball.
Honorable Mention
Paul Goldschmidt (ARZ): .320/1.002, 12 HR, 39 RBI
James Loney (TB): .342/.901, 4 HR, 24 RBI
Joey Votto (CIN): .353/1.024, 8 HR, 23 RBI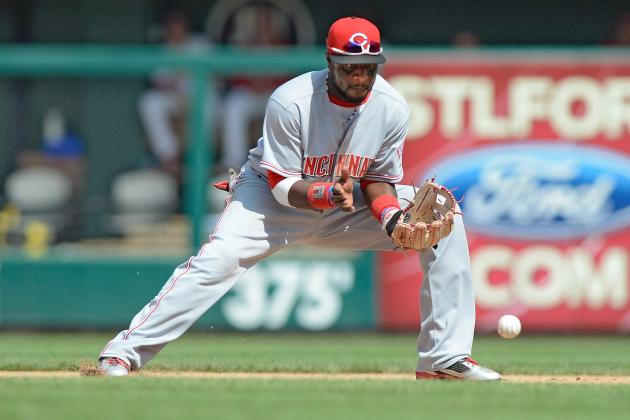 Jeff Curry/Getty Images

2013 Stats: .284 BA/.802 OPS, 8 HR, 42 RBI
Brandon Phillips might not rank among the league leaders in batting average or OPS, but there's two things that Cincinnati's second baseman does incredibly well—he knows how to produce runs for his team, and he knows how to use the glove.
The National League leader in RBI and tied with Prince Fielder for the third-most in baseball, Phillips continues to prove that he's capable of performing with the bat wherever manager Dusty Baker decides to bat him in the lineup.
Via FanGraphs, his 14.5 UZR/150 ranks fourth among all second basemen, his five DRS (defensive runs saved) second. Take a look at how he stacks up against the other contenders for the starting spot:
| | | | | | |
| --- | --- | --- | --- | --- | --- |
| | BA | OPS | RBI | UZR/150 | DRS |
| Robinson Cano | .291 | .896 | 34 | 1.4 | -3 |
| Dustin Pedroia | .333 | .858 | 25 | 10.3 | 6 |
| Brandon Phillips | .284 | .802 | 42 | 14.5 | 5 |
| Chase Utley | .272 | .814 | 25 | 16.1 | 4 |
It's that combination of production on both sides of the field that gives Phillips the nod over the rest of the field.
Honorable Mention
Robinson Cano (NYY): .291/.896, 13 HR, 34 RBI
Dustin Pedroia (BOS): .333/.858, 2 HR, 25 RBI
Chase Utley (PHI): .272/.814, 7 HR, 25 RBI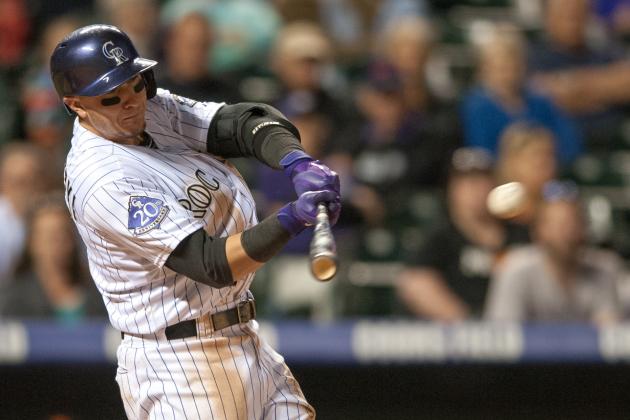 Dustin Bradford/Getty Images

2013 Stats: .338 BA/.999 OPS, 10 HR, 39 RBI
While the next wave of elite shortstops may be making its mark on baseball this season, it's a seasoned veteran who stands above the rest as the best shortstop in baseball.
Healthy after missing most of the 2012 season due to a groin injury, Troy Tulowitzki is back to putting up MVP-caliber numbers at the plate, ranking among the league leaders in nearly every offensive category.
He's also back to playing Gold Glove-caliber defense.
According to FanGraphs, he is tied for the lead in fielding percentage (.995) among all shortstops, while his 17.9 UZR/150 ranks fourth and his five DRS (defensive runs saved) third.
Honorable Mention
Brandon Crawford (SF): .285/.815, 5 HR, 25 RBI
Jhonny Peralta (DET): .326/.862, 5 HR, 21 RBI
Jean Segura (MIL): .344/.925, 7 HR, 20 RBI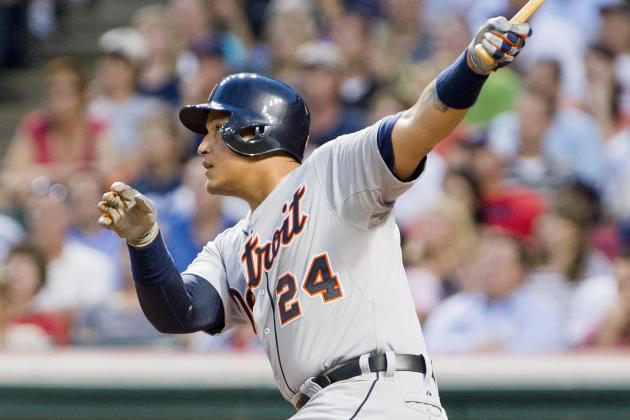 Jason Miller/Getty Images

2013 Stats: .385 BA/1.137 OPS, 14 HR, 57 RBI
Miguel Cabrera is really, really good.
That's about all the explanation his selection needs.
While there's no doubt that the reigning AL MVP is a horrible defensive player, Cabrera more than makes up for his deficiencies in the field with his continued excellence with a bat in his hands.
That he has a legitimate chance to not only repeat as MVP but to win the Triple Crown in back-to-back seasons is nothing short of extraordinary.
Honorable Mention
Josh Donaldson (OAK): .326/.943, 7 HR, 31 RBI
Evan Longoria (TB): .328/.955, 9 HR, 29 RBI
Manny Machado (BAL): .329/.874, 5 HR, 28 RBI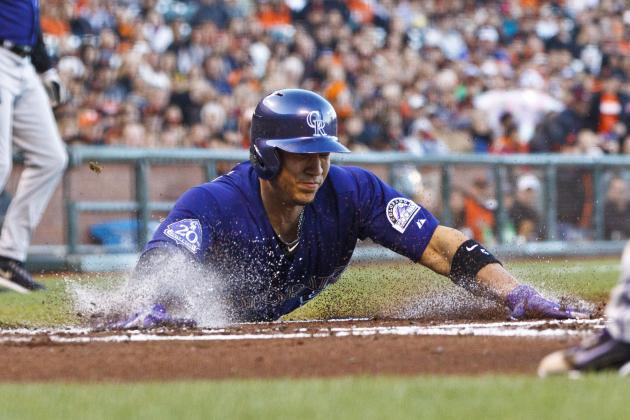 Jason O. Watson/Getty Images

2013 Stats: .306 BA/.990 OPS, 13 HR, 32 RBI
After years of padding his numbers with big-time performances at Coors Field and disappearing on the road, Carlos Gonzalez has finally figured out how to pack that home-field advantage in his luggage.
Take a look at CarGo's away splits since he made his Rockies' debut in 2009:
| | | | | |
| --- | --- | --- | --- | --- |
| Season | BA | OPS | HR | RBI |
| 2013 | .330 | 1.049 | 8 | 14 |
| 2012 | .234 | .706 | 9 | 27 |
| 2011 | .252 | .757 | 10 | 32 |
| 2010 | .289 | .775 | 8 | 41 |
| 2009 | .263 | .811 | 6 | 12 |
This season, his numbers on the road are better than they are at home. That Gonzalez is putting up the numbers he is this season without the splits heavily slanted towards Coors Field is enough for me to make him the pick here.
Gonzalez has been solid defensively, perfect on the basepaths (9-for-9 in stolen base attempts) and is among the league leaders in OPS. He leads the National League in both slugging percentage (.602) and total bases (112).
Honorable Mention
Ryan Braun (MIL): .311/.952, 9 HR, 33 RBI
Alex Gordon: .335/.877, 6 HR, 30 RBI
Justin Upton (ATL): .272/.957, 14 HR, 29 RBI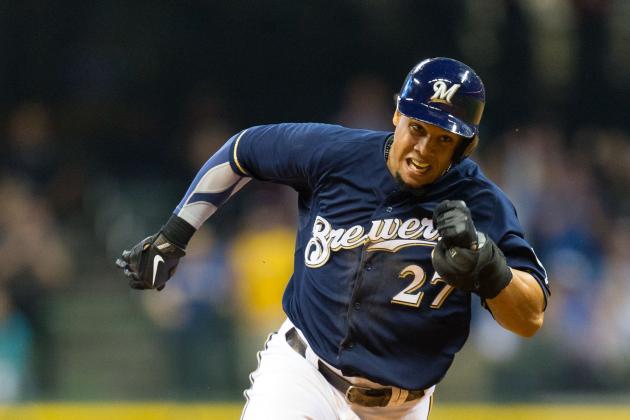 Jeff Hanisch-USA TODAY Sports

2013 Stats: .326 BA/.943 OPS, 8 HR, 23 RBI
Among the league leaders in batting average, OPS, slugging percentage (.576) and stolen bases (nine), Carlos Gomez has finally developed into the player that Baseball America thought he could be when they named him a top-60 prospect heading into both the 2007 and 2008 seasons.
While Mike Trout might have been the first player in 2013 to hit 10 home runs and steal 10 bases, his defense in center field, in place of the injured Peter Bourjos, has been mediocre at best. Defense dooms Shin-Soo Choo as well, while the gap in OPS between Adam Jones and Gomez is significant.
Gomez may not be the best center fielder in baseball, but he's played better than anyone else at the position through the season's first two months.
Honorable Mention
Shin-Soo Choo (CIN): .285/.949, 9 HR, 30 RBI
Adam Jones (BAL): .322/.893, 10 HR, 34 RBI
Mike Trout (LAA): .302/.944, 10 HR, 36 RBI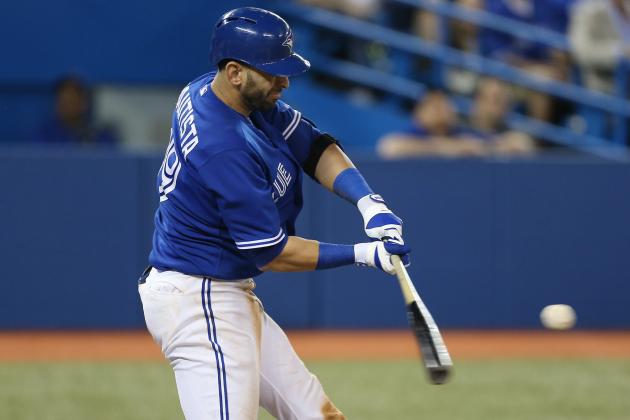 Tom Szczerbowski/Getty Images

2013 Stats: .295 BA/.969 OPS, 11 HR, 27 RBI
The second member of the All-MLB team to return to form after an injury-shortened 2012, Jose Bautista has quickly reaffirmed his place as the premier right fielder in baseball.
Bautista, who got off to a slow start, has been on a tear in May, hitting .383 with four home runs, 15 RBI and more walks (19) than strikeouts (13). He leads all right fielders in nearly every offensive category, and ranks among the league leaders in home runs (11), OPS (.969), slugging percentage (.564) and walks (30).
He's been excellent defensively as well. According to FanGraphs, only Ichiro Suzuki (16.2) has a higher UZR/150 than Bautista's mark of 15.9, and Bautista has played nearly 20 more innings than his AL East counterpart.
Honorable Mention
Daniel Nava (BOS): .299/.884, 6 HR, 32 RBI
Alex Rios (CWS): .296/.885, 10 HR, 28 RBI
Gerardo Parra (ARZ): .301/.827, 4 HR, 13 RBI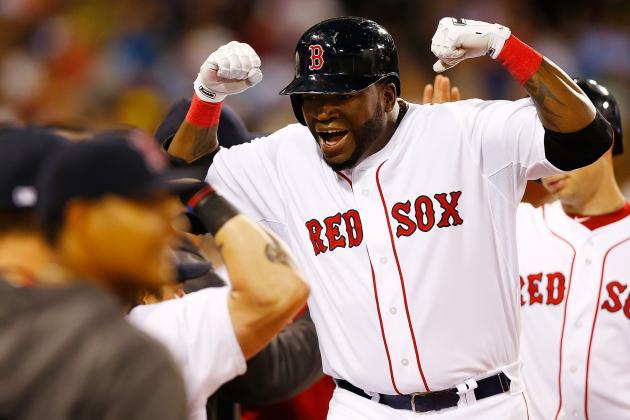 Jared Wickerham/Getty Images

2013 Stats: .341 BA/1.019 OPS, 8 HR, 34 RBI
The third and final member of the squad who was among the wounded in 2012, David Ortiz has returned to the form that made him one of baseball's most dangerous hitters.
Big Papi leads all full-time designated hitters in nearly every offensive category and, if he had enough at-bats to qualify, would rank among the league leaders in batting average, on-base percentage, slugging percentage and OPS.
While we could technically plug in a player from any position as the designated hitter, I limited this spot to players who have played more than half of their games this season at the position. Inserting someone who was listed as an honorable mention at another position wasn't an option.
Honorable Mention
Lance Berkman (TEX): .287/.831, 4 HR, 28 RBI
Travis Hafner (NYY): .262/.900, 8 HR, 25 RBI
Kendrys Morales (SEA): .293/.845, 6 HR, 26 RBI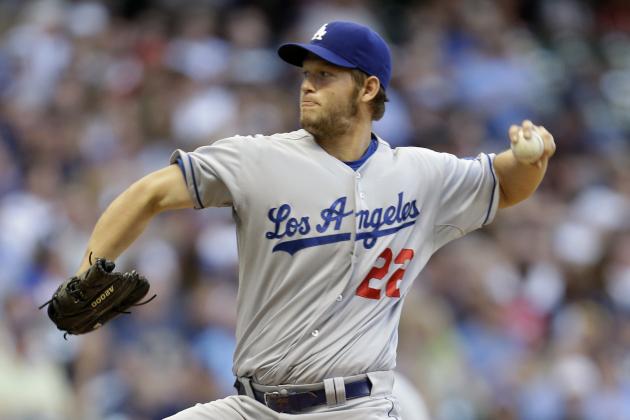 Mike McGinnis/Getty Images

2013 Stats: 11 GS, 5-3, 1.68 ERA, 0.87 WHIP, 80.1 IP, 49 H, 21 BB, 77 K
Despite a less-than-stellar performance in his last outing, there's no longer any argument—Clayton Kershaw is the best pitcher on the planet.
The two-time Cy Young Award winner leads baseball in ERA and innings pitched and is among the league leaders in WHIP, strikeouts, walks and hits allowed per nine innings of work.
While there are plenty of talented southpaws to choose from on the mound through the first two months of the season, none are as dominant as Kershaw.
Honorable Mention
Patrick Corbin (ARZ): 8-0. 1.71 ERA, 1.02 WHIP, 68.1 IP, 50 H, 20 BB, 56 K
Mike Minor (ATL): 6-2. 2.47 ERA, 1.02 WHIP, 65.2 IP, 47 H, 14 BB, 61 K
Matt Moore (TB): 8-0. 2.21 ERA, 0.93 WHIP, 61 IP, 39 H, 28 BB, 56 K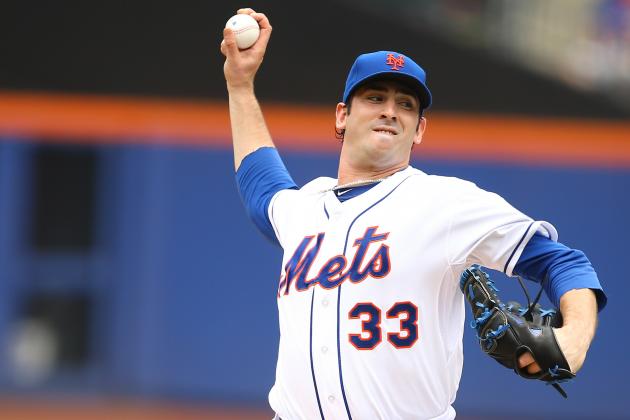 Al Bello/Getty Images

2013 Stats: 10 GS, 5-0, 1.93 ERA, 0.83 WHIP, 70 IP, 41 H, 17 BB, 74 K
Matt Harvey's first full big-league season couldn't have gotten off to a better start.
He leads the National League in WHIP and lands in the Top 5 for ERA and strikeouts, finding himself among the Top 10 in each category across all of baseball.
Harvey has been as dominant as any pitcher in the game this season. He's allowed two earned runs or less in eight of his 10 starts, has allowed three or fewer hits in four starts and gone less than six innings only once.
Not bad for a guy who wasn't even the highest-rated pitching prospect in his own organization.
Honorable Mention
Clay Buchholz (BOS): 7-0. 1.73 ERA, 1.05 WHIP, 72.2 IP, 49 H, 27 BB, 73 K
Shelby Miller (STL): 5-3. 2.02 ERA, 0.98 WHIP, 62.1 IP, 45 H, 16 BB, 65 K
Jordan Zimmermann (WAS): 8-2. 1.71 ERA, 0.87 WHIP, 73.2 IP, 55 H, 9 BB, 46 K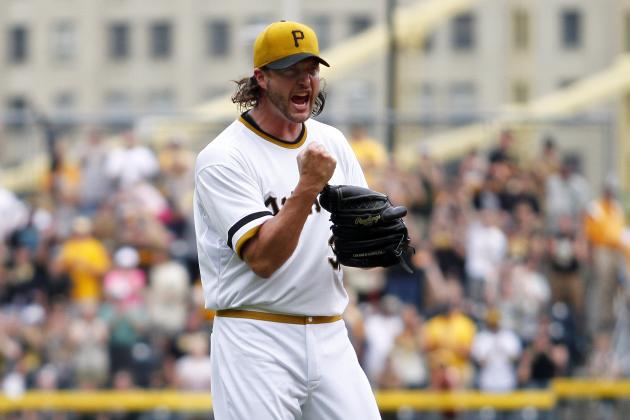 Justin K. Aller/Getty Images

2013 Stats: 25 G, 0-1, 1.19 ERA, 0.71 WHIP, 22.2 IP, 11 H, 5 BB, 34 K, 20-for-20 SV
I really wanted to pick Mariano Rivera for this spot, but doing so would be to ignore what another seasoned veteran, Jason Grilli, is doing in his first season as a full-time closer.
Grilli, 36, has been the best closer in baseball this season. The first to 20 saves, Grilli has allowed a hit in only eight of his 25 appearances on the season and allowed fewer earned runs on the season (three) than he has issued walks (five).
Opposing batters are hitting .141 against him with only two of the 11 hits that he has surrendered going for extra bases—and neither one left the park.
Honorable Mention
Edward Mujica (STL): 0-0, 2.14 ERA, 0.62 WHIP, 21 IP, 12 H, 1 BB, 19 K, 14-for-14 SV
Addison Reed (CWS): 1-0, 1.96 ERA, 0.96 WHIP, 23 IP, 14 H, 8 BB, 26 K, 17-for-18 SV
Mariano Rivera (NYY): 0-0, 1.40 ERA, 0.83 WHIP, 19.1 IP, 14 H, 2 BB, 16 K, 18-for-18 SV