5 Free Agents the LA Lakers Must Avoid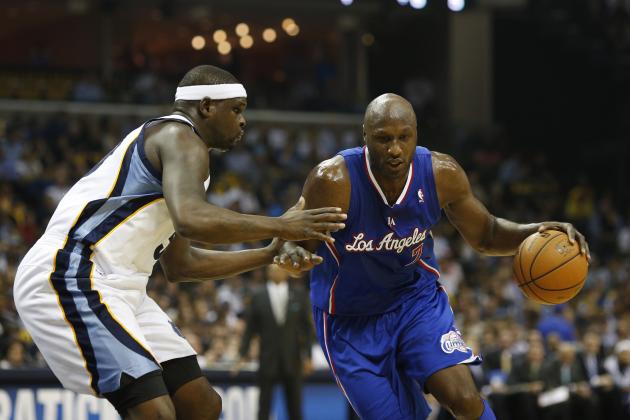 Joe Robbins/Getty Images
A reunion between Lamar Odom and the Lakers isn't a good idea.
It's clear things didn't go as well as expected for the Los Angeles Lakers during the 2012-13 season. This was a team many expected to compete for an NBA title, yet it barely slipped into the back end of the playoffs and was swept in the first round by the San Antonio Spurs.
The Lakers are likely to have the same championship aspirations in 2013-14, only they're going to need to make drastic improvements without significantly changing their roster. That's because L.A. has already committed $68 million toward players, and that figure is sure to increase to over $80 million-plus when and if Dwight Howard re-signs.
The good thing for Los Angeles is that it still has a nucleus of very talented players. It also figures to have plenty of flexibility during the 2014 offseason, with only Steve Nash and Dwight Howard (assuming he returns) on the books.
Because of that, the Lakers will need to try and make it work by signing undervalued assets or players at the back end of their careers who are willing to sign for the veteran minimum or the mini mid-level exception. This way the team can help fill its holes without eliminating options for the 2014 offseason.
Even then, the Lakers need to make sure they're signing the right players. Bringing in the right niche pieces who fit in this system can help bring everything together. But bring in the wrong players and things are sure to fall apart all over again.
Note: This slideshow was compiled based on a couple assumptions. The first assumption is that Dwight Howard will return. This means a starting-caliber center isn't a priority, and the team won't have much cap space to work with. The second assumption is that no drastic trades will be made, such as dealing Pau Gasol. So largely, it's about figuring out which players will fit based on a situation of little cap space to work with.
Stats via Basketball-Reference.com and NBA.com/stats.
Begin Slideshow

»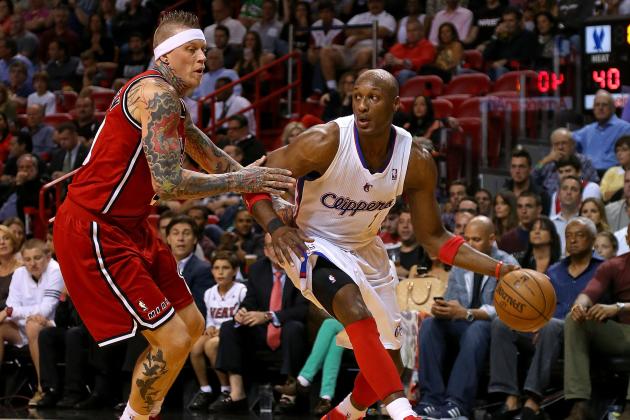 Mike Ehrmann/Getty Images

As a team, the Lakers had a ton of success with Lamar Odom. They went to three consecutive NBA Finals and won back-to-back championships during his tenure with the franchise.
Odom also prospered. He was routinely seen as one of the league's best bench players and a key cog on the team, even winning the Sixth Man of the Year award in 2010-11. So why not bring him back for another go?
For one, Odom simply isn't the same player. While with the Lakers, Odom averaged 14.0 points, 9.7 rebounds and 3.8 assists per 36 minutes. He also posted a field-goal percentage of .491 and a three-point percentage of .330.
In the two years since, Odom has averaged 9.0 points, 9.4 rebounds and 3.1 assists. He also only hit 37.6 percent of his field-goal attempts and 22.9 percent of his three-pointers.
The decrease in his offensive productivity is pretty severe. Odom has consequently seen his court time plummet. After averaging 35.1 minutes per game during his stint with the Lakers, Odom only averaged 20 minutes per game over the last two years, raising questions about his ability to handle a larger workload of minutes.
Lastly, there are questions surrounding Odom's desire to play basketball. He basically forced his oust from Dallas with his lethargic disposition. He also showed up to training drastically overweight last season with the Clippers.
The last thing the Lakers need is a player who is on the decline and has questions about his desire to continue playing…even if that player has a storied past with the team.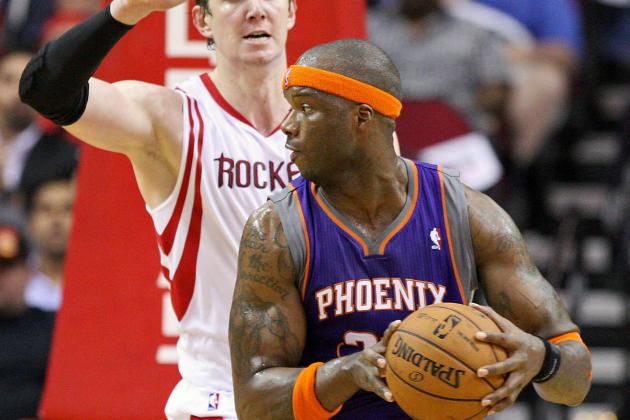 Troy Taormina-USA TODAY Sports

Jermaine O'Neal could fit into the category of cagey veteran willing to sign on the cheap for a chance at that elusive championship. Considering that O'Neal signed for the veteran's minimum in 2012-13, it's likely the Lakers could get him without having to dish out much money.
O'Neal doesn't appear to have declined much. His averages of 15.9 points, 10.1 rebounds and 2.7 blocks per 36 minutes are in line with his career averages and are the best he's put up since 2009-10.
However, the Lakers should stay away from Jermaine O'Neal because of his past injury problems. O'Neal only played in 55 games last season. However, that's a ton compared to the 49 contests he appeared in combined over the previous two campaigns.
Given his injury history and age (he'll be 35 next season), it seems unlikely he'd suddenly become more healthy. And with the injury concerns the team already has, the last thing it needs to do is bring in more injury-prone players.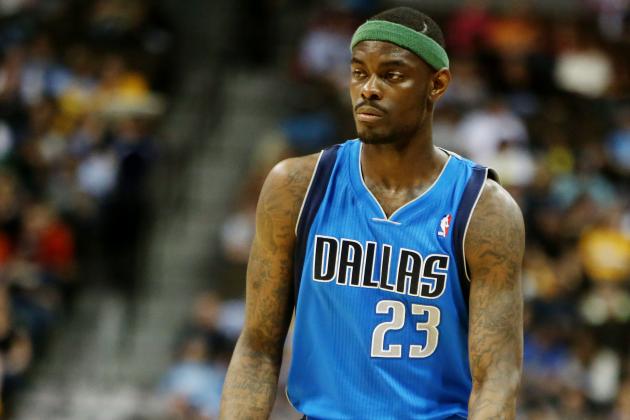 Chris Humphreys-USA TODAY Sports

It's true that the Lakers could use another solid three-point shooter, as the team ranked 19th in three-point percentage at 35.5 percent. It's also true that Anthony Morrow's career three-point percentage of 42.4 percent would help in this regard.
However, the problem with Morrow is that he provides little other than spot-up shooting. He's not much of a defender at all, indicated by his career defensive rating of 114. He's also not very versatile on offense, with 127 of his 145 shot attempts coming via jump shot. He's also not a great passer or a great rebounder, posting 1.6 assists and 3.8 rebounds per 36 minutes.
Morrow will likely come fairly cheap, and his outside shooting would surely help the Lakers. But they need to find players who can help in more ways than one.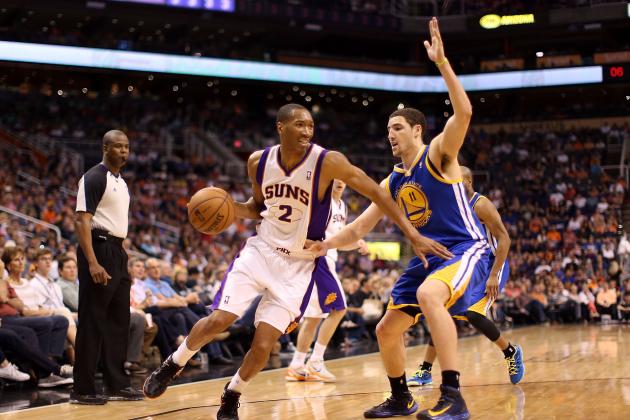 Christian Petersen/Getty Images

On the surface, Wesley Johnson looks like he could be a fit with the Lakers. He'd provide some additional depth in the backcourt, and he seems to have turned a corner, posting career highs in points per 36 minutes (15.1), rebounds per 36 minutes (4.6) and field-goal percentage (.407) last season.
Furthermore, he's still only 25 and was a high draft pick, so there's always the chance he hasn't reached his ceiling.
Yet despite this uptick in volume statistics, Johnson isn't playing any better. If anything, he might becoming off the worst season of his career. For one, Johnson posted the worst offensive rating of his career (93). He also had 0.0 win shares and 0.0 win-shares per 48 minutes, largely due to his woes in offensive efficiency (negative 0.5 offensive win shares).
While his defense isn't awful, it's not like it makes up for his problems on the offensive end. Johnson held opposing shooting guards to a 14.5 PER and opposing small forwards to a 12.4 PER.
Yet when compared to the 9.7 PER he posts on offense as a shooting guard and the 10.1 he averages as a small forward, it becomes clear that his defensive acumen can't make up for his offensive deficiencies.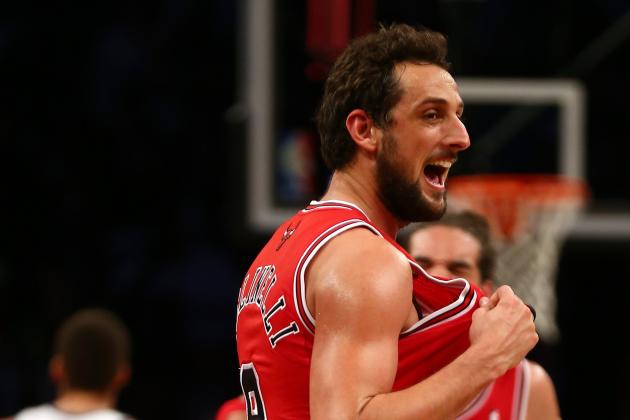 Elsa/Getty Images

Marco Belinelli has been a consistent marksman throughout his six-year career, nailing 38.7 percent of his three-point attempts. He could certainly help the Lakers in that regard. He's also relatively young (26 years old) and has been a consistent presence on the court, missing only 11 games over the last three years.
Yet while Belinelli is entering the prime of his career, his play isn't necessarily peaking. If anything, it's been on a downward trend of late.
Over the last three seasons, he's seen a consistent decrease in field-goal percentage and three-point percentage. In fact, his 39.5 field-goal percentage and 35.7 three-point percentage from this past season were the worst he's averaged since his rookie year.
Belinelli's PER (10.4), effective field-goal percentage (.460) and true shooting percentage (.513) from 2012-13 were also his worst since his rookie campaign.
But Belinelli's recent struggles on offense aren't all of it. He's also not much of a defender. In fact, his most recent team, the Chicago Bulls, was a much better defensive team when Belinelli was on the bench. It posted a 98.7 defensive rating with him on the bench and a 102.1 defensive rating with him on the court. Overall, the Bulls were minus 1.6 in net rating with him on the court, yet their net rating with him on the sidelines was 1.6.
His age and recent bill of health may make him enticing, but with his shooting ability on the decline and his defensive presence being non-existent, there's no reason for Los Angeles to sign him.