Setting Expectations for Washington Capitals' Top Stars for 2013-14 Season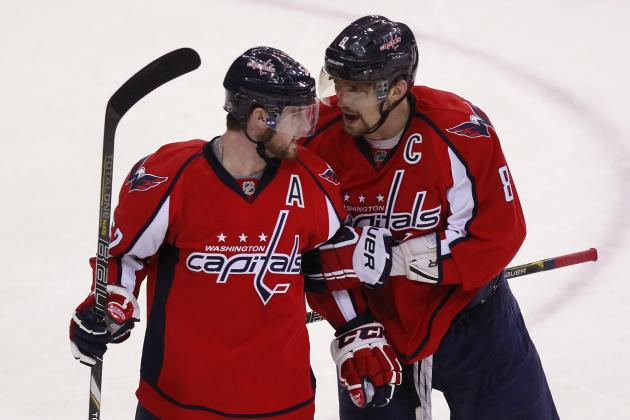 Geoff Burke-USA TODAY Sports

The 2013-14 season promises to be a very important one for the Washington Capitals. If the Caps are going to be successful, then they will need their best players to perform at their absolute best.
For many of the Caps' top players, the 2013 season was a return to form. Alexander Ovechkin, who had struggled some the past few seasons, rediscovered his scoring touch and became the first player to capture the Rocket Richard Trophy three times.
Mike Green also recovered his scoring touch as he led all NHL defensemen with 12 goals.
Troy Brouwer had 19 goals, the second-highest total of his career—and he did it in just 47 games.
For other players, 2013 was a difficult season. Brooks Laich was plagued by injury almost all season and played in just nine games.
Jason Chimera had 20 goals during the 2011-12 season but had just three for the 2013 campaign.
Martin Erat came to the Caps via a trade at the trade deadline but only scored one goal and was also prone to injury.
So how will some of the Caps' top stars fare for the very important 2013-14 season?
Let's set some really early expectations for some of the Caps' most important players for next season.
Begin Slideshow

»
Marcus Johansson—or MoJo as the Caps faithful have come to know him—is one of those players who had a really up-and-down 2013 season for the Caps.
Through the first 14 games of the 2013 season, MoJo struggled mightily. He had three goals, two assists and a minus-seven rating. He even missed about a month's worth of action with an injury.
But over the final 20 games of the season, Johansson was placed predominantly on the Caps' top line with Alexander Ovechkin and Nicklas Backstrom. MoJo's production soared as did his numbers.
Over those final 20 games, MoJo had another three goals, added 14 assists and had a plus-10 rating.
In the playoffs, Johansson scored a highlight-reel goal in Game 1 against the New York Rangers. Unfortunately though, like the rest of the Caps' top line, MoJo vanished after Game 1, getting just one assist the rest of the way and registering a minus-three rating.
One of the big questions surrounding MoJo is whether he will even be a member of the Caps next season. Johansson is a restricted free agent this summer, and while most feel the Caps will, at a minimum, make him a qualifying offer, there is always the chance they won't.
Assuming for the sake of this article that MoJo does come back to the Caps for the 2013-14 season, what can we expect from him?
I believe Johansson will have a good season, but it is hard to say how good. He finished very strongly despite the fact that he was playing on the wing, as opposed to being a center where he is arguably more effective. Then again, playing with Ovi and Backstrom will make anyone better.
I do not see MoJo being on the top line next season, and his numbers should probably reflect that some. I believe we will continue to see Johansson's game progress and he will continue to improve. How much he will improve will be the real question.
Here then are some predicted stats for Johansson for the 2013-14 season:
Goals—15
Assists—24
Points—39
Shots on Goal—99
Power-Play Goals—4
How Martin Erat fares in his first full season with the Capitals will be one of the more intriguing stories to follow this season.
Practically every Caps fan by now knows that one of the best prospects in the entire Caps organization, Filip Forsberg, was traded to the Nashville Predators at the trade deadline for Martin Erat. It was a rather unpopular trade among a great many Caps fans and supporters, myself included.
General manager George McPhee made the trade so the Caps could win now. The thought was that Erat would add what the Caps so desperately needed to win that elusive Stanley Cup.
To say things did not work out would be a gross understatement. In nine regular-season games with the Caps, Erat had all of one goal and two assists. In the playoffs against the New York Rangers, Erat did absolutely nothing except have a plus-one rating—and he missed the final three games of the series when the Caps could arguably have used him the most.
As for what can be expected from Erat for the 2013-14 season, once again that is difficult to predict. He has not had a 20-goal season since the 2009-10 campaign. Even when he was in Nashville prior to the trade, he was not the same Martin Erat who had scored 36 goals, had 72 assists and a combined plus-26 the prior two seasons.
Then again, with a full offseason regimen and program with the Caps and their coaching staff, perhaps Erat can have a comeback season of sorts. He is only 31 years old, so he is still young enough to put up big numbers. Whether he still has the skill necessary to do so is certainly debatable.
I see Erat trending downward this season. I expect he will still be productive but probably not as productive as many had hoped and, unfortunately, not enough for fans to forget about what the Caps might have given up to get him.
Here is how I see Erat doing this season:
Goals—11
Assists—35
Points—46
Shots on Goal—114
Power-Play Goals—2
What a great season 2013 was for Troy Brouwer.
When the 2013 season began, most people would probably not have picked Brouwer to be No. 2 on the team as far as goals scored at season's end, second only to Alexander Ovechkin.
Brouwer had never exactly been a huge goal scorer. His best season was in 2009-10 when, as a member of the Chicago Blackhawks, he netted 22 goals, had 18 assists and a career-high 40 points.
In his first season with the Caps, Brouwer tallied 18 goals and 15 assists. Along the way, he became a leader of sorts on a team that, at times during the 2011-12 season, lacked leadership in a big way.
The Caps liked what they saw, though, and just before the lockout went into effect, as reported by The Washington Post, they signed him to a three-year, $11 million extension.
As such, Brouwer's 19 goals and 14 assists were a pleasant surprise for the Caps—but a very welcomed one. Brouwer earned his contract extension and then some. Brouwer made the Caps' second line formidable and gave the team some much-needed depth.
What can we expect this season for an encore? There are some definite variables in play there. Much might depend on whether Mike Ribeiro returns. Another factor is how well Martin Erat plays.
I think Brouwer cracks the 20-goal barrier this season. He will be 28 when the season begins, and he might very well be entering the prime of his career. While I would like to see him become a bit better defensively, his work ethic is second to none on the team.
It might not be a career year for Brouwer...but I think it will be close.
Here is how I see Troy Brouwer's 2013-14 season going:
Goals—21
Assists—17
Points—38
Shots on Goal—121
Power-Play Goals—6
John Carlson is a player who is really hard to figure out.
Carlson is a shot-blocking magnet. In 2011-12, Carlson led the Caps with 153 blocked shots, which was good enough for 18th in the NHL.
During the 2013 season, Carlson again led the Caps in blocked shots with 123. Karl Alzner—no shot-blocking slouch in his own right—was a distant second with 85 blocks. Carlson actually ranked third in the entire NHL in blocked shots during the 2013 season.
Carlson is also as durable as they come. He played in all 82 games during the 2011-12 season and played in all 48 games this past season.
As far as defense, Carlson has definitely been improving. For instance, Carlson was a minus-15 for the 2011-12 season, but a plus-11 this past season.
The issue is that Carlson wants to be a two-way defender, along the lines of Mike Green, but he does not have the shot of Green or the accuracy.
Carlson can score, there is no doubt about that. He had six goals during the 2013 season. But in the playoff series against the New York Rangers, with the Caps struggling to score goals, Carlson could not find the back of the net—no matter how many times he tried.
Carlson put 21 shots on net during the series with the Rangers. On the one hand, it was great to see Carlson just shoot the puck, something too many Caps were reluctant to do. The problem, however, is that none of those shots went in. During the playoffs, Carlson was second on the team in shots behind only Alexander Ovechkin.
So what can we expect from Carlson for the 2013-14 season? I am pretty sure he will play in all 82 games. I expect him to again lead the team in blocked shots, and he may even lead the NHL.
In my mind, Carlson is an emerging and improving blueliner. I doubt he will ever be the two-way threat that Green is, but I do expect to see more improvement from Carlson this season.
Here are some predicted stats for John Carlson for the 2013-14 season:
Goals—8
Assists—24
Points—32
Plus/Minus—9
PIM—30
Blocks—159
Ice Time—23 minutes per game
For Brooks Laich, 2013 could absolutely be considered a lost season.
Laich suffered a groin injury while playing in Europe during the lockout. Initially, and as reported by TSN's Bob McKenzie, it was believed he would only miss one to two weeks.
Instead, Laich would miss the first 28 games of the season, and his absence was absolutely felt by the team. A spiritual leader of the squad, a good goal scorer and a physical presence in front of the net, Laich's absence was far more damaging to the Caps than many people realized.
Laich would return but would only play in nine games before suffering another injury to the groin in a game on April 4 against the New York Islanders.
Laich would not play again, and his unavailability against the New York Rangers might very well be a big reason the Caps are touring golf courses in the United States and Canada as opposed to playing for a Stanley Cup.
Laich played pretty well in those nine games, as he had a goal, three assists and a plus-two rating.
One can only hope that Laich will be 100 percent once the 2013-14 season gets into full swing. With the Caps moving to the quasi-resurrected Patrick Division this season, they will need all the help they can get from a player like Laich.
As for what can be expected from Laich, he has been somewhat up-and-down the past few seasons. For instance, during the 2011-12 season, Laich scored 16 goals and 25 assists. But he was also a minus-eight as opposed to the plus-14 rating he had the year previously.
For three seasons, from 2007-2010, Laich was a 20 goal scorer in each of those seasons. His productivity has obviously declined some the past few seasons.
Some people feel that Laich had to spend too much time trying to be the Caps' answer for a second-line center. Indeed, Laich might be better situated on the wing, and using him as a second-line center may have been a big reason for the reduction in his productivity.
As for the 2013-14 season, much might depend on the Caps' second line and what transpires there. If Mike Ribeiro returns—or if the Caps get a suitable replacement for him—and if Laich can remain on the wing where I think he is a better fit, then I believe we will be looking at a real solid season from a player who can really make a difference.
If not, then I expect Laich's numbers to be very similar to what they were during the 2011-12 campaign.
Here are some projected stats for Brooks Laich for the 2013-14 season:
Goals—18
Assists—30
Points—48
Shots on Goal—203
Power-Play Goals—3
One of the biggest gambles the Caps made during the 2012 offseason was when they decided to sign defenseman Mike Green to a three-year, $18.25 million deal, as reported by The Washington Post.
Green had been injury-plagued, to say the least, the prior two seasons. In fact, he had only played in a grand total of 81 regular-season games those prior two years.
The Caps were rolling the dice and hoping to see the return of the Green who scored 73 points in 2008-09 and then followed that up with 75 points in the 2009-10 season. If the Caps could get that, then the gamble would have paid for itself.
I would say that the Caps came out ahead on that gamble. Green again had a few injury issues, as he did miss 13 games. When he played, however, he made the most of it.
Green led all NHL defenders with 12 goals. He led the Caps in ice time, averaging almost 25 minutes of ice time per game.
Green was also pretty clutch, scoring two game-winning goals during the regular season—in back-to-back games no less. He, of course, scored the overtime game-winner in Game 2 against the New York Rangers, which, at the time, gave the Caps a 2-0 series lead.
There is not a better two-way defender in the NHL then Green. Defensively, however, Green still needs to improve. He needs to be more physical, and his minus-three rating for the season was not so good.
Green needs to hit more, plain and simple. He had only 36 hits a year ago. That was good for fifth on the Caps. But of the six defenders who saw the bulk of the ice time during the playoffs, only Jack Hillen hit less than Green.
Green also needs to get better at shot-blocking. He blocked 61 shots a year ago, which had him ranked fourth on the team. While that is not too bad, Green blocked 62 shots fewer than John Carlson. Yes, Green played in 13 fewer games than Carlson, but that is still too much of a discrepancy.
If the Caps are going to compete with teams like the Rangers, New York Islanders, Pittsburgh Penguins and Philadelphia Flyers, then being more physical and blocking more shots will be crucial.
As for the 2013-14 season, I expect to see Green continue to light the lamp. I hope that if he remains healthy, he will become a more proficient shot-blocker and, hopefully, will demonstrate a more physical presence as well.
Here then are some predicted stats for Mike Green for the 2013-14 season:
Goals—15
Assists—36
Points—51
Plus/Minus—7
PIM—32
Blocks—71
Ice Time—24 minutes per game
No one who followed the Caps last season can say that Nicklas Backstrom had a bad season. Far from it.
An argument could be made, however, that it was not quite the type of season that some expected from Backstrom.
Like many of the Caps, particularly those on the top line, Backstrom got off to a slow start and struggled some at the beginning of the season. Backstrom figured to be a goal-scoring threat for the Caps. But as the season progressed, he instead became the Caps' best setup man.
Through the Caps' first 28 games, Backstrom had only three goals, but he had 21 assists. Over the Caps' final 20 games though, Backstrom had five goals to go along with 19 assists.
Backstrom's 40 assists led the Caps, and he ended up finishing third in the entire NHL in that category
All season long, Backstrom was the Caps' best setup man, and there is little question that Backstrom's play was a key reason Alexander Ovechkin ended up leading the NHL in goals at season's end.
Unfortunately though, once the playoffs began, Backstrom went cold along with the rest of the Caps' top line. Backstrom would end up with just one goal and two assists as the Caps fell in seven games to the New York Rangers.
Having Backstrom and Ovechkin on the same line is absolutely crucial to the Caps' chances next season. It really was not until Ovechkin and Backstrom were consistently reunited on the Caps' top line that Ovi's numbers really took off.
I fully expect to see much more of that during the 2013-14 season. What will be interesting is who will line up on the wing opposite Ovi on the top line. Marcus Johansson got most of the reps down the stretch, but I have my doubts whether that will continue—assuming MoJo is still in D.C. at all.
For the 2013-14 season, I believe Backstrom will score more goals. I have my doubts that he will continue to be one of the NHL's premier assist men, but you never know. If he stays healthy, anything is possible.
Here are some predicted stats for Nicklas Backstrom for the 2013-14 season:
Goals—19
Assists—47
Points—66
Shots on Goal—186
Power-Play Goals—5
One of the big question marks for the Caps heading into the 2013-14 season is what will become of Mike Ribeiro. Actually, the fate of Ribeiro has been a big issue for the Caps since about a month before the trade deadline passed.
Ribeiro will be an unrestricted free agent, unless he re-signs with the Caps, on July 5. The possibility of Ribs being a free agent dominated the discussion about him as the trade deadline approached. Would the Caps trade him rather than risk losing him for nothing or would they sign him to an extension?
As most know, neither happened, and Ribeiro's status with the Caps is more in limbo than ever.
His performance from the 2013 season certainly warrants consideration for some sort of extension. Ribs had 13 goals and 36 assists for the Caps last season. His 49 points was second-best on the team, and his 36 assists had him ranked fifth in the entire NHL.
In the playoffs, Ribeiro scored the huge game-winning goal in overtime of Game 5 that, at the time, gave the Caps control of the series. There were other times, however, when Ribs just would not shoot the puck no matter how much the New York Rangers dared him to.
With the Caps struggling to score goals against the Rangers, there were many times where I felt that just shooting the puck at the net could have yielded some results.
All that aside, does Ribeiro's performance from 2013 warrant a long-term deal? Probably not on the terms Ribeiro wants.
Katie Carrera of The Washington Post touched on the Caps' conundrum with Ribeiro in an article that came out around the trade deadline. Comments Ribeiro made in that interview with Carrera clearly indicate that he was looking for a long-term deal:
I don't want to move too much. If you can agree to a long term then I'll be more than happy to stay here. I don't know if I'm looking for two years and then change place then another two years. I don't think I want that. Five years for me is long term. Two, three years I don't think is long term. I think two, three short term. Four, five, six [is] long term and 10 years like Ovi, that's a marriage thing.
Ribeiro already rejected a three-year deal, and it seems unlikely that the Caps will offer him much more than that.
If Ribeiro does stay in D.C. though, then I expect him to have another very good season. I do like the Caps' second-line possibilities with Ribeiro, Martin Erat, Brooks Laich, Troy Brouwer and Marcus Johansson, all of whom can be mixed and matched to create some good line combinations.
If Ribs stays in Washington, I think he will have a very good season. I do not believe he will set career highs or anything like that. But I do believe he would be an essential part of the Caps offense and retaining him would maintain continuity and chemistry, two somewhat underrated factors the Caps will need if they are going to compete in a much more difficult division for the 2013-14 season.
Here are some predicted stats for Mike Ribeiro for the 2013-14 season:
Goals—19
Assists—43
Points—62
Shots on Goal—127
Power-Play Goals—5
Braden Holtby had one of the most up-and-down seasons in recent memory in 2013.
After a pretty poor start to the season, Holtby played very well after relieving Michal Neuvirth in the Caps loss to the Pittsburgh Penguins on Feb. 7.
Holtby would end up in the top 10 in several key categories for goaltenders, including wins with 23 (good for fourth), saves with 1,033 (good for eighth) and shutouts with four (good for sixth in the NHL).
Holtby's goals against average was somewhat disappointing at 2.58 percent (27th in the NHL) as was his save percentage at .920 percent (14th in the NHL).
Nevertheless, it was clear that Holtby was the Caps' workhorse between the pipes, and it was equally clear that the Caps would go as far as Holtby could lead them.
In the playoffs—and going against Henrik Lundqvist for the second consecutive season—Holtby started off very strong. In Games 1 and 2 of the series, Holtby yielded only one goal despite facing 60 shots. In Game 2, Holtby collected his first career playoff shutout.
Holtby had a phenomenal .986 save percentage through the first two games.
Then came Games 3 and 4. Holtby gave up eight goals against just 56 shots as the New York Rangers evened the series up.
Holtby's save percentage in Games 3 and 4 was a rather average .875.
In Games 5 and 6, Holtby was back to being spectacular, giving up only two goals and registering a .963 save percentage. If not for Lundqvist being just a tad bit better, the series would have been over. Instead, for the second consecutive season, Holtby would have to face Lundqvist in a decisive Game 7.
In Game 7, Holtby would fall apart, yielding five goals and having a pretty paltry .815 save percentage as the Caps lost 5-0.
How Holtby responds to this disappointing end to his 2013 season might very well define how his 2013-14 campaign goes. Barring something really unexpected, Holtby will be the Caps' No. 1 goalie this coming season, and he will get the lion's share of the starts.
Holtby has earned that. His play over the second half of the regular season was, by and large, outstanding. When he is on his game, there are very few goalies in the NHL who are better.
At this point, what Holtby needs is just more work and to become more consistent. With all the playoff experience Holtby has received, it is easy to forget that this past season—shortened though it was—was still Holtby's first full regular season of his very short career.
I think Holtby's future is bright and that with a full 82-game schedule with which to work, he will continue to improve and evolve into one of the elite goaltenders in the NHL.
Here then are some projected stats for Braden Holtby for the 2013-14 season:
Games Started—50
Wins—31
Losses—14
Overtime/Shootout Losses—5
Goals Against Average—2.33
Save Percentage—.929
Shutouts—4
2013 was the season that saw the return of the Great Eight, otherwise known as Alexander Ovechkin.
Indeed, the 2013 regular season saw the Ovechkin of old return and dominate the NHL as he had not done since pretty much the 2009-10 season.
After getting off to a pretty slow start to the season, Ovi caught fire down the stretch.
He collected 21 goals over the final 20 games of the regular season. Ovi claimed the Rocket Richard Trophy for a third time—the first player to do so—with 32 goals.
Ovi actually equalled the number of goals he scored during the entire 2010-2011 season, when he also scored 32—and he did it in 31 fewer games. Ovechkin's performance was enough to get him nominated for a third Hart Memorial Trophy as the NHL MVP.
Ovi would have been on pace to score 55 goals had the 2013 season been of the 82-game variety. That would have been his third-highest total ever. That's not too bad for a guy who many believed had already seen his best days.
But then the playoffs came along and Ovechkin, yet again, failed to deliver. He had just one goal and one assist in the playoff loss to the New York Rangers, the worst playoff performance of his relatively young career.
Once again, all the questions about Ovi have to be asked. Can he get the Caps to the next level? Can he lead them to a Stanley Cup? Is he the best choice to be the captain of the Capitals? Should he be traded? The list goes on and on.
There was plenty about Ovechkin's 2013 season to be happy about. Ovi was once again a major goal-scoring threat, and he truly seemed to be a more well-rounded and complete player than ever before. No one shot the puck more than Ovechkin, no one scored more goals than Ovi and no player in the NHL was more lethal on the power play than the Great Eight.
But the sting of another playoff failure has cast much doubt on what can be expected for Ovechkin for the 2013-14 season. I think Ovi will have a very good season. I do not see him getting to 50 goals, but I see him reaching 40 for the first time since the 2009-2010 season.
I also expect Ovi to continue to shoot the puck a lot and to be a huge threat on the power play. Ovechkin will continue to be the most dangerous player on the Caps, and to a large extent, the Caps will again do as well as Ovechkin does.
Whether that will be enough for the Caps to reach the playoffs—and to then succeed—is, of course, the million-dollar question.
Here then are my predicted stats for Alexander Ovechkin for the 2013-14 season:
Goals—40
Assists—41
Points—81
Shots on Goal—334
Power-Play Goals—14