Indiana Pacers vs. Miami Heat: Game 2 Postgame Grades and Analysis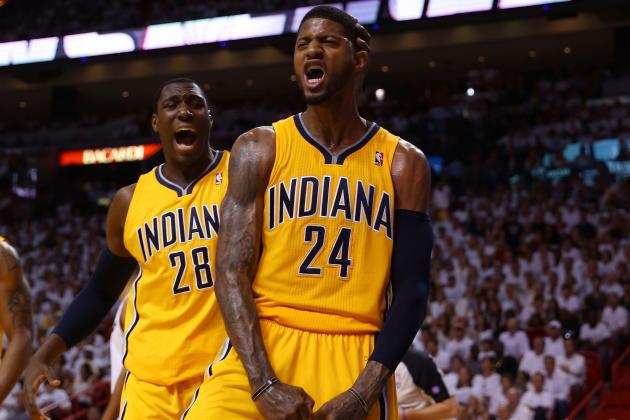 Mike Ehrmann/Getty Images

I feel like we've been here before. A playoff series between the Miami Heat and Indiana Pacers tied up at 1-1 as the series heads back to Indiana?
Thanks to a 97-93 Game-2 win over the Heat, the Pacers are treating fans to another thrilling series, only this time the stakes are higher with a trip to the 2013 NBA Finals on the line.
Paul George and LeBron James went back and forth throughout the night, with George ending with 22 points and six assists and LeBron ending with 36 points on 14-of-20 shooting.
With the game going back and forth, George rose to the occasion and threw down one of the filthiest dunks you'll ever see, shoving Chris Andersen out of his way.
LeBron had a great game throughout the first 47 minutes, but with the game on the line, he turned the ball over twice, which sealed the Heat's fate.
Roy Hibbert owned the interior on both sides of the ball, with 29 points and 10 rebounds. It's clear that the Heat need to find an answer for the Pacers' size and strength in the paint. If they don't, they may be watching the 2013 NBA Finals from the comfort of their own homes.
Game 3 is set for Sunday at 9 p.m. ET. You won't want to miss a single minute of this series, that's for sure.
Begin Slideshow

»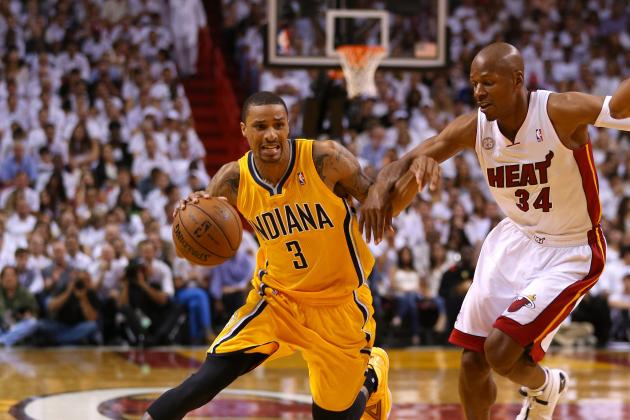 Mike Ehrmann/Getty Images

George Hill, PG, Pacers
After a mixed performance in Game 1, George Hill came out firing on all cylinders in the first half of Game 2.
Hill shot an impressive 4-of-5 from the field, with nine first-half points—which is a step up in efficiency after Game 1 when he shot 2-of-9.
In the second half it was more of the same for Hill, and his aggressive and efficient production quietly led the Pacers to a huge upset win.
He ended Game 2 with a balanced stat line of 18 points, five rebounds, three assists and three steals. Hill also only committed two turnovers and shot 6-of-8 from the field.
You can call Hill the "difference-maker," because that's what he is in this series.
Overall Grade: B+
Mario Chalmers, PG, Heat
It's clear that whatever happened to Mario Chalmers' shoulder in Game 1 lingered into Game 2, because he wasn't himself.
Chalmers ended the night with six points on 2-of-6 shooting, with five assists. He also committed five fouls and turned the ball over two times.
The inability to defend Hill that existed in Chalmers' game certainly could've been due to his injury, but the Heat can't survive in this series if he can't hang with Hill.
The Heat don't need Chalmers to step up more offensively, but they absolutely need him to pick up the defense, especially when Miami is on the road.
Overall Grade: C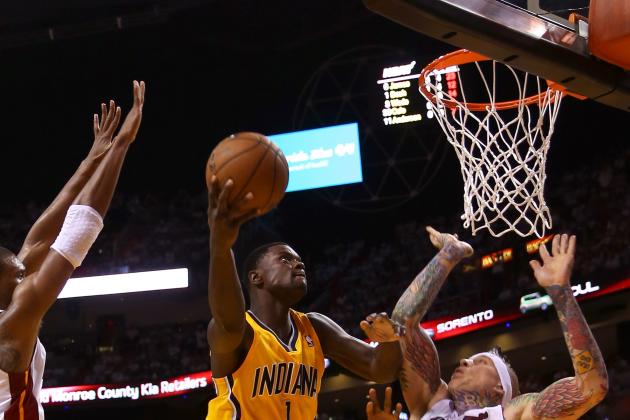 Mike Ehrmann/Getty Images

Lance Stephenson, SG, Pacers
Lance Stephenson scored just two points in the first half, but he dished out four assists, which helped spread the floor for the Pacers.
Statistically speaking, Stephenson had a solid game with 10 points, eight rebounds, five assists and two steals, and he committed just one turnover.
While that's impressive, he almost cost the Pacers with a few untimely shots down the stretch, ending Game 2 shooting just 4-of-12 from the floor.
Luckily, he was able to stick with Dwyane Wade in the Heat's final two possessions and hold him scoreless, which took away any options for LeBron in the clutch. Solid night by Stephenson, even though he could've easily blown it for Indiana.
Overall Grade: B
Dwyane Wade, SG, Heat
Efficiency wasn't in Wade's field of view in the first half, as he shot a rough 2-of-8 from the field for six first-half points.
Wade certainly came alive more in the second half, accounting for 14 points, six rebounds and five assists, but his production wasn't enough.
It felt like late in the game LeBron was forcing his game a bit because Wade couldn't separate from the Pacers defense.
For the Heat to win this series, they need Wade to amp up his game and be a bit more efficient offensively—as he shot 6-of-14 from the field.
Defensively speaking, it's clear that Wade isn't 100 percent because he looks a step behind Stephenson at times, and that's not who Wade is.
Overall Grade: B-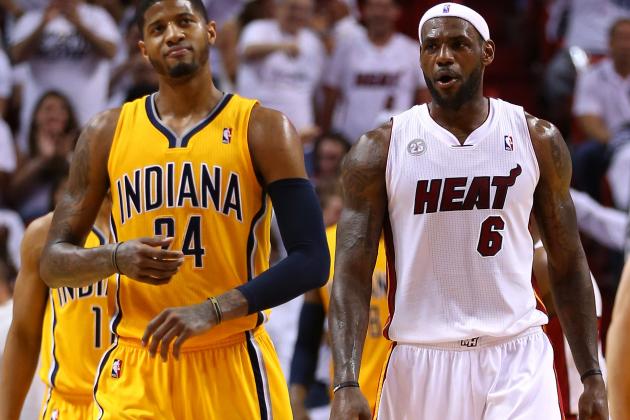 Mike Ehrmann/Getty Images

Paul George, SF, Pacers
For the first time in quite a few games, Paul George didn't fill up every column of the stat sheet.
After the first two quarters, he had eight points and three assists, and that was it. Usually, he has a few rebounds or at least one steal. But not in Game 2.
George amped it up in the second half, dishing out three more assists and grabbing two rebounds in the final two quarters. He ended the game with 22 points, six assists, two rebounds and, most importantly, just two turnovers.
Redemption was sweet for George in Game 2 as well, as he put Game 1 behind him and shut down LeBron on back-to-back Heat possessions, ultimately leading the Pacers to a huge win.
George was simply better down the stretch for him team than LeBron was for his.
Overall Grade: A-
LeBron James, SF, Heat
Back-to-back turnovers during the two most crucial possessions in the game put quite a damper on LeBron James' 36-point performance.
His turnovers cost the Heat Game 2, there's just no way around it.
With that being said, LeBron had an impressive game for all but the final 50 seconds of the game. He ended Game 2 with 36 points, eight rebounds (four offensive rebounds), three assists, three steals and one block.
The main issue with LeBron's performance was the five turnovers he committed, especially when compared to the three assists he dished out. It's very rare that LeBron ends a game with more turnovers than assists, and it couldn't have happened at a worse time.
Defensively speaking, LeBron was a monster. He had one of the most dominant blocks you'll ever see on Hibbert during a pivotal stretch in the fourth quarter.
It's amazing that a 36-point performance could be overshadowed by two turnovers, but that's exactly what happened to LeBron. I'm sure he'll come back out with fire in his eyes on Sunday for Game 3.
Overall Grade: B+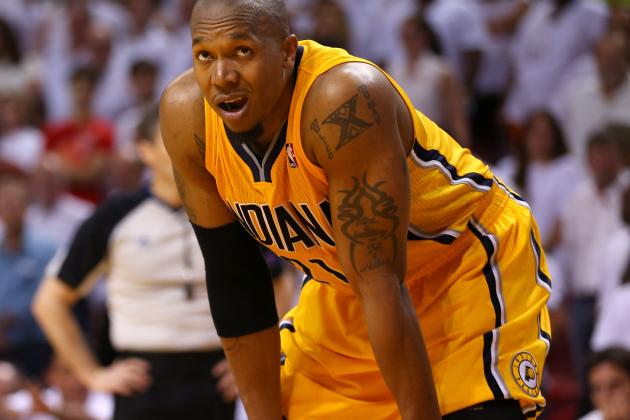 Mike Ehrmann/Getty Images

David West, PF, Pacers
Shockingly enough, David West shot 1-of-4 in the first half and still ended up with 10 points through the first two quarters.
How so? Well, he shot 8-of-8 from the charity stripe.
West's aggressive offensive play was certainly impressive in the first half, and it certainly helped shift the Heat's defensive focus onto him a little, which freed up space for Hibbert to dominate.
He didn't end shooting perfect from the charity stripe, but he did drop 13 points while grabbing seven rebounds and dishing out three assists.
Even when West isn't having the most efficient or productive games, his presence is certainly felt because of his physicality in the paint on the defensive side of the ball. That was the story of Game 2 for West.
Overall Grade: B
Udonis Haslem, PF, Heat
Two fouls and one rebound in six minutes of action? Yep, that was the first-half stat line for Udonis Haslem.
It didn't get much better for him in the second half, ending with one point, three rebounds, a turnover and four fouls.
It's mind boggling that Erik Spoelstra didn't give more of Haslem's minutes to Chris Andersen, who was much more productive during his time on the floor.
I hate to say it, but it's time to put Haslem on the pine for good. He's just not bringing anything, and I mean anything, to the floor for Miami. And that's terrible, as it desperately needs interior production on both sides of the ball.
Overall Grade: D-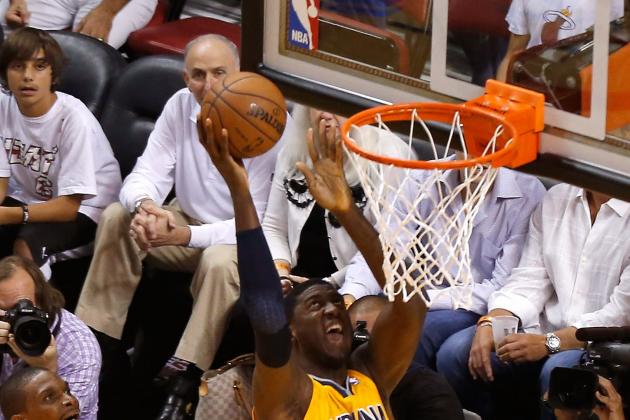 J. Meric/Getty Images

Roy Hibbert, C, Pacers
With 19 points and six rebounds, Hibbert was the Pacers' main offensive weapon in the first half.
Not only did he shoot as many free throws as he did field goals—depicting his aggressive offensive play—he also shot a ridiculous 6-of-8 from the field and 7-of-8 from beyond the arc.
Considering his impressive first-half production, it's amazing that the Pacers were only up six at halftime.
The solid production didn't end at halftime for Hibbert, as he ended with 29 points—one point shy of a career high—and 10 rebounds, while shooting 10-of-15 from the floor and 9-of-10 from the charity stripe.
While Hibbert turned the ball over four times, and got absolutely stuffed by LeBron, he dominated the paint every second he was on the floor.
If he continues to play at this high of a level, we'll be seeing bright yellow jerseys in the NBA Finals instead of ones with the word "Heat" sewn across the chest. The Heat simply have no answer for Hibbert's dominance right now.
Overall Grade: A+
Chris Bosh, C, Heat
Game 2 was a very odd game for Chris Bosh.
His stat line of 17 points and five rebounds isn't all that bad. But on the floor against Hibbert, he simply couldn't hang.
I wouldn't blame this loss on Bosh alone, but his inability to keep Hibbert out of the paint was a major reason why the Heat couldn't pull this one out.
Bosh also shot 6-of-14 from the floor, like his Big Three partner Wade, and that efficiency just won't cut it—especially when you consider that LeBron (14-of-20) and Chris Andersen (2-of-2) were the only two Heat players to shoot 50 percent or better from the field.
Game 3 is going to be a huge game for Bosh, as he either needs to figure out how to make up for his defensive deficiencies by scoring at an efficient rate, or actually step up his defensive pressure on Hibbert.
Overall Grade: C+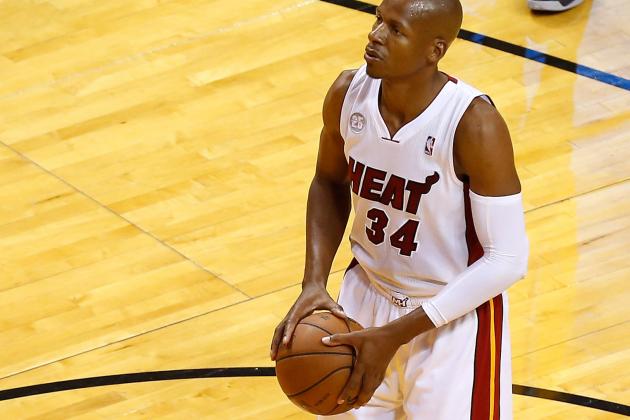 J. Meric/Getty Images

D.J. Augustin, PG, Pacers
There wasn't much production from either team's sixth man, and that included D.J. Augustin and his below-average two points and two rebounds on 1-of-3 shooting from the field.
Luckily, the Pacers didn't need much production from anyone coming off the bench because every Pacers starter scored in double digits.
Augustin simply didn't have much time, with just 15 minutes, to do much for Indiana. And for once, a lack of production from the bench didn't matter that much.
Overall Grade: C-
Ray Allen, SG, Heat
When's the last time Ray Allen shot zero percent from the field and 50 percent from the charity stripe in the first half of a game?
It was a rough night for Allen throughout Game 2. If it wasn't for the Pacers' proclivity for technical fouls, Allen would have been held scoreless throughout the first two quarters.
Allen ended up hitting two field goals in the second half, but his two missed free throws hurt the Heat and the potential momentum they could've gained from there in the first half.
When the Heat signed Allen this offseason, I'm sure they weren't expecting him to put up six points on 2-of-5 shooting in 21 minutes in the playoffs. It's time to step up, Ray Ray.
Overall Grade: C-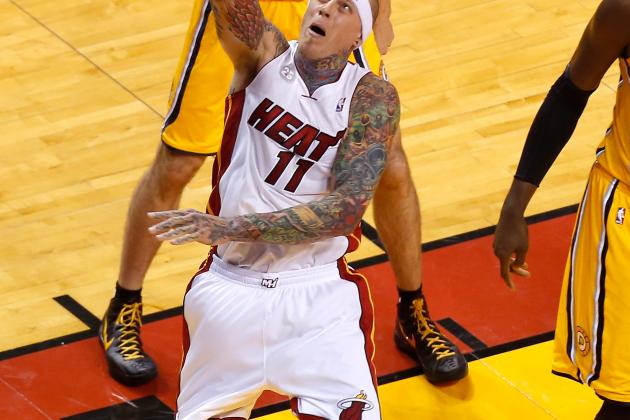 J. Meric/Getty Images

Indiana Pacers Bench
With a total of five points and seven rebounds in 42 total minutes, the Pacers bench certainly disappointed in Game 2.
No one player scored over two points, and aside from Ian Mahinmi, no one shot even close to 50 percent from the field.
There will certainly be a time when the Pacers need more production from their second unit, but fortunately for them, it wasn't in Game 2.
Either way, there's no way to overlook their less-than-stellar performance.
Overall Grade: D+
Miami Heat Bench
Once again Andersen had a very productive night, especially in the first half when he accounted for seven points, three rebounds and a block in nine minutes.
Unfortunately, for some reason Erik Spoelstra decided to only play Andersen six minutes in the second half. He ended with seven points and three rebounds in 15 minutes of action.
Sure, Andersen ended with five fouls. But no one else on the floor was impacting the game in the paint like Andersen was, and that's why the Heat needed him out there.
Aside from Andersen, the Heat's bench was rather lackluster. Norris Cole was awful, shooting 1-of-6 from the floor in 19 minutes.
The Heat need more from their bench, and that means more consistent minutes for Andersen and more efficiency from Cole moving forward.
Overall Grade: C