UFC 160: Cain Velasquez vs. Antonio Silva Weigh-In Results Video Highlights
Use your ← → (arrow) keys to browse more stories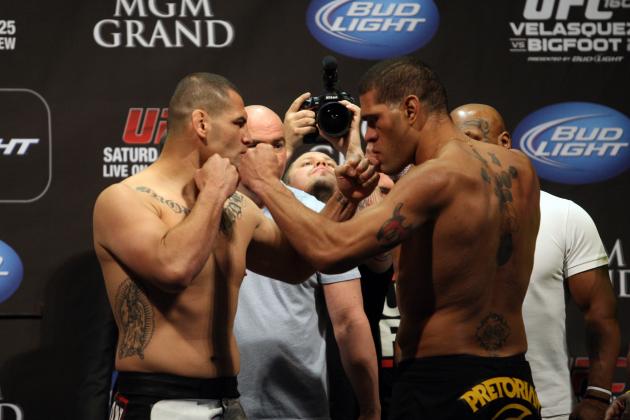 Bruce Fedyck-USA TODAY Sports

The weigh-ins are over for UFC 160, and all but one fighter came in on weight. The only fighter to come in over was preliminary-card fighter Khabib Nurmagomedov. Nurmagomedov checked in at 158.5 for his 155-pound lightweight limit bout against Abel Trujillo.
For missing weight, Nurmagomedov will surrender part of his purse:
Correct "@mikechiappetta: Was told Nurmagomedov will not try to make weight. Fined 20% of purse. Half to commission, half to opponent."

— Dave Sholler (@Sholler_UFC) May 24, 2013
The only other fighter who had a problem was Nah-Shon Burrell, who came in at 172 on his first attempt. Burrell received an earful from Dana White, most likely due to the fact that he also missed weight in his first UFC bout, but Burrell made weight on his second attempt:
Philly's @ttherocknrolla has made weight. 171.

— Dave Sholler (@Sholler_UFC) May 24, 2013
The weigh-ins had a special guest accompany White to the stage, Mike Tyson. It was interesting to watch a clearly excited Tyson stand beside the UFC president during the process. The former champ looked genuinely excited to meet the fighters as they squared up for their staredowns.
Here are the highlights from the co-main event and main event weigh-ins:
Full UFC 160 weigh-in results:
Cain Velasquez (240) vs. Antonio Silva (263)
Junior dos Santos (239) vs. Mark Hunt (264)
James Te Huna (206) vs. Glover Teixeira (205)
T.J. Grant (155) vs. Gray Maynard (156)
Donald Cerrone (155) vs. KJ Noons (156)
Mike Pyle (170) vs. Rick Story (169)
Dennis Bermudez (146) vs. Max Holloway (145)
Colton Smith (170) vs. Robert Whittaker (171)
Khabib Nurmagomedov (158.5) vs. Abel Trujillo (155)
Nah-Shon Burrell (172)* vs. Stephen Thompson (170)
Brian Bowles (135) vs. George Roop (135)
Estevan Payan (145) vs. Jeremy Stephens (146)
* made weight on second attempt