2013 French Open: Unseeded Players You Should Watch at Roland Garros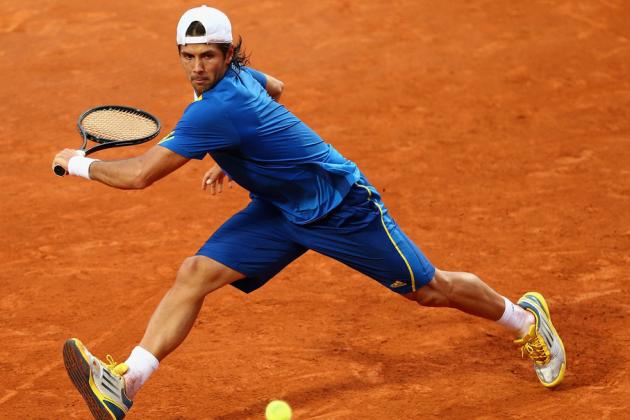 Superstars like Rafael Nadal, Novak Djokovic, Serena Williams and Maria Sharapova claim most of the spotlight at the French Open. But several unseeded players in both the men's and the women's draws deserve attention, too. They may not win the tournament, but they could make life very complicated for some of the players who are more likely to win.
Meet five unseeded men and five unseeded women who could make a mark at Roland Garros. Why are they intriguing, what are their key strengths and weaknesses and how do their chances look in this year's draw?
Begin Slideshow

»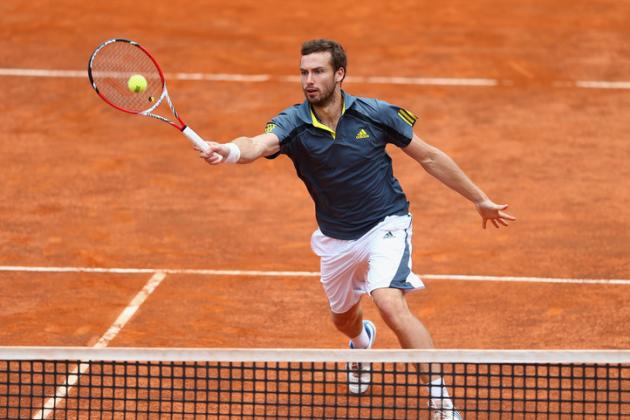 ATP Ranking: 39
He is one of the highest-ranked unseeded players in the draw, only five slots below the 32nd seed (34th-ranked) Tommy Robredo. Ernests Gulbis was ranked outside the top 100 when 2013 began, so his current ranking shows how much he has improved.
Why He's Intriguing
Gulbis nearly knocked off Rafael Nadal in Rome this year, dropping a 6-1 set on Rafa before fading late. He reached the French Open quarterfinals in 2008, his best result ever at a major. Success this spring started before the clay season with a small title in February and another near-upset of Nadal at Indian Wells.
Best Asset: Shot-making talent
From atomic serves and forehands to feathery drop shots, Gulbis can strike winners of all varieties anywhere on the court. His natural explosiveness thrusts opponents onto their heels and penetrates even the slow clay with ease.
Biggest Weakness: Resilience
Gulbis often loses matches from winning positions by failing to sustain his focus or cope with adversity. He also can lack motivation, although he has improved in this area recently.
French Outlook: Excellent
Gulbis has landed far in the draw from the top three men (Novak Djokovic, Roger Federer, and Nadal), so he could string together a run. The highest seed near him is Tomas Berdych, whom he defeated at Wimbledon last year.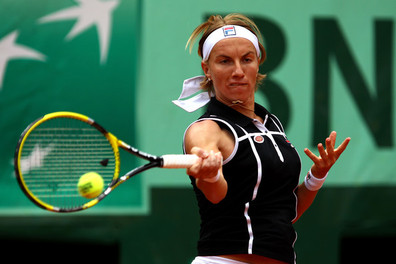 WTA Ranking: 39
Like Gulbis, Svetlana Kuznetsova narrowly missed the seeding cut-ff and has raised her ranking dramatically since the year started.
Why She's Intriguing
Kuznetsova won this title in 2009, defeating Serena Williams and Samantha Stosur among others. She also reached the Australian Open quarterfinals this year, launching an impressive comeback from injuries that had threatened to derail her career.
Best Asset: Athleticism
She understands how to play on clay better than many of her higher-ranked rivals, sliding naturally and exploiting the high bounce with topspin groundstrokes. At her best, Kuznetsova can win with either offense or defense. That versatility reaps rewards on a surface that demands improvisation.
Biggest Weakness: Consistency
Kuznetsova often chooses the wrong shot at the wrong time, and her game can veer between spectacular and awful from one week to the next. Earlier this month, she took top-eight opponent Angelique Kerber to 7-5 in the third set. In her next match, she lost, 6-1 6-1, to a qualifier.
French Outlook: Cautiously optimistic
Unfortunately for her, she has landed in Serena's quarter of the draw. Before then, though, Kuznetsova eyes several winnable matches against seeds less skilled on clay than she is, such as Ekaterina Makarova and Kerber.
ATP Ranking: 52
A top-10 player as recently as 2011, Verdasco held a seed at the Australian Open this past January. Injuries and a loss of confidence caused his ranking to fall off a cliff afterward.
Why He's Intriguing
Restored to health, Verdasco won sets from two top-eight opponents as he emerged from his slump this spring. True to his Spanish roots, Clay has witnessed some of his best results, including a Monte Carlo final in 2010 and two victories over world No. 1 Novak Djokovic.
Best Asset: Lefty forehand
Clay gives players extra time to run around their backhands and dictate rallies with forehands. Nobody exploits this feature of the surface better than Verdasco, who wields both a flat bullet down the line and a heavy cross-court forehand that curls away from right-handers.
Biggest Weakness: Nerves
Nerves emerged most recently in Verdasco's three-set battle in Rome with world No. 4 David Ferrer. Serving down break point in the final set, he double-faulted to virtually concede the match. Even in his prime, Verdasco fell victim to untimely double faults too often, including in the biggest match of his career (see video above).
French Outlook: Bright
Verdasco falls in Djokovic's quarter, but closest to fellow veterans Janko Tipsarevic and Mikhail Youzhny. Neither of those men has ever shone on red clay, and both have struggled as much as Verdasco has this year. The second week looks very plausible.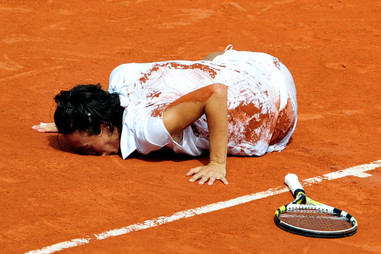 WTA Ranking: 38
Francesca Schiavone is one slot ahead of Kuznetsova, despite less impressive results this year, outside of one small clay title.
Why She's Intriguing
Schiavone shocked the world when she won her first Grand Slam at Roland Garros in 2010 at the age of 29. Then she shocked the world all over again when she reached the final there a year later at 30. You won't get many more chances to see this battered veteran at the tournament that defines her legacy.
Best Asset: Tenacity
Schiavone never goes away, no matter how dispiriting the situation looks. She won the longest women's match in tennis history over Kuznetsova at the 2010 Australian Open, saving six match points. Seasoned by the experience of many clay battles, Schiavone will grind through rally after rally with a relentless intensity that opponents often lack.
Biggest Weakness: Mileage
Playing styles like hers, dependent on winning long, physical points, rarely age well. Schiavone faded sharply over the last year, struggling to force her body through the exertions that her game demands. An eight-match losing streak ran from the end of 2012 through the start of 2013, and she lost her first matches in Madrid and Rome.
French Outlook: Dim, but not as dim as you'd think
A kind draw has set up Schiavone near several other weary veterans, including countrywoman Flavia Pennetta. The highest-ranked woman in her vicinity, Marion Bartoli, has underachieved this year amid serving woes.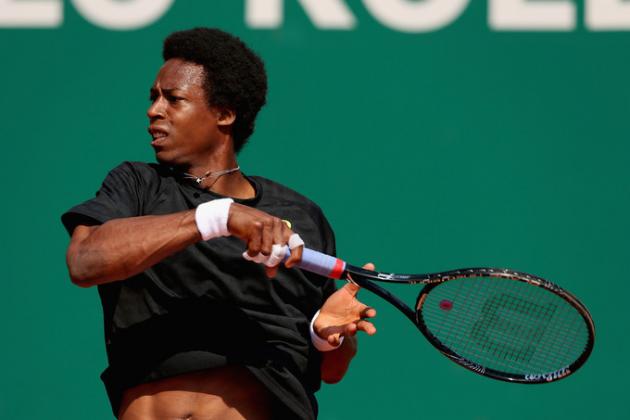 ATP Ranking: 109
Gael Monfils needed a wild card to reach the main draw, having played little tennis in the second half of 2012 as injuries accumulated. Early in 2013, he continued to struggle with staying healthy for more than a few weeks at a time.
Why He's Intriguing
A nine-match winning streak over the last two weeks ended with Monfils hoisting the runner-up trophy in Nice on Sunday, his first clay final since 2010. He also reached the Roland Garros semifinals in 2008, despite not ranking among the highest seeds.
Best Asset: Home-court advantage
"La Monf" usually embraces the experience of playing before one of the world's most demanding fanbases.
Beyond that Roland Garros semifinal, Monfils has won three of his five titles on home soil and reached two finals at the Paris Indoors, the most prestigious non-major in France. Defeating Federer in one appearance there, he has defeated Ferrer at Roland Garros.
Biggest Weakness: Showmanship
It's riveting to watch Monfils display his athletic explosiveness, until he attempts a needlessly risky shot on a key point. Those antics show his tendency to prefer style over substance, a flaw common among Frenchmen.
There's no harm done against ordinary journeymen, but elite opponents are too stingy for Monfils to throw away points for the sake of thrilling the crowd.
French Outlook: Murky
Winning a tournament the week before a major rarely bodes well for success at that major, and his brittle health heightens that concern. Monfils faces a stern opening test against the sixth-seeded Tomas Berdych, which leaves him no margin for error.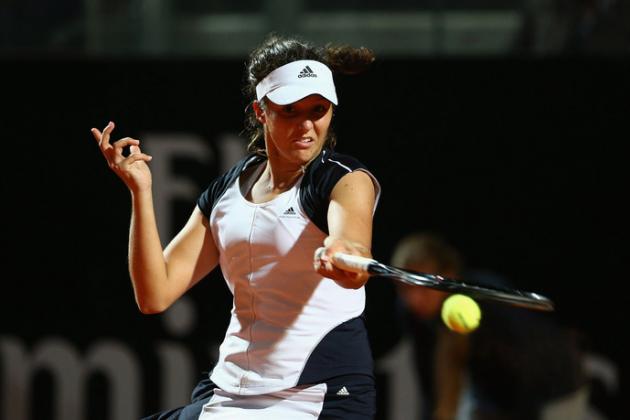 WTA Ranking: 35
Laura Robson entered the season just outside the top 50 and has risen steadily, becoming the highest-ranked teenager and highest-ranked British player in women's tennis.
Why She's Intriguing
She often plays her best when it matters most, reaching the second week of a Grand Slam for the first time last fall at the U.S. Open. Although she started the clay season unimpressively, Robson bounced back to come within a tiebreak of the quarterfinals in Madrid, where she upset world No. 4 Agnieszka Radwanska.
Best Asset: Youth
She believes that she can defeat anyone, no matter how elite, and often does. It was Robson who sent Kim Clijsters into retirement at the U.S. Open last fall with an astonishingly poised performance in a nail-biting match.
It was Robson who knocked off top-eight opponent Petra Kvitova at the Australian Open in another nail-biter. Maybe winning the junior title at Wimbledon inoculated her to pressure for good.
Biggest Weakness: Youth
On pace to hit 400 double faults this year, the lanky teenager needs to curb her wayward serve sooner rather than later. Its unruliness is a symptom of her generally unruly game, full of power that she must learn how to harness. Only time can teach her.
French Outlook: Hopeful
World No. 10 Caroline Wozniacki in the first round might seem a daunting draw, but Wozniacki has gone winless on red clay this year. The draw will open for Robson if she survives that match, although Kuznetsova could await in the third round.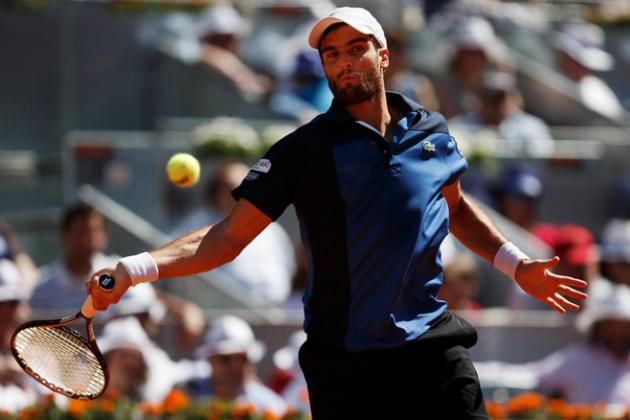 ATP Ranking: 45
That's nearly 50 places higher than it was a month ago, when Pablo Andujar barely would have qualified for the main draw.
Why He's Intriguing
Andujar may have a losing record this year, overall, but he reached the semifinals at his last two clay events in Madrid and Nice. The Madrid result, at one of the ATP's elite Masters 1000 tournaments, especially impressed, for he defeated three top-25 opponents before bowing to Nadal.
Best Asset: Clay-savvy
Like other second-tier Spaniards, Andujar shines most brightly on this surface. Both of his titles and all five of his career finals have come on clay, in addition to that career-best Masters 1000 result in Madrid. He also gave Nadal a spirited test in the second round of Roland Garros two years ago.
Biggest Weakness: Lack of weapons
Andujar prefers to win his matches with consistency and high-percentage play. When he puts himself in position to finish a rally from a winning position, he lacks the firepower to do so comfortably. His serve wins him relatively few free points, complicating his efforts to close out sets and service games.
French Outlook: Solid
Andujar drew 29th seed Mikhail Youzhny in the first round, a winnable match, considering the Russian's lack of clay prowess. He falls in the same section with Verdasco and Tipsarevic, so he could reach the third round here for the first time.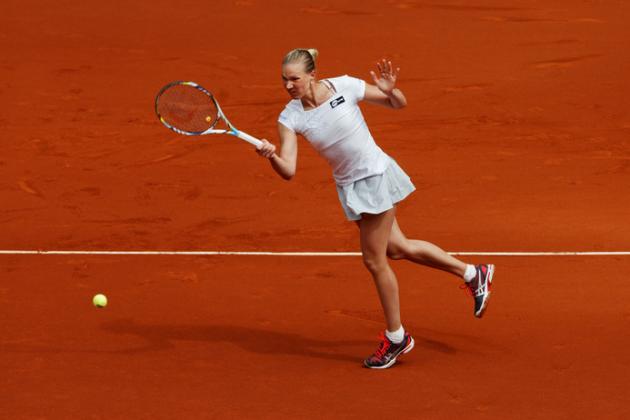 WTA Ranking: 40
It will rise to 26th on Monday, one week too late to earn Kaia Kanepi a Roland Garros seed. But this ranking is still impressive considering how much time she has missed over the last year.
Why She's Intriguing
Kanepi returned from a leg injury at the start of the clay season and lost little time in finding her rhythm.
She has reached at least the quarterfinals at three straight tournaments, including a title at the Premier event in Brussels just before Paris.
Kanepi reached her second Roland Garros quarterfinal last year, continuing to achieve more there than at any other major.
Best Asset: Baseline power
Not your traditional clay specialist, Kanepi likes to set up points with thunderous first serves and take a full swing when she gets her first good look at a groundstroke. Her power penetrates even the slowest surfaces, and the clay gives her extra time to set her feet. Both her forehand and her backhand are formidable weapons when clicking.
Biggest Weakness: Mobility
Kanepi doesn't like to grind through rallies, sometimes getting impatient and pulling the trigger too soon. Opponents have found success forcing her to reverse direction along the baseline. If she doesn't get the first strike, she struggles to transition from defense to offense.
French Outlook: Modest
Like Monfils, Kanepi may not arrive fresh in Paris after reaching a final the previous weekend. Also like Monfils, her comeback remains in its early stages. Early opponents like Klara Zakopalova or Maria Kirilenko will test her consistency and stamina.
ATP Ranking: 36
It was No. 100 at Wimbledon last year. If two more men ranked above him had withdrawn, Lukas Rosol would have received a Roland Garros seed.
Why He's Intriguing
Rosol pulled off one of the greatest upsets in modern Wimbledon history last year (see video above), stunning Rafael Nadal in five sets with sensational serving. Clay would seem less suited to his game, but he won his first career title on the dirt of Bucharest this spring.
Best Asset: Belief
He echoed the sidelined Robin Soderling in his defiant resistance to the heavily favored Nadal at Wimbledon. A formidable serve provides the foundation for Rosol's confidence, sweeping aside break point after break point en route to the Bucharest title.
Biggest Weakness: Technique
Rosol's game is not designed for the extended, physical rallies associated with clay. The tall Czech has ungainly footwork and attempts too many low-percentage shots to rise much higher than his current ranking. When he's good, he's spectacular; when he's not, he's awful.
French Outlook: Murky
He could face Nadal again in the third round. But the odds of Rosol repeating that upset are slim, since Rafa should bring his highest level of intensity to that match.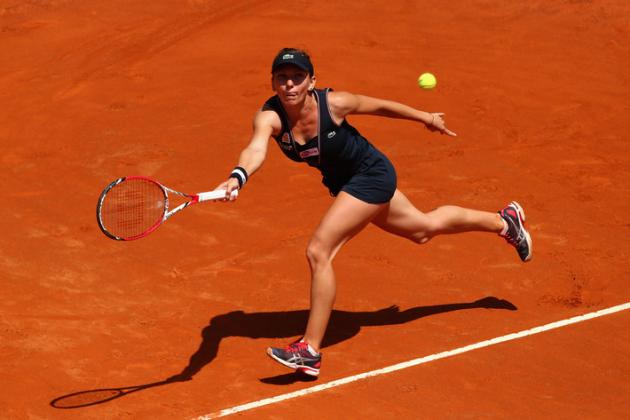 WTA Ranking: 44
It rose from No. 64 after a single week in Rome.
Why She's Intriguing
During that week in Rome, Simona Halep won six straight matches to reach the semifinals as a qualifier. Most of those wins came against quality opponents, from world No. 4 Agnieszka Radwanska to former Roland Garros champion Svetlana Kuznetsova to former No. 1 Jelena Jankovic.
Best Asset: Stamina
Halep has won six of seven three-setters this year, including comebacks against Radwanska and Jankovic after she lost the first set. She showed both physical endurance and mental determination by making the most of her Rome run rather than contenting herself with one or two solid wins.
Biggest Weakness: Serve
She would win some of her matches more easily if she could start more points on offense. Halep's serve offers an inviting target to elite returners, and her wins often follow a cascade of service breaks. This works well enough against the rank and file, but not against top contenders.
French Outlook: Curious
Halep has won her most recent meetings with both of the seeds nearest to her, Carla Suarez Navarro and Nadia Petrova. She is in the weaker side of the weakest section in the draw. But reading too much into a single result like Rome often backfires.