Predicting 2013-14 All-NBA Teams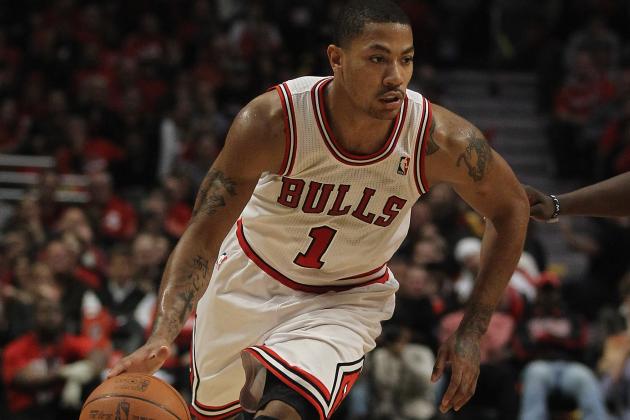 Jonathan Daniel/Getty Images

The league announced the members of the 2012-13 All-NBA teams this week, which means it's already time to start looking ahead to the guys who'll be named to the 2013-14 squads.
Before getting started, it's important to keep a couple of things in mind.
First, these predictions will cover which players the voters (comprised of a pool of 119 sportswriters and broadcasters) are most likely to select to the 15 available spots among the three teams. Admittedly, it was hard to keep out personal biases about who should earn the honors, but you'll find that, by and large, these selections line up with the thinking the voters have used in the past.
Voters get stuff wrong all the time. Witness David Lee's inclusion on this year's Third Team and, looking at this season's awards more broadly, Defensive Player of the Year Marc Gasol's head-scratching exclusion from the All-Defensive First Team.
Hopefully, they'll get these right.
Second, there are bound to be some painful omissions. Father Time is a cruel master, as Kobe Bryant and Dwyane Wade are about to learn. But hey, the league's up-and-coming stars have to push somebody out of the way on their rise to the top.
Let's get to it.
Begin Slideshow

»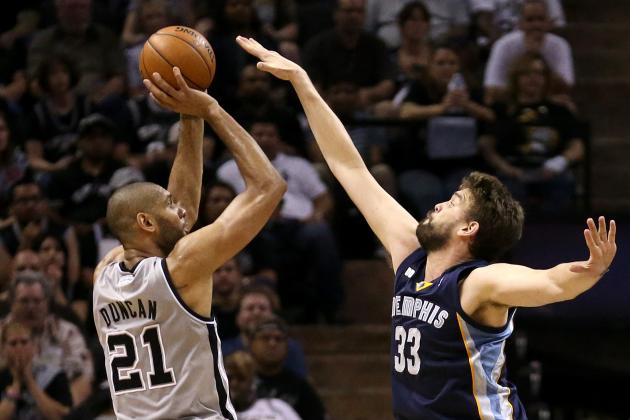 Stephen Dunn/Getty Images

This past season, Tim Duncan was named to the First Team for the first time since the 2006-07 season. In fact, he hadn't been a member of any of the three teams since he earned Third Team honors in 2009-10.
The ageless big man put up 17.8 points and 9.9 rebounds per game this season while playing terrific interior defense. Expect voters to reward him with a nod to the Third Team next year even if his production dips in what'll be his 17th NBA season.
He's not the superstar he once was, but he's certainly still good enough to play at a high level for at least another year.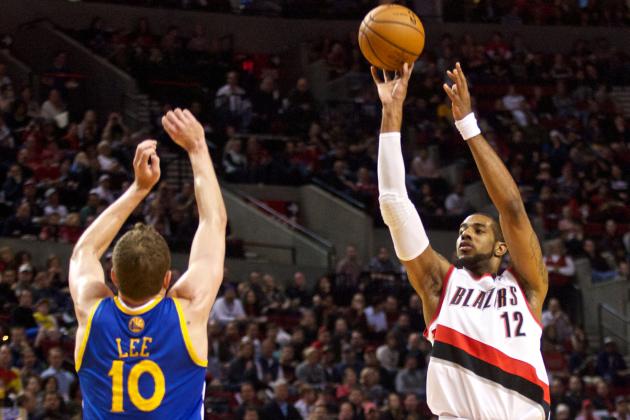 Jaime Valdez-USA TODAY Sports

LaMarcus Aldridge was named to the Third Team in 2010-11, but in the past two seasons, he's been on the outside looking in. He got the most votes of any player not to make any of the three teams two years ago, and he was among the top three in that category last year.
With another year of maturation for Damian Lillard and (hopefully) better bench production in Portland, Aldridge should be in line for one of his very best years next season.
Expect him to get over the hump and make the Third Team in 2013-14.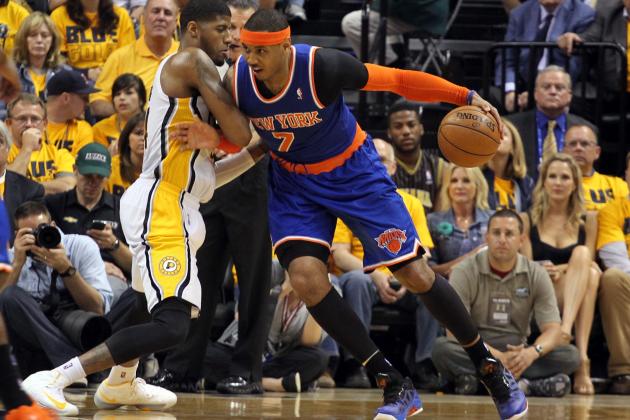 Brian Spurlock-USA TODAY Sports

As long as Kevin Durant and LeBron James are still breathing, Carmelo Anthony isn't going to sniff a First Team selection. But he'll most likely slip down a peg among voters next year because of another pair of emerging forwards who figure to surpass him in voters' eyes.
Recently named to the Second Team, Anthony has earned All-NBA honors in six of the past seven seasons. He's been a member of the Third Team in four previous years, so he'll be used to the position next year.
This is no knock on 'Melo, but we probably just saw his career season in 2012-13. And with the aforementioned rising stars at the forward spots, he'll have to be content with yet another solid scoring average and a Third Team nod next season.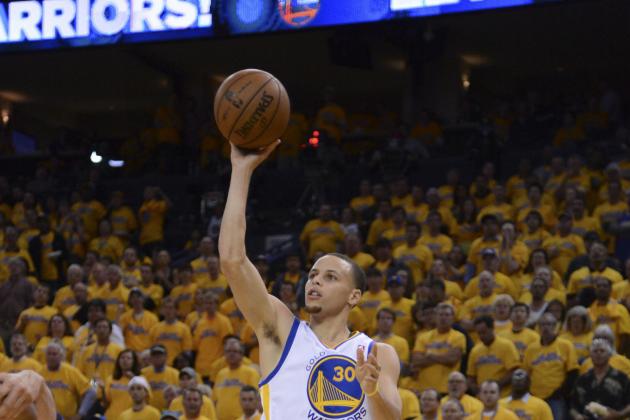 Kyle Terada-USA TODAY Sports

Stephen Curry tore up the league with post-All-Star break averages of 26.0 points, 7.4 assists and 4.0 rebounds on 46 percent shooting from long range, and he became an NBA darling during an inspired postseason run.
He's still regarded as one of the biggest All-Star snubs of the 2012-13 season as well.
After earning the second-most votes of any player not named to any of the three All-NBA teams this past season, he's due to earn his way onto one of them next year. With some serious talent ahead of him, though, he'll have to be satisfied with a Third Team selection.
Baby steps.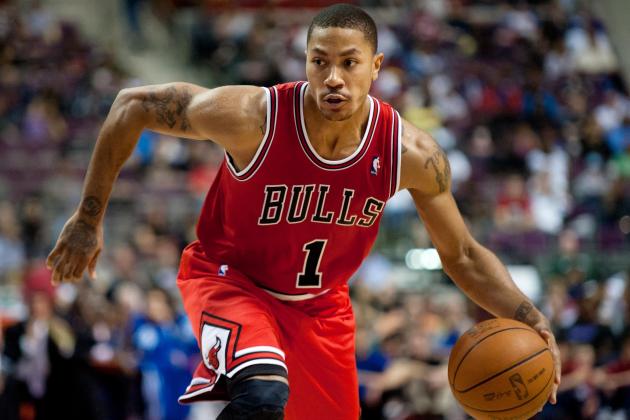 Tim Fuller-USA TODAY Sports

Hey, it's Derrick Rose! Welcome back, buddy!
Assuming he's at least 117 percent healthy at the start of the 2013-14 campaign, it'll be reasonable to expect D-Rose to pick up where he left off before blowing out his knee.
Rose earned First Team honors for 2010-11, which made sense considering he was the MVP of the league. He missed a few games and struggled with nagging injuries the year after, which kept him off all three All-NBA squads.
And, of course, he didn't play at all this past season.
Healthy, surrounded by a good team and out to prove doubters wrong, Rose looks primed to make his way back to an elite level. Plus, voters love a comeback story.
Note: Before anyone goes crazy about Rose being shortchanged here, remember—the four guards ahead of him are absolute studs, and we don't know whether this version of Rose will have the same fearless, attacking style as the old one did.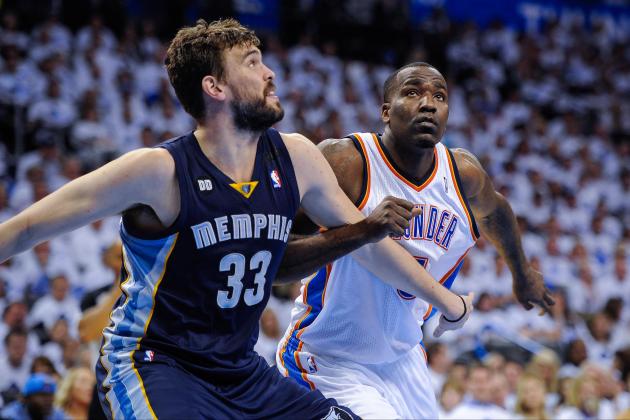 USA TODAY Sports

He's one of the best defensive players in the league, plays offense with the kind of selflessness that voters absolutely love and seems to be getting better every year.
Yeah, I'd say Marc Gasol's got the credentials to earn his second consecutive spot on the All-NBA Second Team in 2013-14.
If the Memphis Grizzlies can surround their highly skilled center with a few more shooters, Gasol could easily eclipse the four assists per game he averaged this past season. Perhaps more importantly, if voters start to get a better handle on the value of Gasol's defensive contributions, he's got a chance to challenge the guy who's going to make the First Team ahead of him.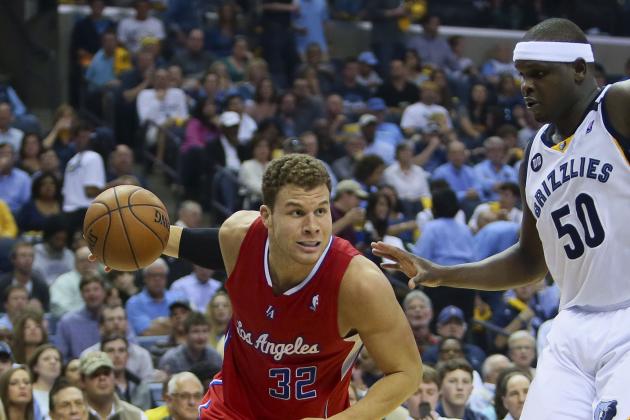 Spruce Derden-USA TODAY Sports

Blake Griffin has been a member of the Second Team in each of the past two seasons, so we know voters are comfortable slotting him there. What's more, we know he has no chance to ascend higher because James and Durant are going to lock down the two First Team spots for the foreseeable future.
Basically, this is Griffin's ceiling.
The dunks are what voters love, which certainly helps Griffin. But what should earn him some credit is the fact that he's actually a great passer for a big (3.7 assists per game last year) and has a post game that is far better than most folks recognize.
It's not always pretty, but Griffin's bruising strength and elevating abilities really do make him an efficient scorer on the block.
It's easy to see him occupying this spot in 2013-14 and for a big chunk of the next decade.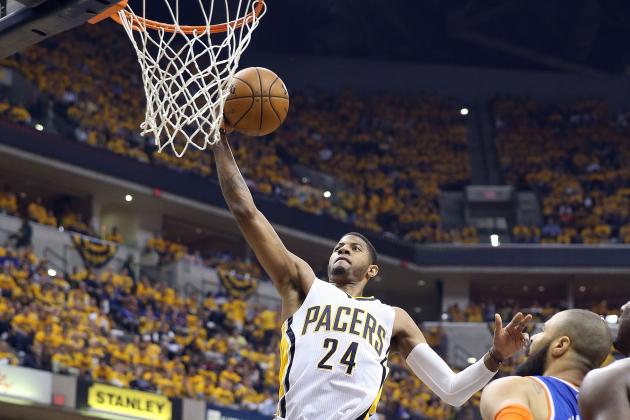 Andy Lyons/Getty Images

Anyone who's been watching Paul George during the playoffs knows that he's a player in the midst of a genuine breakout.
He nabbed the Most Improved Player award for his work this year, but it appears that George, 23, is only just beginning his ascension.
According to 82games.com, George made the Indiana Pacers offense more than six points per 100 possessions better when he was on the floor and held opposing small forwards to a PER of just 12.0 in 2012-13. And like Gasol, the sooner we have a more effective way to measure defensive impact, the sooner George will be recognized as the superstar he really is.
Christian Petersen/Getty Images

James Harden earned Third Team honors in his first full season as a starter with the Houston Rockets, so a jump up to the Second Team in 2013-14 shouldn't be too tough.
After all, he basically carried one of the league's top offenses, as his usage rate of 27.4 percent (tied for eighth in the league) can attest. Harden will be in his age-24 season next year, and if the Rockets make the kind of free-agent splash everyone expects them to, he could find himself putting up huge numbers on a team that contends for the top spot in the West.
This prediction is contingent on Harden keeping his beard. It's widely known that if he shaves it off, he loses all of his powers.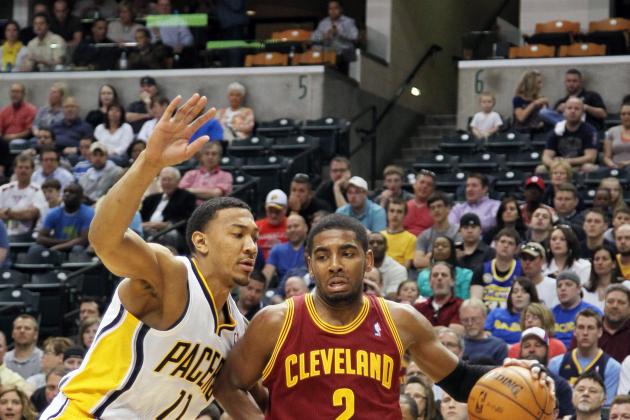 Brian Spurlock-USA TODAY Sports

It's time.
Kyrie Irving has spent his first two seasons drilling threes at a 39 percent clip and showing a remarkable knack for finishing at the rim. A couple of nagging injuries limited him to just 59 games this past season, but with a clean bill of health and a slowly improving cast around him, Irving's due to put it all together for a full year.
From a pure talent standpoint, there's probably a good case for putting Irving right up there with the guards on the First Team. But he'll have to wait his turn.
Expect him to start the All-Star Game and earn a spot on the Second Team in 2013-14.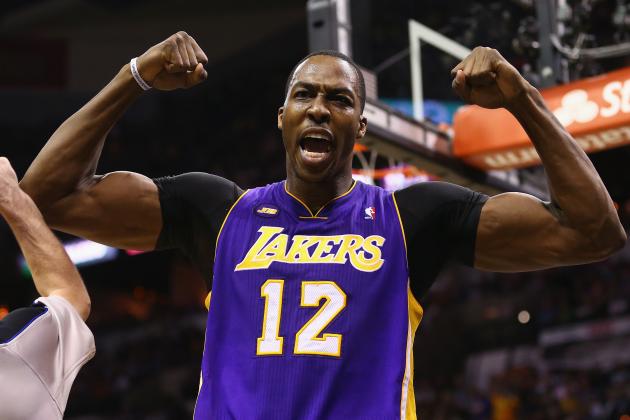 Ronald Martinez/Getty Images

Nobody's sure where Dwight Howard will be playing next year, but one thing does seem certain: He'll return at full strength with something to prove.
Remember, Howard is still only 27 years old, and he spent the entirety of the 2012-13 season dealing with the recovery process that followed the first major surgery of his career. Plus, this is a guy who was named to the First Team for five consecutive seasons from 2007-08 to 2011-12.
We're only one injury-plagued year removed from a time when Howard was viewed by many as the best player in the league not named LeBron James.
He won't have to get all the way back to his peak level to warrant a First Team nod, but if he does, he's a lock to make his sixth appearance in this spot.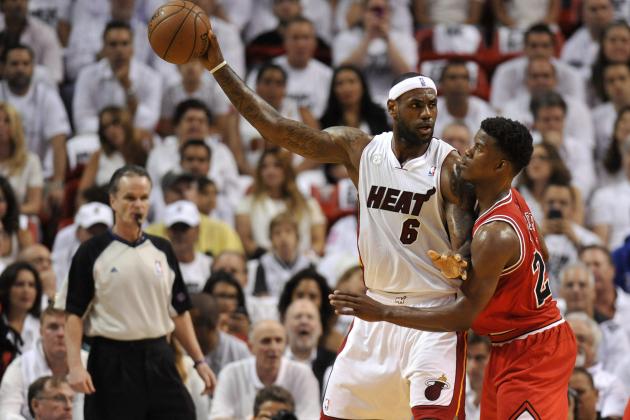 Steve Mitchell-USA TODAY Sports

Does this need any explanation?
James is in the midst of one of the single most impressive individual runs in NBA history. He's been a member of the First Team for six years running and has captured four out of the last five MVP awards.
The only way James fails to make the All-NBA First Team is if a significant injury robs him of a big chunk of the 2013-14 season.
Let's just move on.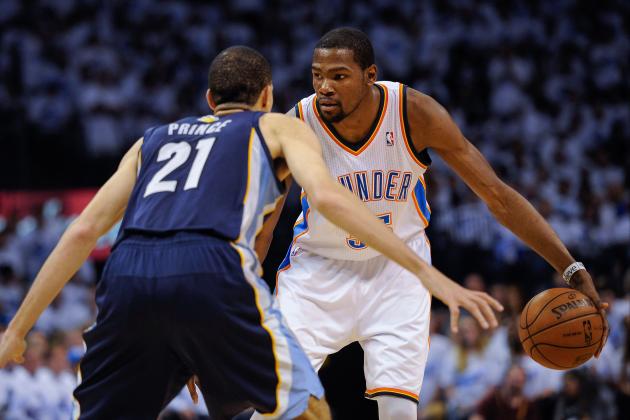 USA TODAY Sports

If he didn't have James as a contemporary, we'd all be talking about Kevin Durant as the league's best player. But there's not a lot KD can do about the timing of his NBA career.
A freshly minted member of the 50-40-90 club, Durant also joined Larry Bird as the only other player to post those percentages in a season in which he also averaged at least 28 points per game. So, he had a pretty nice little 2012-13 season for himself.
Durant has been a member of each of the last four First Teams. He'll make it five next season.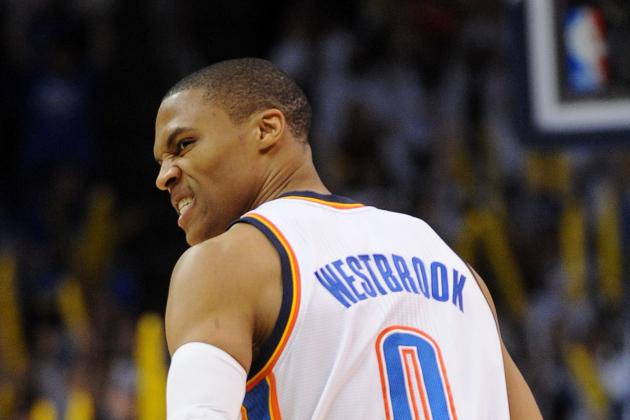 Mark D. Smith-USA TODAY Sports

We learned during the 2013 postseason how valuable Russell Westbrook is to the Thunder, as Scott Brooks' pedestrian offensive scheme totally fell apart without its second superstar on the court.
Long the subject of scrutiny for his shot selection, it's safe to assume that Westbrook won't be hearing criticism of his game for a good long while now.
He's been on the Second Team in each of the past three years, but the absence of a veteran mainstay on the First Team opens up a spot for the league's most athletic guard.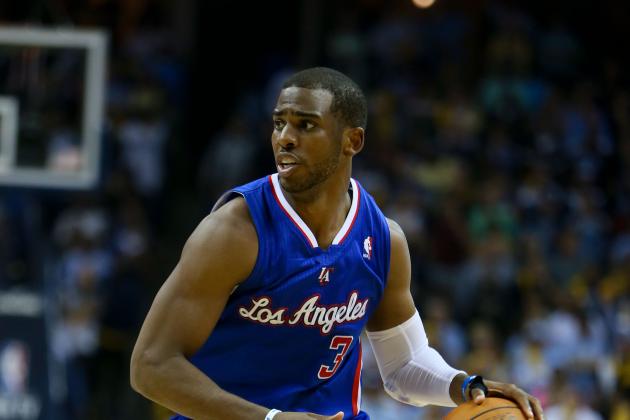 Spruce Derden-USA TODAY Sports

Like Howard, we can't be sure where Chris Paul, an unrestricted free agent, will be playing next year. You'd have to think that the Los Angeles Clippers' decision to send Vinny Del Negro packing would encourage Paul's return to L.A.
But really, does it even matter?
CP3 is the game's premier floor general, capable of setting up his teammates or getting his own shot with ease. Last season, he averaged 9.7 assists against just 2.3 turnovers, despite having to engineer virtually everything the Clippers did in the half court.
So it hardly matters what uniform he's wearing; Paul will be excellent.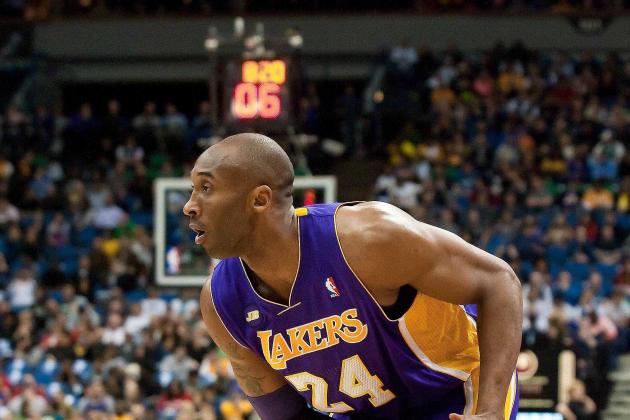 Greg Smith-USA TODAY Sports

This isn't youth soccer, so not everybody's a winner. Here are a few of the toughest omissions from next year's predicted members of the All-NBA teams.
Kobe Bryant
A member of a record-tying 15 All-NBA teams, Kobe Bryant's run as an elite player certainly appears to be over. It's certainly possible that he'll continue to be a productive player when he returns from surgery to repair a torn Achilles, but there are no guarantees he'll ever be a star again.
Tony Parker
This was, by far, the hardest guy to leave off of any of the All-NBA teams. He was rightfully named to the Second Team this year and really hasn't showed any signs of slowing down. His relegation really has more to do with the likely growth of guys like Irving, Harden and Curry—not to mention the return of Rose.
Dwyane Wade
Dwyane Wade has been an All-NBA mainstay in eight out of the past nine seasons, but it's hard to deny that he's in decline. That's not a shot at Wade; it's an observation. He lacks the lift he once possessed, which has resulted in a much less aggressive offensive player. Age catches up to everyone eventually.
Kevin Love
Kevin Love made the Second Team in his last full season, so there's certainly a case to be made for his place on one of the three All-NBA teams next year. But is he going to warrant a spot over Anthony, Aldridge, George, Griffin, James or Durant? Hardly.
Rajon Rondo
Because his ACL injury figures to keep him out for at least some portion of training camp and probably some of the regular season, Rajon Rondo will begin his 2013-14 campaign at a clear disadvantage. Toss in the likelihood that he'll be lacking some of his former quickness and it's fair to say he won't be the same player he was before.
Then again, maybe he'll finally develop a jumper to compensate. But maybe not.
Joakim Noah
I like Joakim Noah, and you should, too. He plays as hard as humanly possible and makes the players around him better. I hated leaving him off of next year's predicted All-NBA teams. I hope I'm wrong about this one, but it just seems like Gasol and Howard will warrant consideration ahead of him, and Duncan is likely to be a sentimental (but also somewhat deserving) favorite.