10 Best Combined Playing and Coaching Careers in NHL History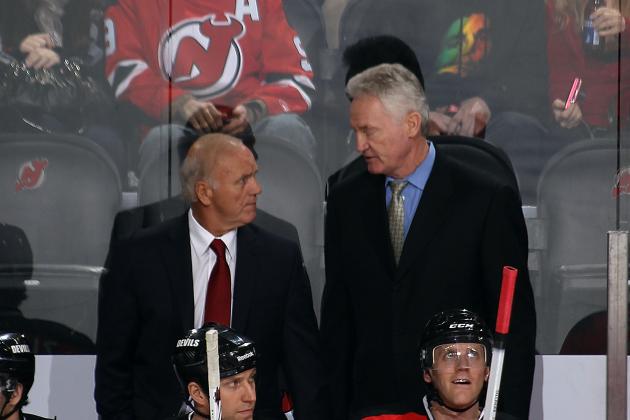 Bruce Bennett/Getty Images

Patrick Roy, who plugged the Colorado Avalanche vacancy on Thursday, is all but indisputably the best former NHL goaltender to return to the league as a head coach. In an 18-year Hall of Fame career, he backstopped four Stanley Cup championships and collected a troika apiece of Vezina Trophies and Conn Smythe Trophies.
Only the 2013-14 season and beyond will determine how he translates his success as a major junior skipper with the Quebec Remparts. But any reckonable success he attains with the Avs will nudge him in the direction of exclusive company among those who have excelled in the NHL both as players and coaches.
Here is a glance back at 10 exceptional individuals who collected All-Star accolades and individual and/or team trophies as players and then orchestrated hardware-caliber teams from behind an NHL bench.
Unless otherwise indicated, all statistics and playoff results for this report were found via hockey-reference.com.
Begin Slideshow

»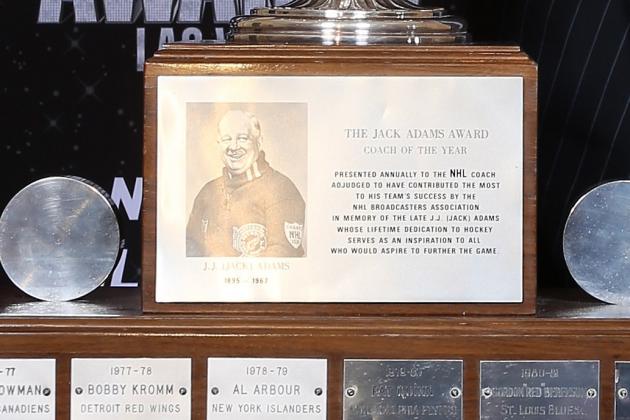 Bruce Bennett/Getty Images

Because he is the namesake for the NHL's best coach award, Jack Adams is easier to remember than most other historical figures in the league. Michigan puckheads, in particular, are indebted to him for bringing the Detroit Cougars/Falcons/Red Wings to relevance over a 20-year coaching career.
By the time Adams left that post in 1947, he had won three Stanley Cups and posted a 413-390-161 record.
But he also left a substantive skate mark on Toronto's NHL franchise. He broke into the league during its inaugural season in 1917-18, putting in eight appearances with the Toronto Arenas.
By the time the Arenas had morphed into the St. Patricks, Adams had emerged as a prolific goal scorer. In four successive seasons, he stamped 19 tallies in 23 games, 14 in 22, 21 in 27 and 21 in 36.
Adams eventually hung up the blades after seven NHL seasons with a grand total of 83 goals and 115 points in 173 ventures, enough for a perch in the Hockey Hall of Fame.
A three-time champion with the Chicago Blackhawks (1961) and Toronto Maple Leafs (1962 and 1964), Al Arbour finished his playing career by helping the expansion St. Louis Blues make an immediate impact. His sound defense earned him a spot in the 1969 All-Star Game and bolstered the Blues to three Stanley Cup Final appearances in as many years of existence.
Arbour retired after playing 22 more games during his fourth year as a Blue in 1970-71. That same year, he succeeded Scotty Bowman as the St. Louis skipper, a position he held for three years before accepting the same role with another new franchise, the New York Islanders.
The Isles had floundered in their first year under Phil Goyette and Earl Ingarfield, who combined for a 12-60-6 record. Arbour, at the very least, nearly doubled the team's point total in its sophomore year, but substantially better days were not far ahead.
In his second year on Long Island, Arbour elevated New York's "other" NHL chapter from eighth place in the division to third. Their subsequent playoff run saw them upset the rival Rangers in a best-of-three series, surmount a 3-0 series deficit to abolish the Penguins and push the eventual repeat champion Flyers to a Game 7.
Within another five years, Arbour's Isles vanquished Philadelphia for their first of four straight Stanley Cups as part of five straight trips to the finals.
Few people have stood out as a testament to the concept of a lucky 13 more than Toe Blake, who spent 13 seasons as a player with the Montreal Canadiens and another 13 as their coach.
The former, which ran from 1935 to 1948 with 527 career points and two Cups, was good enough for Hall of Fame enshrinement in 1966. In addition, it had to leave many wondering what might have been had Blake stayed across town with the Maroons, with whom he won a title as a rookie in 1934-35 immediately before joining the Habs.
The latter began with an unprecedented and unsurpassed run of five consecutive titles between 1955-56 and 1959-60. It ended with Blake's eighth title as a skipper and 11th overall in 1968, when the Canadiens topped the aforementioned Arbour, Bowman and the expansion Blues in the championship series.
With exactly 500 wins behind the bench, Blake remains Montreal's all-time franchise leader in that category and is No. 17 on the league's all-time leaderboard.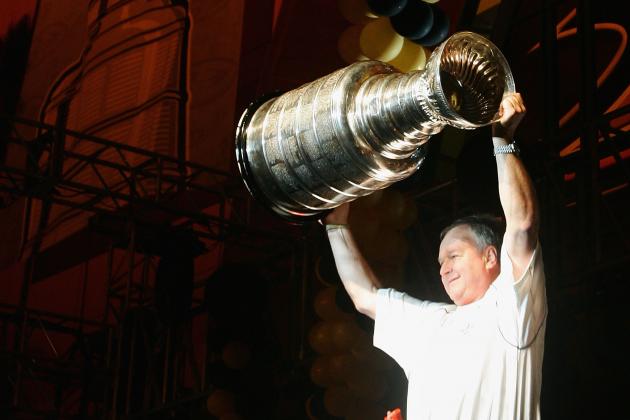 Jeff Gross/Getty Images

Each of the last five Pittsburgh Penguins teams Randy Carlyle played for finished with a sub-.500 record.
His luck from a team standpoint was only somewhat better in nine years with the Winnipeg Jets (now the Phoenix Coyotes). Those teams mustered five winning seasons and only thrice cracked the 40-win plateau.
That would explain his dozen finishes with a negative plus/minus rating, which, with the exception of his rookie year in Toronto, was never any lower than the third worst on his club.
But all of those bitter pills yielded savory achievements for Carlyle as a player. He appeared in four All-Star Games and garnered the Norris Trophy in 1981.
After closing that chapter of his career in 1993, Carlyle has gone on to apply his lessons from behind the bench and attain a little more team-wide success. His first season as a head NHL skipper saw the Anaheim Mighty Ducks reach the 2006 Western Conference finals.
A year later, Carlyle's pupils brought the Cup to California. More recently, he has returned to the Maple Leafs and ended that franchise's nine-year playoff drought to cap off his first full season behind their bench.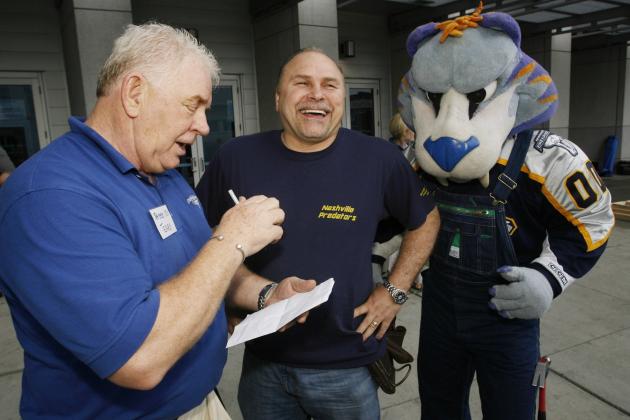 John Russell/Getty Images

A former teammate of and player under Arbour, Terry Crisp had only one "minus" campaign out of nine full NHL seasons. That was during the Islanders' expansion year, when he brooked a minus-22 rating.
Other than that, the ostensibly undersized pivot (5'10", 180 pounds) was irreproachably efficient. At the other end, he sprinkled a relatively generous 201 points in 536 regular-season games and 43 points in 110 playoff outings.
To start his playing career, his input coalesced with that of his teammates to help the Blues reach those aforementioned three straight finals appearances. To end his career, he went to another set of three consecutive championship rounds with the Flyers, who won back-to-back Cups in 1974 and 1975 before losing to Montreal in 1976.
That amounted to three finals losses in as many tries against the Habs. But after he switched to coaching, Crisp finally got the better of the Canadiens when he led the Calgary Flames to a banner in 1989.
Granted, he later had five-plus down years with the expansion Tampa Bay Lightning, but that takes nothing away from his ring or his combined Calgary record of 144-63-33 in three seasons.
Hap Day went to the players' wing of the Hall of Fame in 1961, 23 years after he finished a 14-season, 581-game, 202-point career as a Toronto defenseman. But between his retirement and enshrinement, he eclipsed those accomplishments with a brilliant decade behind the Maple Leafs bench.
Day coached the Leafs for virtually the entirety of the 1940s, enduring only one losing season in that 10-year span. Immediately after that aberration in 1946, his pupils won three consecutive Stanley Cups, piled on top of two other titles from 1942 and 1945.
In all, Day posted a career winning percentage of .549 in the regular season and a 49-31 playoff record. In addition, the teams he led never lost a Cup Final series in five total appearances, remarkable considering they were nearly swept out of their first championship series against Detroit in 1942.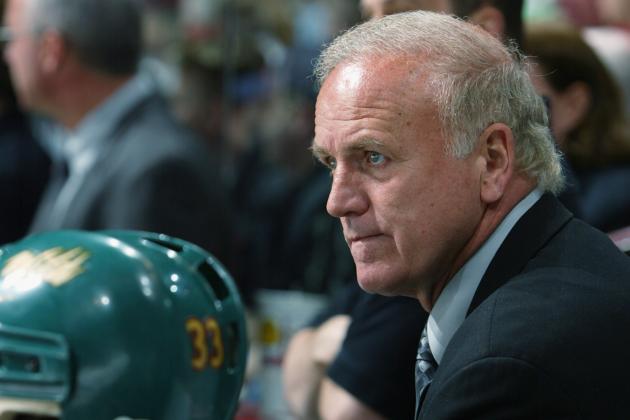 Jeff Vinnick/Getty Images

Fifth all time among Montreal Canadiens in both goals and plus/minus and seventh in franchise history under the assists and points heading, Jacques Lemaire went to two All-Star games and savored eight Stanley Cups during a 12-year playing career.
He could not duplicate Blake when it came to diversifying his legacy with the bleu, blanc et rouge. But he did guide the Habs to first place and a 41-27-12 record in his lone full season as their head coach in 1984-85.
An eight-year hiatus from coaching ensued, but when Lemaire resurfaced, he immediately began to expand his trophy case and put the New Jersey Devils on the map.
His first season culminated in a trip to Game 7 of the 1994 Eastern Conference finals and a Jack Adams Award. A year later, his pupils rebounded from their heartbreaker at the hands of the Rangers to garner the Garden State's first Cup.
Lemaire took on a greater challenge when he took the first coaching gig in the history of the expansion Minnesota Wild. After two years of gelling and growing pains, he led the Wild to the third round of the 2003 playoffs and earned his second Jack Adams.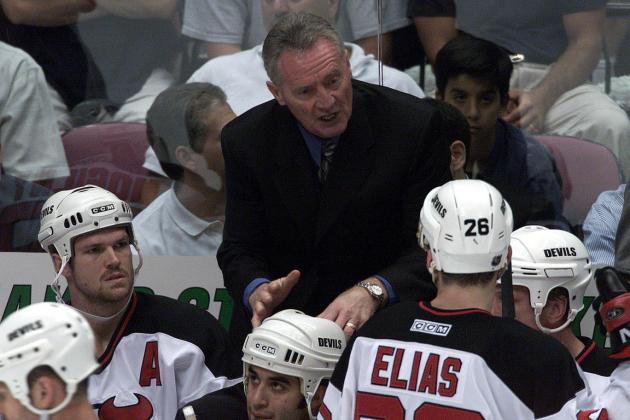 Brian Bahr/Getty Images

What is it about outstanding Habs players going on to direct the Devils through banner campaigns?
As of the conclusion of the 2012-13 regular season, Larry Robinson safely remains Montreal's all-time plus/minus leader with a career rating of plus-700. He is second in franchise history with 1,202 career games, fourth with 686 assists and fifth with 883 points.
The 1995 Hall of Fame inductee was a 10-time All-Star, picked up two Norris Trophies and corralled the Conn Smythe Trophy in 1978 as one of his six Stanley Cup victories with the Habs.
Robinson would win another playoff title in 2000, less than three months after replacing Robbie Ftorek behind the New Jersey Devils' bench with eight games left in the regular season. His first full season as the New Jersey head coach saw the reigning champs finish first in the Eastern Conference and fall one win short of a repeat Cup.
The chief reason they could not defend their crown: Patrick Roy, who backstopped the Avalanche to a combined 7-1 victory in back-to-back elimination games en route to his third Conn Smythe.
The aptly nicknamed "Gentleman Joe" Primeau was doubly rewarded with hardware during his fifth of nine NHL seasons in 1931-32. He claimed the Lady Byng Trophy for sportsmanship while his skill and will translated to a career-best 13-37-50 scoring log and bolstered the Maple Leafs to a Stanley Cup.
That run stood as the high point for the famed "Kid Line," consisting of Charlie Conacher, Busher Jackson and Primeau.
Although his playing days were relatively brief, Primeau did enough in that span to earn Hall of Fame induction in 1963. A dozen years prior to that ceremony, he had delivered another Cup to Toronto in his first of three years as their coach.
Cooney Weiland bookended his playing career with a pair of Stanley Cup titles in 1929 and 1939, each coming during separate stints with the Boston Bruins.
Weiland set a tone for his offensive prowess as a rookie with an 11-7-18 scoring log in 1928-29. Around that time, he was linking up with Dit Clapper and Dutch Gainor on what grew to be the "Dynamite Line."
There would be no sophomore slide the following season. Weiland topped the NHL's charts in 1929-30 with 43 goals and 73 points in 44 appearances. In each of the subsequent two playoffs, he led or co-led all point-getters.
Weiland smoothly transitioned to coaching after the Bruins won their second Cup and guided his ex-teammates to a .698 winning percentage in 1939-40. Boston duplicated that regular-season output the next year and followed up with the franchise's third all-time title.
Weiland promptly abdicated his position after that, allowing him to go out on top as a coach—just as he had as a player. Precisely three decades later, he entered the Hall of Fame.