French Open 2013: 5 Reasons Roger Federer Can Win Again in Paris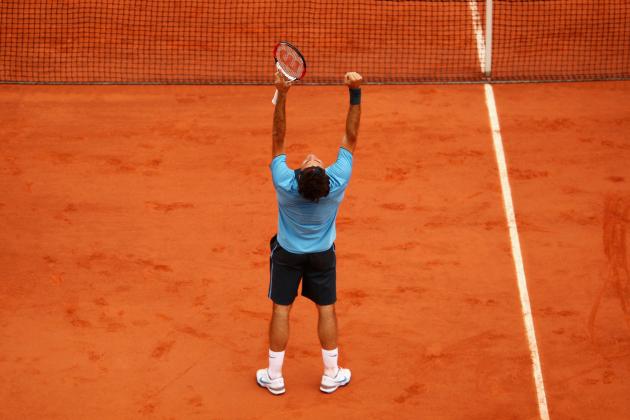 Clive Brunskill/Getty Images
Roger Federer is relieved after finally winning the French Open in 2009.
While Roger Federer certainly does not have a lot of momentum heading into this year's French Open, the tennis world would be foolish to count the 17-time major champion out. He's still firmly near the top of the men's rankings and always gears up the most for the Grand Slams.
Rafael Nadal and Novak Djokovic are the clear-cut favorites for this title, but Federer will certainly be in the mix. The Swiss superstar has just one French Open title to his name in his career back in 2009, as he has fallen on many occasions to Nadal late in the tournament.
On paper, the men's draw will be doing a lot of favors for Federer. Let's take a look at five reasons why he can win a second French Open and further cement himself among the all-time greats.
Begin Slideshow

»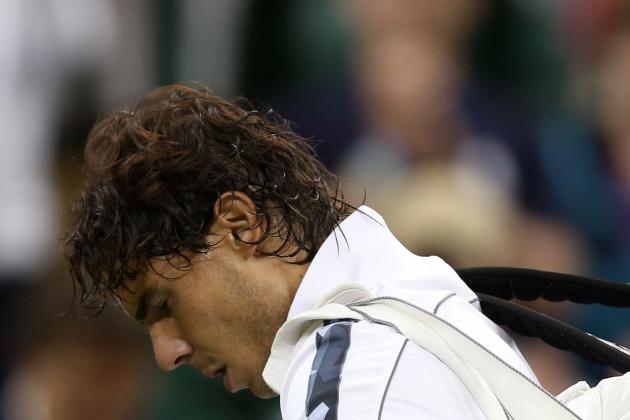 Clive Rose/Getty Images
Rafael Nadal walks off the court in dejection after losing to Lukas Rosol at the 2012 Wimbledon Championships.
Last year in the second round of the Wimbledon Championships, Czech player Lukas Rosol scored one of the biggest upsets in tennis history. He knocked off two-time champion Rafael Nadal in five tough sets.
Rosol looms in Nadal's section of the draw and the two could meet in the third round, provided Rosol can get there. He proved last year that he has the type of game that can hurt Nadal.
In no way would it be expected that Nadal would go down to Rosol again, especially on clay. Nadal didn't seem to be 100 percent in last year's encounter, either, and did not play again the rest of the season.
That being said, the king of clay couldn't be that comfortable if he had to go up against Rosol again. Rosol basically served his opponent off the court late in their match last year.
If Rosol can score another monumental upset over the seven-time French Open champion, Federer's case for the title would be boosted greatly. At last year's Wimbledon, Federer took advantage of Nadal's early exit to record his first Grand Slam title since January of 2010.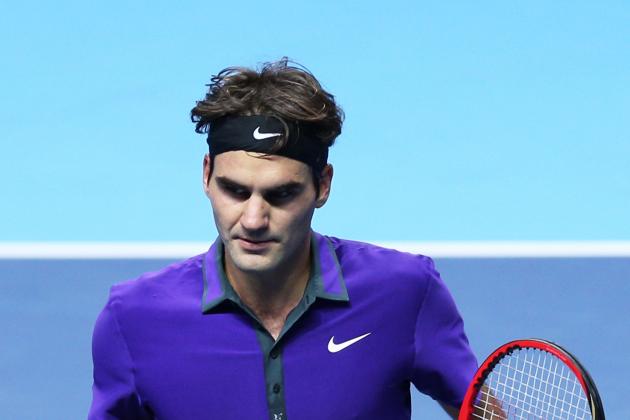 Clive Brunskill/Getty Images
Roger Federer celebrates after beating David Ferrer in round robin play at the 2012 year-end championships in London.
Federer will be playing in his 54th consecutive Grand Slam event, not missing one this millennium. More impressive than that, however, is that he has reached at least the quarterfinal stage of the last 35 majors.
With that in mind, you can basically book his name deep into this year's French Open draw. No one in his section should pose much of a scare to him, as he has owned Jo-Wilfried Tsonga since losing to him at Wimbledon in 2011.
Based on his favorable draw, the Swiss Maestro should have no trouble getting into the semifinal round. It is very possible that he could face dirtballer David Ferrer (No. 4 seed) in that stage.
Federer owns a 14-0 career record against the Spanish player, as Ferrer seemingly has no answers for the variety of Federer's game. This would be a dream matchup for Federer to try to advance to a sixth career French Open final.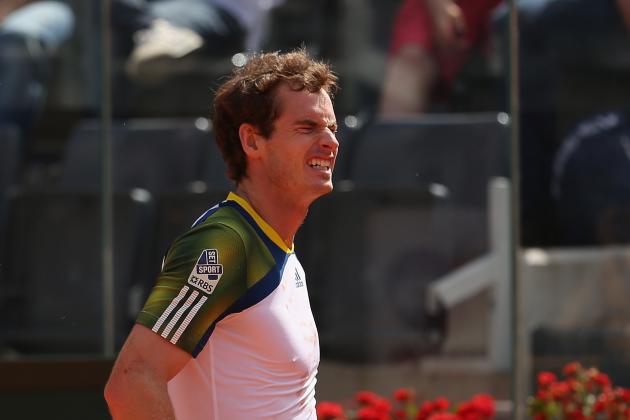 Clive Brunskill/Getty Images
Andy Murray cringes due to his back during a match last week in Rome.
World No. 2 Andy Murray had to withdraw from this year's French Open due to a back injury. This allowed Federer to get the No. 2 seed and also means he has one less player to worry about in his title quest.
While Murray hasn't shown to be as strong on clay as other surfaces, he is a player who has given Federer a lot of trouble, especially of late. The two have never met on clay before, but the Scott has a 11-9 career head-to-head edge.
In Federer's prime, Murray had the ability to score victories over him in smaller tournaments, but never on the big stage. That all changed last year, when Murray destroyed Federer in the Olympic gold-medal match.
Murray backed up that win with a semifinal win over the Swiss star in Australia this year. Emotions flared a bit between the two in that encounter, and I'm sure Federer will not miss having to possibly beat Murray to win this title.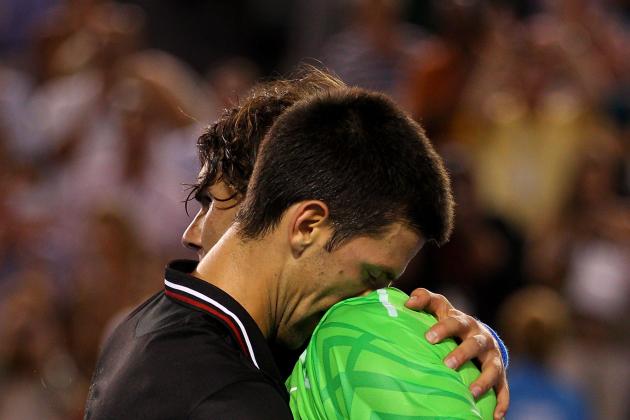 Scott Barbour/Getty Images
Novak Djokovic and Rafael Nadal console each other after a six-hour battle at the 2012 Australian Open.
The best break of all for Federer's draw is that both Rafael Nadal and Novak Djokovic are on the other half of the draw. He will only have to defeat one to win this title, and that would be in the championship match.
Nadal absolutely owns Federer on clay, as proven again last week. The king of clay is 13-2 lifetime against the Swiss player on his favorite surface, including 5-0 at the French Open.
The Djokovic matchup is much better on clay, as the two are tied 3-3, including 1-1 at Roland Garros. If Federer were to meet Djokovic for the title, the Serb would also have the added pressure of trying to wrap up the career Grand Slam.
Another factor that could come into play here is it's very likely that Nadal and Djokovic will meet in the semifinals of this event. Based on their history, it could be a very long match, and the winner might struggle to recover in time for the finals.
Obviously, things don't always go according to plan, but the projection is for Federer to have a nice easy rout to the finals of this event, while his two main rivals duke it out before they even reach that stage.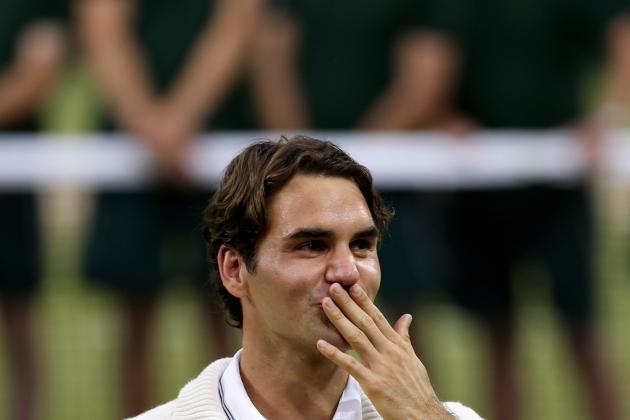 Julian Finney/Getty Images
Roger Federer shows his jubilation after winning his seventh Wimbledon title last summer.
Federer turns 32 in August and has accomplished just about everything possible in the game of tennis. As the father of young twins and past his prime, it would be easy for him to just call it a career and sail off into the sunset.
However, this man absolutely loves the game and is still competing at a very high level. Even though he is not winning nearly every event he enters like he used to (he doesn't have a title yet this year), he is still out there giving it everything he has.
He has the most Grand Slam singles titles among the men in the history of the sport, but he is still hungry for more. He proved he can still do it about 10 months ago when capturing his seventh Wimbledon trophy.
The Swiss Maestro is a student of the game, and revels in its history. If he can win another French Open, he would be become the first man in the Open Era to capture multiple titles at each of the four Grand Slams.
This year might be his best chance to do it, as it would be very unlikely that he can knock off two of the big four in a best-of-five set format at this point in his career, outside of maybe Wimbledon.