Ranking the 7 Most Exciting WWE Cruiserweight Champions in Company History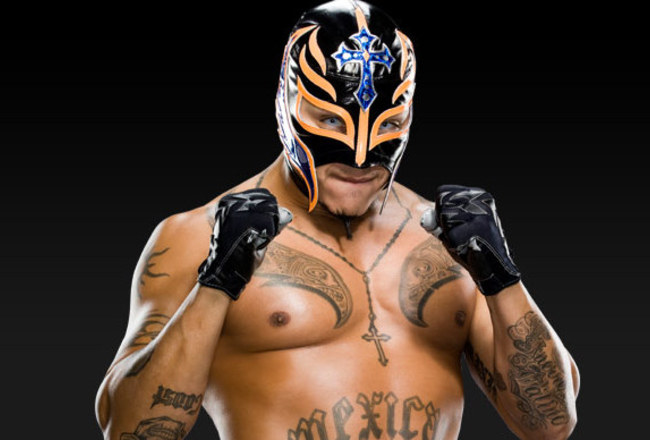 Photo Credit: WWE

The WWE Cruiserweight Championship's brief history featured acrobats, high-flyers and several memorable and impressive stars.
For six years, WWE's quickest, most agile and most thrilling undersized wrestlers competed for the title. The WCW cruiserweight belt officially became a WWE title in late 2001 until it was disbanded in 2007. The title did eventually deteriorate into a joke of a championship, but during its peak, it was a launching pad for men like Jamie Noble and Gregory Helms.
WWE's most popular underdog tops the list and is followed by other stars who made us forget their size and focus on their skills instead.
Ranked here based on who had the best matches, most interesting stories and breathtaking offense during their title reigns, here are the most exciting cruiserweight champions in WWE history.
Honorable Mention

Paul London vs. Chavo Guerrero

Juventud Guerrera was a far better WCW cruiserweight champ than WWE partly because he only held the WWE version for 26 days.
As WrestleZone.com reported in 2006, Juventud's refusal to follow rules partially led to his release by the company. Had WWE let him do his full array of moves and be as big in the division as WCW had let him, his legacy with Vince McMahon's group would have been different.
Paul London had a lengthy cruiserweight title reign in 2005, but as exciting as his style was, he didn't have as many memorable matches as the men who made this list above him.
X-Pac deserves a mention as well, even though the championship was still the WCW version when he was champ in 2001. It wasn't until the WCW invasion angle had played out that the championship started bearing the WWE (then WWF) name.
7. Matt Hardy

Matt Hardy defends the title against Rey Mysterio at WrestleMania XIX.

Normally over the cruiserweight weight limit, Matt Hardy trimmed down during his "Matt Hardy: Version 1.0" phase. Shannon Moore accompanied him as a devoted Mattitude follower.
Hardy won the title in a good match against Billy Kidman at No Way Out 2003 and went on to hold it for 100 days. Kidman would prove to be one of his more exciting rivals, as he and Hardy put on several well-worked matches on WWE SmackDown.
As agile and quick as Hardy was, his comparatively larger size kept him from being quite as electric in the ring as his cruiserweight peers.
6. Chavo Guerrero

Chavo Guerrero in cruiserweight tag team action.

Based on talent alone, Chavo Guerrero should rank much higher on this list. During his time as cruiserweight champ, though, there seemed to be a silly moment for every thrilling one.
He ranks this highly on the strength of his in-ring work, his speed and fluidity. He had excellent battles with Paul London and Billy Kidman. Unfortunately, other things got in the way.
Guerrero lost the title to Jacqueline in May 2004 and then won it back from her with his hand tied behind his back for much of the match. He then lost the title in a match involving his then 55-year-old father in a match also involving Spike Dudley.
Guerrero was also the man to last hold the title before Hornswoggle won it and sapped it of all its prestige.
With as many talented cruiserweights as WWE employed at the time, it seemed odd that Guerrero would be asked to lose to a woman, a man over 50 and a little person. Through no fault of his own, it was during Guerrero's reigns that the title lost much of its importance.
5. Billy Kidman

Billy Kidman vs. Tajiri

Two of Billy Kidman's reigns as cruiserweight champ came after it officially became a WWE title. Those reigns are marked with memorable, exhilarating matches with Jamie Noble, Tajiri and Matt Hardy.
His ring work was a mix of drama and athleticism and often punctuated by his thrilling finisher, the Shooting Star Press.
Kidman was one of the foundations of the division, but some of his best work was as a challenger in multi-man matches.
4. The Hurricane/Gregory Helms

Gregory Helms battles Jimmy Wang Yang.

As fun as his Hurricane persona was in his first reign, Gregory Helms' second reign was built on thrilling matches. Helms held the title for over a year until Chavo Guerrero finally snatched it from him in early 2007.
Aside from taking on challengers like Super Crazy, Helms fought in champion vs. champion bouts against world champ Rey Mysterio and Bobby Lashley.
His battles with Jimmy Wang Yang, Matt Hardy and the rest of the division showed off Helms' impressive speed and scintillating kicks.
3. Tajiri

Rey Mysterio vs. Tajiri for the cruiserweight title.

The first man to hold the WWE version of the cruiserweight title was one of the most spectacular athletes in the division.
The best of the division, men like The Hurricane, Rey Mysterio, Billy Kidman and Jamie Noble, had some of their best work against Tajiri. Not only was he dazzlingly quick, but he had an enthralling energy about it him as well.
His kicks were equally gorgeous and unsettling and were weapons that sucked in fans.
Of all the cruiserweight champs, Tajiri was involved in some of the more interesting stories, angles that included Torrie Wilson dressing like a geisha and a soap opera-like storyline between Tajiri, Noble and Nidia.
2. Jamie Noble

Billy Kidman vs. Jamie Noble

Without the cruiserweight division, Jamie Noble likely wouldn't have made it in WWE. He is exactly the type of wrestler the division is designed to showcase. At 5'7'' and barely 200 pounds, Noble wouldn't have been able to make the same impact by battling the company's bruisers and giants.
As a cruiserweight champion, Noble was a dynamic spectacle, impressively quick and mesmerizing in the ring.
Noble was in some of the division's best matches. Any DVD collection of great WWE Cruiserweight Championship matches would have to include Noble battling Billy Kidman at Vengeance 2002, Tajiri at No Mercy 2002 and both Rey Mysterio and Tajiri on the October 26, 2002 episode of WWE SmackDown.
1. Rey Mysterio

Rey Mysterio vs. Tajiri at No Mercy 2003.

A year after signing with WWE in 2002, Rey Mysterio was not only the cruiserweight champion, but the most exciting, most recognizable and most popular star of that division.
Being an athletic marvel with cartoon-character speed led to that, but beyond that, fans connected with Mysterio in a way that they do with few stars. WWE crowds filled with fans in Mysterio masks and T-shirts.
During his three reigns as WWE cruiserweight champion, Mysterio had a number of fantastic matches including clashes with Tajiri, Matt Hardy, Jamie Noble, Chavo Guerrero and Spike Dudley.
His hypnotizing offense, visually appealing ring gear and infectious energy led to Mysterio not only being the most exciting cruiserweight titleholder in WWE history but one of the most exciting stars in the company's history.
Keep Reading