NFL Head Coaches Facing Make-or-Break Seasons in 2013-14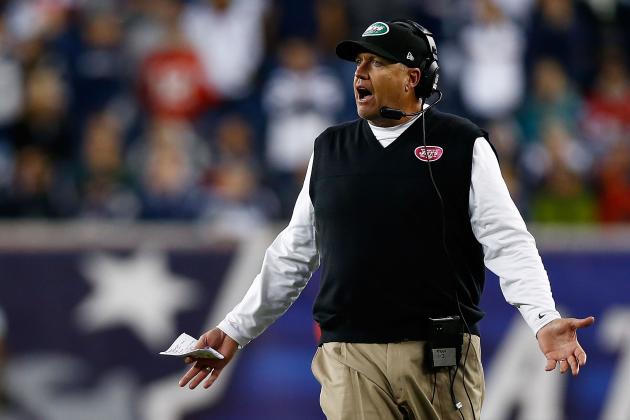 Jared Wickerham/Getty Images

That sound you hear is several head coaches stirring in their seat. That's because their collective butts are all getting a little hot.
The hot seat is part of the harsh reality of being a head coach in the NFL, and things can change rather quickly. One season, a coach could be leading their team to the playoffs or to a championship game, and shortly thereafter, he could find himself answering for many of the team's shortcomings.
That being said, the hot seat is not reserved for coaches who have fallen from grace. There's plenty of room for guys who were brought in with hopes of changing the culture and have since failed to meet those expectations.
We'll see a good variety of coaches that fulfill both criteria as we look at the men who need to put together a solid 2013 season in order to keep their jobs.
Begin Slideshow

»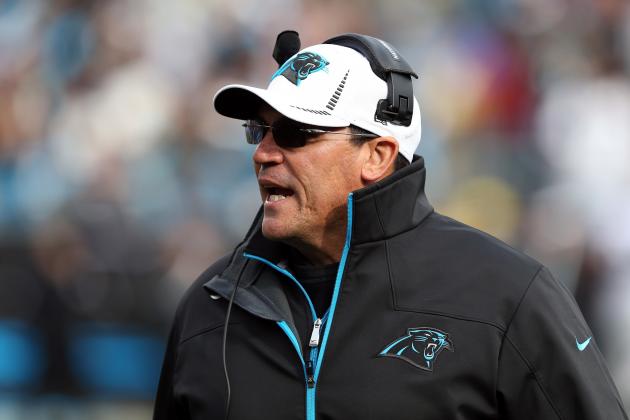 Streeter Lecka/Getty Images

The Carolina Panthers haven't had a winning season since 2008 and were holders of the No. 1 overall pick when Ron Rivera took over in 2011. Since then, they've gone 13-19. They finished third in the division in 2011 and were in a three-way tie at the bottom in 2012.
So why did Rivera keep his job after last season? It may have something to do with Carolina's four-game winning streak or the fact that seven of the Panthers' nine losses came by six points or less.
There is a solid core of players in place on both offense and defense. Rivera could turn it around, but his hands are tied by a dire situation with the salary cap, which leaves the Panthers with $10.6 million in cap space this year.
Carolina made a change at general manager, bringing in Dave Gettleman as the new front man of the operation. If Rivera doesn't start winning more games in 2013, more changes could be afoot.
Minimum wins to keep job: 8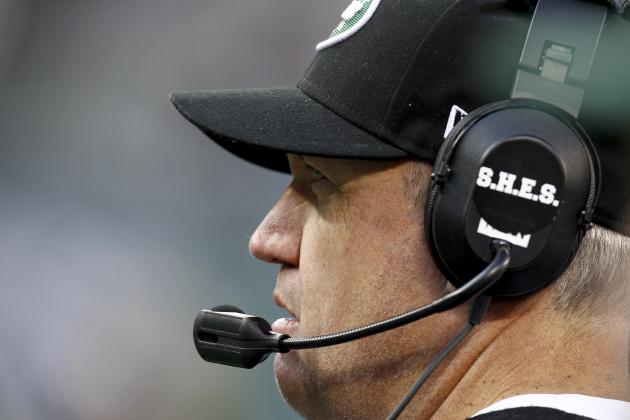 Jeff Zelevansky/Getty Images

Rex Ryan may be the best man for the job right now, but with a new general manager in John Idzik, it's fair to wonder how much longer that will last.
The Jets have done a nose dive since landing in back-to-back AFC Championships in 2009 and 2010 and have now missed the playoffs altogether in the last two seasons.
There has been a sea of change for the Jets in the past 15 months. They've lost two offensive coordinators, their defensive coordinator and their GM. They traded their best player in cornerback Darrelle Revis and appear ready to move on from Mark Sanchez as the starting quarterback.
Sometimes, change can breed success in the NFL (just ask the Atlanta Falcons and San Francisco 49ers, who have gone from laughing stocks to perennial contenders overnight), but if the new ingredients don't add up to a recipe for success, this could be Rex's last hurrah.
Minimum wins to keep job: 7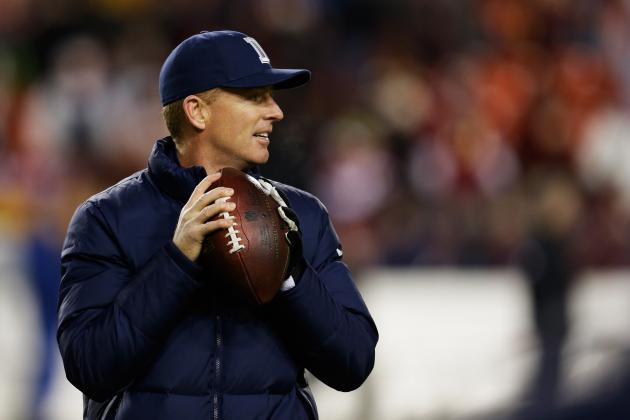 Rob Carr/Getty Images

Cowboys owner Jerry Jones recently told NFL Network that Garrett isn't coaching for his job this year, but to what extent should we believe him?
Garrett got off to a hot start for Dallas with two wins after the team had fallen to 1-7 in 2010. Following those two wins, though, his record is an even .500 (19-19; 3-3 in the final six games of 2010, finished 8-8 in '11 and '12).
Jones has invested a good deal of money into the team—it's one of the reasons they're in such a dire cap situation this year and in future years—and he's not likely to be very happy about spending all that money if his team misses the playoffs a fourth consecutive season.
Garrett has already been stripped of play-calling duties and has instead been given a coaching staff full of people with strong ties to potential replacements Lovie Smith (the Cowboys hired Rod Marinelli as defensive line coach) and Jon Gruden (Monte Kiffin is the new defensive coordinator).
Since 1998, Cowboys head coaches have an average shelf life of 3.125 years. With Garrett entering his third season and having 2.5 seasons as head coach under his belt, this could be his last chance to prove he's capable of leading this team to the playoffs.
Minimum wins to keep job: 9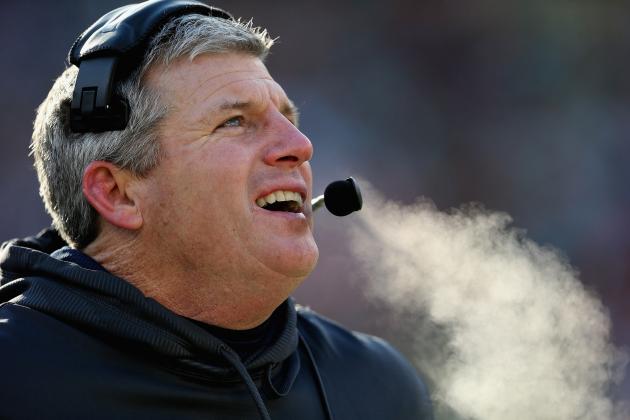 Jonathan Daniel/Getty Images

Titans owner Bud Adams was committed to head coach Jeff Fisher through much worse than the 6-10 season the Titans just endured. That commitment could carry over given the strong ties between Adams and Mike Munchak from the head coach's tenure as an Oilers offensive lineman and assistant coach.
The Titans were below average for Fisher's first four seasons as head coach, going 31-33 overall while missing the playoffs each year, but will Adams have that kind of patience again? Perhaps Munchak is getting a bit of a pass for circumstances out of his control. Quarterback Jake Locker missed five games and parts of two others with shoulder injuries.
The Titans were one of the 10 most penalized teams in the NFL last year, at an average of 6.6 penalties per game. Those are errors that can often be traced back to coaching, but the Titans can ill afford to shoot themselves in the foot if they want their head coach to stick around.
The Titans aren't a talent-laden team and need to get more out of their stars. Running back Chris Johnson's stat sheet didn't look too bad overall last year (1,243 rushing yards, 4.5 yards per carry, six touchdowns), but he averaged less than four yards per carry in nine of 16 games and fewer than three yards per carry in seven games. The Titans need to get more consistent production out of their best players.
With two playoff teams, the AFC South is not a weak division. Munchak and the Titans will have their work cut out for them.
Minimum wins to keep job: 8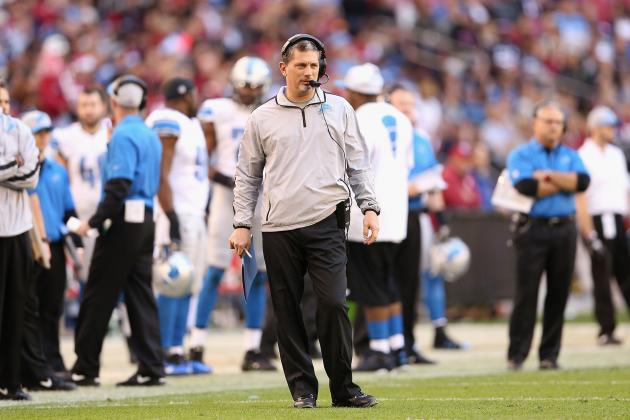 Christian Petersen/Getty Images

No one expected the Detroit Lions to immediately turn things around after going 0-16 in 2008, but fans were probably hoping for a little better than the 22-42 record the Lions have compiled in four years under head coach Jim Schwartz.
That being said, there are some reasons for hope. Eight of the Lions' first nine losses of the 2012 season came by eight points or less, indicative that they were competitive in every game they played. That won't cut it, though. They have the talent to be better than that.
They lost defensive end Cliff Avril in free-agency, but added Jason Jones and Ezekiel Ansah to fill the void.
Running back Reggie Bush was by far the best addition they made this offseason, though, as he could be the component which moves the Lions offense away from its one-dimensional tendencies of throwing every down. (Quarterback Matthew Stafford has led the league in pass attempts each of the past two seasons.)
One specific area the Lions have struggled in over the years is penalties. They have ranked in the bottom half of the NFL in penalties each of Schwartz's four years and were in the bottom three in 2010 and 2011. Discipline problems, both on the field and off the field, are often traced back to the head coach.
Unless the Lions show that they've made some strides, as they did in 2011, this could be it for Schwartz in Detroit.
Minimum wins to keep job: 10