Will Carmelo Anthony Be the Next Great Player to Never Win an NBA Title?
Use your ← → (arrow) keys to browse more stories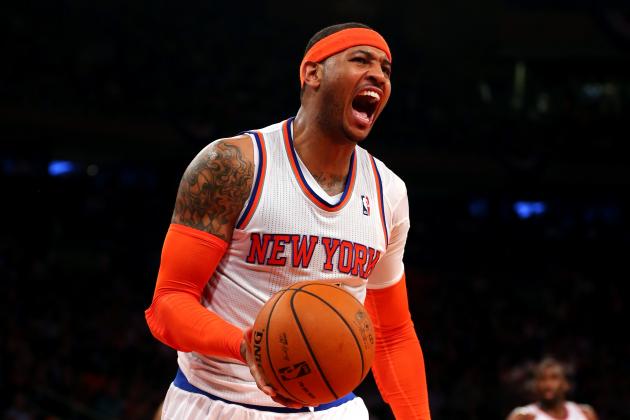 Elsa/Getty Images

Despite a career year and his first scoring championship, Carmelo Anthony has once again finished an NBA season without a ring. There's still plenty of time left in his career to get the job done, but he could go down as the next great player never to win the hardware to back it up.
Melo was fantastic for the New York Knicks in the regular season. He averaged 28.7 points on 45 percent shooting and did so while posting a career-high PER of 24.8. He led the way for a team that most people wrote off before the season started, ultimately leading the Knicks to their first Atlantic Division title in 19 years.
In short, Anthony was a genuine MVP candidate, missing out only because the NBA has been blessed with the freak of nature that is LeBron James.
When the playoffs rolled around, however, things changed. Ball movement, efficient scoring and teamwork—all of which were key for Melo during the regular season—disappeared, as New York was knocked out in the second round.
It was the first time in over a decade that the franchise had made it that deep into the postseason, but as the second seed in the conference, it was still a disappointment.
Melo's scoring numbers were still high, but he shot only 40 percent from the field and had a PER of just 20.7, the lowest he's had in the playoffs since 2008.
To be fair to Anthony, news has just emerged from The New York Daily News that he was actually playing with a partially torn labrum in his left shoulder. Playing hurt against a great, physical defense, it wasn't a surprise that his play dropped.
Still, you can't completely ignore the way the Knicks played. Trust and chemistry seemed to be the issue and will need to be fixed ahead of next season. This is still a talented team, and one of the best in the conference, but that means nothing if the players can't gel together.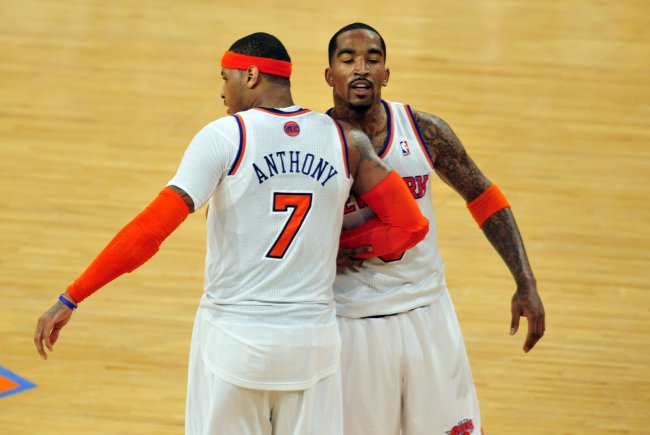 Joe Camporeale-USA TODAY Sports
The big obstacle in Melo's title campaign is the presence of LeBron James. They didn't face off in the playoffs this year, but you have to think that after making a few offseason adjustments, New York could earn the right to face the Miami Heat in the conference finals at some point.
Melo will never be the favorite to win a title so long as LeBron is around, and in order to win a championship, the Knicks star will need a one-off, dominant season. The best team or player doesn't always win, and with some luck and pieces that fit together, a "lesser" team can get the job done. The Dallas Mavericks proved as much in 2011.
As much as he's criticised, Melo is still one of the top five or so players in the league. The real problem for him is that his game is based almost entirely on scoring. That doesn't mean he can't win a championship, but it does mean that his supporting cast has to be built perfectly for it to happen.
Anthony can't win a ring with J.R. Smith shooting poorly, Jason Kidd disappearing and Mike Woodson keeping Chris Copeland locked up until garbage time.
Jim Boeheim's recent criticisms of the Knicks (via Syracuse.com) may have overlooked Melo's drop in form, but to an extent, he was absolutely right: Melo can't win a ring if his teammates don't show up.
Melo is days away from his 29th birthday, so he still has plenty of time left in the NBA. As long as the Knicks can stay near the top of the conference, he will have a decent shot at the title for the next few seasons.
If he can stay healthy in the playoffs next year, we can expect the Knicks to make a deep run, but whether or not he will eventually win a ring depends on a lot of variables.
Melo is an elite scorer, and even if he's able to elevate his play in the playoffs, the real difference-maker in earning a championship will be the quality of his supporting cast.