San Jose Sharks vs. Los Angeles Kings Game 5: Live Score, Updates and Analysis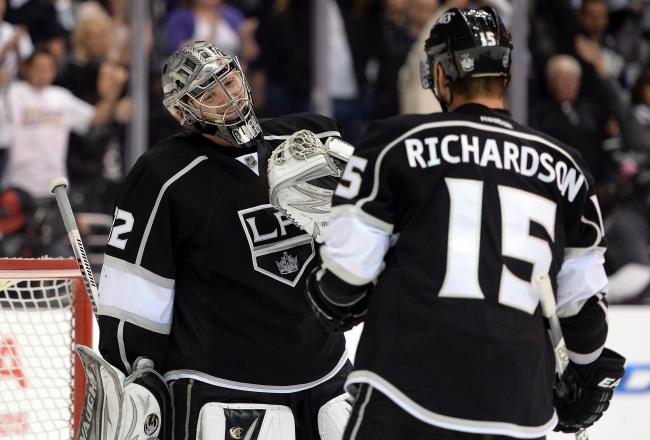 Harry How/Getty Images
Jonathan Quick continues to steal the postseason spotlight for the second straight spring. The 2012 Conn Smythe Trophy winner blanked San Jose 3-0 Thursday night in Los Angeles, picking up his third shutout of these playoffs.
Quick stopped 24 shots, including 12 in the third period to earn his seventh career postseason shutout. Anze Kopitar, Jeff Carter and Slava Voynov each scored for the Kings.
Los Angeles has won 13 straight games on home ice, claiming a 3-2 series advantage in the Western Conference semifinals.
San Jose returns home for Game 6 facing elimination. The Sharks have suffered just two regulation losses at home in 2013 and defeated the visiting KIngs in Games 3 and 4.
Final: Los Angeles 3, San Jose 0
Carter tacks on empty-net goal to give Kings 3-0 lead with 31 seconds remaining in regulation!
Jeff Carter scores his fifth goal of the playoffs to put this game away. He was assisted by Mike Richards.
Los Angeles 2, San Jose 0 (2:50)
Desperate times for the Sharks. Keep an eye on San Jose netminder Antti Niemi who could soon take a seat in order to provide an extra San Jose attacker.
Check that --- he's off to the bench at 2:17.
The hits keep on coming for San Jose. Goalie Antti Niemi involved in major collision (legal) with Dustin Brown near the net.
He appears to be fine but the moment is symbolic of what has taken place throughout the night in Los Angeles.
Brown submarines Niemi at one end, Quick stops Galiardi at the other. Rough sequence for #SJSharks there.

— David Pollak (@PollakOnSharks) May 24, 2013
The Kings have shutout San Jose on the power play tonight. The Sharks are now 0-for-3 with a man advantage, struggling to maintain possession on each occasion.
San Jose started the postseason hot on power plays but have cooled off tremendously in the past few contests.
Los Angeles 2, San Jose 0 (9:34 3rd Period)
The Kings must kill another power play in order to maintain a 2-0 advantage. Joe Thornton took a tumble and Kopitar was tagged with the penalty, setting the stage for a pivotal Sharks man advantage.
San Jose managed just two total shots in the past four minutes of power play action.
Odds are certainly stacked against a San Jose comeback tonight...
LA Kings went 19-1-2 when leading after 2 periods in the regular season. They're 4-1 in the postseason.

— Greg Beacham (@gregbeacham) May 24, 2013
Los Angeles 2, San Jose 0 (13:30 3rd Period)
The Kings continue to play the role of aggressor this evening. Los Angeles threatened to extend its advantage to 3-0 but Niemi made a series of necessary saves to keep hope alive for San Jose.
The Sharks managed just 11 shots in the first two periods but have already put six shots on Jonathan Quick in this final frame.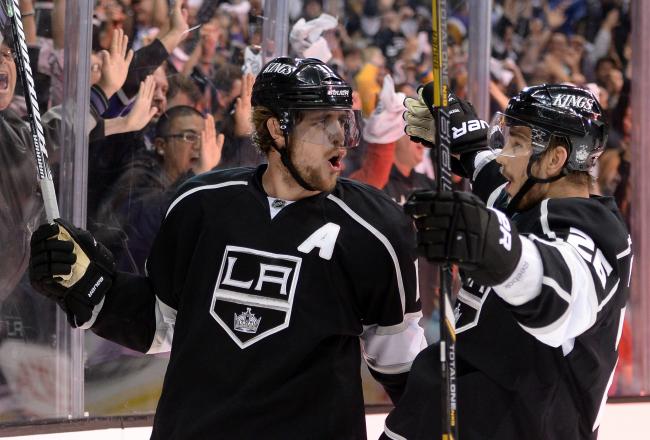 Kings claim 2-0 lead just 53 seconds into third period!
Slava Voynov scored to put Los Angeles in front by two goals less than a minute into the final frame. His fourth postseason goal came immediately after the Kings won a faceoff against Joe Thornton.
Voynov was assisted by Trevor Lewis. Considering the way Jonathan Quick and company have bottled up the Sharks tonight, a two-goal deficit seems mighty large at this stage of Game 5.

The third period is underway in Tinseltown. Los Angeles leads 1-0 and hasn't lost at home in two months (12 straight victories).
San Jose has struggled mightily on offense so the Sharks must remain sharp on the defensive end.
Through 40 minutes of action, Los Angeles owns a sizable 39-18 advantage in hits. The Kings will aim to close this game out by continuing to impose superior physicality.
Los Angeles leads San Jose 1-0 through 40 minutes of action!
The King will open the third period with 50 seconds left on a power play. Anze Kopitar cashed in from point-blank range to give Los Angeles a lead in the closing minutes of the second frame.
The Sharks have been outshot 18-11 through two periods.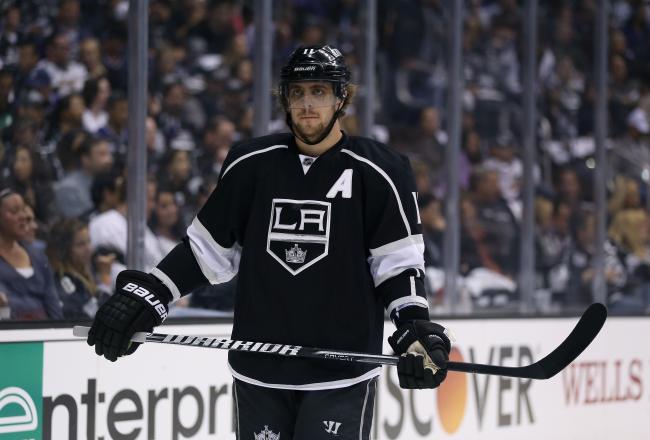 Kopitar scores to give Kings 1-0 lead with 1:52 left in second period!
The Los Angeles leader notched his second goal of the postseason by poking the puck past Niemi's right side. He was assisted by Kyle Clifford and Rob Scuderi.
Niemi lost his stick on the play. The Kings claim the first lead of Game 5.
Los Angeles is unable to cash in on its first man advantage of Game 5. Just moments after the power play concludes, postseason star Jeff Carter appeared to have Niemi beat after coming across the back of the net.
However, his scoring chance was denied and we're still locked in a scoreless stalemate. This has been a thrilling period of no-room-for-error playoff hockey.
The Kings have killed San Jose's second power play opportunity of the contest. Los Angeles had a solid short-handed chance during the latest go-round.
The Sharks are now 1-for-18 with a man advantage during playoff road games.
Los Angeles 0, San Jose 0 (8:41 2nd Period)
As we heap praise on Niemi, it's Jonathan Quick's turn to shine. He just stuffed back-to-back Patrick Marleau scoring chances after Logan Couture provided an excellent inside feed.
Quick immediately regained position and blocked both point-black shot attempts.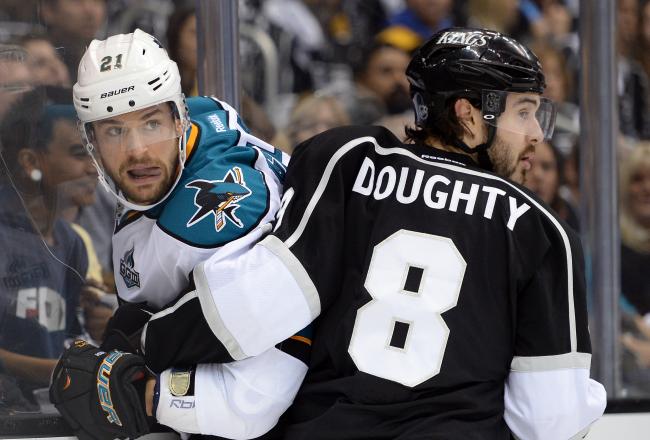 Los Angeles is absolutely thumping San Jose from a physical standpoint. The Kings have a 29-14 advantage in hits and seem to be winning just about every race to reach loose pucks.
Game 5 remains a scoreless tie but you have to wonder if Los Angeles will begin to wear down the Sharks in this battle of attrition.
Los Angeles 0, San Jose 0 (11:17 1st Period)
The Kings again threaten Niemi. Los Angeles' top line just took it to San Jose's fourth line, pummeling the goalie with shots.
Niemi has been outstanding, making 12 saves. Quick may be the bigger superstar but the Sharks' netminder continues to stand tall.
Slow going for San Jose on offense so far tonight. But as Associate Press reporter Greg Beachem states, the game's first lead is still up for grabs...
The Sharks just got their first shot on goal in 17 minutes, but LA Kings still aren't on the scoreboard either.

— Greg Beacham (@gregbeacham) May 24, 2013
Mike Richards may have just had the game's best scoring chance. Following a San Jose turnover in its own zone, he picked up the puck and fired a shot toward Niemi.
The shot sailed high. The Sharks survive a major scare.
Los Angeles 0, San Jose 0 (15:31 2nd Period)
Sharks captain Joe Thornton dominated action early and often in Game 4, tallying two assists while commanding the team's attack like a surgeon. Things haven't come so easy this time around.
Los Angeles has done an excellent job of containing space on the defensive end. Thornton hasn't been able to develop the same flow we saw San Jose display on Tuesday.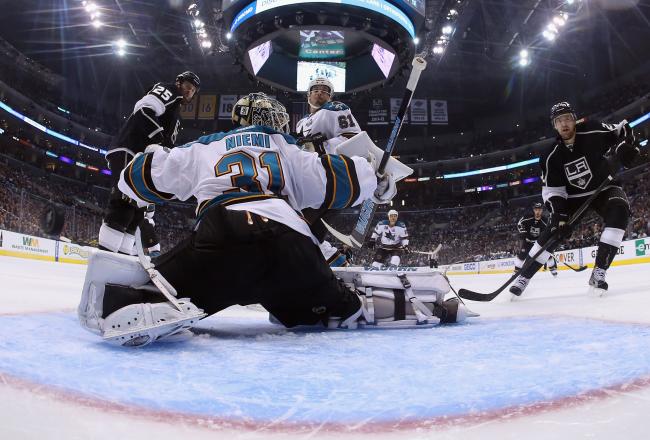 The second period is underway in Los Angeles. The Kings clearly brought a stronger offensive attack to the first 20 minutes of action but neither squad could crack the scoreboard.
The obvious matchup to watch here centers around the netminders. Jonathan Quick, the 2012 postseason hero, versus Antti Niemi, a Vezina Trophy finalist, is compelling stuff.
First period comes to a close without any scoring!
San Jose and Los Angeles enter the first intermission locked in a scoreless stalemate. The Sharks came up empty on the only power play of the period, while the Kings owned a 9-6 edge in shots on goal.
Los Angeles surged to 2-0 leads in each of its first two home games of the series. Stay tuned for second period coverage...
In typical Hollywood fashion, the Staples Center plays host to an eclectic mix of celebrities.
Sharks sideline reporter Brodie Brazil just spotted one of the...err...biggest in attendance.
Let me try this again: Tom Cruise is here.So… I'm not the shortest guy at Staples Center!!

— Brodie Brazil (@brodiebrazilCSN) May 24, 2013
Los Angeles 0, San Jose 0 (4:58 1st Period)
The Kings have cruised on home ice during the past month of action. Los Angeles owns 12 consecutive victories at the Staples Center.
Game 5 has featured balanced action so far. The Sharks have a 6-5 advantage in shots on goal and the period's only power play.
Whichever team wins this game will claim a 3-2 series advantage and sit one win away from advancing to the Western Conference semifinals. Meanwhile in Motown, the Red Wings built a commanding 3-1 series lead over top-seeded Chicago tonight.
Jimmy Howard. The 2013 Jonathan Quick.

— Ryan Zuke (@zuker14) May 24, 2013
Detroit goalie Jimmy Howard is hot, drawing comparisons to one of the stars of this matchup...
This article is
What is the duplicate article?
Why is this article offensive?
Where is this article plagiarized from?
Why is this article poorly edited?