The Foolproof Game Plan for Stopping Each of the NFL's Top QBs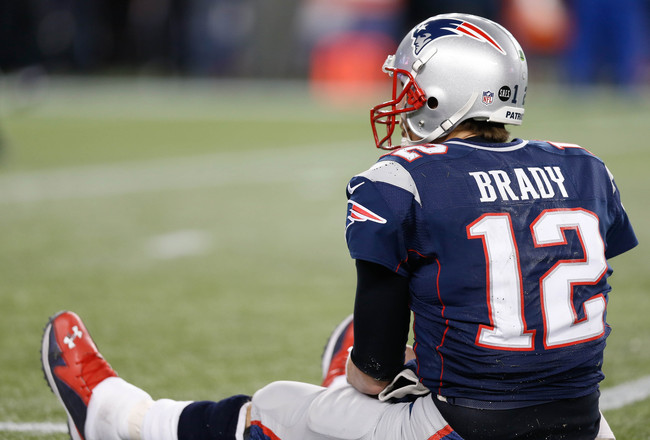 Greg M. Cooper-USA TODAY Sports
The best quarterbacks in the NFL put up big numbers week after week. It's rare when a player like Peyton Manning, Drew Brees or Aaron Rodgers has a bad game. As observers of the NFL, we have taken their high-level of play for granted.
Manning, Brees and Rodgers are expected to light up the scoreboard. When a player of their caliber has a bad game, we instantly assume that they are injured.
Why do we do this? Because we rarely expect the unexpected.
However, every superstar quarterback turns in a subpar performance every now and then. It usually happens when defensive coordinators deploy a foolproof game plan.
Let's take a look at foolproof game plans that are tailored to stop each of the NFL's top quarterbacks.
Peyton Manning
Over the course of Peyton Manning's 15-year career, opposing defensive coordinators have spent countless hours game-planning against No. 18. Yet very few teams have had much success against the 12-time Pro Bowl quarterback.
The last time Manning threw more interceptions than touchdowns in a season was 1998. Moreover, the last time he finished a season with a quarterback rating below 90 was 2002. For his career, he has amassed 59,487 yards passing, while his touchdown-to-interception ratio is 436-to-209.
Those numbers prove that Manning is one of the hardest quarterbacks in the league to game-plan against. However, the former No. 1 overall pick is not invincible. There are flaws to his game, and those flaws came out against the Atlanta Falcons in 2012.
By the end of Denver's Week 2 contest, Manning had tossed three interceptions. So, what did the Falcons do to slow the future Hall of Fame quarterback down? Aside from generating a consistent pass-rush, defensive coordinator Mike Nolan disguised his coverage schemes well.
On Manning's first interception, the Falcons deployed a Cover 2 press look. When the ball was snapped, Atlanta's cornerbacks jammed Denver's wide receivers off the line of scrimmage. From there, the corners acted as if they were going to man up on the wideouts. Instead, they dropped off—leaving a wave of defenders underneath and over the top.
Manning released the ball after his wide receivers got off the jam, and safety William Moore came out of center field to pick the ball off. Moore's assignment called for him to watch No. 18's eyes. He executed the play to perfection and returned the interception to the 1-yard line.
The second interception was more of the same from Atlanta's defense. Both safeties showed a two-deep zone look and acted as if they were playing off to defend the deep ball. As soon as the ball was snapped, they faked deep and reversed course to jump the inside "go route."
Even though safety Thomas DeCoud made a great play, the blame falls on the shoulders of the quarterback. It was more of a bad read than a great play.
Manning's third and final interception of the game was against another well-disguised zone. This time Nolan dialed up a three-deep zone, which is completely different than his first two defensive calls.
Not only did both safeties drop off into coverage in a Cover 3, but the left cornerback dropped straight off as well. The drop-off from the left corner allowed him to play in between both wide receivers on the right side.
Additionally, the fact that both receivers ran "go routes" made for an easy interception overall.
Manning isn't always this careless with the ball, but when a defensive coordinator catches him on an off day, he can overwhelm him with varying looks from the defensive secondary.
Drew Brees

*Disclaimer* NSFW

In the NFL, the quarterback position is the only position that improves with age. Look at guys like Peyton Manning, Tom Brady and Drew Brees. Just when you think one of these three players is getting too old, he surprises you with a monster season.
Manning, Brady and Brees all put up over 4,000 yards passing last season. However, only one of them surpassed everyone's expectations by notching 5,177 yards passing. Since joining the New Orleans Saints under head coach Sean Payton, No. 9 has amassed three 5,000-yard passing seasons.
This is something no other quarterback in NFL history has accomplished.
Sure, the NFL is more pass-heavy than ever, but that shouldn't take away from Brees' achievements. Aside from putting together three 5,000-yard seasons, he has put together back-to-back 40-plus touchdown seasons.
Those two feats alone are two of the most impressive feats the NFL has ever seen.
People often wonder why the former second-round pick out of Purdue is so good. Well, here's why.
First of all, Brees is an incredible decision-maker. He rarely picks a bad spot when throwing into tight windows.
Second, Brees has made it a point over the course of his career to improve his mechanics and footwork. When he was with the San Diego Chargers, he endured some tough times. His mechanics were inconsistent, and he often failed to readjust his feet when he was moved off his point in the pocket.
Coach Payton has helped Brees become a sounder technician by focusing on the little things.
Lastly, the seven-time Pro Bowl selection has a picture-perfect throwing motion. His release point is exactly where it needs to be, while his weight transfer transitions smoothly from front to back. Based on the fact that Brees is so short, his throwing motion is arguably his best asset.
Despite all the work he has put in over the years, he still posts too many multi-interception performances. For example, he finished 2012 with five games with at least two interceptions. He even posted a five-interception game in Week 13 against the Atlanta Falcons.
So, how did Atlanta's game plan shut him down?
It's simple: They generated enough pressure to collapse the pocket. This, in turn, forced Brees off his throwing spot. When he is moved off his original spot, it forces him to reset his feet and find a new throwing lane.
Finding a new throwing lane has never been a problem for the undersized quarterback; he does it multiple times a game. Yet, it's hard to find a throwing lane when interior pass-rushers are making it a point to clog it.
This is when everything breaks down for Brees. Instead of taking the sack or throwing the ball away, he will often try to force the ball downfield. Obviously, this leads to risky throws into coverage that often get picked off.
Moreover, his feet are rarely in the right position when he makes these types of throws.
In the video above, he also displayed one of his less prominent bad habits. When the Falcons picked him off for the third time, Brees was caught throwing across his body. This is a big no-no in the NFL. Defensive players in the NFL are too fast.
Sure, collegiate quarterbacks can get away with it, but that's college. NFL quarterbacks know better.
The blueprint to stop Brees has been out there for a while, but it's a continuous game of cat and mouse. Getting in his line of vision, knocking him off his spot and disguising coverages are easier said than done.
Aaron Rodgers

*Disclaimer* NSFW

Green Bay Packers quarterback Aaron Rodgers has a lot of the same qualities as Denver Bronco's quarterback Peyton Manning. He is elusive in the pocket and highly accurate and rarely sees a throwing window he doesn't like.
Rodgers wasn't thrown into the fire right away like Manning. He had the opportunity to sit behind future Hall of Fame quarterback Brett Favre for three years. Favre taught the three-time Pro Bowl quarterback everything he needed to know while he was waiting in the wings.
As soon as Rodgers stepped onto the field in 2008, he was an instant success. He threw for 4,038 yards and 28 touchdowns in his first 16-game season. Since then, he has become one of the most celebrated quarterbacks in the NFL.
As a starter, Rodgers has never thrown more interceptions than touchdowns in a season. Moreover, he has never thrown less than 28 touchdowns in a single season.
Yet, there is one glaring hole in his game: He often holds onto the ball too long.
This poor part of his game was on full display against the Seattle Seahawks this year. During Green Bay's Week 3 contest against Seattle, Rodgers was sacked a season-high eight times. All eight sacks came in the first half.
Defensive end Chris Clemons notched four of those sacks, while defensive tackle Brandon Mebane and defensive end Bruce Irvin each notched two of their own.
As you can see in the video above, at least four of the eight sacks were coverage sacks. One has to give credit to Richard Sherman, Brandon Browner, Earl Thomas and Kam Chancellor. Those four members of the Seahawks secondary provided immense coverage downfield.
Their coverage helped extend plays for defensive coordinator Gus Bradley's defensive line. However, No. 12 needs to learn to check the ball down or throw the ball out of bounds. There were a few instances where Rodgers was scrambling around with no intentions of getting rid of the ball.
In the NFL, it's often best to throw the ball away and live for another down. Sure, Rodgers is accustomed to working his magic in the pocket more often than not, but against Seattle's attacking defense, he needs to realize his Houdini-type tricks won't work.
Unfortunately for Rodgers and the Packers, this realization came one half too late.
Even though few teams have a defensive secondary and defensive line like the Seahawks, defensive coordinators around the league will turn on this tape in the film room. They will tell their players that this is the game plan for shutting down the best quarterback in the NFC.
Defenses need to attack the line of scrimmage and collapse the pocket from the outside in.
There's a reason why the other three organizations in the NFC North covet pass-rushers. Rodgers won't make many mistakes on his own; the opposition will need to make him uneasy in the pocket to create turnovers.
Tom Brady
Since quarterback Tom Brady took over as New England's starting quarterback in 2001, it has been the most blessed organization in football. During his 13-year tenure, the Patriots have hoisted the Lombardi Trophy three times and appeared in the playoffs 10 times.
Without question, New England has been a model of consistency with Brady under center.
Aside from the organization's success as a whole, Brady has experienced his fair share of personal success as well. He has been named league MVP twice and Super Bowl MVP twice and has made the trip to Hawaii eight times.
Only a handful of teams have been able to knock Brady off his game over the years. Most recently, the 2011 New York Giants and the 2012 Baltimore Ravens left No. 12 dazed and confused.
It's shocking when the opposition exploits Brady's weaknesses. It's not shocking because it has never happened before; it's shocking because it rarely happens. The former sixth-round pick has been known to string together five or six games of flawless football over the course of a season.
In 2007, he put together 18 straight games of flawless football. Then came the one game that showed the world how to effectively bring Brady back down to earth. Say hello to head coach Tom Coughlin and his Super Bowl XLII champion New York Giants.
Prior to Super Bowl XLII, there were a few teams that had challenged the Patriots in 2007. But no team challenged them the way the Giants did in the Super Bowl. Defensive coordinator Steve Spagnuolo knew his Week 17 game plan wouldn't be good enough after his defense gave up 38 points.
So, he went back to the drawing board and started from scratch. In the final game of the regular season, Spagnuolo was aware that his defense didn't get to Brady as much as it could have. The defensive line had the potential to make its presence felt—they just needed to unleash it.
And unleash it they did. By game's end, the New York Giants sacked Brady five times and knocked him down 23 other times. This was by far the most pressure "Tom Terrific" had felt in eight NFL seasons.
Not only did New York's front four generate pressure, but Spagnuolo also dialed up timely blitzes to keep Brady off his game. Defensive end Justin Tuck led the way with two quarterback sacks, while linebacker Kawika Mitchell, defensive tackle Jay Alford and defensive end Michael Strahan each notched sacks of their own.
Since Super Bowl XLII, opposing defenses have used New York's performance as a blueprint on how to beat Brady.
Matt Ryan
When the Atlanta Falcons drafted quarterback Matt Ryan, they were hoping they would strike gold. Coming out of college it was a foregone conclusion that he would make the Falcons instant contenders. But no one expected him to make such an impact right away.
As a rookie, Ryan threw for 3,440 yards and 16 touchdowns—not to mention he put the team on his back and led it to an 11-5 record in 2008. Atlanta's 11-5 record helped the organization make its first playoff appearance since the 2004 season.
Even though the Falcons lost to Kurt Warner and the Arizona Cardinals in Round 1, fans and media members alike knew Ryan's rookie season wasn't a fluke. Atlanta proved that as they have now made the playoffs four out of the past five seasons.
Anytime Ryan makes all 16 starts in a season, the Falcons finish the year with at least 10 wins. Additionally, his average seasonal statistics during a full 16-game slate are as follows: 4,010 yards passing, 26 touchdown passes and a quarterback rating of 92.5.
Anyone in his right mind would have a hard time arguing with that kind of production.
Yet, top-notch production doesn't necessarily mean Ryan isn't prone to mistakes. He's generally a good decision-maker who rarely puts the ball on the ground and completes a high percentage of passes.
However, one thing haunts his game every so often. When Ryan's footwork and mechanics get sloppy, his throws seemingly come out at a low trajectory. This, in turn, causes batted balls at the line of scrimmage.
More often than not, the batted balls fall to the ground. But that's not always the case—just ask the Arizona Cardinals. When the Falcons hosted the Cardinals in Week 11, Ryan had three of his 46 attempts tipped at the line of scrimmage.
Additionally, two of his three tipped passes were intercepted. As you can see in the video above, cornerback William Gay picked off the first ball that popped up in the air, and outside linebacker Sam Acho picked off the second one.
Ryan's five-interception performance didn't cost the Falcons the game, but it did highlight an area of weakness.
By season's end, the former first-round pick had eight of his passes batted at the line of scrimmage. Despite the fact that opposing defenses didn't get their hands on more balls, it's something they will be targeting in 2013.
When defensive coordinators game-plan against one of the NFL's best quarterbacks, they look for any advantage that will help them win on Sundays. It doesn't matter if it's a minute detail—sometimes the smallest thing can make a world of difference.
Don't be naive in thinking that defensive coordinators around the league won't game-plan around this flaw.
Keep Reading