8 MLB-Ready Prospects Turning Veterans into Trade Bait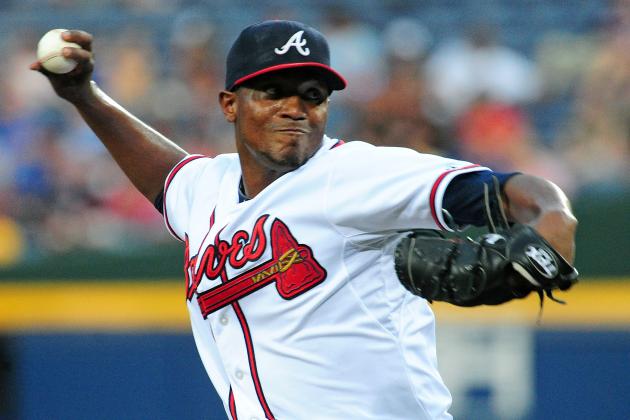 Scott Cunningham/Getty Images
The offseason trade of Tommy Hanson opened a spot for Julio Teheran in the Braves rotation.
It's getting close to that time where MLB teams start discussing internal moves within the organization that could make their big league roster better. Down on the farm, certain prospects are forcing the issue and doing what I call "knocking down the door" to the big leagues.
In some cases, getting through that door is as simple as playing well over a period of a few weeks while the major league roster gets limited production out of that position.
Kevin Gausman, who made his big league debut Thursday for the Orioles, didn't force a good pitcher out of the rotation. He had terrific numbers in Double-A (3.11 ERA, 46.1 IP, 5 BB, 49 K), but the O's simply had a huge need to fill and made the easy call to go with one of the best pitching prospects in the game.
Then there are the prospects doing everything they can to kick the door down, but there's a veteran player—often established in the majors and with a guaranteed salary—standing in their way.
Instead of gambling on an unproven player and pushing a veteran to the bench or off the roster, it could make more sense to open up a spot with a trade.
The Braves opened a spot for pitching prospect Julio Teheran in their rotation by trading Tommy Hanson before the season. The Diamondbacks traded away two outfielders, Justin Upton and Chris Young, ensuring that center field prospect Adam Eaton would have regular playing time.
Here are eight prospects who could be forcing a trade of the veteran currently blocking their path to the majors.
Begin Slideshow

»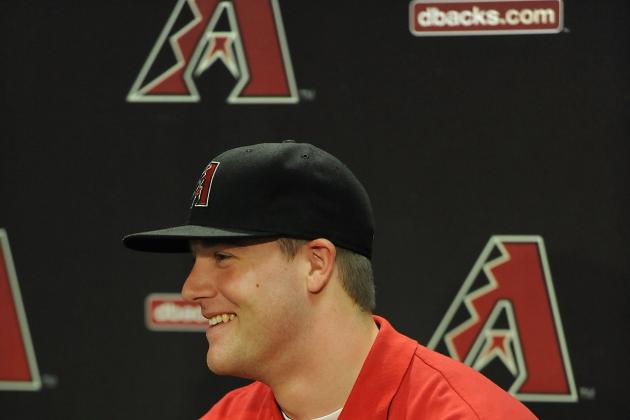 Norm Hall/Getty Images

It's Tyler Skaggs—the team's top prospect coming into the season—who is likely next in line for the rotation should one of the Diamondbacks' current five go down with an injury.
And it would be a well-deserved promotion considering he has a 2.65 ERA with three walks and 22 strikeouts in 20.1 innings over his last three starts. But would the Diamondbacks trade one of their current starters—Ian Kennedy, Trevor Cahill, Wade Miley, Brandon McCarthy or Pat Corbin—to make room for Skaggs?
I don't think so.
Now, if I was asked the same question about Archie Bradley, the team's second-ranked prospect coming into the season, the answer would be different.
Not a definite "yes," but it's certainly getting to the point where the Diamondbacks should at least consider that the 20-year-old just might be reaching his potential as a top-of-the-rotation starter much sooner than expected. If that's the case, he could be a difference-maker in the NL West.
Through nine starts—five in High-A, four in Double-A—the 6'4" Bradley has a 1.11 ERA with 34 hits allowed, 18 walks and 68 strikeouts in 48.2 innings pitched. Yahoo! Sports' Jeff Passan compared him to Chris Carpenter, which has to get fans excited.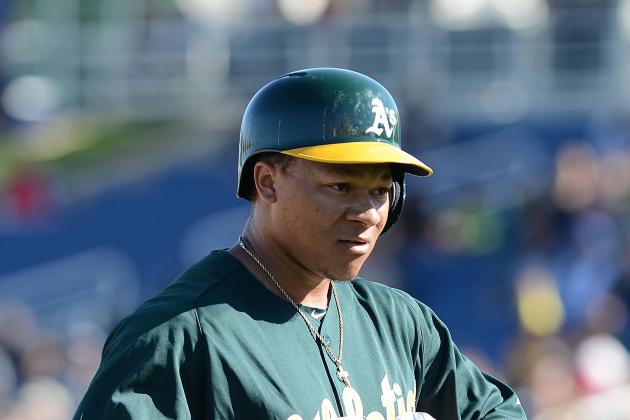 Jennifer Stewart/Getty Images

The A's have needed every bit of outfield depth they have, with Coco Crisp, Yoenis Cespedes and Chris Young all having spent stints on the disabled list already and Josh Reddick there now with a sore wrist.
They currently have four healthy outfielders on their roster, including Seth Smith, and top prospect and former first-round pick Michael Choice is making some serious noise down in Triple-A.
While 23-year-old Choice is marred in a 4-for-28 slump, he's been impressive overall. He has eight homers in 168 at-bats to go along with 29 walks and 34 strikeouts. Last season, he had just 10 homers in 359 Double-A at-bats with 33 walks and 88 strikeouts, so he appears to be making strides at the plate.
A team in need of some outfield help could have interest in Young, despite his .167 batting average. He still flashes strong defense, speed and power, and he could benefit from playing every day. And it would give the A's a chance to see what Choice can do.
He has played a handful of games at each corner spot, increasing his versatility if he were to take Young's role.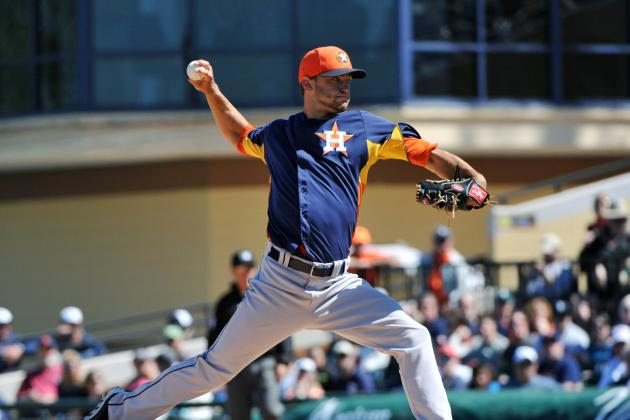 Al Messerschmidt/Getty Images

It's not like the Astros have to trade a starter to make room for Jarred Cosart. Like Kevin Gausman, he's already better than most of the guys in the current rotation.
But several teams around the league looking for pitching help will be interested in acquiring Bud Norris or Lucas Harrell, and having Cosart waiting in the wings would make it that much easier to pull the trigger.
The 22-year-old (he turns 23 on Saturday) has had just one bad start the entire season and has completed six innings in two of his last three starts after not going very deep into games early in the season.
After another strong outing on Thursday, Cosart's ERA is down to 2.55 with 22 walks and 53 strikeouts in 49.1 innings pitched. Opposing hitters have a .204 batting average against him.
While the Astros don't want to rush him, it would be nice if he forced their hand and earned the promotion based on performance as opposed to need.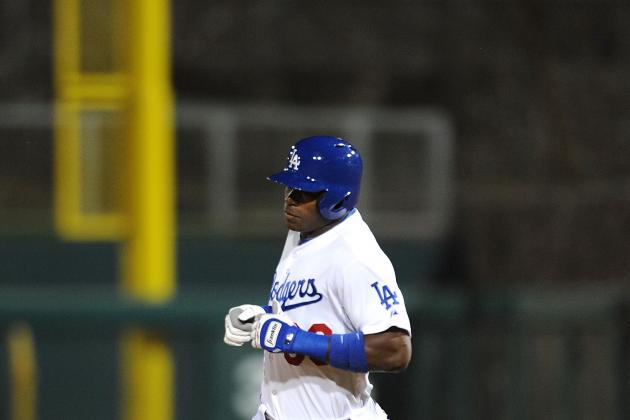 Norm Hall/Getty Images

It is very likely that Dodgers manager Don Mattingly was just trying to light a fire under his team when he mentioned that Double-A outfielders Yasiel Puig and Joc Pederson had been discussed as potential call-ups.
And it's pretty obvious who he's trying to light a fire under, and that's Andre Ethier, who Mattingly benched on the day he said he wanted to put the lineup on the field that was going to compete the hardest.
While both Puig (.949 OPS, 11 SB) and Pederson (.941 OPS, 13 SB) are tearing it up in Chattanooga right now, it's likely the one with the big league contract—that would be Puig, who signed a seven-year, $42 million deal in 2012—will get the first shot in Los Angeles.
Trading the 31-year-old Ethier with his value in decline wouldn't be ideal, though. He's still guaranteed over $70 million through 2017, and the Dodgers would likely have to eat a chunk of that and wouldn't get very much back in return either.
But if they side with Mattingly and question Ethier's effort, it could be addition by subtraction. Except you'd then replace him with a big-time prospect such as the 22-year-old Puig.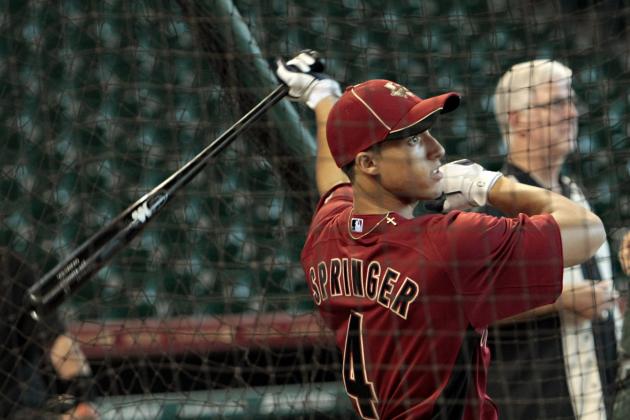 Bob Levey/Getty Images

One of the rawest talents in the minor leagues, George Springer is putting up huge numbers in Double-A thus far. He's so talented that it's not unexpected, but he also appeared to be overmatched there in a late-season stint in 2012.
It's interesting to see how quickly he's become the man among boys this time in the Texas League.
At 23, Springer isn't a youngster, but he's not as polished as you'd expect from a college draftee—he was the 11th overall pick out of the University of Connecticut in 2011. Through 43 games in 2013, however, he's hitting .296 with a .407 on-base percentage, 13 homers, 15 stolen bases, 26 walks and 55 strikeouts.
It may be a small sample size, but the Astros probably don't have much to lose by bringing up one of their best prospects now and letting him learn on the job.
Trading Carlos Peña, who has a .371 on-base percentage, would allow Chris Carter to play first base permanently. J.D. Martinez would shift to designated hitter, and Robbie Grossman to a corner spot. Springer would take over the regular center field job.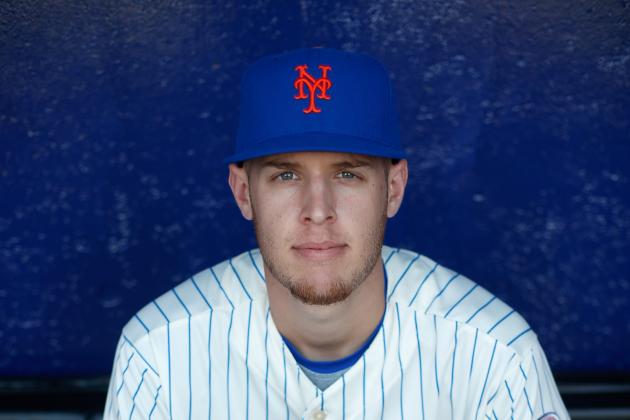 Chris Trotman/Getty Images

Zack Wheeler was supposed to be a better prospect than Matt Harvey, who is looking like one of the best pitchers in baseball right now.
While that assessment was probably wrong—mostly because of Harvey being way better than anyone could've expected and not because of Wheeler performing under expectations—we can't forget that the 22-year-old Wheeler is still one of the better pitching prospects in baseball.
Buzz was beginning to surround the 6'4" right-hander after three terrific starts in a row (20 IP, 3 ER, 14 H, 3 BB, 19 K), but a minor injury caused him to miss a start. He allowed three earned runs in five innings when he returned to action on Wednesday.
Wheeler is expected to join the Mets after two or three more Triple-A starts, according to Mike Puma of the New York Post.
That would give veteran Shaun Marcum a chance to build up some trade value. He's pitched better in his last two starts (12.2 IP, 6 ER, 11 H, 2 BB, 10 K) after a rough beginning to his season and could be an intriguing option to contending teams looking for rotation help.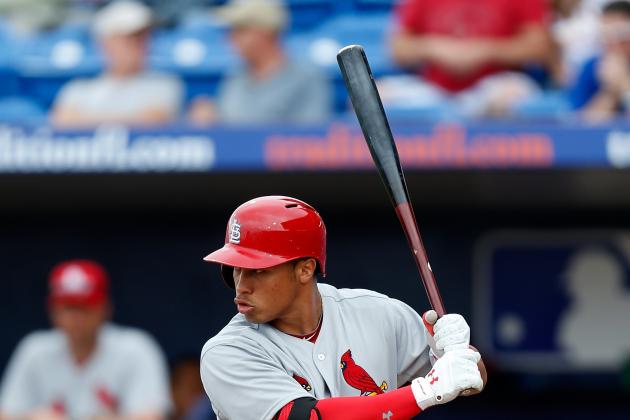 Chris Trotman/Getty Images

Matt Carpenter may not ever be a great second baseman, but he sure is making up for his defensive limitations at the plate (.412 OBP as leadoff man). The Cardinals would be smart to hold on to their top-of-the-lineup catalyst, but they need to eventually make room for Kolten Wong, their first-round pick in 2011.
The 22-year-old struggled in April but is hitting .377 with four homers, eight doubles and two triples in May, and he could force his way onto the roster by midseason. But if not Carpenter, who goes?
How about former World Series hero David Freese, who has struggled to stay on the field because of injuries but is still talented enough to have some value on the trade market.
Since he won't be a free agent until after the 2015 season, teams with a need at third base—including the Dodgers and Cubs—would have strong interest in the 30-year-old. Carpenter would then move to third base to open up second for Wong.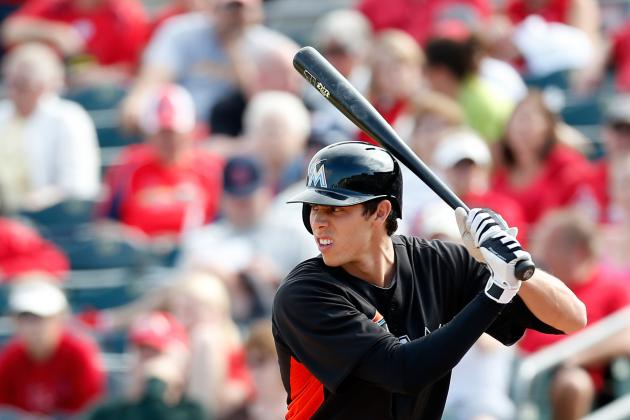 Chris Trotman/Getty Images

I won't pretend like Juan Pierre (.576 OPS) or Justin Ruggiano (.713 OPS) are standing in Christian Yelich's way. Once he's ready, there is a big league job waiting for him.
Ideally, Ruggiano can heat up and begin to show that his 2012 season (.313 BA, 13 HR, 14 SB in 91 games) wasn't a fluke so the Marlins could possibly get something back for him.
In the meantime, the 21-year-old Yelich is on fire in May, sporting a .329 batting average, 15 extra-base hits (6 HR, 5 2B, 4 3B), 11 walks and 16 strikeouts.
His arrival in the majors—along with Marcell Ozuna's promising start to his big league career and Double-A center fielder Jake Marisnick also playing well (.802 OPS, 6 SB in 19 games)—could have the Marlins strongly considering the trade of star right fielder Giancarlo Stanton once he returns from the disabled list.