Setting Expectations for Devils Top Stars in 2013-2014 Season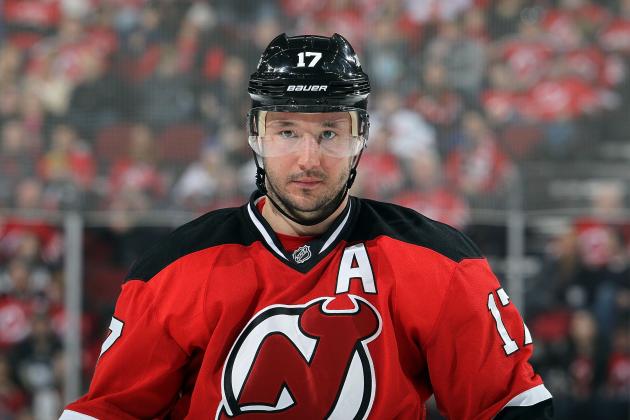 Jim McIsaac/Getty Images
Can't miss the stretch run next year.
It is easy to put an asterisk on a lockout-shortened season. Without a full training camp and an entire 82-game slate, human nature has us washing 2013 shortcomings under the rug. Whether this is an easy way to make excuses or a good source of optimism is tough to tell.
As a team, the New Jersey Devils failed to reach their goal of making the playoffs for another shot at the Stanley Cup. Individually, several players fell short. Ilya Kovalchuk suffered an injury at the worst possible time. In his sophomore season Adam Henrique failed to meet expectations that followed after an impressive rookie campaign. After a max-contract extension prior to the season, Travis Zajac didn't provide max-contract production.
These players need to return to their peak performance next season if the Devils are to return to playoff form.
New Jersey has several core members entering free agency. Some names include Marek Zidlicky, David Clarkson and franchise icon Patrik Elias. It is tough to tell who will be back.
But of the top players under contract for next season, here is what the team needs from them in order to prove 2013 was an aberration.
(Player stats acquired from team website and contract info courtesy of capgeek)
Begin Slideshow

»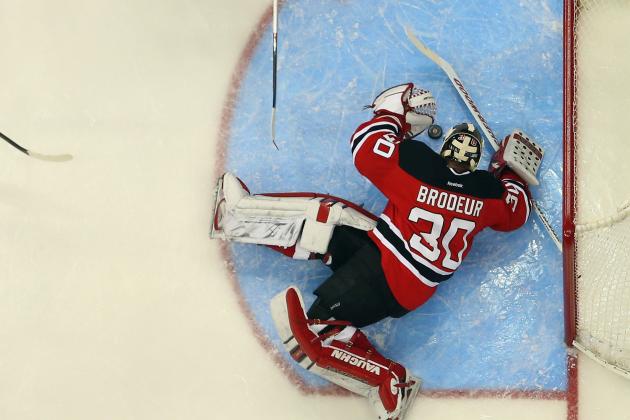 Bruce Bennett/Getty Images
Another one who must avoid injury.
Not only does he plan to play next season, but the 41-year-old goaltender may have hockey beyond 2013-2014. Brodeur has intimated the passion he still feels for his profession and isn't thinking about quitting quite yet, as read here in the Newark Star-Ledger.
The first month of the 2013 season Brodeur looked ageless, going 8-2-3 with a .910 save percentage through February 21. Then reality struck, and the oldest goaltender in the league missed a month with a pinched nerve in his back. The Devils as a team unraveled from that point on. Brodeur went 5-8-3 with a save percentage below .900 after returning from injury.
So a year older, what can we expect from Marty? One reality coach Pete DeBoer has to come to terms with is more rest for his legendary goalie. Brodeur has to be kept fresh; we saw how the team crumbles without its foundation.
Fifty starts, max. Under these pretenses he can stay in top form.
Expectations: 28-16-6, 2.25 goals against average, .908 save percentage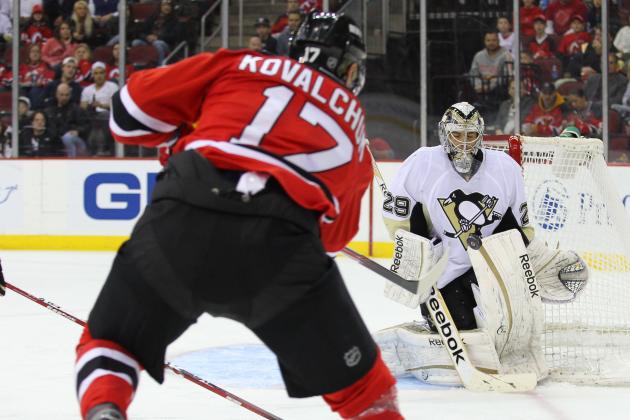 Ed Mulholland-USA TODAY Sports
The only forward that is an individual threat to opposing teams.
Along with Brodeur, Ilya Kovalchuk is the most important player on this team. This was made obvious when he missed 11 games in March and April and New Jersey lost 10 of them.
It would be cruel to criticize him for missing the stretch run, Kovalchuk went down hard into the boards and injured his valuable right shoulder. He proved he is willing to play through injury in 2011-2012 when he played in the finals with a bad back.
Somehow, this type of injury has to be avoided next season. He is the only forward with real one-on-one type skills, a guy who can blow past opposing defenseman and beat the goalie with a flick of the switch. If he can stay healthy, there is no reason why he shouldn't return to the point per game production he has maintained throughout his tenure with the Devils.
He should also continue his new-found responsibility in the defensive end. Now 30 years old with 12 years remaining on his contract, it probably isn't possible for Kovalchuk to live up to that contract without winning a Stanley Cup. For that to happen, he will have to improve the players around him and contribute to all facets of the game.
Expectations: 39 goals, 41 assists.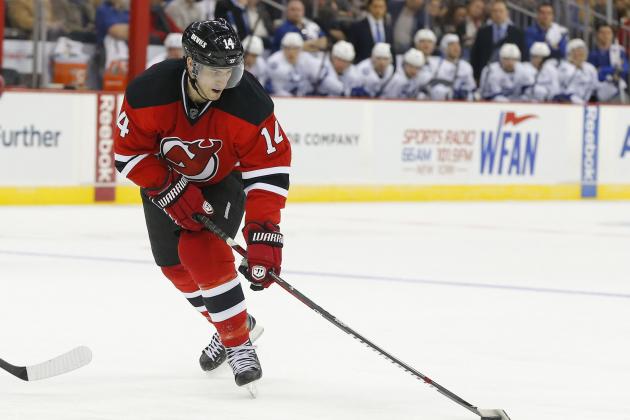 Jim O'Connor-USA TODAY Sports
Rookie fluke or sophomore slump?
Fifty-one points and a Calder Cup trophy finalist. This describes Adam Henrique's rookie season in 2011-2012. In the playoffs he scored two series-ending, overtime goals. The future was bright. The sky was the limit.
But in 42 games this season the 23-year-old registered just five assists. This was after 35 helpers his rookie year.
The obvious correlation is losing Zach Parise's finishing touch. Many of those lost assists may have left for Minnesota with the team captain. This raises the concern, how much of that rookie success did Henrique generate on his own?
His scoring (11 goals, tied for third on the team) was pretty good, but that drop is facilitation is stark. This is one scenario where we can question if the wackiness of the lockout is at play. The Devils have high hopes for Henrique and expect to see more of the playmaker they saw on the run to the finals last spring. He may level off somewhere in between.
Expectations: 18 goals, 21 assists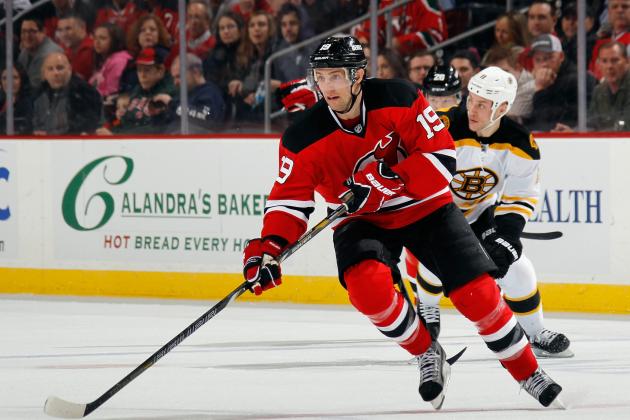 Bruce Bennett/Getty Images

The first max deal under the new CBA was given to Travis Zajac.
After a slow start to the 2013 season the center man finished relatively strong with points in four of the final six contests. He ended the season with seven goals and 13 assists. His points per game ratio was just 41 percent in 2013. It was barely better than his career low, in 2007-2008, his second season in the league.
Remember folks, that extension kicks in next season, and Zajac will cost the Devils $5.75 million against the salary cap.
He deserves credit for his ability to play in all zones and every situation the game provides. He is also the best faceoff man on the team. But $5.75 million, really?
He may never be a true No. 1 center. But Travis Zajac needs to contribute more to the offense to justify the organization's investment and help the team get back to the playoffs.
Expectations: 20 goals, 40 assists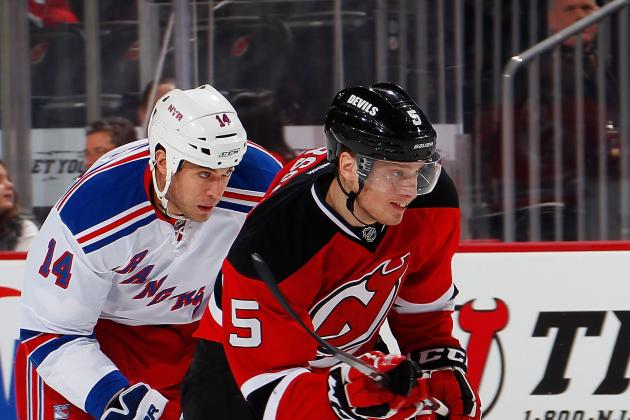 Paul Bereswill/Getty Images
Time to make a quantum leap young fella.
OK, so by no means is Adam Larsson a "star" for the Devils. He made the slideshow because next season, it is time he turns into one.
The Devils won the NHL draft lottery (for the fourth overall pick) for this guy. He was the No. 1 defenseman in his draft class.
The first two years have been a bit strange and hard to define. We saw some of his promise as a skater and puck mover his rookie season, when he recorded 16 assists. This year he was a healthy scratch some of the time but eventually developed a good defensive partnership with Andy Greene.
Now entering the final year of his rookie contract, Adam Larsson needs to put it all together.
A lot to ask of a guy who can't drink at a bar until November 12. But a full training camp with the security of a roster spot, an offseason strength training program and a full 82 games is the environment the young Swede needs to blossom. It can happen. The potential is there.
Expectations: 5 goals, 25 assists