Manchester United: 5 Things David Moyes Must Learn from Sir Alex Ferguson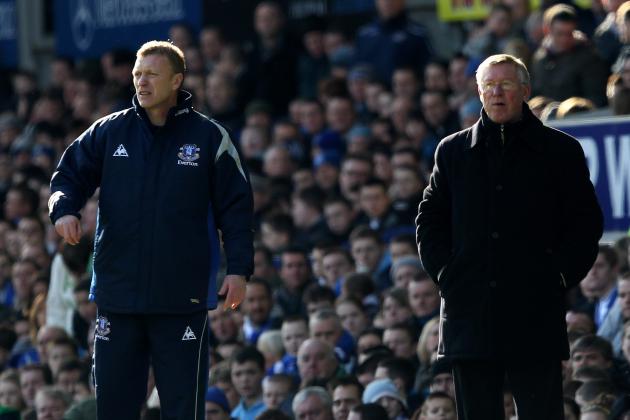 Clive Brunskill/Getty Images

Sir Alex Ferguson has warned his successor David Moyes that the biggest challenge he faces when he takes charge at Old Trafford on July 1 will be "the enormity of Manchester United."
This is, after all, a club who, for the last quarter of a century, has only ever had one manager, and one of the most successful in the game at that.
Over the last two decades, the production line at the self-styled Theatre of Dreams has churned out trophy after trophy under the Ferguson era—38 to be precise—with United becoming one of the most recognised—and well supported—global brands in sport.
In May 2012, it was estimated that 10 percent of the world population are Manchester United fans, as if to further illustrate Ferguson's point.
And that's why David Moyes, once manager of humble Preston North End, is now one of the most talked-about coaches in football.
When the new Premier League season gets underway come August, the world's spotlight will be pointing squarely on the shoulders of the ex-Everton chief, as the footballing universe waits to see if he can replace the irreplaceable.
With Ferguson taking a place on the club's board, it may not be too surprising if he whispers the occasional word of advice or two into his fellow Scotsman's ear, and Moyes would be wise to take heed.
Here, we take a look at five things David Moyes must learn from Sir Alex Ferguson.
Begin Slideshow

»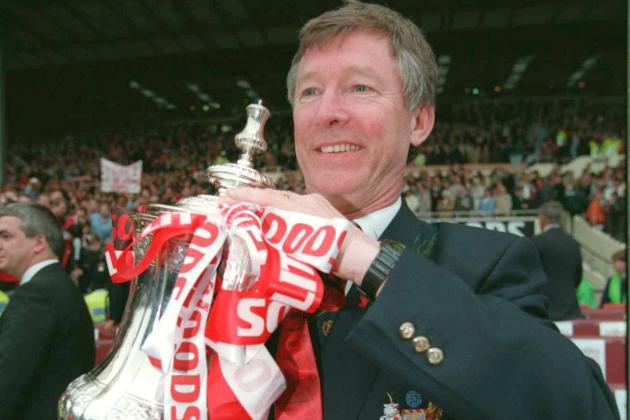 Shaun Botterill/Getty Images

In his 15 years in management, David Moyes has never once won a trophy. When the announcement was made that the Scotsman had been named as Ferguson's successor at the start of the month, many an eyebrow was raised for this very reason.
And Moyes will have to win silverware at Manchester United almost immediately or face being sacked—according to West Ham boss Sam Allardyce in an interview with the Daily Mail.
Fortuitously, the 50-year-old will be given the opportunity to win what would be the first trophy of his career almost straight away, with United taking on Wigan in the Community Shield in Moyes' first competitive game at the club.
By lifting his first trophy, he would be emulating Ferguson in the sense that, when the pressure is on to deliver silverware, he has done so.
If certain rumours are to be believed, simply "Alex Ferguson," as he was known back then, would have been sacked had the club not won the FA Cup against Crystal Palace back in 1990. That triumph was his first cup win at Old Trafford, and 37 more would later follow.
Now Moyes finds himself in a similar situation, and with the pressure to deliver straight away perhaps more intense in this modern-day footballing climate, Moyes could soon learn from Ferguson that winning that first trophy is absolutely vital for continued success.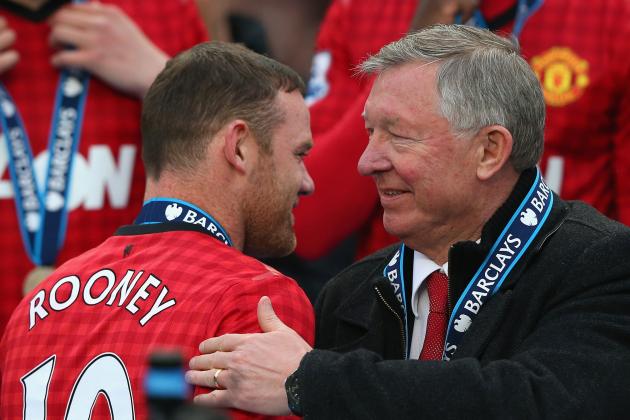 Alex Livesey/Getty Images

When David Moyes officially takes charge of Manchester United come July 1, he will be working with world-class stars with, in some cases, world-class egos.
Moyes will be unfamiliar with the multi-millionaire stars waiting for him at Old Trafford and is instead more accustomed to dealing with some of the more "grounded" players, as found at Goodison Park.
And he will have to learn quickly how to deal with these players—in fact, one of the biggest challenges facing him when he arrives in Manchester will be the Wayne Rooney situation.
Rooney has reportedly asked to leave the club, according to Ben Smith of BBC Sport, for the second time in three years and did not feature in either of United's final two games of the Premier League season. Ferguson has commented recently that it will be up to Moyes to decide if the striker stays or goes and if he is to learn anything from the veteran Scotsman it will be that no one player is bigger than the club.
Moyes will have already learned this lesson throughout the course of his managerial career, but it is a more important virtue to stand by now that he is managing one of the biggest clubs in the world.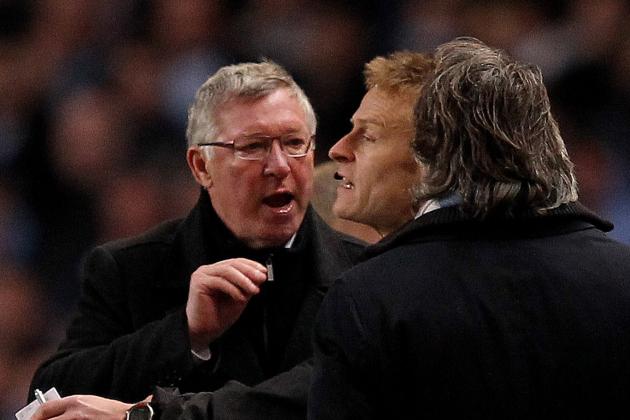 Alex Livesey/Getty Images

With Ferguson's retirement from management, some might expect the famous, or perhaps infamous hairdryer to have been packed away in his suitcase en route to departing the club, but Moyes would be wise to keep it plugged in in the Old Trafford dressing room.
Ferguson's notoriety of giving his players an earful if he deemed them to be under-performing is famous, and there's something about having the hot blast of an occasionally expletive-laden broadside blasting in your face that really gets the message across.
Former Red Devil and recently retired David Beckham once said of the "hairdryer treatment":
The fear of getting the hairdryer was the reason why we all played so well. He was a manager you wanted to do well for.
So if Moyes ever feels as though the United players are not performing as well for him as they did for Ferguson, perhaps it would be wise to give the metaphorical bathroom appliance a rebirth.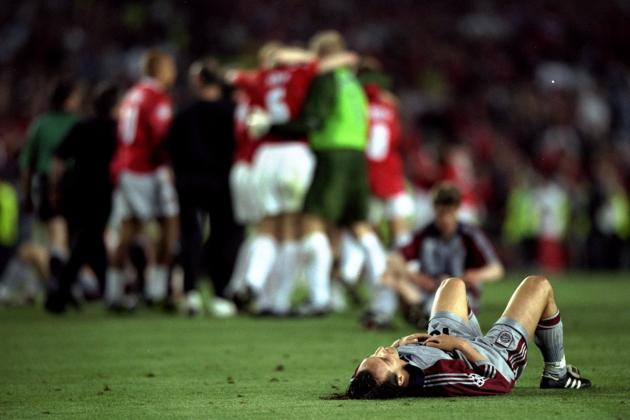 Shaun Botterill/Getty Images

The picture on your left-hand side depicts devastated Bayern Munich players lying hopelessly on the ground as Manchester United completed that dramatic comeback in the 1999 Champions League Final.
It was a victory that has since embodied the "never say die" attitude United have become famed for over the years and has often served as inspiration to help the club snatch victory from the jaws of defeat in the years that have followed.
The amount of times the Red Devils have scored 90th-minute winners or equalizers is innumerable, such is the indomitable spirit Ferguson's United had become famed for.
And Moyes can take a good look at this image and the many more that depict United scoring last-gasp goals, and take a lesson from Ferguson that a similar attitude to the game must continue to be applied regardless of who is sitting in the Old Trafford hot seat.
It is an attitude that is ingrained in the very fabric of this famous club and will hopefully continue to be demonstrated under Moyes.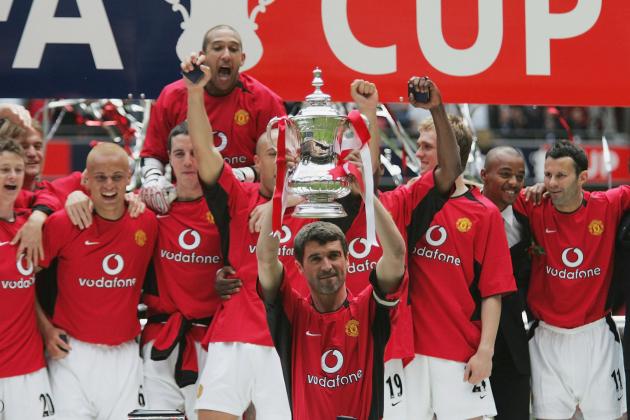 Shaun Botterill/Getty Images

The last Manchester United captain to lift the FA Cup was Roy Keane, and considering he left the club in 2005, that gives you a pretty good impression as to how long ago that was.
By the time the FA Cup final is played out in May 2014, United will have gone 10 long years without winning the famous old trophy, and that is down in part to Ferguson thumbing his nose at the competition by occasionally fielding weak starting XIs.
With his eyes often fixed on "bigger prizes" such as the Premier and Champions League, the FA Cup seldom took precedent and was often down in his list of priorities, which is a shame.
Ferguson will likely regret that it has now been almost a decade since United won the competition, and David Moyes cannot really afford to underestimate its importance as he goes in search of his first piece of silverware.
Any trophy will do for him, and hopefully that means the club will treat the FA Cup with a greater level of respect.