Is 2013 a Make-or-Break Season for Matt Schaub?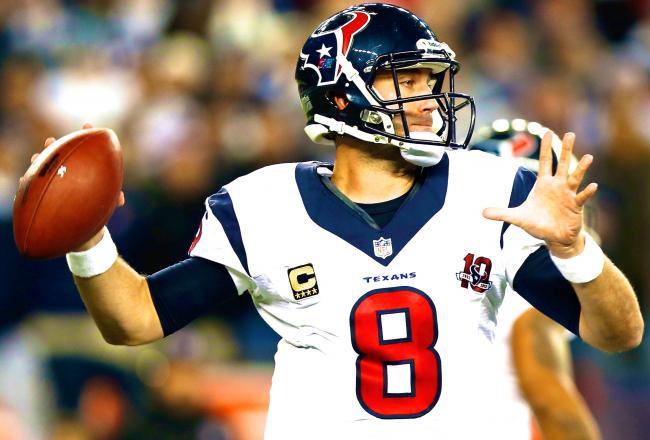 Despite back-to-back AFC South titles and a new contract bestowed on him last September, 2013 is absolutely a make-or-break season for Texans quarterback Matt Schaub.
While some might scoff at the thought of Schaub being replaced as Houston's franchise quarterback, it's actually much more realistic of an option than might otherwise be considered.
In fact, if Schaub doesn't get the Texans over the hump next January, and show that they're among the elite teams in the AFC, 2013 will be his last season in Houston.
Let's examine why.
STUMBLES DOWN THE STRETCH IN 2012
When considering the future of Schaub in Houston, it's important to recognize his late-season failures in 2012.
Houston started 11-1, including wins over elite AFC teams Denver and Baltimore. They appeared well on track for home-field advantage throughout the postseason.
But a nightmare finish by both Schaub and the team—losing three of their final four games—led to the Texans not even receiving a first-round bye, much less home-field advantage.
The first no-show was a Monday night affair in New England that wasn't as close as the 42-14 final score indicated. It was an absolute white-washing that saw Schaub complete less than 60 percent of his passes and throw zero touchdowns while tossing an interception.
Schaub did rebound the next week in a home victory against the Colts, meaning the Texans needed only one win in their final two games to clinch home-field advantage.
In those two games, a home loss to the Vikings and a road defeat in Indianapolis, Schaub was more frog than prince, throwing no touchdown passes and two interceptions. When the team needed him most, Schaub was unable to deliver, and the Texans, despite winning the AFC South, failed in their goal of attaining a first-round bye.
Then, Schaub was decidedly mediocre in the Texans' wild-card win over the Bengals, throwing zero touchdown passes and a pick-six to Cincinnati cornerback Leon Hall that very nearly won the game for the otherwise hapless Bengals. In fact, if Cincinnati quarterback Andy Dalton had played even an average game, the Bengals would have eliminated Houston in the first round.
Despite Schaub's lackluster play against Cincinnati, the Texans advanced for a rematch in New England against quarterback Tom Brady, head coach Bill Belichick and the Patriots. This was a chance for Schaub to show that his name deserved to be mentioned alongside the elite quarterbacks in the NFL, to match Brady throw for throw on the game's biggest stage.
Instead, the Patriots administered another beating, and while Schaub doesn't play defense and thus couldn't stop the New England aerial assault, he didn't play a great game, with the majority of his statistics coming in garbage time when the Patriots were well ahead.
For Schaub and the Texans, it was a sobering end to what was an extremely promising 2012 season, serving as yet another reminder that, when the chips are down and it matters most, they're not yet good enough to hang with the big boys in the AFC.
If 2013 ends in similar fashion, and Schaub can't get the Texans over the hump, does it make sense for him to return in 2014?
For the answer to that question, check out Albert Einstein's definition of insanity.
HIS CONTRACT
Yes, Schaub received a new, big-money deal last September, and it appeared to be a statement to the rest of the league that Schaub was both the present and the future quarterback of the Texans.
But, if you look a little closer, you'll see that's not necessarily the case.
While Schaub is guaranteed a base salary of $7.25 million in 2013, none of his future salaries are guaranteed. That means that the Texans could wipe their hands of Schaub at the conclusion of this upcoming season and not face any cap penalties or owe him any extra money.
This is a significant development when assessing Schaub's future with the club.
TEAM EXPECTATIONS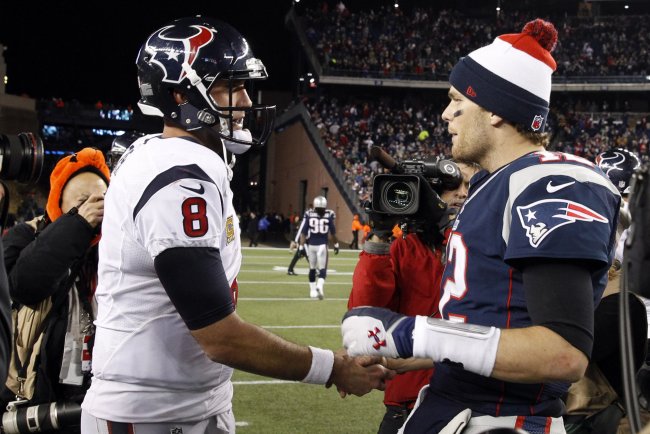 David Butler II-USA TODAY Sports
Simply put, it's not going to be good enough for Schaub to merely guide the Texans back into the postseason. It won't even be good enough if he helps the team win their third consecutive AFC South title.
This season, the Texans will judge progress based on their performance in the tournament. It's fair to say that the season will be considered a failure if the Texans can't advance to the AFC title game and knock off one of the conference's fat cats in the process.
Houston has playmakers strewn throughout the roster, and they're a team capable of making a deep postseason push.
Running back Arian Foster and wide receiver Andre Johnson are absolute studs. The Texans drafted receiver DeAndre Hopkins in the first round of last month's draft, and early returns have been promising. The offensive line, led by All-Pro left tackle Duane Brown, is very good. The defense, keyed by reigning Defensive Player of the Year J.J. Watt and coached by the terrific Wade Phillips, is good enough to put the team in a position to go far in January.
Is 2013 a make-or-break season for Matt Schaub?
That means there is no excuse for Schaub not to get the job done. Getting to the second round of the playoffs won't be enough this year. Schaub must get the Texans over the hump.
If he doesn't, 2013 will be his last year in Houston. This is Schaub's make-or-break season.
This article is
What is the duplicate article?
Why is this article offensive?
Where is this article plagiarized from?
Why is this article poorly edited?

Houston Texans: Like this team?