WWE History: Where Does Miguel's Leg Drop Rank All Time?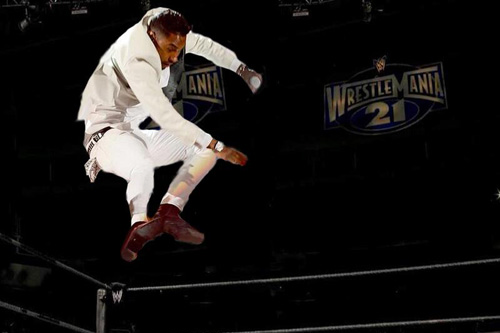 From GQ.com
WWE recently launched an initiative to team up with the NFL in recruiting talent, but singer Miguel may be worth a look after his blunder at the Billboard Awards.
The popular R&B artist attempted a split during a performance of his award-winning single "Adorn," only to land awkwardly on two unsuspecting fans. The accidental leg drop has become internet catnip, even warranting the Jim Ross treatment.
Miguel's leg drop, while unintentional, was an impressive visual. But WWE has had its share of impressive high-risk leg drops.
The all time great leg drops etch their way in history through originality, risk and the use of props. Hulk Hogan, while boasting the most famous leg drop of all time, doesn't qualify under this criteria. But it at least deserves mention. Sorry, Terry.
Begin Slideshow

»
John Cena's athleticism is terribly underrated, especially given his hulking physique. Few wrestlers who share Cena's physical dimensions are able to perform such a high-flying move.
Cena's brand of leg drop is unique in that he lands on the back of the opponents neck, as opposed to the traditional position of an opponent on his back.
Impressive as the move is, it's still quite basic, awkward and prone to mistakes, such as the stiff leg drop delivered to The Rock at WrestleMania XXVIII.
This finisher is still without a name, but Fandango lays claim to a diving leg drop once refined by Ken Doane, formerly of The Spirit Squad.
Fandango delivers his leg drop with precision, and although it's nothing new, the move is befitting of the young wrestler's graceful dancer gimmick.
Miguel revolutionized the diving leg drop by taking out not one but two fans with music's newest finisher. Miguel had the presence of mind to finish the song while consoling the fans in question.
Should his singing career be curtailed because of this fiasco, major music awards will not be in the Grammy award-winner's future. But with a leg drop like that, WWE championships could be his destiny.
Matt Hardy's leg drop on Edge is forgotten by many, mainly because their promising art-imitating-life 2005 feud was quickly derailed.
Hardy leapt off a cage onto a bloodied Edge during the closing sequences of their 2005 cage match. Jim Ross' call of Hardy's leg drop was used for one version of a parody of Miguel's aforementioned botch.
The WWE brilliantly promoted The Undertaker and Stone Cold Steve Austin's 1998 SummerSlam main event as The Highway to Hell.
The best spot came when The Undertaker connected with a diving leg drop through a table on the Rattlesnake. Austin would go on to rally and successfully defend his WWE championship in this under-appreciated back-and-forth match.
Booker T waited until WrestleMania XIX to roll out his rare Harlem Hangover move in the WWE. The leg drop excelled in originality with Booker T somersaulting, and then landing, on Triple H in the leg drop position.
The maneuver drew "oohs" and "aahs" from the capacity Seattle crowd. Risk was able to be avoided as Booker T avoided hurting The Game with the dangerous finisher. Triple H went on to win one of the most surprising WrestleMania outcomes in history.
Sabu's move set always had fans on the edge of their seats given their high-risk, high-reward nature. Sometimes his high spots were a visual masterpiece. Many times, they were a disaster.
Fortunately, the former hit during Sabu's brief feud with John Cena. The ECW legend successfully landed a suicide leg drop on Cena through a table one night on Raw. It's worth mentioning, however, Sabu nearly lost his balance on the top rope. But all's well that ends well.
The bigger the stage, the higher the risk and the greater the potential reward. Jeff Hardy personified this notion with his stunt on Edge during the third installment of WWE's Money in the Bank ladder match at WrestleMania 23.
Hardy's leg drop wasn't even the best stunt of his career, but it's good enough to top this list. The high-profile move immediately comes to mind in the discussion of great leg drops, mainly because of where it happened. The use of ladders—with Edge laying on a ladder while Hardy jumped off another—was also a nice touch.
It's safe to say that Miguel has a long way to go in order to get on Jeff Hardy's level. Dude better get a ladder.