Top 5 "What Ifs" from Southampton's Premier League Return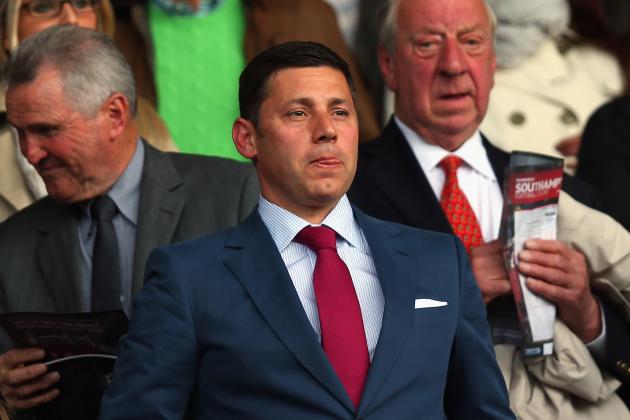 Bryn Lennon/Getty Images
Nicola Cortese and Southampton fans have a few questions to ponder over the off-season.
With the Premier League season now complete, everyone will take the opportunity to review the past season and wonder what could have gone better or worse with their favorite team.
For Southampton, the primary goal was accomplished this season. The Saints retained their spot in the Premier League next season, and even did it with a match to spare.
There are a few questions to ponder, that if things have gone differently, maybe Southampton could have broken into the top half of the table this season. When only five points separated ninth place to 16th place, any little break could mean a couple places in the final standings.
Here are five "what ifs" that could have changed the complexion of Southampton's season.
Begin Slideshow

»
Paul Gilham/Getty Images
Southampton didn't drop as many points with the lead as you may think.
Remember back at the beginning of the season when Southampton just couldn't hold a lead to save their life?
The Saints blew a 2-1 lead at Manchester City and a 2-1 lead at home to Manchester United in their first three games. It seems like Southampton should have six points instead of zero at that point.
But a look at the actual numbers suggests that Southampton wasn't as bad at holding leads as people may think.
Southampton were actually 7-2-0 in games the team led at halftime, taking 23 out of 27 points in the process according to SoccerStats.com.
The Saints scored seven goals in the last 15 minutes, and conceded 13. Southampton was actually worse in the 15 minutes prior to halftime, scoring 11 and conceding 19.
Even more interesting, if you took the results as they stood at halftime, Southampton would have a record of 9-15-14 for 42 points, just one point more than the 41 the Saints finished the season with.
Seems like the blown leads weren't that big of a deal at all.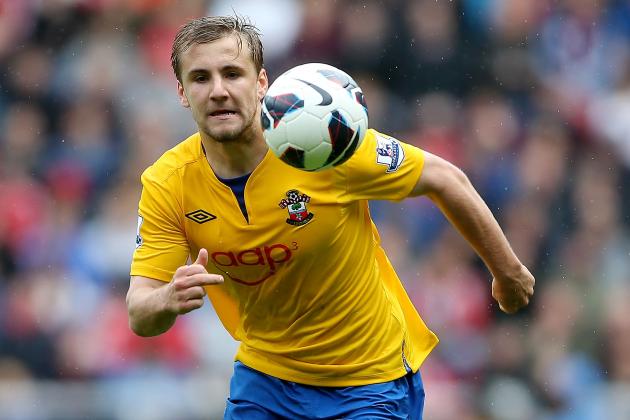 Scott Heavey/Getty Images
Southampton's defense and fortunes improved when Luke Shaw played at left back.
It seemed that Southampton stopped leaking goals and started winning games when Luke Shaw was inserted into the starting 11. The numbers back that up.
In Shaw's 22 starts, Southampton earned 32 of their total 41 points. In the 14 matches Danny Fox started, Southampton earned only nine points.
When Shaw was starting, the Saints conceded more than two goals on only two occasions, a 3-3 draw at Stoke and a 4-2 loss at Newcastle. Fox was part of squads that conceded three or more goals on four occasions.
Shaw averaged 2.0 tackles and 2.0 interceptions per match according to WhoScored.com. Fox trailed his younger counterpart with 1.4 tackles and 1.5 interceptions per match.
If Shaw had started every game, it's quite possible Southampton would be a top-10 team this season. The difference in form could have meant an extra 12 points out of those 16 games Shaw didn't start.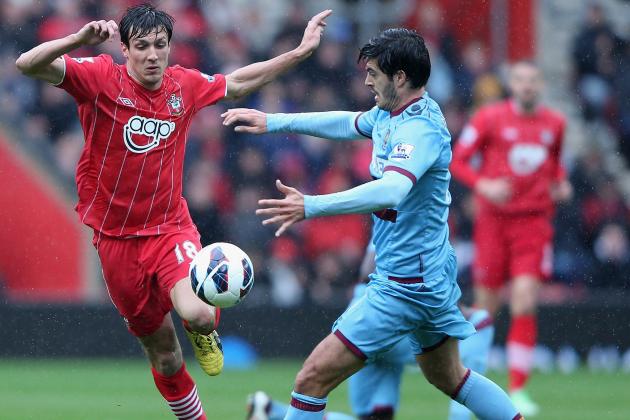 Ian Walton/Getty Images
Jack Cork's presence was missed early in the season.
Much like Luke Shaw, it's easy to oversimplify things and wonder what the first 10 games of the season for Southampton would have been like if Jack Cork were healthy.
Ten games into the season, Southampton were bottom of the table with just one win and four points.
Jack Cork saw his first action in a draw against Swansea, and the Saints' fortunes improved shortly thereafter. Cork played every game from that point on, tallying 37 points in his 28 matches.
Sure, Cork may not have helped that much with the brutal start of the fixture list the Saints faced. But maybe Southampton turn a few losses into draws and wins and move closer to 50 points at the end of the season.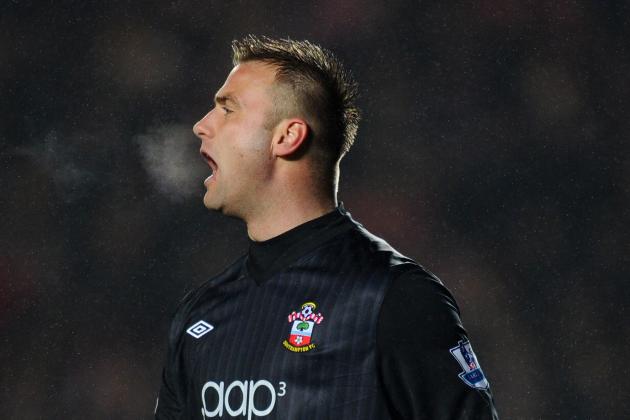 Mike Hewitt/Getty Images
Artur Boruc's insertion into the Southampton lineup may not have helped as much as many may think
Another reason that many believe helped change the course of Southampton's season was Artur Boruc taking charge of the keeper position after the turn of the year.
A look at the numbers suggest it was purely coincidence.
Boruc did keep five clean sheets and was in goal for 23 of Southampton's 41 points. But his numbers are very pedestrian. The Polish international only made 1.12 saves per goal allowed according to Squawka.com and allowed 1.40 goals per match.
Those numbers are better than Kelvin Davis' 2.00 goals allowed per match, although Davis made slightly more saves per goal allowed with 1.17. But the best Southampton goalkeeper appeared to be Paulo Gazzaniga this season.
The young Argentinian only conceded 1.33 goals per match and made 1.82 saves per goal allowed. Southampton earned 12 points out of the nine matches Gazzaniga appeared in, a better point rate than Boruc.
Perhaps Southampton fans should wonder what would have happened if Gazzaniga was given the opportunity to play the entire season?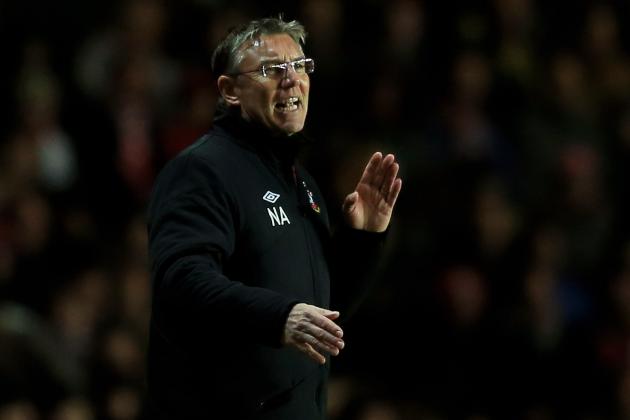 Richard Heathcote/Getty Images

There was great controversy when Nigel Adkins was sacked as Southampton manager after a 2-2 draw at Chelsea. When Adkins was let go, Southampton sat 15th in the table with 22 points in 22 matches.
Adkins' replacement, Mauricio Pochettino, had a mediocre start in charge, drawing two of his first three matches. Southampton then went on a great run with victories over Manchester City, Liverpool and Chelsea.
Do those results mean the change in managers was the right move?
Consider that in Adkins' last 10 matches, Southampton earned 14 points. In Pochettino's first 10 games in charge, the Saints tallied 15 points.
With a six-game winless streak to close the season, Pochettino ended the season earning 19 points out of 16 games in charge
Overall, the change did make an improvement in Southampton's form. But the team probably would have been fine with Adkins still in charge.