Indiana Pacers vs. Miami Heat: Game 1 Postgame Grades and Analysis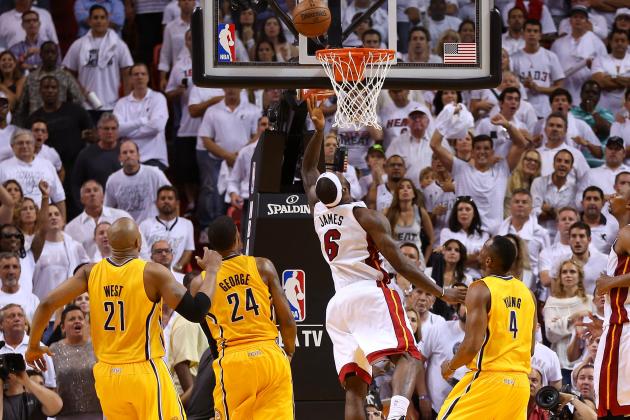 Mike Ehrmann/Getty Images

What a battle in Game 1 between the Miami Heat and Indiana Pacers—specifically Paul George and LeBron James down the stretch.
It's clearly LeBron's world, and he graciously just lets us all live in it.
The Heat won an absolute thriller in overtime, 103-102, courtesy of a LeBron game-winning layup as time expired in OT.
With the game on the line, and Roy Hibbert on the bench for some reason, LeBron drove to the bucket and silenced all the critics who still say he's not clutch.
It was back and forth between LeBron and George during the final minute of overtime, with George scoring the final six points for the Pacers and LeBron scoring the final four for the Heat.
LeBron ended Game 1 with 30 points on 12-of-24 shooting from the field, with 10 rebounds and 10 assists—giving him his ninth playoff triple-double.
George was equally impressive, scoring 25 of his 27 points in the second half and overtime. He ended the game with 27 points, five assists and four rebounds, but he also committed six turnovers.
Game 1 certainly sets the stage for what is going to be a legendary Eastern Conference Finals, between two teams who are capable of competing with each other night in and night out.
Game 2 is set for an 8:30 p.m. ET tip on Friday night. You aren't going to want to miss any second of this series.
Begin Slideshow

»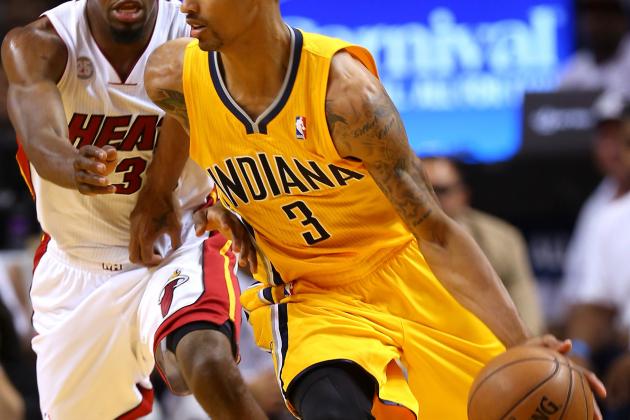 Mike Ehrmann/Getty Images

George Hill, PG, Pacers
Instead of forcing the pace, George Hill realized that David West and Roy Hibbert were dominating the game, and he simply let them do that in the first half.
Hill had three points on 1-of-1 shooting, with two rebounds and three assists, which depicts his patent and intelligent play, as he let the players who were hitting shots continue to get the ball.
He continued the balanced effort in the second half, ending Game 1 with five points, seven assists, four rebounds and five steals.
The only issue with Hill's performance was that he committed three turnovers and he shot just 2-of-9 from the field. The Pacers will need more from their point guard if they are going to compete in this series.
Overall Grade: B-
Mario Chalmers, PG, Heat
At halftime, Mario Chalmers was the only player for either teams who sank a single three-ball. He was 2-of-2 from beyond the arc, the rest of the players were a combined 0-of-12 from the floor.
While Chalmers' eight first-half points were big, his two turnovers in the half also held the Heat back—especially his mid-air turnover near the end of the first half.
Chalmers unfortunately injured his shoulder with 5:35 remaining in the third quarter, and he didn't return. While that sounds scary on paper for the Heat, Norris Cole is really turning it up at the right time, helping the Heat defensively without Chalmers.
Super Mario ended the night with 10 points on two assists in 21 minutes of action. We'll just have to see if Chalmers' injury will sideline him for more games in this series—which wouldn't necessarily be awful news for Miami.
Overall Grade: B-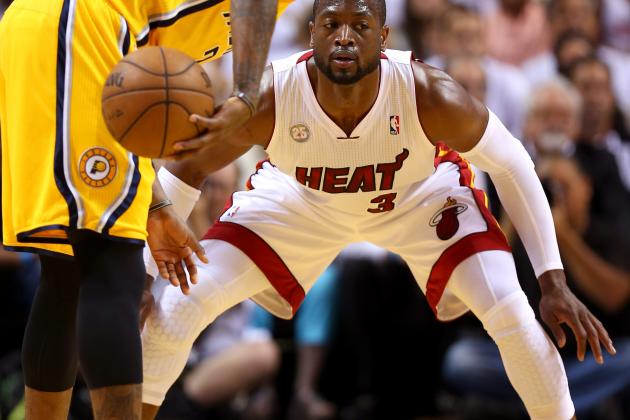 Mike Ehrmann/Getty Images

Lance Stephenson, SG, Pacers
During the second quarter, Lance Stephenson waved off his teammates coming for help so he could face LeBron one-on-one. Yep, that's how highly Stephenson thinks of himself.
While he didn't fair well during that possession, he still scored four points and grabbed five rebounds through the first two quarters. He also had three impressive steals, which helped the Pacers force 13 total turnovers in the first half.
Stephenson ended the game with a near double-double, with seven points and 12 rebounds. He also dished out three assists. Unfortunately for the Pacers, Stephenson just couldn't find his stroke when Indiana needed him to.
Overall Grade: B
Dwyane Wade, SG, Heat
Out of the Big Three, Dwyane Wade had the most solid and consistent first half, with six points, four rebounds (three offensive), three assists and a steal.
Whatever questions there were about the health of his knee, were answered with his explosiveness on the offensive glass during the first half.
Wade continued the impressive and well-balanced performance in the second half, finishing Game 1 with 19 points, six rebounds (three offensive), five assists and three steals.
There's no doubt that Wade's dominant performance was overshadowed by LeBron's game-winner, but Wade certainly solidified the Heat's attack in the second half. Allowing LeBron to run the show and transitioning to an ancillary role has to be tough, but Wade does it so well.
It was an incredibly balanced game for Wade, which is just what the doctor ordered.
Overall Grade: A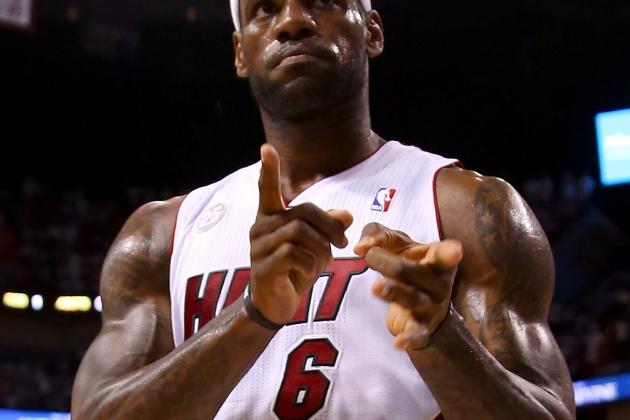 Mike Ehrmann/Getty Images

Paul George, SF, Pacers
Paul George came alive just when the Pacers needed him to, scoring 25 of his 27 points in the second half.
Three of those points were a three-ball heave with 0.7 seconds left in regulation that tied the game up at 92 apiece. Dare I say it was reminiscent of another Pacers great, Reggie Miller?
Another three points that came at the free-throw line, with just 2.2 seconds left, gave the Pacers a 102-101 lead after LeBron had given the Heat the lead.
George's defense on LeBron on the final possession is what cost the Pacers the game. He overcommitted on LeBron receiving the inbound pass, and because there was no help-side defense, he was able to get right to the rim.
George played 47 minutes and scored 27 points, dished out five assists and grabbed four rebounds. Oh, and he defended LeBron all night long. Even if he didn't will the Pacers to victory, he had one heck of a night.
It's time for George to be considered a superstar in this league.
Overall Grade: A-
LeBron James, SF, Heat
It's LeBron's world, we all just live in it.
With his ninth playoff triple-double, consisting of 30 points, 10 rebounds, 10 assists and three blocks, LeBron reminded us all why he's a four-time NBA MVP.
After being silent down the stretch in the fourth and the first four minutes of overtime, LeBron stepped up and scored the Heat's final four points—including a game-tying layup in overtime and a go-ahead layup as time expired.
Sure, the Pacers defense was awful during those possessions, but there's no way to overlook his amazing and commanding performance throughout the game.
Remember when LeBron hit the game-winner in 2009 against the Orlando Magic and acted like he just won the lottery?
Well, this time he decided to go with the "act like you've been there before" look, and honestly, it suits him well.
LeBron's defensive pressure throughout the game was impressive to say the least as well, as he had two massive swats on Roy Hibbert that got AmericanAirlines Arena popping. Amazing performance by LeBron.
Let's see what he does in Game 2 for an encore.
Overall Grade: A+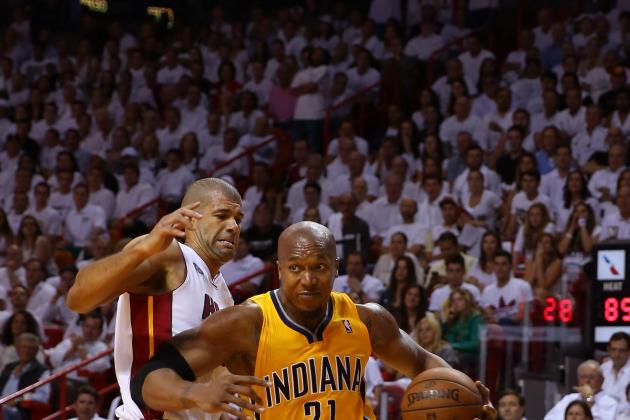 Mike Ehrmann/Getty Images

David West, PF, Pacers
For some reason, the Heat forgot what double-teaming was during the first half, letting David West abuse them for 18 points on 8-of-11 shooting.
Those 18 points for West through the first two quarters was one more point than the Heat's Big Three scored during the first half.
The Heat simply didn't have an answer for West in the first half, and he made them pay by consistently forcing his dominant post game on them.
West cooled off in the third quarter, scoring just two points in the third, which aptly details the Heat's increased defensive focus on him.
He ended up scoring just eight more points in the second half, giving him a total of 26 points, with five rebounds and four turnovers. In the first half, West was a monster. In the second half, he wasn't the same, and that's ultimately why the Heat were able to come out on top.
Overall Grade: A-
Udonis Haslem, PF, Heat
The issue with Udonis Haslem's performance was his inability to stop David West early on in the game.
Sure, West is a more physical player. But at the same time, Haslem is known for his tenacity on the defensive side of the ball.
Haslem looked like a rookie playing against a cagey veteran, constantly allowing West to post him up and also allowing him to get far too deep into the paint.
Even with his poor defense in the first half, Haslem came out swinging in the second, ending the game with two points, seven rebounds (four offensive), two assists and two steals.
You can't ask for much more in just 21 minutes of action from Haslem, well, beside some more defense on West.
Overall Grade: B-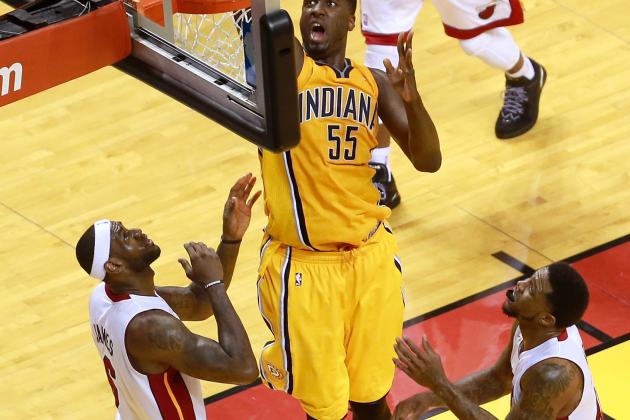 Chris Trotman/Getty Images

Roy Hibbert, C, Pacers
Roy Hibbert's 11 first-half points, as well as his three offensive rebounds, were two major reasons why the Pacers rushed out to a five-point lead at halftime.
Hibbert wasn't especially aggressive on offense during the first two quarters, as much of his production came on second-chance opportunities and putback attempts.
The offensive pressure came in the second half, though, as Hibbert ended the game with 19 points on 9-of-18 with nine rebounds (seven offensive).
It's very questionable why Hibbert wasn't on the court during the final two possessions in overtime, as it played a major part in LeBron being able to finish right at the rim. Even if he let Chris Bosh wide open on the final possession, his seven-foot frame would've at least made LeBron's shots a little harder to make.
Either way, Hibbert had a solid game, and the Pacers need him to just pick up the intensity a tad more to push Indiana over the edge in this series.
Overall Grade: B
Chris Bosh, C, Heat
Even with his four points in the first half, Chris Bosh was silent during the first 24 minutes.
He wasn't aggressive on either side of the ball, and he was especially exposed for his lack of physicality on defense in the paint.
Bosh didn't pick up his second rebound until there was just 49.7 left in overtime. That rebound was absolutely enormous, though, as it led to a three-point play for Bosh that tied the game up at 99 points apiece.
It was honestly Bosh's only important possession, but it couldn't have come at a better time.
Bosh quietly totaled 17 points on 6-of-11 shooting, but he grabbed just two rebounds all game, and that is something that needs to improve moving forward for the Heat.
Miami needs Bosh to bring energy to the floor when guys like Chris Andersen aren't on the floor to do it.
Overall Grade: B-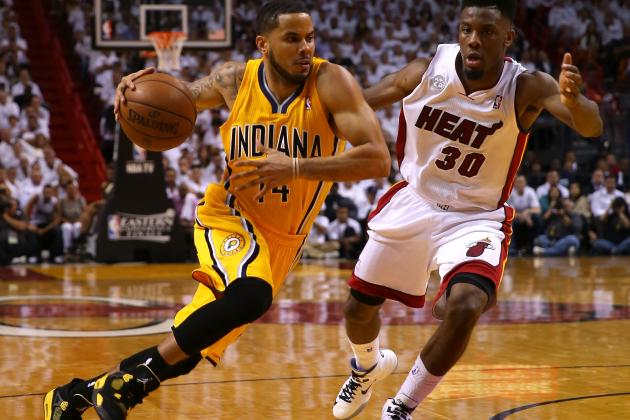 Mike Ehrmann/Getty Images

D.J. Augustin, PG, Pacers
With eight points on 5-of-6 shooting from the charity stripe, D.J. Augustin certainly brought solid production to the floor for the Pacers.
He only dished out one assist, but more impressively he didn't commit a single turnover.
Augustin didn't do much else aside from scoring eight points, but the Pacers didn't need him to do much more. Moving forward in the series, though, when the emotion is run dry, Indiana will certainly need Augustin to do a bit more to solidify its second-unit production.
Overall Grade: C+
Shane Battier, SF, Heat
Shane Battier's only highlight came when he got called for an offensive charge when he went flying into the lane like a mad man and nearly drop-kicked Hibbert to the ground.
Aside from that, Battier didn't hit a single field goal. He only grabbed one rebound, and he also committed one turnover.
It wasn't the best night for Battier, but fortunately, another bench player stepped up his game, and that man was Andersen, with 16 huge points off the bench.
Battier needs to be a more efficient shooter moving forward, because while it's very obvious to say, zero percent shooting from deep won't help anchor down the Heat's perimeter attack.
Overall Grade: D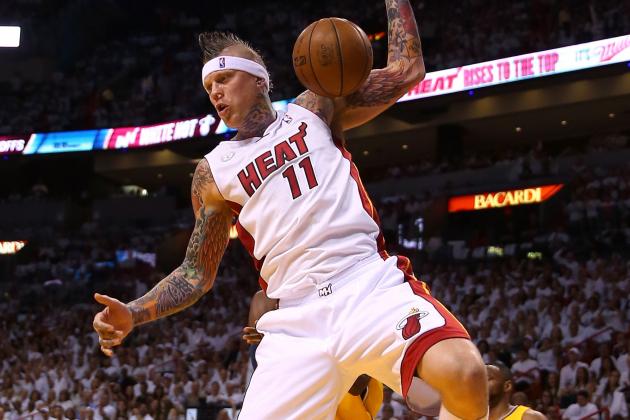 Mike Ehrmann/Getty Images

Indiana Pacers Bench
Tyler Hansbrough came out of nowhere and actually had a productive game for the Pacers.
Not only did he get under Andersen's skin, drawing a technical early on. He also ended the game with 10 points and six rebounds (three offensive) in just 12 minutes of action.
The only real question is why Frank Vogel didn't give Hansbrough more minutes, as he was easily pushing Miami's frontcourt around.
Aside from Hansbrough and D.J. Augustin, who combined for 18 points, the rest of the bench shot a combined 0-of-3 from the field. Solid night from Hansbrough and Augustin, but the Pacers will need more production if they plan on winning this series.
Overall Grade: B
Miami Heat Bench
Andersen came alive during Game 1 of the Eastern Conference Finals.
In just 18 minutes of action, he dropped 16 points on 7-of-7 shooting—well, dunking—and he grabbed five rebounds (three offensive) and blocked three shots.
Andersen was absolutely the difference-maker in this game, and because of that, the Pacers have to feel good about their chances in this series—because Andersen won't have perfect nights like this every game of the series.
Aside from Bird Man going insane, the rest of the bench scored just nine points on 2-of-16 shooting, which included Ray Allen's awful 1-of-8 shooting performance.
Norris Cole's defensive pressure on George Hill was stellar throughout the second half, and I'm sure we'll see more of that as the series rages on.
Overall Grade: B+