This week's WWE Main Event from the CenturyLink Center in Omaha, Neb., featured some impressive names and thrilling performances.
Not only did Alberto Del Rio and Big E Langston face off in an anticipated rematch, but Ryback also made an unexpected appearance.
The company's hour-long show will continue to fly under the radar, but this week's event once again proved that it consistently boasts terrific in-ring performances and important moments in certain storylines.
Let's take a look at the complete results.
Alberto Del Rio defeats Big E Langston
This, of course, served as a rematch of Monday night's contest when Langston was able to defeat the world heavyweight title's No. 1 contender:
Del Rio got revenge on Main Event, however, securing the pinfall via rollup after an impressive, back-and-forth match that featured lots of offense.
While this is an intriguing potential rivalry, Del Rio will undoubtedly go back to feuding with Dolph Ziggler once the champion returns from his concussion. The compelling question then becomes simple: what happens to Big E Langston?
Judging by Langston's reaction after the match, however, he's not leaving Del Rio alone anytime soon:
After his loss to @vivadelrio on #MainEvent, @bigelangston promises this is just the beginning. #WWEtout.com/m/vlfgpt?ref=t…

— WWE (@WWE) May 23, 2013
Whether he continues to battle Del Rio or moves on to someone else, most will just be happy to see the big man inside the ring as much as possible. Fans are beginning to take notice of his talent:
Great match by Del Rio & Langston! Big fan of Big E! He's got a lot of potential! WWE's future is in good hands. #MainEvent

— Marisa Garcia (@mngarcia1993) May 23, 2013
As the Brooklyn Brawler pointed out, his unreal strength is unquestionably his most tantalizing trait:
#WWE Superstar @bigelangston can bench press 575 pounds. He's an animal! #WWEMAINEVENT twitter.com/brawlerreal/st…

— Brooklyn Brawler (@brawlerreal) May 22, 2013
There's just something about watching him lift the 240-pound Del Rio straight over his head that makes for exciting entertainment, and you have to believe the WWE will continue to find plenty of important airtime for the up-and-comer.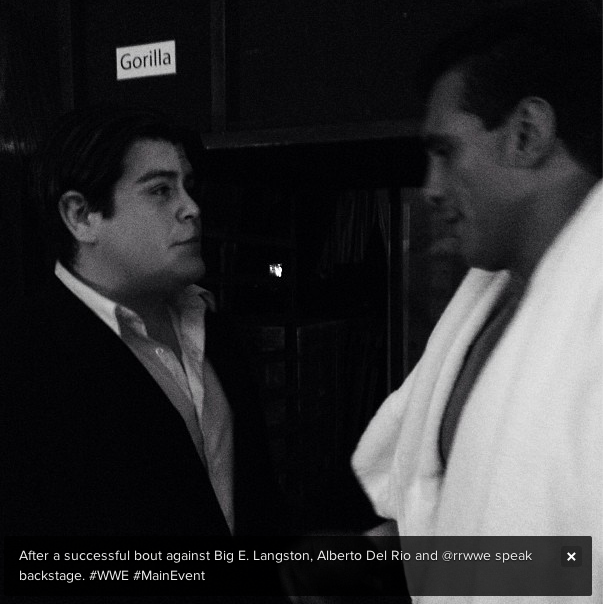 The Usos defeat Jinder Mahal and Drew McIntyre; Ryback "Ambulances" Another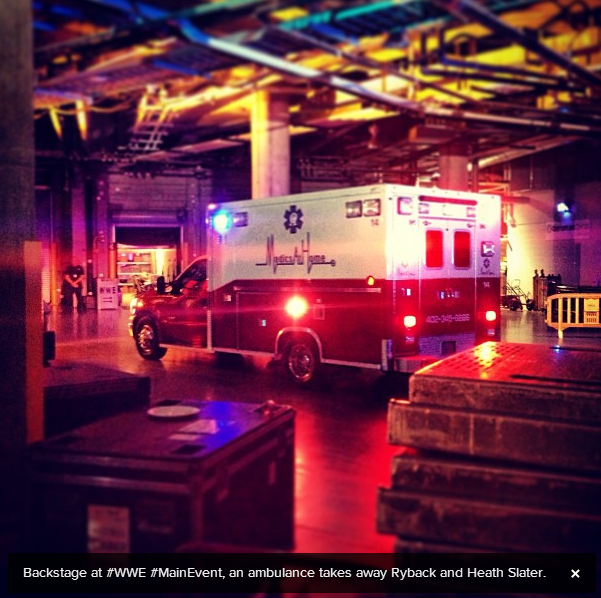 On Monday night, it was Zack Ryder who was the unlucky recipient of a Ryback attack. On Main Event, it was Heath Slater's turn.
During Jinder Mahal and Drew McIntyre's match with The Usos, Mr. Feed Me More appeared in an ambulance, tossed Slater into said ambulance and drove away.
The WWE Universe then posed an important question:
Well..that's one way to make an entrance, @ryback22. Where are you getting all of these ambulances? #WWE #MainEvent

— WWE Universe (@WWEUniverse) May 23, 2013
This is clearly building momentum for Ryback's potential Ambulance Match with John Cena at WWE Payback, but the big man's choice of victims is only creating material for jokes:
Ryback has collected both Slater and Ryder. Is Ryback starting his own job squad?

— Larry ZBeekszko (@JaimsVanDerBeek) May 23, 2013
On the flip side, The Usos went on to beat two-thirds of 3MB with another solid showing and appear to be gaining more momentum within the WWE world:
The Usos are so entertaining. Great competiton for The Shield @wwe #MainEvent

— Clinton Uba (@SoCalClinton) May 23, 2013
If Kane and Daniel Bryan end up separating instead of getting their rematch, someone will have to take on Seth Rollins and Roman Reigns. The Usos, who have been receiving a slight push as of late, are an intriguing option.