UFC 160: Who Is T.J. Grant?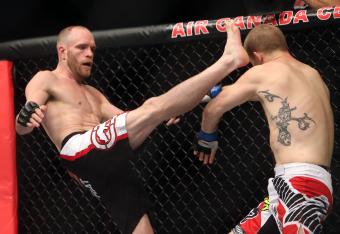 T.J. Grant
Tom Szczerbowski-USA TODAY Sports
Mixed martial arts fans are attracted to the unpredictability of the sport. And who can blame them?
There is something special about witnessing a last-second submission or a major upset. Spontaneity loses its luster on replay. In that singular moment, it's as if the fans were invited to the unveiling of an inside joke, a once in a lifetime moment.
However, the fans' interest in the unknown disappears when it comes to the name of an unrecognizable fighter.
On every UFC card, there is always at least one name that fans question—a collective groan of "who?"
This was the case when UFC president Dana White announced that former lightweight contender Gray Maynard would fight T.J. Grant for the No. 1 contender slot at UFC 160.
T.J. Grant, who?
If you were one of the many who uttered that question, don't be ashamed.
T.J. Grant has fought on the preliminary card in all 10 of his UFC fights, which is a staggering statistic when you think about the number of no-names who have appeared on main cards.
But Grant's lack of exposure doesn't match his wealth of talent.
The Canadian made his promotional debut at welterweight, winning a split decision over Ryo Chonan at UFC 97. Over the next year and a half, Grant traded wins and losses. Finally, after a loss to Ricardo Almeida at UFC 124, Grant considered a move to lightweight. And, with a 3-3 record at welterweight, Grant could benefit from the career spark.
The cut to 155 pounds did just that, producing a three-fight win streak against Shane Roller, Carlo Prater and Evan Dunham.
However, it wasn't until his upset of Matt Wiman at UFC on Fox 6, that Grant's name started to be tossed around the upper echelon of the lightweight division.
That being said, does Grant deserve such an opportunity?
Yes.
Let's take a brief rundown of the UFC lightweight ranks.
Gilbert Melendez just lost a controversial split decision to champion Benson Henderson. Anthony Pettis, someone most believed would get the next title shot, decided to move down to featherweight in an attempt to challenge champion Jose Aldo.
Although Josh Thomson, the No. 4 lightweight, knocked out Nate Diaz, he has only had one fight in the octagon. Donald Cerrone is coming off a TKO loss to Anthony Pettis. Nate Diaz lost by knockout to Josh Thomson. No. 8 lightweight Jim Miller recently loss to Pat Healy, the No. 9 lightweight, who tested positive for marijuana. And, finally, the No. 10 lightweight Rafael Dos Anjos fought Evan Dunham May 18.
So once all of the highly publicized names of the lightweight division have been sifted through, it seems quite obvious Grant not only deserves a fight for the contender slot, but might be one of the only individual still standing to claim it.
This article is
What is the duplicate article?
Why is this article offensive?
Where is this article plagiarized from?
Why is this article poorly edited?