UFC 160: Who's on the Hot Seat Heading into Velasquez vs. Bigfoot Silva 2 Card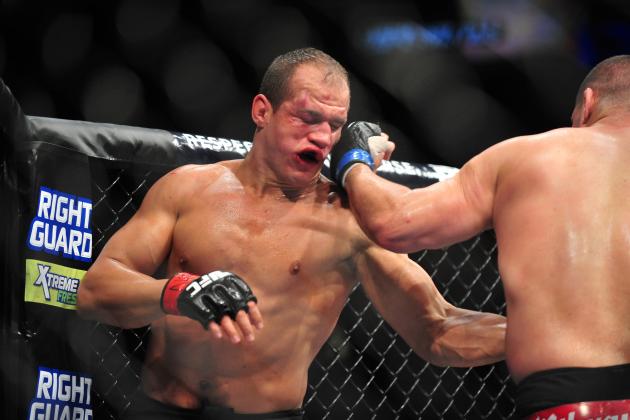 Gary A. Vasquez-USA TODAY Sports

In most sports, a loss can be shaken off pretty quickly. After all, in most sports, the loss only lingers for a few days or maybe a week. In MMA, the memory of a loss can linger for months, and in a sport where an individual is only as good as his last performance, a loss can be devastating.
Looking at things in that way, you could say that every professional mixed martial arts fight puts the combatants on the hot seat, but sometimes the seat is just a little bit hotter.
Heading into this weekend's UFC 160 fight card, a handful of fighters will be feeling a bit more heat than others.
Who are those fighters, you ask? I'll let you know.
Begin Slideshow

»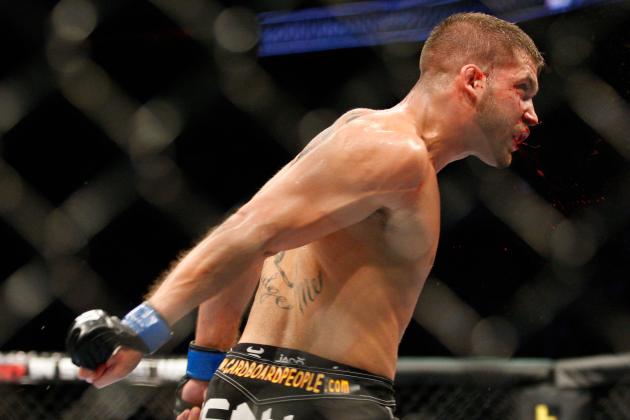 Richard Wolowicz/Getty Images

Jeremy Stephens is on the hot seat for a couple of reasons, and the least of them may be that he is coming into his UFC 160 fight against Estevan Payan on a three-fight losing streak.
In addition to that losing streak, Stephens has a July 8 court date hanging over his head. The case, according to The Des Moines Register (h/t to MMAMania.com), alleges that Stephens and another man assaulted an individual outside a Des Moines bar.
If Stephens wins his fight in the Octagon, he'll still have to be concerned about his fight in the courtroom. Anything short of a not guilty finding will likely result in Stephens being released in a heartbeat.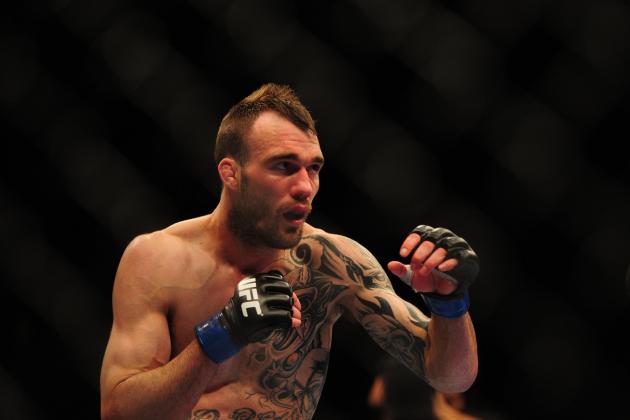 Mark J. Rebilas-USA TODAY Sports

George Roop is in his second stint with the UFC. Roop's first run, between December 2008 and August 2009, lasted three fights. During that span, he went 1-2, losing to Shane Nelson and George Sotiropoulos while defeating Dave Kaplan.
After leaving the UFC, Roop defeated Matt Dell while fighting for Rage in the Cage and then signed with the WEC. Since rejoining the Zuffa family, Roop has gone 3-4-1, never putting together two consecutive victories.
A loss to Brian Bowles at UFC 160 would give him a record of 1-3 in his last four fights.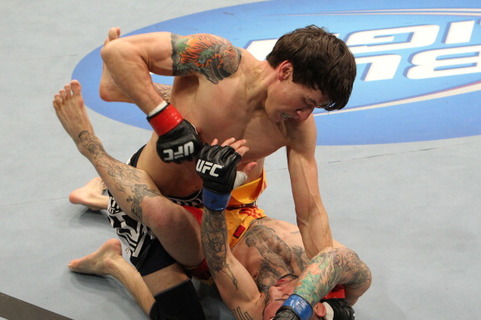 Josh Hedges/Zuffa LLC/Zuffa LLC via Getty Images
In 2009, Brian Bowles was the WEC bantamweight champion. In 2013, he is fighting on the Facebook preliminary card of UFC 160.
Bowles last fought in November 2011, losing by second-round submission to Urijah Faber in a UFC title eliminator. Since then, injuries have kept Bowles out of the Octagon.
At UFC 160, a healthy Bowles will need to show the UFC that he belongs with the promotion. A win would almost guarantee that Bowles stays on the UFC payroll. However, if Bowles is defeated by Roop on Saturday or delivers a lackluster performance, he may find himself on the outs with the promotion.
Don't think that's a possibility? Just look at the placement of his fight on the card—that's a message from the promotion to a former champ.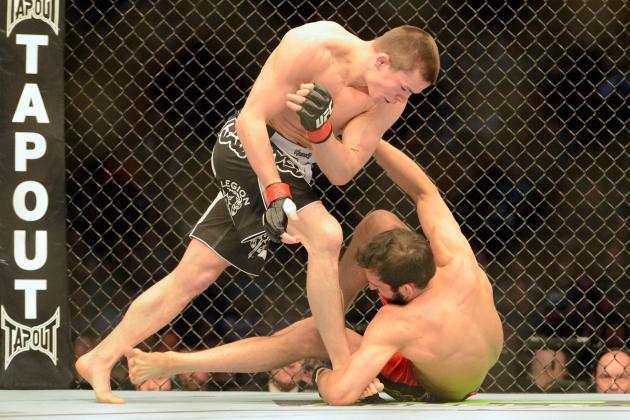 Eric Bolte-USA TODAY Sports

Between September 2009 and May 2011, UFC welterweight Rick Story put together a six-fight winning streak and seemed poised to break into the upper echelon of the division, maybe even earning a shot at kingpin Georges St-Pierre.
Those hopes were put on hold in June 2011 when he dropped a unanimous decision to Charlie Brenneman. Following the loss to Brenneman, things didn't improve for Story, as he went 2-2 after defeating Brock Jardine and Quinn Mulhern and losing to Martin Kampmann and Demian Maia.
Story will meet MMA veteran Mike Pyle at UFC 160 in what may be a make-or-break fight for Story. It's unlikely he will be released with a loss, but it's not totally out of the question.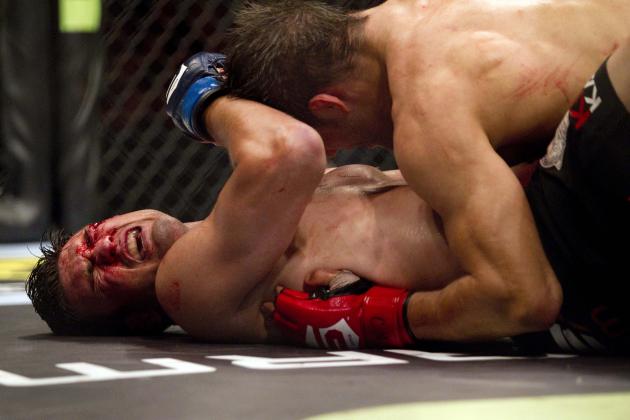 Greg Bartram-USA TODAY Sports

Ask the casual MMA fan if he knows who K.J. Noons is and odds are you'll get a blank stare. Noons is a former Elite XC champion and was a top contender in Strikeforce, but few people are familiar with him.
Noons will make his UFC debut on Saturday against Donald Cerrone. He'll also carry a record of 1-4 in his last five fights with Strikeforce.
In addition to his record, another strike against Noons is his pay. Noons pulled down $41,000, per MMAFighting.com, in his last fight, a split-decision loss to Ryan Couture.
Anything short of victory at UFC 160 could result in Noons being pink-slipped.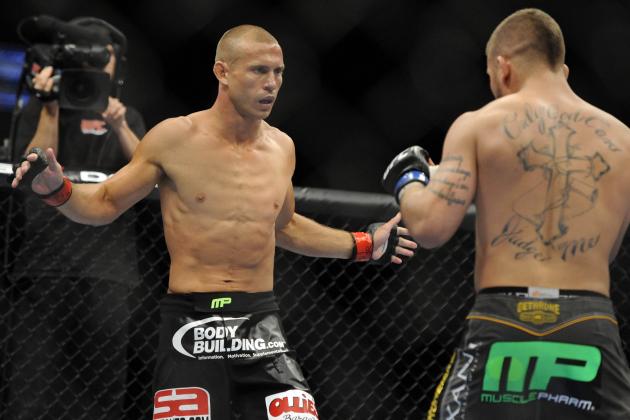 Rafael Suanes-USA TODAY Sports

Donald Cerrone has been one or two wins away from a title shot on two separate occasions. In both of those contests, he fell short.
Cerrone dropped a unanimous decision to Nate Diaz at UFC 141, and more recently, he was felled by a brutal liver kick courtesy of Anthony Pettis at UFC on Fox 6.
Cerrone is an exciting fighter whose many "Fight Night" bonus awards tell you that he's always looking to finish his opponent in spectacular fashion. He is one of those fighters who is secure in his employment with the UFC, but if he wants to get back in the mix in the lightweight division, he can't afford to stumble against Noons on Saturday.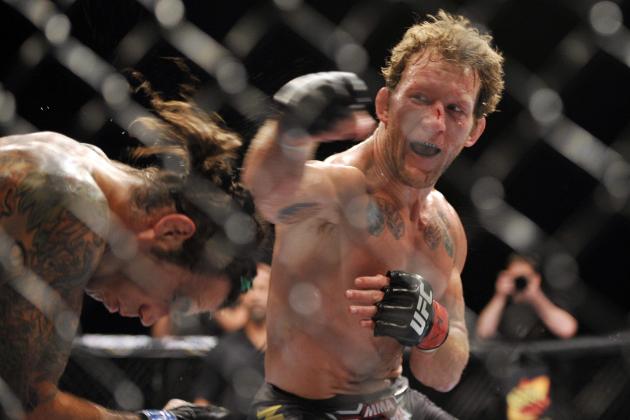 Joe Camporeale-USA TODAY Sports

Gray Maynard recently revealed to MMAJunkie.com that if his hand had not been raised at UFC on FX 4 he may not be fighting at UFC 160: "That happened, and thank God I got the win on that—because I don't even think I'd be in the sport right now."
That victory, a split decision over Clay Guida, has set up a UFC title-fight elimination bout against T.J. Grant at UFC 160.
Maynard, like Cerrone, is in no danger of losing his job, but who's to say a loss to Grant doesn't rekindle his previous feelings about leaving the sport?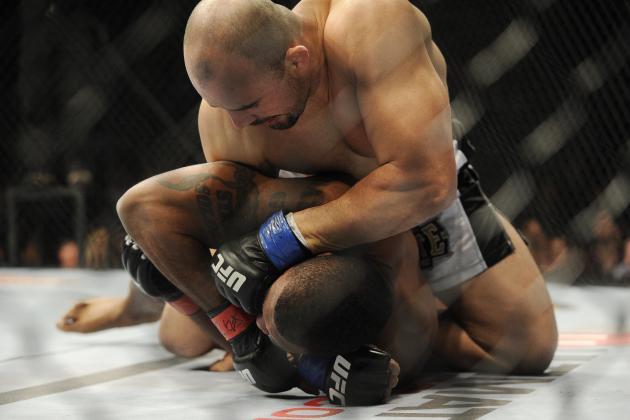 David Banks-USA TODAY Sports

Glover Teixeira is riding high on a wave of hype and good feeling, but can he take it to the next level?
Teixeira was originally booked to face Ryan Bader at UFC 160, but an injury forced Bader from the card. In stepped James Te-Huna, a fighter who is lower than Bader in the UFC's light heavyweight rankings.
Teixeira has to hope that the lower-ranked opponent does not cause a subconscious slacking off from him because Te-Huna is one tough customer. How tough? In 21 professional MMA bouts, he's never been knocked out, which the highly ranked Teixeira cannot claim.
Teixeira has built up a lot of goodwill during his career. If he loses to Te-Huna at UFC 160, he'll find out just how fickle MMA fans can be.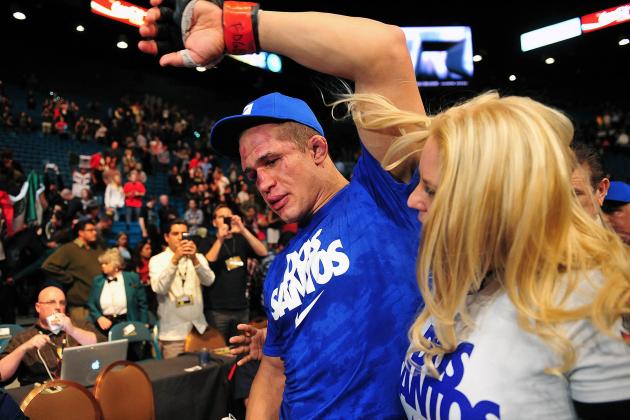 Gary A. Vasquez-USA TODAY Sports

Junior dos Santos is recognized as one of the best boxers in the UFC's heavyweight division. There may be some truth to that notion, but dos Santos took a beating in his last bout, dropping a striking battle to Cain Velasquez at UFC 155 and handing over his heavyweight crown in the process.
When dos Santos steps into the Octagon on Saturday, he will face Mark Hunt. Hunt has some of the heaviest hands in the heavyweight division and boasts an iron chin to go with the haymakers he throws.
A win over Hunt would put dos Santos in line for a heavyweight title shot, while a loss will result in a long tumble down the heavyweight rankings.