Boston Red Sox vs. Chicago White Sox: Live Score, Reaction and Analysis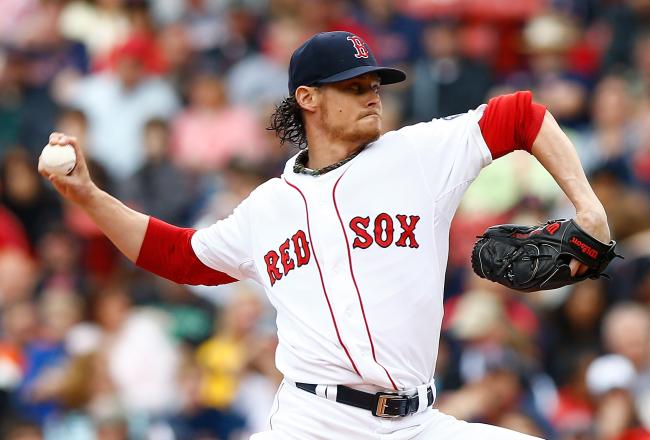 Jared Wickerham/Getty Images
SCORE UPDATE: Red Sox 6 - 2 White Sox, Final
W: Buchholz: 7-0
L: Santiago: 1-3
HR:
CHI: Konerko (5)
BOS: None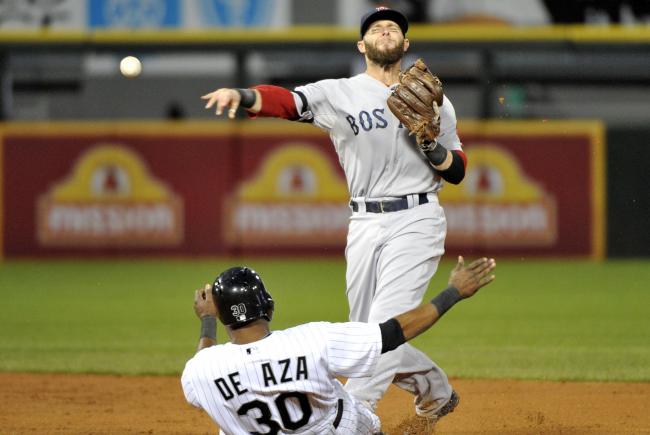 The Red Sox avoided being swept by taking the third game of their series against the Chicago White Sox, by a score of 6-2.
Boston starting pitcher Clay Buchholz continued his strong start to the season, going seven innings of one-run ball to earn his seventh win. He struck out four and walked three. He is now 7-0 with a 1.73 ERA in 10 starts.
Chicago starter Hector Santiago was a last-minute replacement for intended starter Chris Sale. However, he pitched like that had been the plan all along. Despite pitching on just three days rest, he struck out nine, while allowing just two runs over six innings.
The win pushes Boston to 28-19 on the season, while Chicago drops to 21-24.
Boston will welcome former manager Terry Francona and his Cleveland Indians to Boston on Thursday for his first game back at Fenway Park after being fired following the 2011 season.
Chicago will host the Miami Marlins beginning Friday.
Bailey strikes out Viciedo to end the game.
Night, folks!
Not willing to go home just yet, Konerko drives a solo home runs over the wall in left, his fifth of the season. 6-2, Boston.
Bailey looks good, quickly getting two outs.
Veal gets Middlebrooks to ground out to end the inning.
Bailey coming in to pitch a low-pressure situation. That will probably be good since he has been out since early May with a biceps strain.
Nava lines a single to left, driving in two runs. 6-1 Boston.
Donnie Veal sounds delicious. A little fettuccine and some red wine... Yum.
The lefty walks Napoli, who takes his third free pass of the game.
Ortiz nearly gets a hit as De Aza takes a circuitous route to the ball in center. Somehow he makes the catch for the second out of the inning, dropping Veal's batting average against to .500 for lefties.
Veal hasn't exactly been a lefty specialist this year. Left-handed batters are 7-for-13 against him.
Jones strikes out Pedroia, but Ventura comes out immediately after to replace him with lefty Donnie Veal.
The southpaw, who is 1-0 with a 9.45 ERA in 13 games, is being brought on to face Ortiz
Seven walks for White Sox pitching tonight

— Scott Merkin (@scottmerkin) May 23, 2013
After an Ellsbury walk, Gomes slaps a single to right to put ducks on the pond for the heart of Boston's order.
Having finished slapping all the hands he could find, willingly and otherwise, Uehara is seen pacing the Red Sox dugout like an agitated panther. The man has intensity in spades.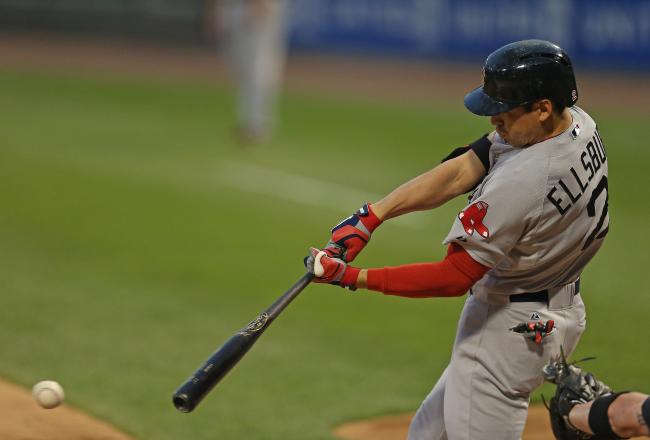 Ellsbury has had a good night with two hits and two walks.
Oh my God. Koji smacking Shane is the best thing I've seen. It's better than Beltre head rubs. GIF please!

— OverTheMonster (@OverTheMonster) May 23, 2013
Uehara nearly knocks an unsuspecting Shane Victorino on to the field with an ecstatic chest slap after coming into the dugout after his 1-2-3 inning.
Bailey is indeed warming up for Boston as his team bats.
Lefty Andrew Miller is warming up for Boston; possibly to come in to face Adam Dunn if needed.
Uehara strikes out De Aza to quickly record the second out of the inning.
Gomes makes a running catch (all of his catches seem to be running or diving for some reason) on a Ramirez drive to end the inning.
If score stays the same, we would appear to be an inning away from Andrew Bailey's first appearance in about three weeks

— Evan Drellich (@EvanDrellich) May 23, 2013
Uehara doesn't throw hard (88-90 tops), but he has great control and passion. His propensity for giving tons of high-fives in the Boston dugout has become very popular with the team this season.
He strikes out Flowers looking to start his evening.
Uehara enters the game for Boston. He has no record and a 2.04 ERA in 19 relief appearances this year.
Saltalamacchia strikes out to end the promising inning.
Napoli sprints home with Boston's fourth run after the ball squirts away from Flowers. Great play by the first baseman! The ball only got about 20 feet away.
Doesn't seem to be a huge crowd in Chicago tonight. You can clearly hear insults being hurled from the stands towards Boston players tonight.
Drew draws a walk to re-load the bases.
Jones is throwing hard- 95-96 mph, but it looks straight.
Middlebrooks lines a sacrifice fly to right field. Napoli takes third base. 3-1 Boston.
This article is
What is the duplicate article?
Why is this article offensive?
Where is this article plagiarized from?
Why is this article poorly edited?

Boston Red Sox: Like this team?