Chicago Blackhawks: Does Andrew Shaw Need to Get His Game Under Control?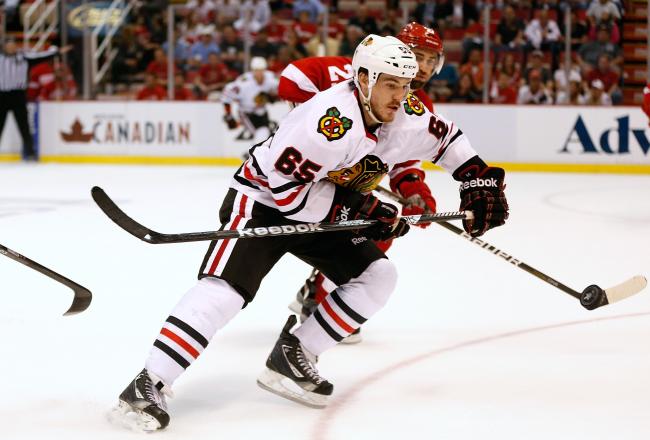 Andrew Shaw is still learning the difficult dance of playing an edgy game within the rules.
Gregory Shamus/Getty Images
Chicago Blackhawks forward Andrew Shaw has made edgy play his calling card since coming up midway through the 2011-12 campaign. Now might be a good time to make the young man aware of the line between sandpaper and quicksand.
It's definitely a tightrope for any player to walk. For a player like Shaw, full-throttle is what got him into the NHL. However, his game is going to be a liability at times.
Nowhere is that more evident than in Chicago's Western Conference semifinal with the Detroit Red Wings.
Shaw has exhibited some undisciplined play in two of the first three games of the series. The 'Hawks trail 2-1 going into Thursday night's Game 4 in Detroit.
Shaw earned 14 penalty minutes in Monday night's contest. That included a pair of two-minute minors and a ten-minute misconduct penalty as the game was nearly over. Shaw also picked up two infractions in Game 1's 4-1 victory.
Has Andrew Shaw's game been a pro or a con for the Chicago Blackhawks?
So...does Shaw's play hinder or help Chicago's playoff chances?
Chicago has killed Shaw's penalties as it has with all penalties incurred during the playoffs. On the other hand, being saddled with shorthanded time isn't the best way to generate offense.
Shaw was a big factor in the forecheck that made the Blackhawks so tough in the opener of this series. If the key to scoring on Jimmy Howard is getting to some of the rebounds he's leaving out in front of the crease, Shaw could be the answer. That's his bread and butter as far as scoring is concerned.
It also created quite a stir in Game 3, where a goal that would have tied the game was disallowed because of goalie interference. Guess who was at the center of the action?
Yahoo Sports' Greg Wyshynski does a tremendous job breaking down the play along with video, so I'll just say that Shaw was in the crease but didn't interfere with Jimmy Howard.
As fans, we have moaned for the 'Hawks to crash the net. Net presence is a big reason I wouldn't mind seeing Ben Smith on the fourth line. The by-product of getting bodies in front of the net is the occasional penalty.
Did the officials use the fact that Shaw was the player in the crease to make a decision on the play? I'd like to think not, but Shaw has built his reputation all by himself. In what is still an NHL career in it's infancy, Shaw makes no bones about what his style of play entails.
You can dig the way Shaw goes about his business. You also have to then accept the repercussions his exuberance is going to create.
Coach Joel Quenneville has likely made Shaw aware of the dangers of playing too close to the edge. It's one thing to remind a player of the line they are not to cross. It's another thing to skate along that line and not cross it.
This article is
What is the duplicate article?
Why is this article offensive?
Where is this article plagiarized from?
Why is this article poorly edited?

Chicago Blackhawks: Like this team?