Eight Reasons Why the Denver Nuggets Will Win the NBA Championship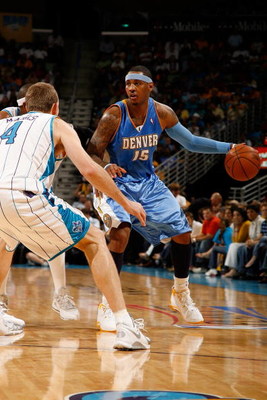 The Denver Nuggets have impressed me more than any other team this year. I always knew that the Nuggets were good, but I never thought they were great.
I realized two nights ago that the Nuggets are a great team. They beat the Hornets in New Orleans 121 to 63. That is a 58-point difference, and the biggest blow-out I have ever seen.
Okay, enough about why I think...excuse me...KNOW they are great. I'm gonna tell you why YOU should think they're great.
Carmelo Anthony
Carmelo has been an animal against the Hornets so far. He has averaged 21.5 points a game, six rebounds, and six assists a game.
Not only does he have the stats but he is the team's leader. He's the main man. If the Nuggets don't have Carmelo, they are not the Nuggets.
Chauncey Billups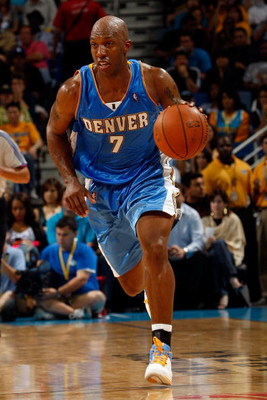 Chauncey Billups has averaged 25 points and seven assists against the Hornets this series, along with 31 points in Game One. He is the clutch player the Nuggets needed.
And boy oh boy, the Nuggets have gotten a lot more from Billups than the Pistons have gotten from A.I. Just look at what happened to them. When we need a player to step up, Chauncey is there to save the day.
Defense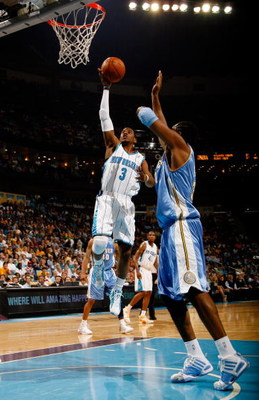 The Denver Nuggets have a great defense. They have averaged 10 steals a game, which ranks third amonst playoff teams—only behind the Jazz (you know what happened to them) and the Celtics, who have played seven more quarters than them.
The Nuggets have also given up an average of 83 points a game (giving up the third-fewest points in NBA Playoff history two nights ago). While scoring an average of 109 points a game, they have scored 100 points in every one of their games but one.
Never Looking Back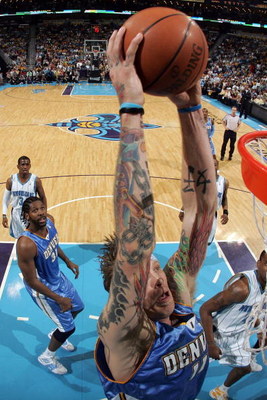 Once the Nuggets get on a roll, they never look back. Example: Game One in Denver, the Nuggets' biggest lead was 34, and their largest deficit was 2.
Final Score: Denver 113, New Orleans 84.
The same scenario happened to the Nuggets in Game Two. Their largest lead was 23 and largest deficit was 3.
Final Score: Denver 108, New Orleans 93.
Game Four was the best example of this. The Nuggets only trailed once and that was by 2. But their biggest lead was a whopping 58 points. Completely dominant.
Final Score: Denver 121, New Orleans 63.
Game Five the Nuggets largest deficit was 9 and largest lead was 24.
Final Score: Denver 107, New Orleans 86
Points in the Paint
The Nuggets have outscored the Hornets in the paint in three of four games. When you've got Carmelo Anthony, Chauncey Billups, Nene, and Chris Andersen, it's gonna be pretty easy to score in the paint.
**POINTS IN THE PAINT**
Game One: DEN 34, NO 26.
Game Two: DEN 42, NO 32.
Game Four: DEN 34, NO 18.
Game Five: DEN 48, NO 32
They Know How and When to Pass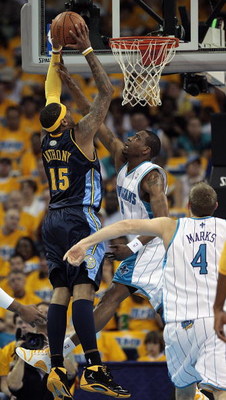 The Nuggets have averaged 25 assists per game, while the Hornets have averaged 15.
Not only did they average 10 more assists than the Hornets a game, their 25 assists per game ranks first among the remaining teams in the NBA Playoffs.
Three-Point Shooting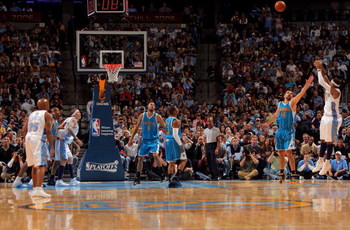 If there is one thing that really stands out to me, it is the Nuggets' three-point shooting. They make 50 percent of their three-pointers.
This ranks first amongst all playoff teams, eliminated or not. If you're playing the Nuggets, that is the statistic you should worry about the most.
Rebounding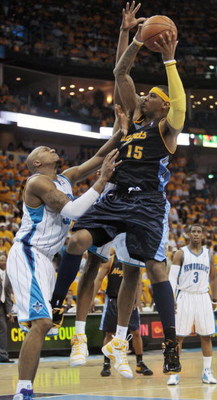 The Denver Nuggets rank third in rebounding amongst remaining playoff teams in the NBA, averaging 43 rebounds a game. The two teams they are behind (Boston and Chicago) have played seven more quarters than them, four of which have been overtimes.
If you some how get Denver to miss a shot, you better be quick on your feet. Because it is gonna be pretty tough to get the rebound.
No Stopping Them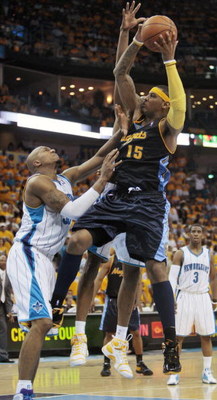 There is no one who is gonna get in the way of this team.
There are definitely a few teams that could stop them, but wouldn't beat 'em in less than six games. Those teams are the Cavaliers, Celtics, and the Lakers.
If you wanna have a chance to beat this team you have to:
1. Stop Carmelo Anthony.
2. Stop Chauncey Billups.
3. Take good shots against this stingy defense.
4. Never get behind.
5. Stop them down low.
6. Don't give them easy jump shots.
7. Decrease good passes as much as you can.
Not the easiest things to do. But heck, I'm sure teams have done it before.
Keep Reading

Denver Nuggets: Like this team?