MLB Prospects Update: Hottest, Coldest Hitters at Every Minor League Level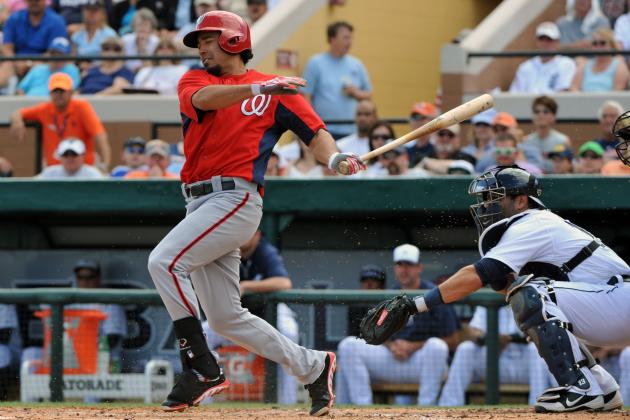 Al Messerschmidt/Getty Images
Since returning to the minors from a brief big league debut, Anthony Rendon has been on a tear.
Not all top prospects "get it" in their first taste of the major leagues. Actually, most don't.
Sure, there are rare exceptions, like Jose Fernandez of the Marlins this year. But even Mike Trout wasn't Mike Trout until his second go-round. Remember, he hit just .220 in his first 40 games back in 2011.
A similar scenario could play out for the Nationals' Anthony Rendon. The sixth overall pick in 2011, Rendon got the call to help cover third base when Ryan Zimmerman hit the DL in late April, and the 22-year-old proceeded to go 6-for-25 (.240) and was promptly sent back down once Zimmerman was healthy.
Still, Rendon didn't look overmatched, thanks to his elite approach (five walks in 30 plate appearances), and has done nothing but rake—and walk—in the 17 games since heading back to Double-A Harrisburg. Over that time, Rendon is triple-slashing .377/.487/.754 with 14 extra-base hits (four homers), 17 RBI and 14 walks.
Next time Mr. Rendon goes to Washington, he might be there to stay.
Including the red-hot Rendon, here's the latest look at the hottest and coldest minor leaguers at each level.
Begin Slideshow

»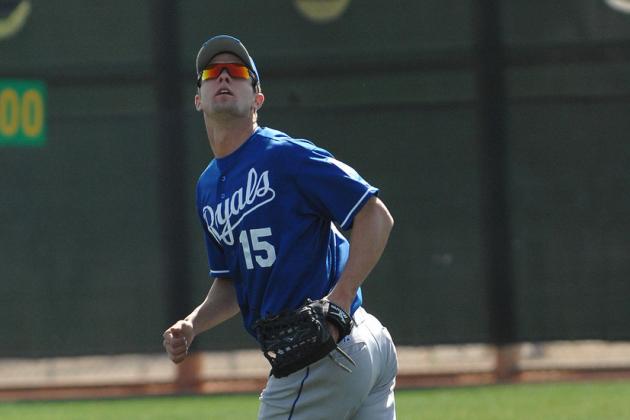 (Image from BCBaseballToday.com)
Hottest
Micah Johnson, 2B, White Sox
.300/.386/.431, 39 R, 14 XBH (1 HR), 42 SB, 35/21 K/BB (40 G)
After two more steals Tuesday, this ninth-rounder in last June's draft is doing his best Billy Hamilton impression by leading all of baseball with—count 'em—42 stolen bases.
Stetson Allie, 1B, Pirates
.331/.410/.627, 31 R, 25 XBH (12 HR), 5 SB, 56/22 K/BB (44 G)

Four more homers this week for the 2010 second-rounder who's gone from power-armed (but extremely wild) right-hander to right-handed power hitter who's batting .366 over his past 10 games.
Andrew Toles, OF, Rays
.319/.351/.506, 24 R, 21 XBH (1 HR), 22 SB, 29/6 K/BB (39 G)
Drafted in the third round last year, the super-speedy Toles tops the Midwest League with eight triples and ranks second with 22 steals, including nine in his last 10 games, while being caught just once.
Dilson Herrera, SS, Pirates
.314/.374/.487, 29 R, 15 XBH (5 HR), 6 SB, 42/15 K/BB (39 G)
It's hard to be much better than Herrera, all of 19 years old, has been in his past 10 contests: 18-for-43 (.419) with three homers, nine RBI and a pair of steals.
Cameron Flynn, OF, Marlins
.371/.445/.404, 14 R, 7 XBH (2 HR), 1 SB, 15/11 K/BB (29 G)
Scratch that—Flynn is hitting .514 in his last 10 to raise his average to a Sally League-leading .371. If this continues, perhaps the Marlins should consider moving up this 23-year-old college bat.
Coldest
Bubba Starling, OF, Royals (pictured)
.210/.283/.348, 20 R, 11 XBH (4 HR), 5 SB, 45/11 K/BB (38 G)
The Royals are hoping recent Lasik eye surgery helps their top pick in 2011 turn things around, as the 20-year-old is striking out 32 percent of the time in his first look at A-ball (pun intended).
Brandon Nimmo, OF, Mets
.322/.421/.433, 22 R, 5 XBH (1 HR), 2 SB, 24/12 K/BB (23 G)
The 13th overall selection two years ago, Nimmo's slash stats for the season look good, but the lefty hitter is just 2-for-16 (.176) against southpaws on the year and has two hits in his last 23 at-bats overall.
Adam Brett Walker II, OF, Twins
.283/.331/.585, 28 R, 24 XBH (10 HR), 3 SB, 42/10 K/BB (42 G)
Walker has been among the hottest hitters in the minors, but he switches over from hot to cold this week after getting just two hits against seven whiffs in 20 at-bats since May 15.
Lewis Brinson, OF, Rangers
.226/.283/.441, 22 R, 18 XBH (10 HR), 6 SB, 77/12 K/BB ( G)
When Brinson hits the ball, it goes—emphasis on "when." The 19-year-old 2012 first-rounder K'd in more than half his at-bats over his past 10 (22 whiffs in 43 ABs), bringing his strikeout rate for the year to, um, 40 percent.
Carson Kelly, 3B, Cardinals
.247/.293/.344, 9 R, 7 XBH (1 HR), 0 SB, 14/5 K/BB (27 G)
Following a promising power display in his limited pro debut after going in the second round (10 doubles, nine homers in 56 games), the high-schooler's intro to A-ball hasn't exactly gotten started yet.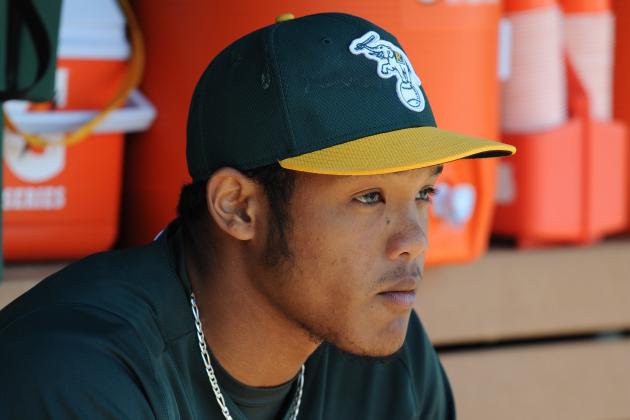 Rich Pilling/Getty Images

Hottest
Miguel Sano, 3B, Twins
.350/.443/.694, 40 R, 26 XBH (13 HR), 6 SB, 44/22 K/BB (43 G)
Tired of seeing Sano's name here yet? Since celebrating his 20th birthday on May 11, Sano has hit three more bombs—including one in each game of a May 21 doubleheader—to raise his total to 13 and keep pace with the minor league lead.
Addison Russell, SS, Athletics (pictured)
.209/.319/.432, 21 R, 16 XBH (6 HR), 4 SB, 46/23 K/BB (34 G)
The A's pushed their top pick last June all the way to the Cal League—as a 19-year-old out of high school, no less. While the early going's been rough, Russell has started to get his feet under him and has hit four homers and driven in 11 over his past 10 contests.
Gregory Polanco, OF, Pirates
.325/.391/.526, 23 R, 19 XBH (6 HR), 18 SB, 26/15 K/BB (41 G)
A sinewy, athletic tool shed, the lefty-hitting Polanco has continued right where he left off after his breakout 2012 campaign. It's not often a player with Polanco's blend of pop and speed also shows such good plate discipline as a 21-year-old.
Garin Cecchini, 3B, Red Sox
.372/.472/.642, 28 R, 23 XBH (5 HR), 11 SB, 21/23 K/BB (38 G)
A fourth-round high-schooler in 2010, the 22-year-old is simply too good for this level. Cecchini's .372 average is tops in High-A, and he continues to walk more than he strikes out, with six free passes against just five Ks in his last 10.
Nick Delmonico, 1B/3B, Orioles
.333/.459/.652, 13 R, 12 XBH (5 HR), 0 SB, 17/16 K/BB (19 G)
After missing three weeks following a concussion, Delmonico has gone 10-for-29 (.345) with three long balls and eight RBI in eight games since being cleared. His 19 percent walk rate is an indication of an improving approach.
Coldest
Mason Williams, OF, Yankees
.224/.323/.323, 24 R, 11 XBH (2 HR), 6 SB, 31/22 K/BB (40 G)
Williams is showing a good eye—his 11.6 percent walk rate is easily a career high—but not much else has gone well for the 21-year-old, who's just 7-for-40 (.175) over his past 10.
Trevor Story, SS, Rockies
.187/.261/.273, 13 R, 10 XBH (1 HR), 6 SB, 55/13 K/BB (40 G)
This 20-year-old raised expectations after a dynamic performance in his first full pro season in 2012, but he'll have to reduce his 33 percent K rate to take advantage of the hitter-friendly Cal League environs.
Mac Williamson, OF, Giants
.258/.331/.405, 21 R, 14 XBH (4 HR), 3 SB, 46/12 K/BB (42 G)
High-A seemed like a conservative enough assignment for a soon-to-be-23-year-old college bat like Williamson, who went in the third round last year, but the above-average power has yet to show up, especially lately, with just four extra-base knocks (no homers) the past two weeks.
Will Swanner, C, Rockies
.172/.268/.263, 10 R, 7 XBH (1 HR), 1 SB, 47/12 K/BB (28 G)
With both Story and Swanner struggling so much—the duo combined for 34 homers a year ago, but has only two so far—maybe something's in the water in Modesto?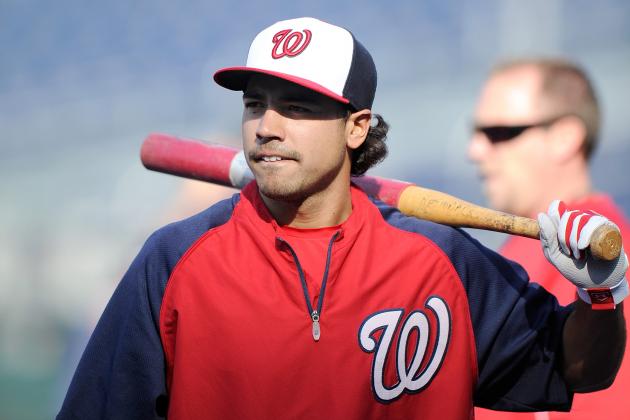 Greg Fiume/Getty Images

Hottest
Anthony Rendon, 3B, Nationals (pictured)
.339/.476/.642, 17 R, 19 XBH (6 HR), 1 SB, 22/28 K/BB (31 G)
With Danny Espinosa doing nothing (.163 BA, .487 OPS) and Rendon having played five games at second this year, might we see a Rendon recall in the near future?
Yasiel Puig, OF, Dodgers
.314/.385/.579, 19 R, 18 XBH (6 HR), 10 SB, 24/11 K/BB (32 G)
The Dodgers' $42 million Cuban import has slowed from his crazy-great spring, but only a bit. Puig is also showing his dynamic all-around game, and after failing to walk even once in 60 spring plate appearance, the 22-year-old has 11 in 135 to start 2013.
Cesar Puello, OF, Mets
.303/.366/.523, 24 R, 15 XBH (6 HR), 9 SB, 31/8 K/BB (36 G)
Puello, 22, may finally be tapping into his power, as his slugging percentage is a career-best by 100 points and he has smacked all six homers since the calendar flipped to May.
Edward Salcedo, 3B, Braves
.289/.355/.447, 21 R, 14 XBH (5 HR), 9 SB, 37/15 K/BB (42 G)
Salcedo has always been on the raw side, but the 21-year-old is has come on this month, slashing .343/.400/.552, and considering his aggressive approach, the 15/7 K/BB is acceptable.
Henry Urrutia, OF, Orioles
.333/.413/.542, 13 R, 14 XBH (3 HR), 1 SB, 16/13 K/BB (25 G)
Signed last July, the Cuban defector, 26, missed most of 2011 and 2012 between being suspended for an unsuccessful defection then having visa troubles. The 26-year-old, though, has played well in his stateside debut, and he could reach the majors in a reserve role by late-summer.
Coldest
Tyler Austin, OF, Yankees
.241/.355/.337, 23 R, 13 XBH (2 HR), 2 SB, 47/29 K/BB (44 G)
After breaking out across both levels of A-ball in 2012, Austin's power is missing at the moment, as he's hitting only .227 with four extra-base hits, including a mere homer, this month.
Mikie Mahtook, OF, Rays
.227/.310/.424, 24 R, 21 XBH (3 HR), 9 SB, 32/18 K/BB (45 G)
Wil Myers (more on him in a bit) is not the only outfield prospect in the Tampa system to be underperforming lately. Mahtook, who went in the first round as an LSU product in 2011, is hitting .167/.255/.250 the past two weeks.
Nick Ahmed, SS, Diamondbacks
.149/.221/.157, 12 R, 1 XBH (0 HR), 3 SB, 29/12 K/BB (44 G)
It's almost impossible to have just one non-single at this point in the season, isn't it? Especially for a 23-year-old second-rounder in 2011 who had 36 doubles a year ago.
Gift Ngoepe, SS, Pirates
.145/.245/.234, 11 R, 6 XBH (2 HR), 5 SB, 51/13 K/BB (42 G)
A better story than he is a prospect, Ngoepe's quest to become the first African-born player in the majors is facing some serious hurdles in his first shot at the high-minors.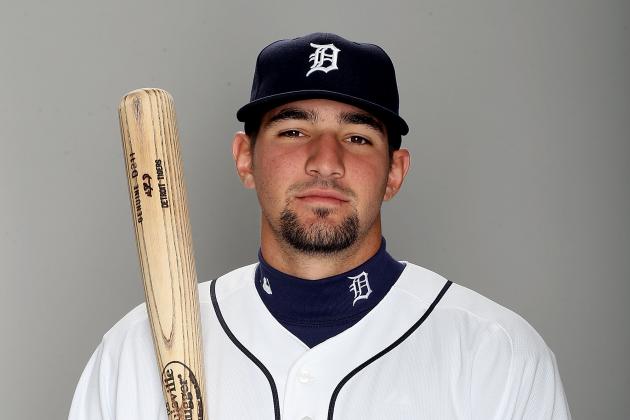 Matthew Stockman/Getty Images

Hottest
Nick Castellanos, OF, Tigers (pictured)
.253/.319/.419, 22 R, 20 XBH (5 HR), 1 SB, 41/19 K/BB (47 G)
The overall line doesn't wow you, but after an aggressive promotion to Triple-A to start the year, the 21-year-old is finally starting to come around in the plate-discipline department, with eight walks against just six whiffs in his last 10 games. Still a candidate for a big league call up over the summer.
Tim Federowicz, C, Dodgers
.482/.530/.982, 13 R, 13 XBH (7 HR), 0 SB, 16/7 K/BB (15 G)
The 25-year-old has shuttled back and forth between the Dodgers and Triple-A Albuquerque, but it's getting harder to see why he shouldn't be in the big leagues for good at this point, as he's destroying PCL pitching.
Josh Phegley, C, White Sox
.333/.400/.651, 25 R, 21 XBH (10 HR), 0 SB, 22/10 K/BB (34 G)
You'd think the Sox would realize their current duo of Tyler Flowers and Hector Gimenez ain't cuttin' it (.211/.280/.374) and give Phegley, 25, his first chance while he's hot: .359 average with three homers and 10 RBI in his last 10.
Corey Dickerson, OF, Rockies
.360/.392/.596, 32 R, 22 XBH (5 HR), 3 SB, 26/9 K/BB (38 G)
The lefty-hitting Dickerson has always had power—he smashed 133 extra-base hits, including 54 homers, in 2011 and 2012, and he's putting that to good use in one of the minors' most hitter-friendly parks and leagues around.
Ryan Jackson, SS, Cardinals
.359/.425/.479, 19 R, 13 XBH (2 HR), 3 SB, 26/17 K/BB (38 G)
If at some point the Cards grow tired of Pete Kozma, they can always give the solid-but-unspectacular Jackson, 25, a shot. He's a strong fielder with a good overall approach at the plate.
Tony Sanchez, C, Pirates
.310/.425/.550, 14 R, 16 XBH (4 HR), 0 SB, 24/14 K/BB (32 G)
Catchers continue to dominate this hot section, huh? Sanchez will never live up to his lofty draft status as the fourth overall selection in 2009, but he's as ready as he'll ever be if injury or a slump hits current big league backup Mike McKenry.
Coldest
Wil Myers, OF, Rays
.244/.341/.372, 23 R, 11 XBH (4 HR), 2 SB, 51/23 K/BB (41 G)
Maybe Myers is just frustrated for having to wait until the Super Two deadline passes (probably some time in early June), but the 22-year-old's season-long blahs have gotten even worse lately. Past 10: 6-for-39 with 11 whiffs. Also? A guy who smashed 37 homers a year ago should not be slugging .372.
Gary Brown, OF, Giants
.198/.266/.308, 31 R, 14 XBH (2 HR), 4 SB, 48/12 K/BB (44 G)
That big 2011 Cal League campaign? Pretty sure by now that was the outlier, as the 2010 first-rounder is off to another poor start, and he's no longer stealing bases even remotely efficiently, with more unsuccessful attempts (five) than successful ones (four).
Josh Vitters, 3B, Cubs
.241/.290/.379, 8 R, 4 XBH (2 HR), 1 SB, 4/9 K/BB (17 G)
While the Cubs are still holding out hope for their top pick—and No. 3 overall—in 2007, the 23-year-old is coming off a dreadful introduction to the majors late last year and missed most of April with a quad injury. This could be his last shot.
Joe Benson, OF, Twins
.192/.256/.285, 20 R, 10 XBH (1 HR), 4 SB, 50/10 K/BB (42 G)
As much as Aaron Hicks is still struggling—his .206/.265/.460 line this month is a massive improvement—don't expect Benson, a 2006 second-rounder who's still toolsy but now 25 and in a losing battle with his swing (30 percent K rate), to get a look any time soon.