Many thought that when Rudy Gay was traded from the Memphis Grizzlies, the playoff contenders just threw away their best chance of being a legitimate threat for the NBA title.
Gay was the face of the franchise. He was the only consistent outside scoring threat the Grizzlies had and he's the one who closed games and took last second shots.
That was all Rudy Gay.
But if a team does in fact trade away their best player, it means that the surrounding players have to pick up their game to make up for his loss. Nobody's done that more for Memphis than Mike Conley, Jr.
During the regular season, he hit his averages in points, assists and rebounds. But if you've watched the 2013 NBA Playoffs, then you've seen Conley improve both his scoring and assists to turnover ratio. But he's also been so much more to this rugged, extremely slow-paced, defensive-minded Memphis team.
Conley has emerged as the true leader of this team. Marc Gasol won Defensive Player of the Year and is the new face, Tony Allen is the defensive guru and Zach Randolph is...well...he's just Z-Bo (there's really no other way of describing him).
But this series against the San Antonio Spurs has shown us that without Conley on the floor, the Grizzlies look out of whack. Their floor general isn't out there tossing out dimes and making the right decisions.
Memphis struggles to score points in the first place. Without Conley on the floor, the offense looks downright abysmal.
Conley has picked up a lot of the slack for the Grizzlies in the postseason. Among all remaining guards in the playoffs, he is second in scoring (17.4 PPG) only behind his Western Conference Finals counterpart Tony Parker (21.6 PPG), all while taking four shots less per game, according to CBSSports.com.
Conley has also improved at dishing the ball to open scorers. Conley is fifth in the NBA this postseason in assists per game (7.4) which is right behind Parker for fourth (7.5 APG).
After playing to his averages in the regular season, Conley has improved his numbers tremendously while going up against some of the elite point guards in the NBA. After averaging 14.6 points, 5.5 assists and 2.8 rebounds, Conley's play has improved when his team has needed him most.
During the Grizzlies playoff run, he has produced 17.4 points, 7.4 assists and 4.7 rebounds per game. He's also taken it upon himself to shoot the ball more, averaging about three shots more per game in the postseason than in the regular season.
Memphis is just a better team with Conley on the floor. Even though he doesn't get the credit he deserves because of the two giants down low and the game's best perimeter defender as his teammate in the backcourt, Conley is the only player that knows how to run this Memphis offense to perfection.
Conley is able to get it to Marc Gasol in the high post and to Z-Bo where he wants it in the low block. When he slashes to the basket, he has proven he makes the right decision to either score or dish it to an open shooter.
Just look at the end of Game 2 against the San Antonio Spurs yesterday. Because of foul trouble, Conley was only able to play 35 minutes. He found that his team was down 13 points in the fourth quarter, then decided it was time to get his team back in the game.
Conley assisted on the team's next three baskets and suddenly Memphis was down just five points with five minutes to spare.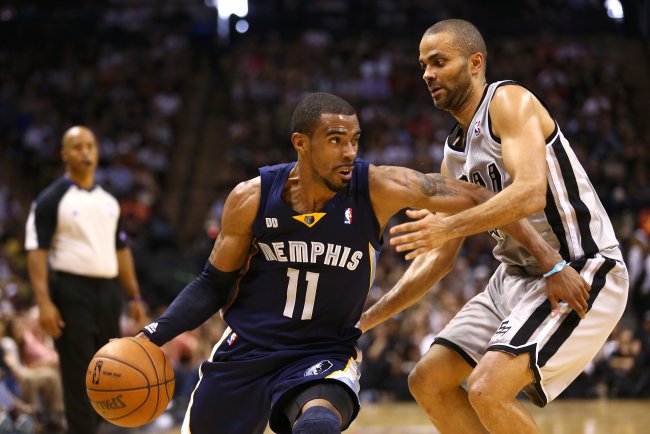 Ronald Martinez/Getty Images
Yesterday's game also showed why he has emerged as the team's crunch-time performer as well. After hitting clutch shots in the Oklahoma City series, Conley found the ball in his hands with time winding down yet again, and with 18 seconds left he hit the game-tying jumper and sent the game into overtime.
His game isn't about being creative with the ball or making shots with style and flair. Conley plays on a small market team in a very small market town. His team is known for defense, making it harder for him to stand out among other point guards in the league that are part of a superior offense.
Make no mistake about it, these playoffs have shown that Mike Conley Jr. is an elite point guard in the NBA. The numbers aren't going to wow a fair weather fan, but if you watch him you will see him orchestrate an offense better than anyone in the league.