One 2014 Free Agent Each NFL Team Needs to Lock Up Right Away
Kevin C. Cox/Getty Images

It's never too soon for NFL teams to begin negotiating with their free-agents to be.
Dallas got a head start by locking up Tony Romo this offseason, as did the Green Bay Packers, who extended the contracts of Aaron Rodgers and Clay Matthews.
Taking care of players before they hit free agency is the only sure-fire way to secure their services long-term. That doesn't eliminate risk from the equation, however.
By re-signing players under contract, teams run the risk that the player could decrease in value over the next season. Such was the case with Chris Johnson in Tennessee, who had his worse season in 2011 after signing a $53 million dollar extension.
However, sometimes the opposite can happen—just ask the Ravens how expensive negotiations can get when a player increases his value during the final year of his contract.
As of now, the 2014 free-agent class is stuffed to the gills with young talent: Matt Ryan, Ryan Clady, Geno Atkins, Anthony Spencer, Jimmy Graham, Brian Orakpo and Victor Cruz to name a few.
It's unlikely more than two of those players will actually hit the market come next March. In most cases, preliminary negotiations are taking place, as both the players and the team would ideally like to settle on a number sooner rather than later to avoid a strew of inevitable distractions.
Here are the players each team needs to lock up before they hit the free-agent market.
Begin Slideshow

»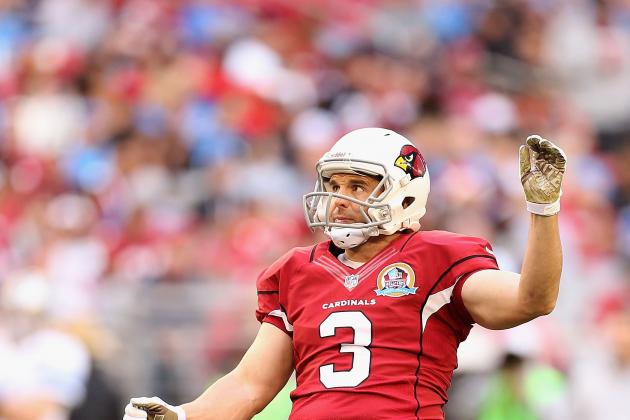 Christian Petersen/Getty Images

A kicker is not a glamorous way to start the slideshow, but Arizona doesn't have much for expiring contracts this season.
Glamorous or not, Feely is a valued commodity. Last season the right-legged kicker went 25-28 on field-goal attempts. He lacks the range of Matt Prater and Sebastian Janikowski, but under 40 yards, Feely was an impressive 15-16.
Re-signing Feely won't steal headlines, but if he hits the free-agent market, the consistent veteran would certainly draw suitors.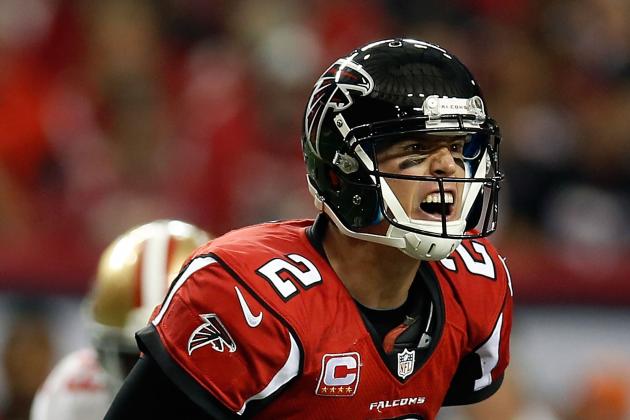 Chris Graythen/Getty Images

Matt Ryan is the belle of the 2014 free-agency ball. Yet, it is almost certain that NFL teams desirous of quarterbacks won't be allowed an opportunity to bid for Ryan's services.
The Boston College product is coming off his best season as a professional, throwing for 4,719 yards and 32 touchdowns. By advancing his Falcons to the NFC Championship last season, Ryan silenced his critics and the whispers that he couldn't win a playoff game.
Locking up Ryan won't be cheap, but if Atlanta allows him to hit free agency, the price would only inflate. The Falcons owner Arthur Blank told the NFL Network's Albert Breer that the team wants to re-sign Ryan "as soon as possible"—as they should.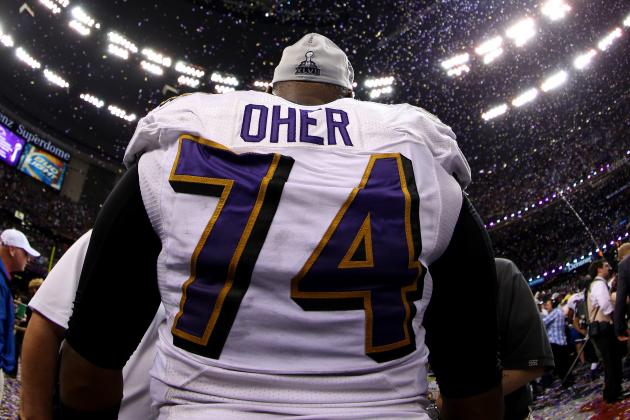 Mike Ehrmann/Getty Images

Michael Oher's transition to right tackle reaped benefits for the Baltimore last season, as the Ravens were 5-1 when Oher started at right tackle.
The switch will continue to benefit Baltimore if/when it negotiates his contract extension.
Left tackles attract more money than right tackles in the free-agent market. This spring one of the league's best right tackles, Sebastian Vollmer, signed a four-year $16.75 million dollar contract. In contrast, Jake Long, a left tackle, received a four-year $34 million dollar contract.
Oher isn't the caliber of right tackle that Vollmer is, but it is safe to assume that Baltimore will shave a few million off Oher's price tag now that he is a right tackle. Considering the $120 million Joe Flacco was just rewarded, any savings—no matter the amount—help out the Ravens' financial department.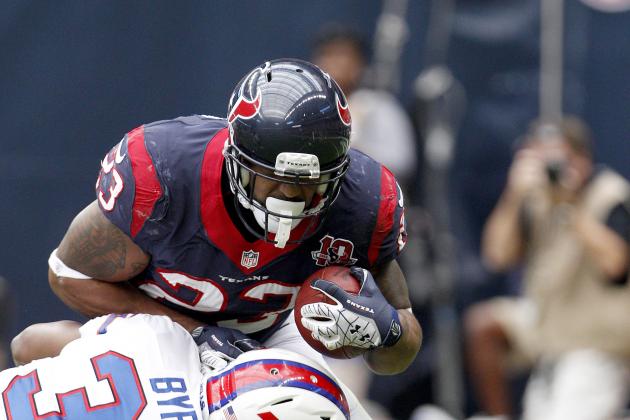 Thomas B. Shea/Getty Images

The Bills locked up Byrd for 2013 by placing the franchise tag on the Pro Bowl safety. It would be wise to lock him up long-term.
Byrd is an elite free safety. In 2012, when quarterbacks threw into his coverage, their combined quarterback rating was a mere 56.9, and Byrd snagged five interceptions. He is also an above-average tackler for a free safety as evident by his 75 tackles in 2012.
Buffalo can't afford to allow a player of Byrd's caliber to leave.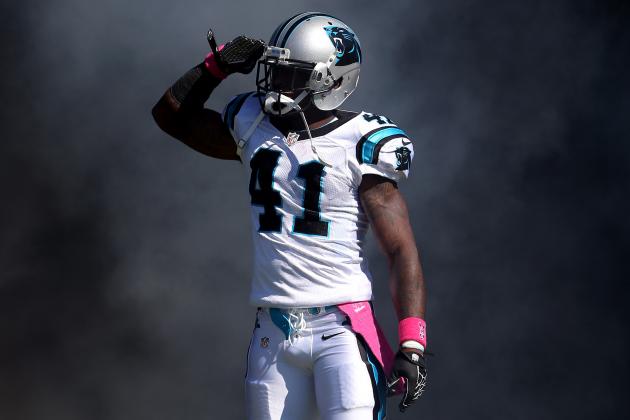 Streeter Lecka/Getty Images

Captain Munnerlyn flies under the radar because of the recent irrelevance of the Carolina Panthers and their overall defensive struggles, but he has progressed into a legitimate No. 1 cornerback.
Munnerlyn had a breakout season in 2012. Inconsistent in coverage during the early stages of his career, Munnerlyn ascended as Carolina's best secondary player in 2012 en-route to a five interception season.
Carolina would be wise to lock up Munnerlyn prior to the 2013 season. If the corner plays at his 2012 level or better this coming season, his market value will inflate significantly.
It's better to dodge the Flacco effect and extend Munnerlyn now.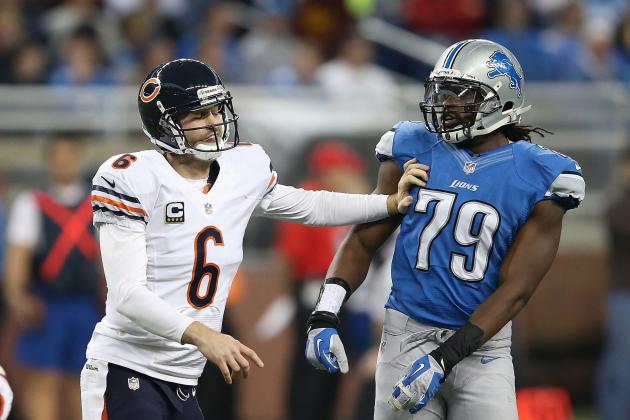 Leon Halip/Getty Images

The quarterback drought in Chicago has been a tenuous and lengthy depression.
During this period of intense melancholy, Bears fans have suffered through the weak-armed Kyle Orton, the strong-armed but weak-minded Rex Grossman, the corpses of Kordell Stewart and Chris Chandler and a strew of forgettable, mediocre quarterbacks such as Jim Miller, Ryan Mathews, Cade McNown and Chad Hutchinson.
So now that the Bears actually have a competent quarterback and are finally employing him with some offensive aids, they absolutely must lock him up.
Unfortunately, the strategy appears to be to play the season out and take the path that the Ravens did with Joe Flacco.
The gamble may payout for the Bears. With a new coach and a newly-formed offensive line, the Bears are far less likely to make a Super Bowl run than the Ravens were in 2012. Don't forget, Baltimore made the AFC title game in 2011, whereas the Bears are coming off the heels of a non-playoff qualifying season.
Given that, it's unlikely Cutler will play his way into a seven-figure contract in 2013. But there is also a non-monetary related possibility that their risk backfires.
For the first time since Cutler arrived in 2009, the Bears have pledged to assist him. They have brought in new linemen, a new tight end and a new system. But what if the Bears flounder in 2013? More specifically, what if the Bears new offensive line once again fails to protect Cutler? Will Cutler lose patience and wash his hands of Chicago?
Regardless of your assessment of Jay Cutler, you can bet that Cleveland, the Jets, Minnesota, Tampa Bay, Jacksonville and Tennessee would love for the gunslinger to hit the free-agent market.
Chicago should lock up Cutler now before it runs the risk of losing him next summer.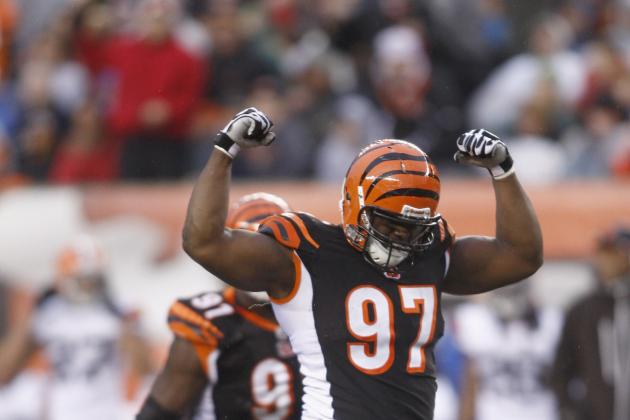 John Grieshop/Getty Images

The Bengals are a notoriously cheap franchise. If they want to lock up Atkins long-term, they will have to shed their stingy reputation and prepare to spend.
Atkins doesn't get his name thrown around as often as Ndamukong Suh, but he is every bit as good—perhaps even better.
He doesn't appear in national commercials, but Atkins was a pillar of defensive dominance in 2012. He led all defensive tackles in sacks with 16, which is seven more than the second-place Suh. Atkins accrued 49 quarterback hurries, which is 13 more than the second-place Gerald McCoy.
Geno Atkins is going to be expensive to re-sign, but he is certainly deserving. The Bengals need to reach an extension with their star defensive tackle as soon as possible.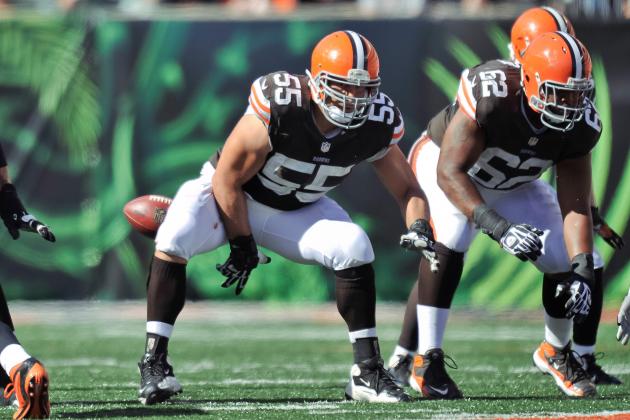 Jamie Sabau/Getty Images

The Browns lack a franchise quarterback, but they do possess a franchise left tackle in Joe Thomas and a franchise center in Alex Mack.
Mack continues to consistently perform for the Cleveland Browns. He possesses all the ingredients for a long-term contract candidate. He's young (27), productive (allowed three sacks last season) and durable (started every single game of his four-year career).
No matter who the Browns have starting at quarterback next season, they will want to have Alex Mack snapping him the ball.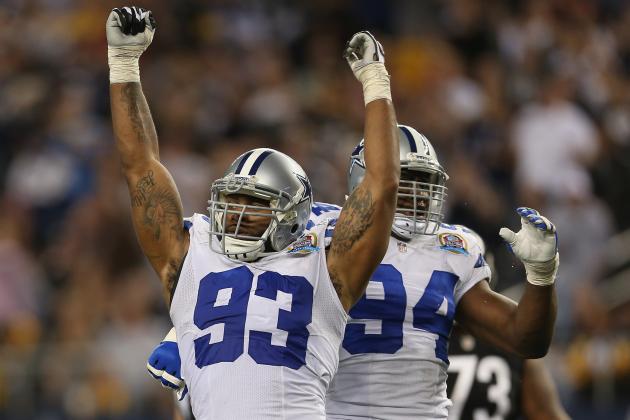 Ronald Martinez/Getty Images

The Cowboys locked up their best offensive player with the extension of Tony Romo this offseason and now need to ensure their best defensive player—Anthony Spencer—plays for America's team for the foreseeable future.
Despite the struggles of the collective Cowboys defense last season, Spencer had himself a monster season. Spencer does an incredible job of impacting plays despite the offenses' blatant attempts to avoid him. Spencer racked up 64 tackles last season—14 more than any other 3-4 OLB—and 11 sacks.
Spencer is 29 years old, so the Cowboys should front-load his contract. But given the incredible level that Spencer played at last season, Dallas can't afford to lose him.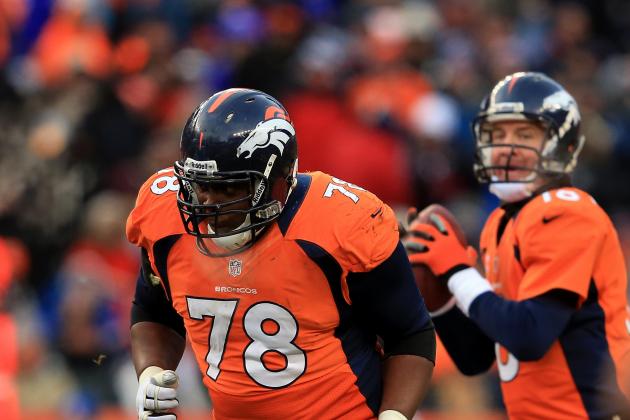 Doug Pensinger/Getty Images

The Broncos must smooth out their relationship with left tackle Ryan Clady.
The anchor of the Denver offense's standing with the organization has been unstable since the Broncos placed the franchise tag on him. In fact, his absence from OTAs is starting to reek of holdout.
John Elway appears confident that an amicable extension can be worked out between the two parties.
Elway: "I eventually think we're going to be in good shape with Ryan [Clady]." Optimistic a new deal will get done this year. #broncos

— Lindsay Jones (@bylindsayhjones) April 22, 2013
To mend the relationship is going to be expensive, but tackles of his caliber who are dominant both as a run and pass-blocker are difficult to find.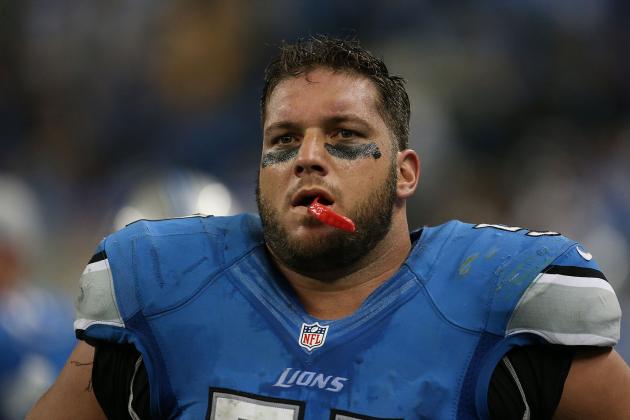 Leon Halip/Getty Images

If Brandon Pettigrew learns how to catch this season, he may be the more valuable free-agent to be. But if he continues to post nine-drop seasons, the player Detroit must lock up is Dominic Raiola.
Certainly the Lions should limit the length of the contract, but the 34-year-old center continues to perform at a high level.
He hasn't missed a start since 2008 and is a strong and positive voice in the Detroit locker room—which can use as many positive voices as it can acquire.
Detroit would be wise to start grooming Raiola's successor, but if he continues to play like he has been, the team must bring him back in 2014.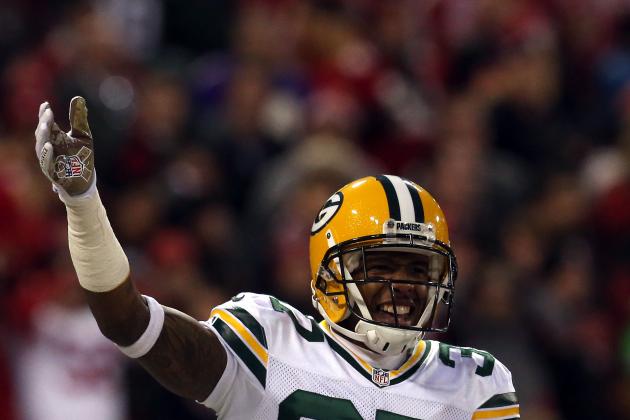 Stephen Dunn/Getty Images

The Packers have already extended Aaron Rodgers and Clay Matthews this offseason and should look to extend Sam Shields' contract next.
Shields had another strong season in 2012. He is both a strong cover corner and a playmaker. In 2012, opposing receivers caught only 45.6 percent of passes thrown into Shields' coverage—way down from his 58 percent in 2011—and the cornerback intercepted five passes.
He's had great ball skills since entering the league in 2010, as he has had at least four interceptions in each of his three seasons in the league.
Equally important is that Shields continues to progress, which bodes well for him receiving a long-term deal.
A young, playmaking cornerback who continues to improve in coverage would attract suitors in the open market. Green Bay needs to secure his services as soon as possible to avoid a bidding war.
Doug Pensinger/Getty Images

After just five games last season, Cushing suffered a season-ending injury.
Due to the herculean efforts of J.J. Watt, many outside of Houston may have forgotten that the All-Pro middle linebacker wasn't playing, but his absence was certainly felt by the Texans.
In 2011, with a healthy Cushing, the Texans boasted the second best defense in terms of yards allowed per game. In 2012—without Cushing—they fell to seventh.
When you factor in that Cushing played with a less-dominant version of J.J. Watt in 2011, the Texans defense could be frightening this coming season.
Houston should keep the pair locked up for the foreseeable future—starting this summer by extending Brian Cushing's contract. By striking now, the Texans may be able to save money. If Cushing has another strong season this fall, his value will only rise.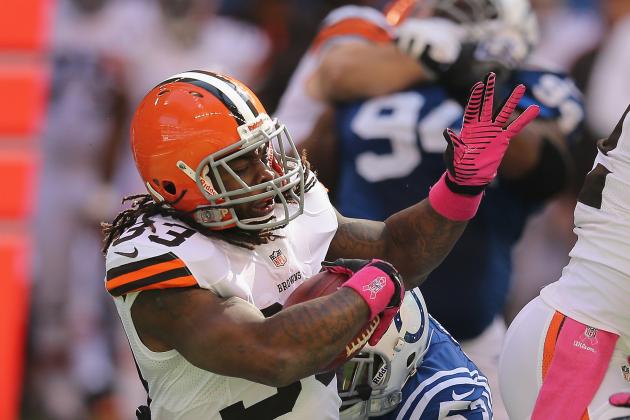 Jonathan Daniel/Getty Images

There isn't a must-keep player on the Colts list of 2014 free-agents to be.
However, they would be wise to secure the services of Kavell Conner.
Teams running a 3-4 defensive scheme can always use inside linebacker depth. Last season, Conner split time with Pat Angerer—Angerer played 43.9 percent of the Colts snaps, Conner 35.5 percent—but when he was on the field, he performed well. In fact, you could argue that he played better than Angerer. Conner had 49 tackles to Angerer's 29.
Regardless, if Conner wins the starting inside linebacker job this fall—which will be only Conner's second season in a 3-4 scheme—the Colts should bring him back.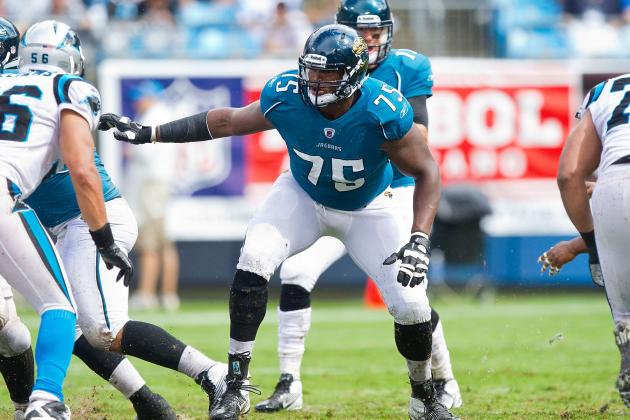 Brian A. Westerholt/Getty Images

The quick and easy answer to Jacksonville's best 2014 free agent is Maurice Jones-Drew, but Monroe is both more likely to re-sign and a more valuable commodity.
Monroe had a strong season in 2013, as the left tackle excelled as a pass-blocker. Monroe allowed just five sacks over his 16 starts and was the only Jaguar offensive lineman who performed consistently.
Unless Blaine Gabbert drastically improves in 2013, the Jaguars will be acquiring a new quarterback in 2014. Regardless if they find one in the draft, free agency or via trade, Jacksonville will want to a stable franchise left tackle locked up to protect its new quarterback.
By extending Monroe now, the Jaguars will have just that.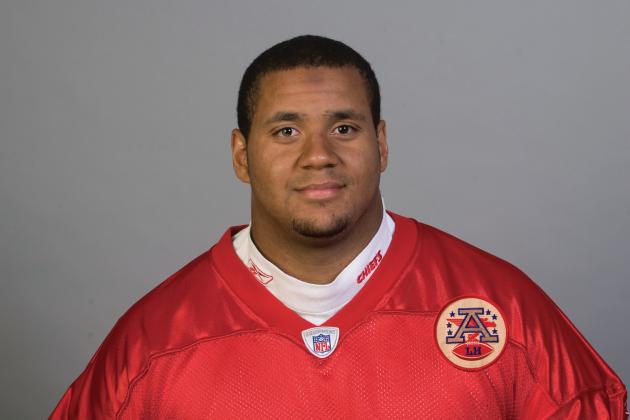 Handout/Getty Images

In his second season as a starter, Asamoah drastically improved as a run-blocker and has developed into a solid NFL guard.
Despite Andy Reid's apparent distaste for the running game, the Chiefs would be wise to bring back Asamoah to pave running lanes for Jamaal Charles and rookie Knile Davis for the foreseeable future.
Asamoah isn't a game-changing player, but his consistency and balance would be missed if the Chiefs let him test the free-agent market.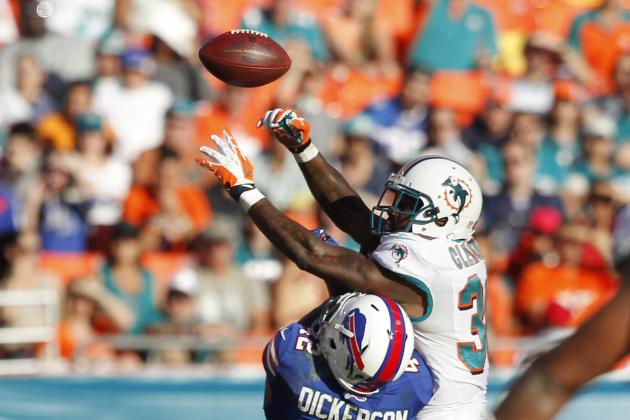 Joel Auerbach/Getty Images

The youthful Dolphins made waves this offseason both with their checkbooks and draft. To continue their busy front office activity, they should extend the contract of safety Chris Clemons.
Miami should feel confident in the way Clemons improved in 2012. The safety struggled in 2010 and saw little action in an injury-shortened 2011 season. But in 2012, Clemons displayed improved coverage skills and sound tackling ability.
He's not a ball hawk or a bone-crushing hitter, but Clemons showed that he can be a good safety in the NFL. The Dolphins should sign Clemons to a modest two- or three-year extension.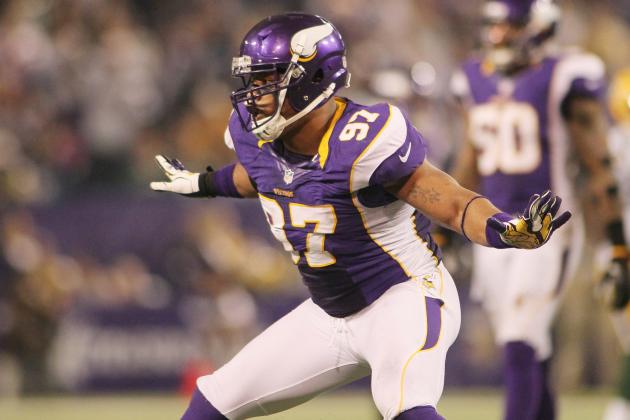 Andy King/Getty Images

Jared Allen is the most famous 2014 free agent on the Vikings roster, but Everson Griffen is the player they should lock up first.
Despite starting only one game in 2012, Griffen was accumulated nine sacks and 24 hurries. In contrast, Jared Allen began to show signs of aging, as his sack totals were cut in half from the 2011 numbers.
Griffen is 25 years old and is trending upwards. The Vikings needs to lock up Griffen now before both his production and price balloon once he becomes a starter.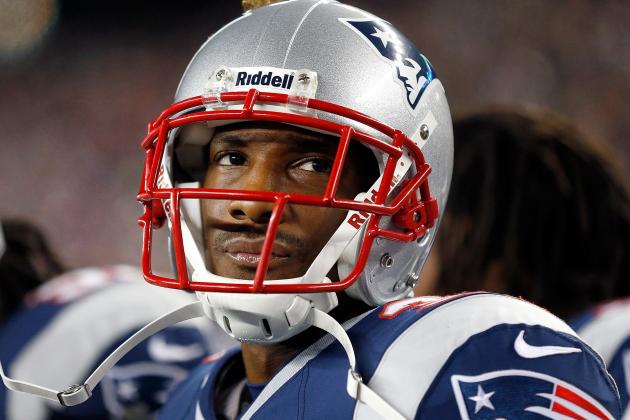 Jim Rogash/Getty Images

As an organization, the Patriots do an exceptional job of extending their star players before they hit the open market.
Tom Brady, Aaron Hernandez and Rob Gronkowski have all been extended prior to their existing contracts expiring. It is this organizational reputation that created such fanfare when Wes Welker wasn't extended.
With that serving as a preface, the Patriots best free-agent to be is cornerback Aqib Talib. He was a free agent this past season and was re-signed to a one-year contract. It's unlikely that the Patriots will extend him this summer or during the season, but he is their best cornerback.
It's possible that rookie Logan Ryan could ascend to be a No. 1 cornerback, but unless that happens, Talib will be the best Patriots cornerback entering next offseason.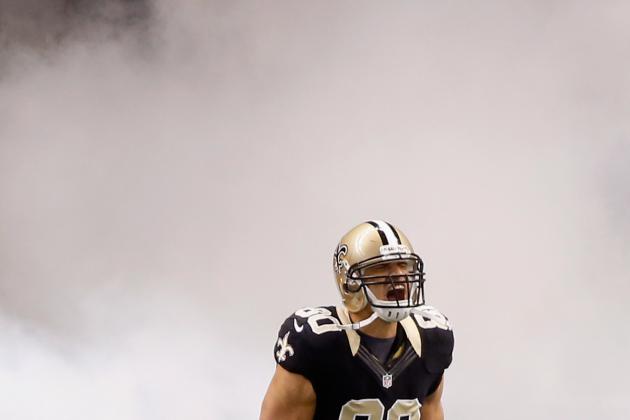 Chris Graythen/Getty Images

Don't get caught up in the diminishing stats, the New Orleans Saints should extend Jimmy Graham. And it's a no-brainer as to why they should.
| | | | | |
| --- | --- | --- | --- | --- |
| Year | Catches | Yards | Touchdown | Drops |
| 2011 | 111 | 1,468 | 14 | 7 |
| 2012 | 85 | 982 | 9 | 15 |
I am a stats enthusiast—especially in the case of advanced metrics—but Jimmy Graham's 2012 dip in production is a perfect example of how stats can—at times—be misleading.
Not matter which stat you look at, the absence of head coach Sean Payton will not reveal itself. What happened to the Saints team without Sean Payton was evidence of his coaching prowess. They went from a year-to-year contender to a dysfunctional, unorganized mess.
The drops may be the only stat where the Saints might want to squint at, but New Orleans needs to lock up Graham sooner rather than later.
With Payton back on the headset, look for New Orleans to improve across the board and for Jimmy Graham to once again put up eye-dropping numbers.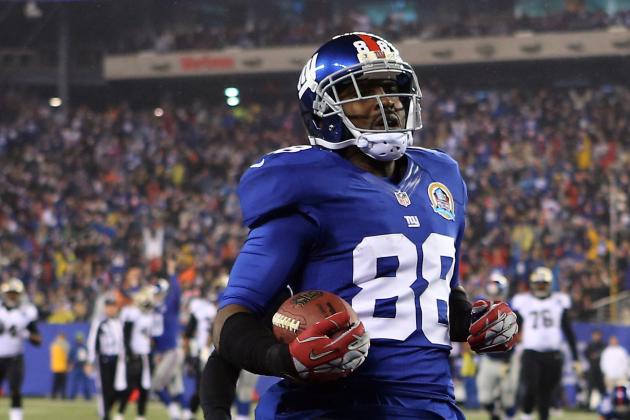 Elsa/Getty Images

I sympathize with the New York Giants front office, as it will have to make a difficult decision on whether to pay Hakeem Nicks or Victor Cruz.
Unless the front office gets contractually creative, it's unlikely the Giants can sign both to long-term deals. Each have proven that they can be elite-level playmakers. When you compare the two receivers statistics, Cruz appears to have a leg-up.
But when you turn on the tape, Nicks makes catches that Cruz simply can't. Cruz is a sensational slot receiver. He has soft hands and has a keen ability to locate openings in the defense and settle into them.
Nicks—on the other hand—lacks the route-running ability and occasionally forgets his hands in the huddle. But his physical skill set allows him to make athletic catches over defenders. When the Giants really need a big play, Eli Manning's preference is Nicks.
Making the decision more difficult are the health concerns of Nicks. He was clearly hampered last season, and if the injury carries over to 2013, the Giants should go with Cruz.
Perhaps I'm putting too much faith in modern medicine, but I think Nicks can—and will—make a full recovery.
Because of that, the Giants should lock up Nicks right now—as he will probably be cheaper than Cruz—and unfortunately, let Cruz walk and take his signature dance elsewhere after this season.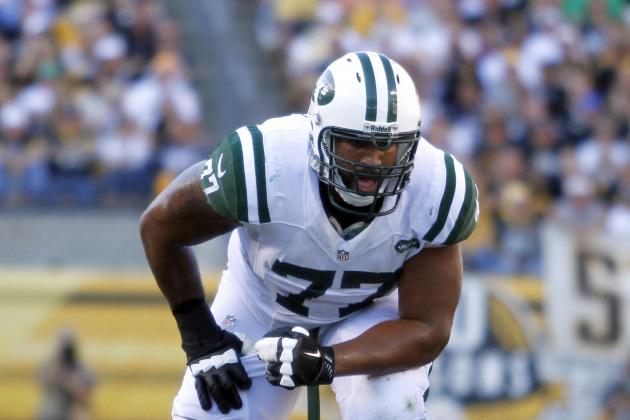 Justin K. Aller/Getty Images

The Jets displayed their faith in Austin Howard by placing a second-round tender on him this offseason. Now they need to take the next step and extend his contract.
In his first season as a starter, the right tackle played impressively. He was great as a run-blocker, which is imperative for the Jets' offensive scheme. Howard certainly could improve as a pass-blocker after surrendering 10 sacks in 2012.
New York can expect Howard to improve given his youth. It should extend his contract this summer and focus the energy of the personnel department on finding a way to excommunicate Mark Sanchez from its roster.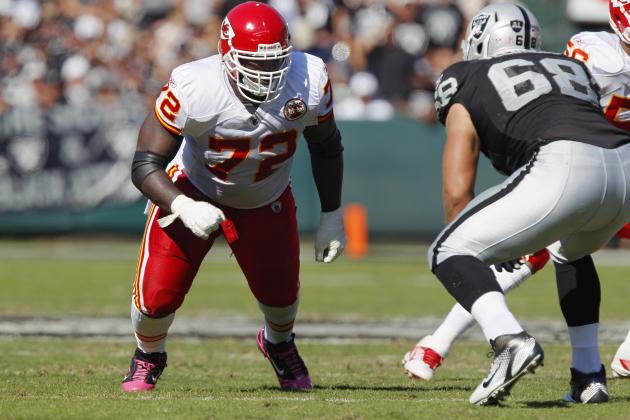 Brian Bahr/Getty Images

The Raiders were atrocious last season, so it's okay if you haven't heard of Jared Veldheer.
The left tackle has steadily improved over the past three seasons. Veldheer is strong run-blocker and only surrendered five sacks in 2012. His balance is a rarity in the NFL, and the Raiders will need him to protect whoever they start at quarterback this season and for the seasons to come.
After Denver's Ryan Clady, Veldheer may be the best left tackle in the 2014 free-agent class.
Darren McFadden is also a pending free agent. The Raiders should re-sign him if he displays durability in 2013, but as of now, the safe, pragmatic decision would be to extend Veldheer.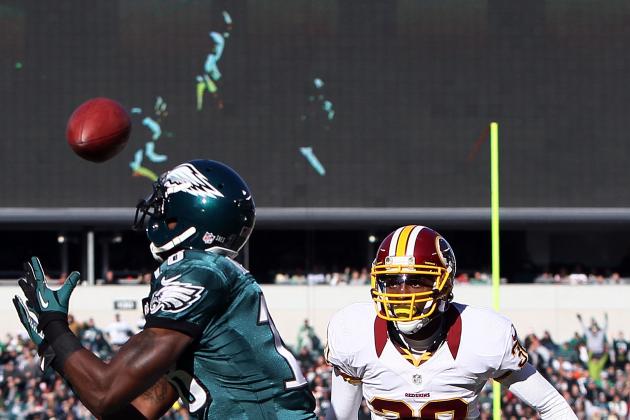 Alex Trautwig/Getty Images

Unlike the rest of the players on this list, the Eagles should wait to see Maclin operate in the Chip Kelly system before extending his contract.
On paper, the marriage between Maclin and Kelly's up-beat offense seems to be an excellent fit. Maclin's speed makes him a home run threat on every play. His hands tend to go missing during games, but as the old adage states, you can't teach speed.
Philly certainly shouldn't give Maclin Mike Wallace-type money, but if he can pick up the system, it should extend his deal.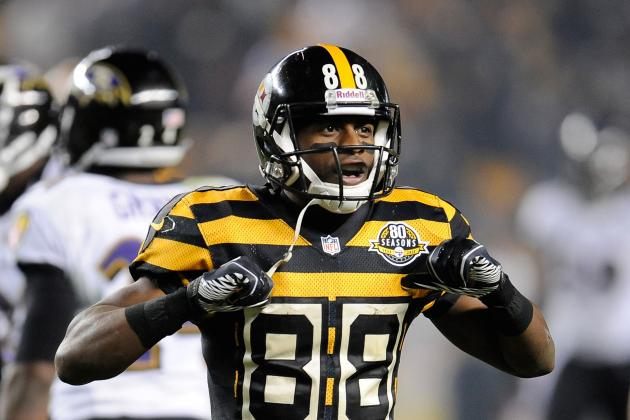 Joe Sargent/Getty Images

The Steelers were correct in fighting off the Patriots to retain the services of Emmanuel Sanders.
He is an excellent possession receiver, and in an elevated role in 2012, Sanders performed well.
With the departure of Mike Wallace this offseason, Sanders will again see an elevated role in 2013.
Pittsburgh could have received a third-round pick for Sanders if it let him go to New England this past offseason, so it stands to reason the Steelers would like Sanders to be a Steeler for years to come.
Sanders also possesses the trust of Ben Roethlisberger, who rallied his support for Sanders while the Steelers were mulling whether or not to match New England's offer.
Big Ben has been lobbying hard to retain Sanders, calling coach Mike Tomlin and others on the staff urging them to match the $2.5M offer

— Jason La Canfora (@JasonLaCanfora) April 12, 2013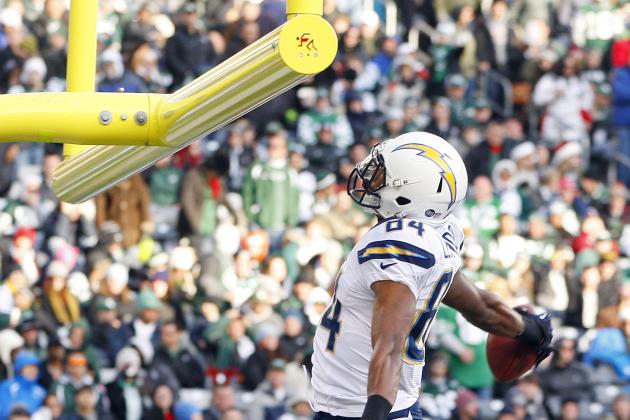 Rich Schultz/Getty Images

Alexander came out of nowhere and became an impact player during the second half of last season.
The 6'5" receiver made the most of his limited action in 2012. In nine games, Alexander accumulated 658 yards and seven touchdowns. He caught an impressive 68.5 percent of targeted passes and showed that he belongs in the NFL.
The Chargers felt the absence of Vincent Jackson in 2012. They saw little from Robert Meachem and diminishing physical abilities from Antonio Gates.
San Diego hopes to rejuvenate Philip Rivers after a dismal 2012, and a great way to aid that rejuvenation would be to lock up Alexander long-term.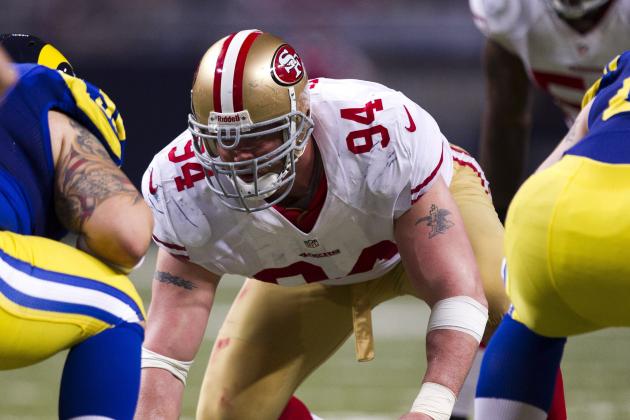 David Welker/Getty Images

It is always interesting to see how negotiations go between teams and their veteran stars.
Smith has given the 49ers five consecutive productive seasons, but with the defensive tackle turning 34 this season, how will San Francisco handle his expiring contract?
San Francisco should err on the side of caution, but if Justin Smith continues to play at the level he did in 2012, the 49ers have to lock him up.
The energy and attention he draws from the interior offensive linemen allows Aldon Smith to assault the opposing quarterback on the perimeter. So long as the Colin Kaepernick is operating under his rookie contract, the 49ers will have extra cap space to spend.
They would be wise to use a chunk of it on Justin Smith.
Brian Bahr/Getty Images

Browner is one of the more physical cornerbacks in the NFL.
The 6'3", 220-pound corner rarely finds himself in a physical mismatch. Browner had a strong 2012 campaign, as receivers caught only 55.3 percent of passes thrown into Browner's coverage. He also made 51 tackles—an impressive mark for a cornerback.
Browner isn't as talented as his running mate Richard Sherman, but maintaining two oversized cornerbacks is in the best interest of the Seahawks.
By having physical corners on each side, the Seahawks are able to dictate how their opponents play them. If you take Browner out of the mix, opponents can shuffle their alignments around using motion to isolate their key receivers out of Sherman's coverage.
Seattle should lock up Browner to an extension and continue to give opposing offenses fits.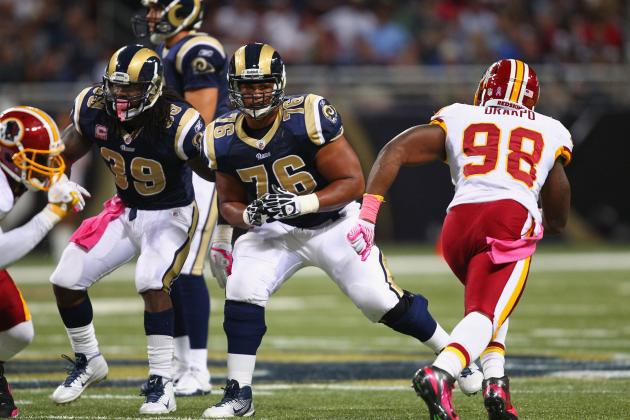 Dilip Vishwanat/Getty Images

St. Louis struggled offensively in 2012, but that was not derivative of Rodger Saffold's performance.
The youthful left tackle is coming off his best season after surrendering only two sacks. The Rams were given a glimpse of how life without Saffold functions in 2012, as he missed six games. Over that period of time, St. Louis was just 2-4. With him in the starting lineup, the Rams were 5-5.
The Rams have to improve offensively if they want to catch Seattle and San Francisco in the NFC West. But before they look to add further pieces, they should first maintain Saffold with a contract extension.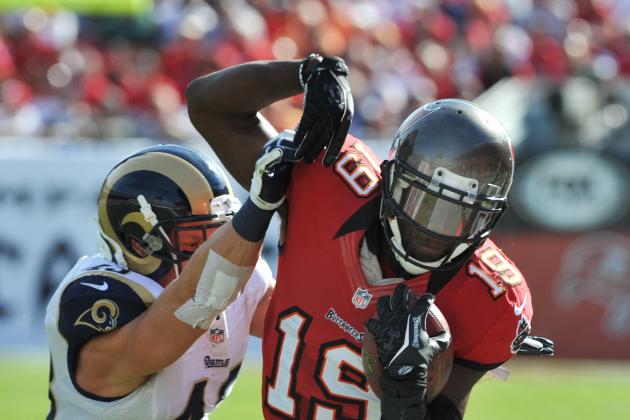 Al Messerschmidt/Getty Images

Tampa Bay has a big decision to make with Josh Freeman, who's set to become a free agent after this season. Unlike with Freeman, the Buccaneers shouldn't wait to extend the contract of receiver Mike Williams.
In 2012, Willliams continued his progression en-route, catching 63 balls for 996 yards and nine touchdowns.
Williams gives the Bucs a second threat in the passing game to complement Vincent Jackson. At just 26 years old, Tampa Bay can rely on Williams for years to come.
He shouldn't garner No. 1 receiver money, but over the past two seasons, Williams has demonstrated he is a bona fide No. 2 receiver and deserving of a contract extension.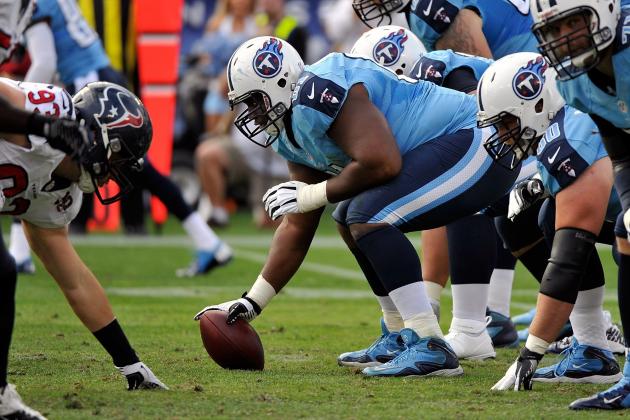 Frederick Breedon/Getty Images

The Titans can continue to build on their active offseason by extending center Fernando Velasco's contract.
As a first-year starter, Velasco solidified himself as a solid starting center. The Titans demonstrated their fondness of Velasco by placing a second-round tender on him this offseason.
Velasco isn't a franchise center, and at 28 years old, he won't improve drastically. But his positional flexibility makes him extremely valuable in the case of injuries.
Last season he started 13 games at center and three at left guard, performing well at both.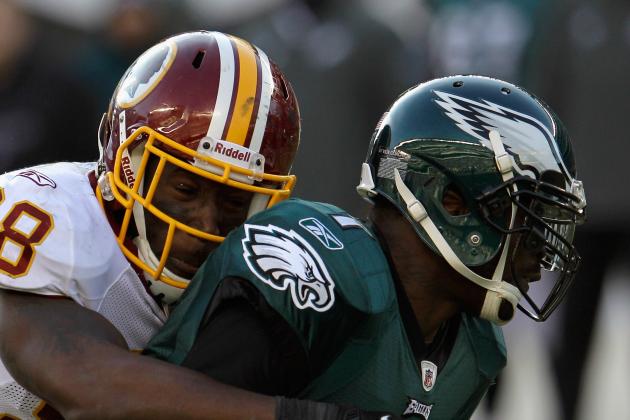 Rob Carr/Getty Images

Lost in the RGIII hype last season was the absence of Washington's best defensive player, Brian Orakpo.
In 2011, Orakpo was a menace to opposing quarterbacks. He collected 10 sacks, and 43 hurries and was elected to the Pro Bowl. He possesses a dazzling combination of speed and strength, which he employs to keep opposing tackles guessing.
Orakpo did suffer a significant injury in 2012, but even if the Texas product is 90 percent of what he was prior to the injury, the Redskins should lock him up with a contract extension.