Each 2013 NHL Playoff Team's Most Impressive Statistic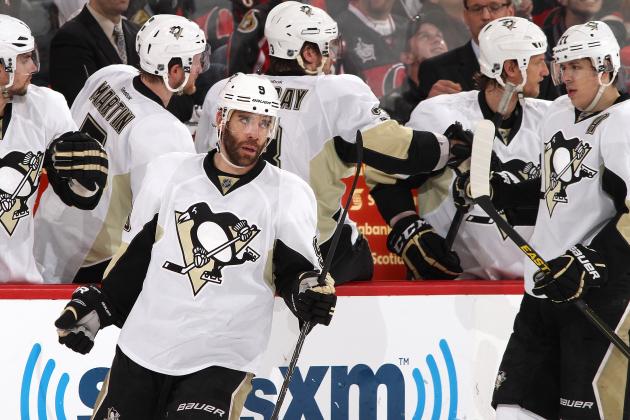 Jana Chytilova/Freestyle Photo/Getty Images
The Penguins offensive numbers continue to impress.
The Pittsburgh Penguins unleashed their fury against the Ottawa Senators on Wednesday night, asserting their dominance in scoring and special teams. After such a performance, it's no surprise that they're now leading the playoffs in goals and power-play efficiency.
It's said that the numbers don't lie. Good or bad, here are a few other statistics that shed light on the unique characteristics of each of the 16 NHL teams that took part in the NHL playoffs this year.
Begin Slideshow

»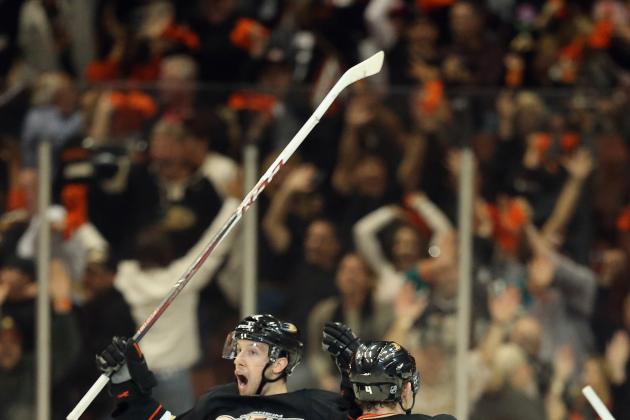 Jeff Gross/Getty Images
Nick Bonino led the Ducks with two power-play goals.
Impressive Statistic: 28 percent success rate on power play. First in playoffs in Round 1.

In their first-round series against Detroit, the Anaheim Ducks scored seven power-play goals on 25 opportunities for a 28 percent success rate. That was tops in the playoffs until Pittsburgh overtook them with a 28.5 percent rate after their 2-for-5 performance in Game 4 against Ottawa.
The Ducks scored 21 goals in total, so one-third of their first-round production came with the man advantage.
They say that special teams win games in the playoffs. Anaheim's power play was a lethal weapon, but still not enough to vanquish the Detroit Red Wings.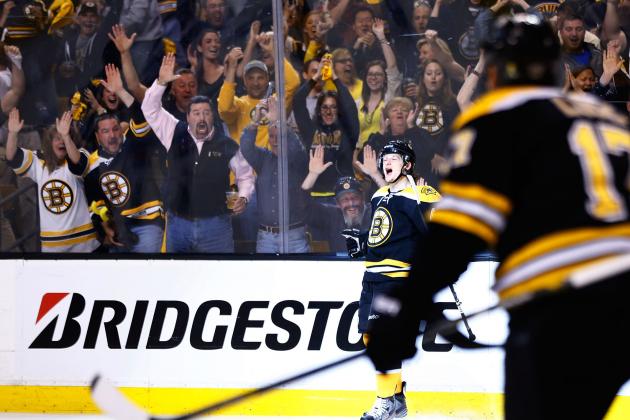 Jared Wickerham/Getty Images
Torey Krug has stepped up for Boston.
Impressive Statistic: three rookie defensemen getting the job done.
The Boston Bruins lead the 2013 playoffs in a number of statistical categories. David Krejci is the leading scorer; Nathan Horton has the top plus/minus. The Bruins lead the league in faceoff percentage and hits and were the first team to seven wins.
Most impressively, they've won the first three games of their series against the New York Rangers with three rookie defensemen in the lineup.
Injuries to key veterans Dennis Seidenberg, Andrew Ference and Wade Redden forced Claude Julien to open Round 2 with first-year players Dougie Hamilton, Matt Bartkowski and Torey Krug patrolling the back end. Hamilton was practically a veteran after 42 regular-season games, but Krug was the baby of the family with just three games of NHL experience.
No matter. All three youngsters have performed impressively, and Krug has three points in his three playoff games.
Fluto Shinzawa of the Boston Globe reports that the rookies' fine play will keep them in the lineup for Game 4, allowing the injured veterans a little more time to heal.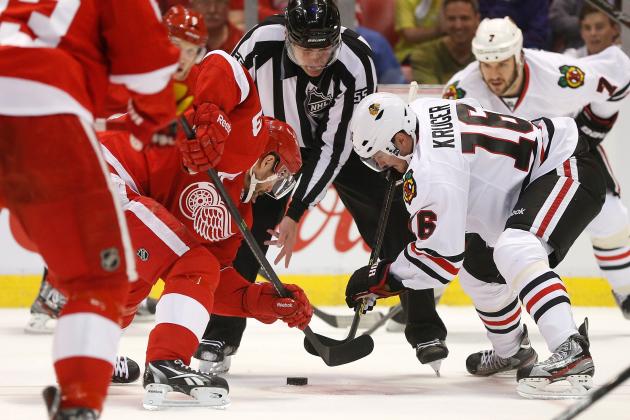 Gregory Shamus/Getty Images
Marcus Kruger has been a key player on the penalty kill.
Impressive Statistic: 100 percent success rate on penalty kill. First in playoffs.
The Chicago Blackhawks have been shorthanded 29 times in the playoffs so far. They've killed off every single one of those penalties. Perfect, after eight games.
Much of the credit has gone to Niklas Hjalmarsson and Duncan Keith on defense, along with Marcus Kruger and Michael Frolik as specialty penalty-killing forwards. They've been outstanding.
Frolik even has a shorthanded goal to his credit, so it could be argued that the Hawks' penalty-killing efficiency actually exceeds 100 percent.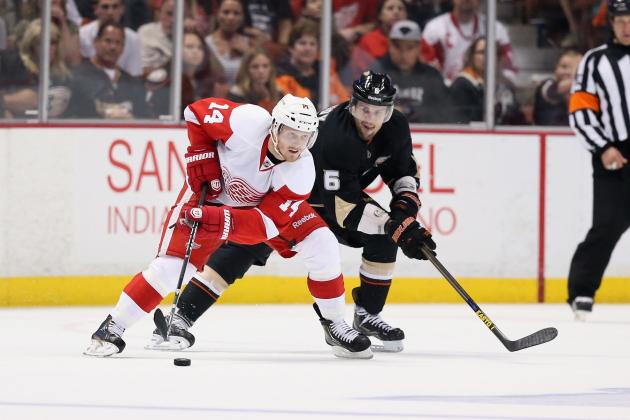 Jeff Gross/Getty Images
All four of Detroit's wins against Anaheim came by just one goal.
Impressive Statistic: 4-1 in one-goal games for .800 winning percentage. Tied for first in playoffs.
When games are tight, the Detroit Red Wings are in good shape, going 4-1 so far.
All four of those wins came against Anaheim in the first round, so that statistic basically won Detroit its first-round series. Margins against Chicago have been bigger so far—in both directions—but the Wings have shown they know how to get the job done when the pressure is on.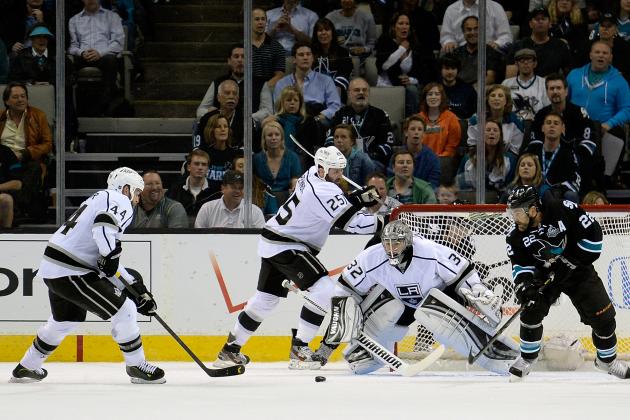 Thearon W. Henderson/Getty Images
Jonathan Quick leads the playoffs in goals-against. Again.
Impressive Statistic: 1.70 goals-against average per game. First in playoffs.
Los Angeles goaltender Jonathan Quick won the 2012 Conn Smythe trophy as the most valuable player in the postseason. After a so-so regular season, he's brought his A-game to the playoffs again this year.
Great netminding from Quick, combined with solid work on defense led by Slava Voynov, has earned the Kings the lowest goals-against average of the playoffs so far, at 1.70 goals per game.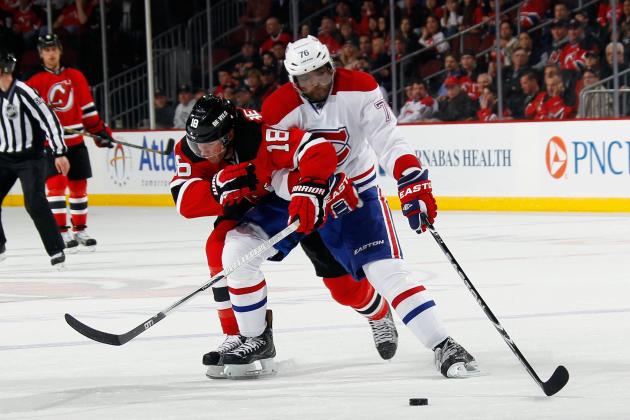 Bruce Bennett/Getty Images
P.K. Subban led Montreal with 31 minutes in penalties.
Impressive Statistic: 37.0 average penalty minutes per game. First in playoffs.
There have been 13 game misconduct penalties handed out so far in the 2013 playoffs. Nine of them happened in the first-round goon show between the Ottawa Senators and Montreal Canadiens.
Thanks to undisciplined play and a small five-game playoff sample size, the Montreal Canadiens penalty minute average per game is greater than the total averages of the five lowest teams. The New York Rangers, San Jose, St. Louis, Anaheim and Los Angeles together chalk up less penalty minutes per game than Montreal.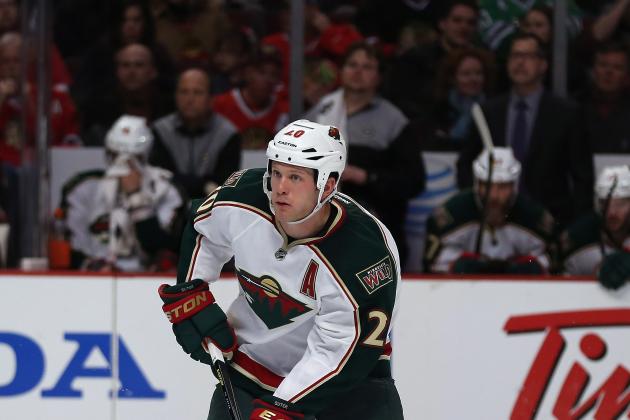 Jonathan Daniel/Getty Images
Ryan Suter failed to spark the Wild power play.
Impressive Statistic: 0-for-17 on the power play for 0 percent. Last in playoffs.
The Minnesota Wild are known to have trouble scoring goals. Prized free-agent signings Zach Parise and Ryan Suter were supposed to help change that identity, especially bringing a boost to the power play.
During the regular season, the Wild landed in the middle of the pack at 17.9 percent, a solid improvement from the previous year. In their first-round playoff series against Chicago, however, they came up empty. No goals at all in 17 power-play attempts over five games.
Looks like the Wild will continue to try to jump-start their offense heading into 2013-14.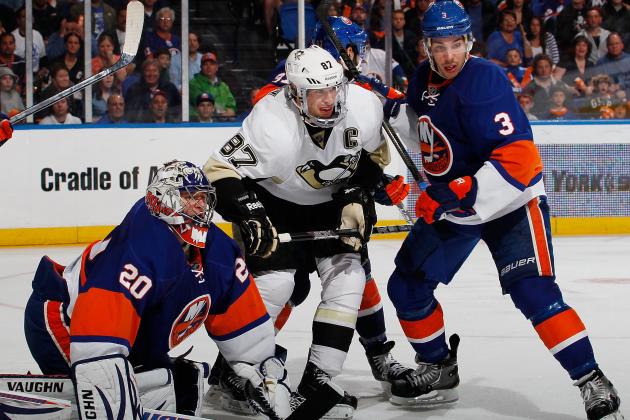 Paul Bereswill/Getty Images
Evgeni Nabokov was overmatched against Pittsburgh.
Impressive Statistic: 4.17 goals-against average per game. Highest in playoffs.
The New York Islanders stayed competitive with the favored Pittsburgh Penguins over six games despite allowing 25 goals during that span.
The series wasn't quite as wide-open as Pittsburgh's 2012 barn-burner against Philadelphia, but that's not saying much. The Islanders showed speed and offensive skill against Pittsburgh but will need to tighten up the back end if they hope to continue to climb the ranks into the top NHL teams.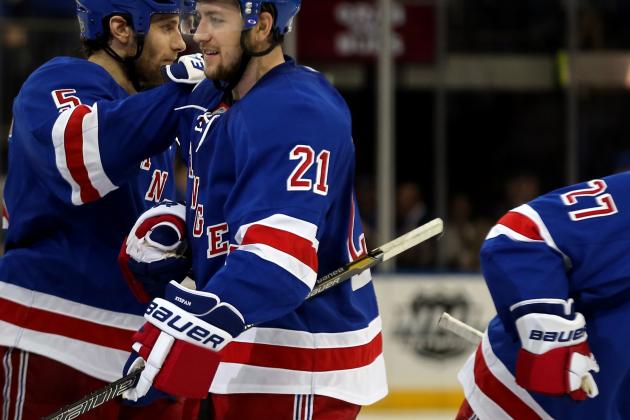 Bruce Bennett/Getty Images
Dan Girardi is one of the Rangers' many shot-blockers.
Impressive Statistic: 219 blocked shots. First in playoffs.
In 10 games, the New York Rangers lead the NHL playoffs with 219 blocked shots—29 ahead of the second-place Pittsburgh Penguins.
The Rangers have four of the top 10 shot-blockers in Dan Girardi, Ryan McDonagh, Ryan Callahan and Anton Stralman. Henrik Lundqvist gets most of the accolades for the Rangers' strong defensive play, and the shot-blocking style certainly takes a toll on the players, but it's a key part of John Tortorella's game plan.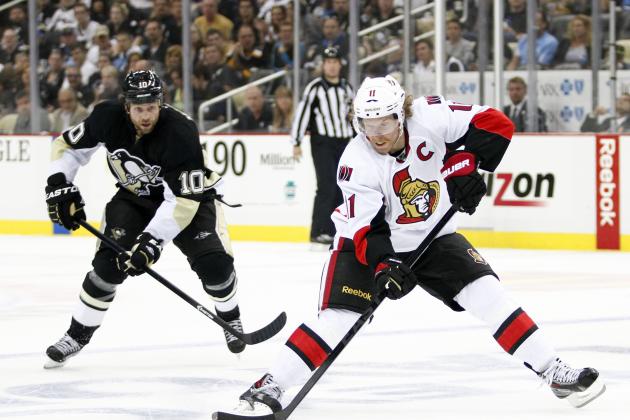 Justin K. Aller/Getty Images
At 40, Daniel Alfredsson remains Ottawa's best skater.
Impressive Stat Line: Daniel Alfredsson 4-6-10, plus-4, 19:26 average ice time per game
In Ottawa, much has been made about Craig Anderson's stellar goaltending and the emergence of the Senators' bright young talent. At its core, this team still belongs to Daniel Alfredsson.
After nine playoff games, the Sens' oldest player leads the team in scoring with 10 points and is second among all forwards in ice time at nearly 20 minutes a game.
His shorthanded clutch goal to tie Game 3 in the last minute and propel the Senators to a double-overtime victory has been the brightest moment by far in the Senators' series against the Penguins.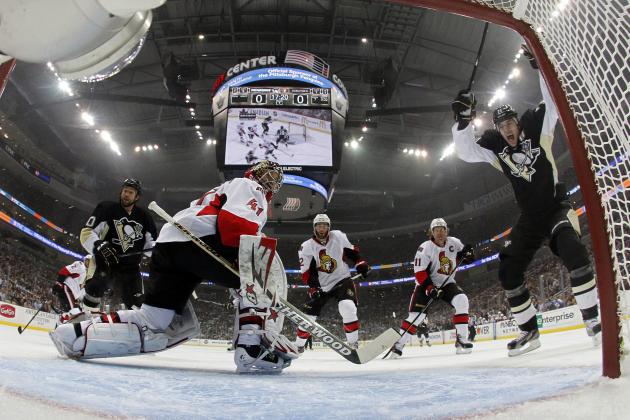 Justin K. Aller/Getty Images
Evgeni Malkin leads all Penguins with 14 points.
Impressive Statistic: 41 goals-for. 4.10 average goals per game. First in playoffs.
No surprise here. The Pittsburgh Penguins are outscoring all the other teams in the Stanley Cup playoffs so far and offered their first major outburst of the second round with their 7-3 win over the Senators on Wednesday.
At 4.10 goals per game, there are plenty of points to go around. In 10 games, the Penguins have five players with 10 points or more, led—of course—by Crosby and Malkin.
Carry on, Pittsburgh.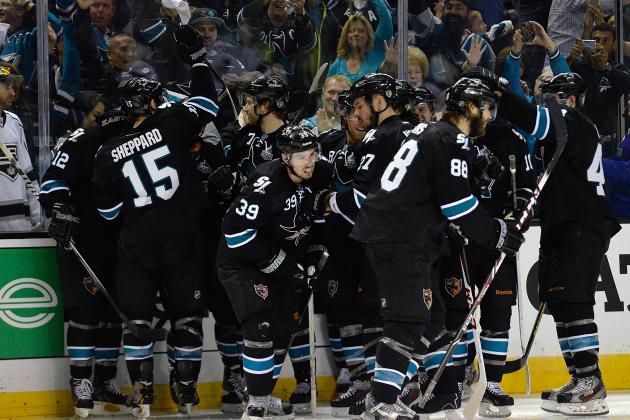 Thearon W. Henderson/Getty Images
The Sharks are winners at home.
Impressive Statistic: 4-0 home record.
The Shark Tank is a tough place for opposing teams to play.
During the 2012-13 regular season, San Jose lost just twice at home in regulation time. So far in the playoffs, they're a perfect 4-0.
They came home with a 2-0 lead against the Vancouver Canucks and swept their first-round series. Against Los Angeles in the Western Conference Semifinal, they dug their way out of an 0-2 hole. Different accomplishments, but each is equally impressive in its own way.
The bad news for the Sharks is that the Los Angeles Kings are 5-0 at home themselves. San Jose will need to break the Kings' home-ice winning streak if it hopes to advance to the Western Conference Final.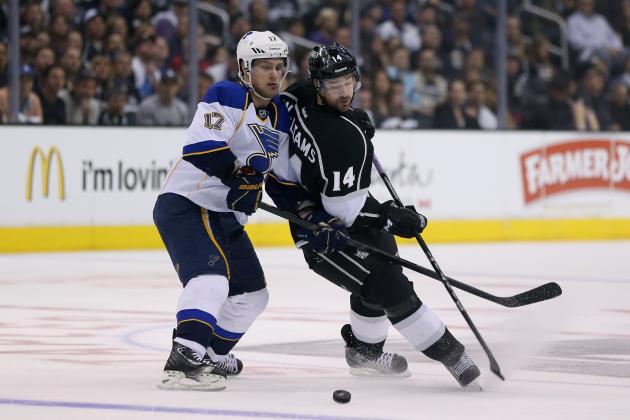 Jeff Gross/Getty Images
Disciplined Blues forwards like Vladimir Sobotka keep chances down.
Impressive Statistic: 24.8 shots-against average per game. First in playoffs.
The St. Louis Blues play a disciplined defensive game and did an excellent job of limiting chances by the Los Angeles Kings in their first-round series.
Their average of 24.8 shots-against per game is the lowest of any team in the 2013 playoffs.
Though the Blues averaged 29.5 shots-for, the Kings' stellar goaltending made up for the difference in a series decided by the tightest of margins. All six games were decided by just one goal.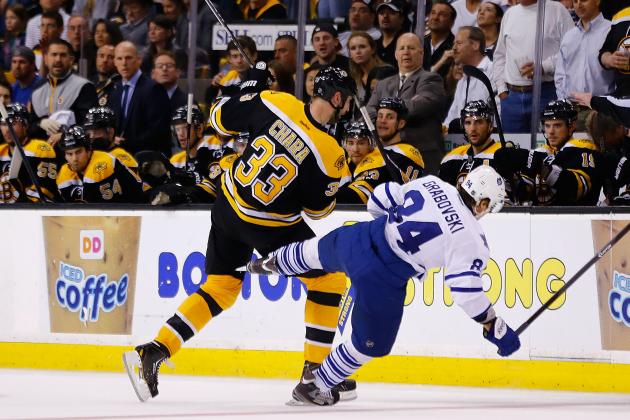 Jared Wickerham/Getty Images
Grabovski's agent would prefer to ignore his client's league-leading statistic.
Impressive Statistic: bottom two playoff plus/minus players
The Toronto Maple Leafs surrendered 22 goals in seven games to the Boston Bruins.
Seventeen of those goals were at even strength and of those 17, two players were on the ice for most of them.
Mikhail Grabovski finished his playoffs dead last in playoff plus/minus, with a minus-10 in seven games. He was on the ice for three Leafs goals-for, one on the power play, but a whopping 12 goals by the Bruins, all at even strength.
Nikolai Kulemin was second-last at a minus-nine. He was on the ice for just one Leafs goal but witnessed 11 by Boston, which included one power-play tally.
Carl Gunnarsson and Dion Phaneuf also make appearances in the bottom-10 hall of shame.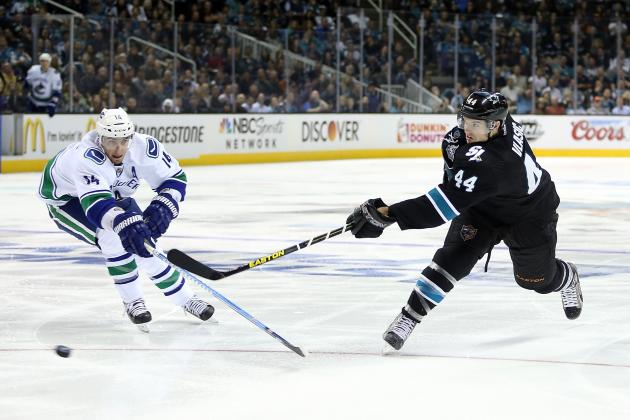 Christian Petersen/Getty Images
The Canucks' first-round sweep means big change ahead.
Impressive Statistic: 0-4 loss to San Jose Sharks. Only team swept in first round of 2013 playoffs.
Just two years removed from a trip to Game 7 of the Stanley Cup Final, the Vancouver Canucks weren't able to manage even one playoff win in 2013.
By losing so completely, the Canucks have left management with no choice but to make big changes. Coach Alain Vigneault and his assistants were fired on Wednesday and player personnel moves are likely to follow once the new bench boss is installed.
Looks like the Canucks are in for another summer of serious drama.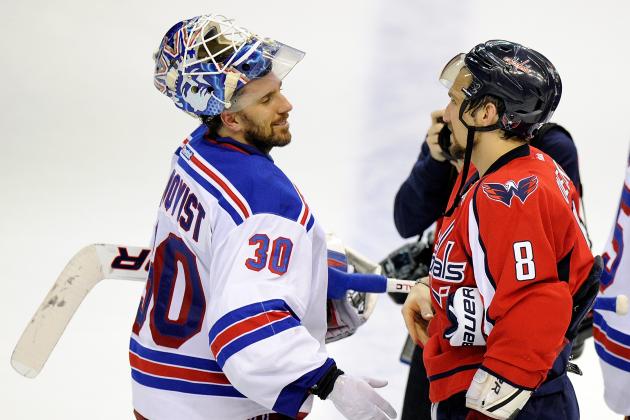 Greg Fiume/Getty Images
Henrik Lundqvist had Ovechkin's number.
Impressive Statistic: Alex Ovechkin: 1 goal on 30 shots. Shooting percentage 3.3 percent.
Alex Ovechkin loves to shoot the puck. During the regular season he led the league once again, with 220 shots on goal. Thirty-two of those shots converted to goals, a 14.5 percent rate of accuracy that was enough to win him the Rocket Richard trophy.
It was a different story in the playoffs. Ovechkin still led his team in shots, but was able to score just one goal, on the power play, during the Capitals' seven-game series against the New York Rangers.
More production from the best scorer in the league would have made all the difference for Washington.
Thanks for reading. Follow my Twitter feed for lots more hockey news and views: