Ranking Kansas State Football's Brightest NFL Prospects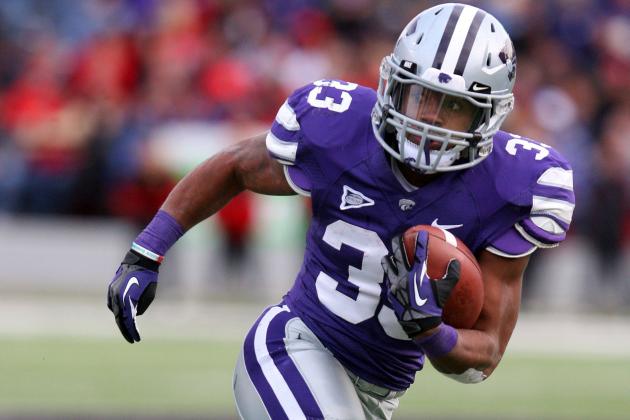 Scott Sewell-USA TODAY Sports
RB John Hubert is one of the better backs in his draft class.
Looking ahead to next year's NFL draft, the Kansas State Wildcats have some quality prospects worth mentioning on this year's squad.
Head coach Bill Snyder produced three draft picks last April with linebacker Arthur Brown, wide receiver Chris Harper and fullback Braden Wilson.
With the departure of some key players, including the draft picks plus undrafted Collin Klein, these NFL prospects for the Wildcats could play pivotal roles as the Wildcats look to repeat as Big 12 champions in 2013.
Begin Slideshow

»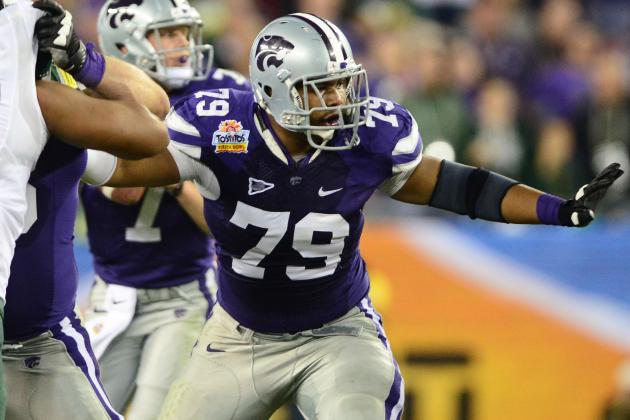 Mark J. Rebilas-USA TODAY Sports
Keenan Taylor is a quality offensive guard.
Keenan Taylor may be a bit under the radar when it comes to draft boards, but make no mistake. He's a huge talent on one of the best offensive lines in the nation.
The Wildcats are traditionally extremely run-heavy on offense, which means they usually put more pressure on the guards, especially in short-yardage situations.
It was behind Taylor and last year's offensive line that Collin Klein found his success on one of the best rushing teams in the country.
At 6'4" and 290 pounds, Taylor is certainly a dominating physical presence as well.
If he can have a good senior year and prove he can effectively protect whoever his new signal-caller will be in 2013, Taylor could start to shoot up draft boards.
Kansas State has a knack for producing small yet successful NFL players, with the most notable example being Darren Sproles.
Now wide receiver Tramaine Thompson may follow that same path.
At 5'8" and 167 pounds, Thompson may not be appealing as a prospect by just looking at him.
But don't let his size fool you, as he is one of the most electrifying players for the Wildcats and can certainly find a productive home in the NFL.
Since being in Manhattan, Kan., he's hauled in 77 passes for 1,122 yards. Last year he also caught four touchdown passes. Not a huge amount, but significant considering the Wildcats only threw for 16 scores last year while running for 42.
Thompson is also a great returner on both punts and kickoffs. In 2012, he had 650 combined return yards and one touchdown on just 26 tries.
While Thompson may not be worthy of an early or even mid-round pick, he could follow in the footsteps of former Wildcat Brandon Banks and find a niche with a team as a quality returner and slot receiver.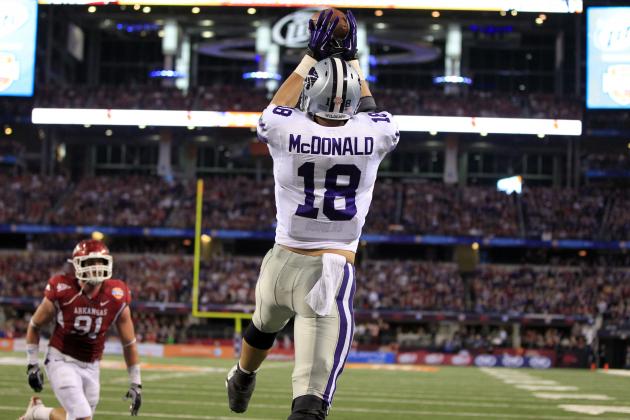 Tim Heitman-USA TODAY Sports
Andre McDonald is a physically-gifted tight end.
Andre McDonald is one of the most polarizing players in Manhattan, but he may be one of the best pro talents on the roster.
Last season, McDonald didn't play because of legal issues. He spent five days in jail, according to the Kansas City Star's Kellis Robinett, because of a probation violation that stemmed from a domestic battery incident.
However in 2011, while he only appeared in eight games, McDonald showed flashes that were indicative of his talent.
What's most impressive about the tight end is his size. At 6'8" and 278 pounds, McDonald can simply bull over defenders to pick up extra yards after the catch. His size also makes him an effective blocker.
Bill Snyder appears ready to give McDonald another shot with the Wildcats after letting him play in the spring game.
If McDonald can blossom in his senior year and prove to be a reliable target for either new quarterback Daniel Sams or Jake Waters, his draft stock could skyrocket.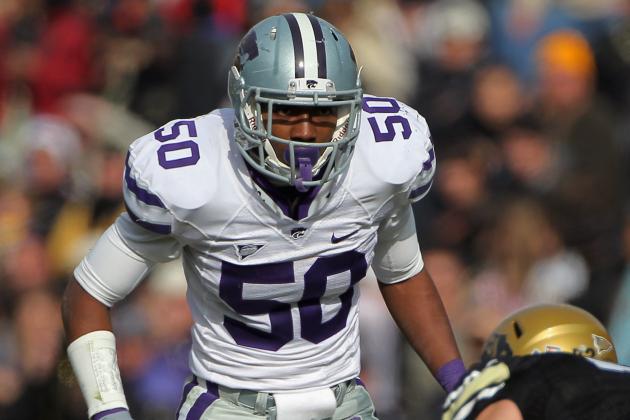 Doug Pensinger/Getty Images
Tre Walker has been a standout since he arrived in Manhattan.
Since the moment Tre Walker arrived at Kansas State, he's been a standout player for Bill Snyder.
As a true freshman in 2010, Walker appeared in all 13 games, started 11 of them and earned Freshman All-America honors from Phil Steele.
After another impressive season in 2011 that included him garnering Big 12 Defensive Player of the Week honors, his 2012 season came to a disappointing end when he tore his ACL against Texas Tech in October.
While he missed the spring game, Walker is expected to be at 100 percent come this fall and will be expected to anchor a linebacking corps that just lost Arthur Brown.
While not incredibly fast, Walker possesses incredible ball-hawking skills and has a knack for making big plays.
Against Miami in 2011, with the Wildcats leading by just four with about a minute left, Walker made three consecutive goal-line tackles to keep the Hurricanes out of the end zone.
If Walker comes back in full form in 2013 and has a standout year, NFL teams will certainly give the linebacker a look.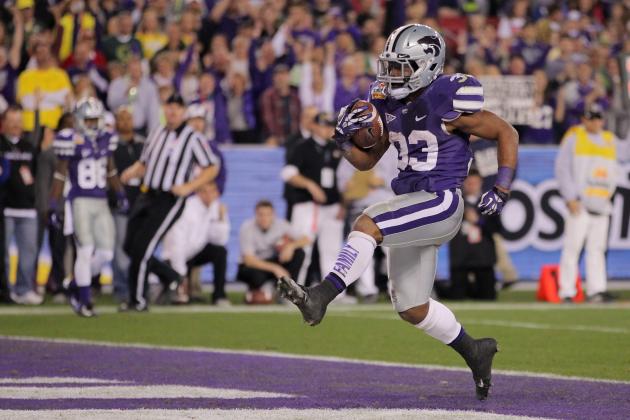 Doug Pensinger/Getty Images
John Hubert is short but still a great back in the Big 12.
John Hubert was the perfect complement to Collin Klein in Kansas State's rushing attack last year as he totaled 947 yards and 15 touchdowns on the ground.
Now with a new quarterback set to take the reigns in Manhattan, Bill Snyder will look for the senior back to carry the load in 2013.
Hubert is tremendous at keeping his feet moving and can break out into the open in seemingly impossible situations.
Size may be the biggest detriment to Hubert's draft stock. He's a small back at just 5'7" and 191 pounds.
However, he plays like someone much bigger than that.
Hubert's draft stock will hinge on his 2013 performance, where he'll be the focal point of a team's run defense as opposed to it being Klein.
If he can prove to be the main guy that he wants to be at Kansas State, his draft stock should soar.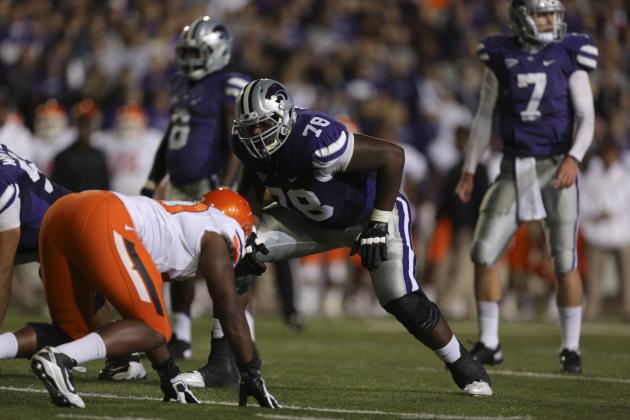 Ed Zurga/Getty Images
Cornelius Lucas is trending as a quality offensive tackle prospect.
Offensive tackles are the hot commodity around the NFL after three of them being selected in the top five of last month's draft, including Central Michigan's Eric Fisher being taken No. 1 overall by the Kansas City Chiefs.
So with Cornelius Lucas being rated as the sixth-best offensive tackle in his class by NFLDraftScout.com, his stock is on the rise.
The Wildcats list Lucas at 6'9" and 328 pounds. That's an incredible size for a tackle who is also considered athletic.
Any time Collin Klein or John Hubert broke out for a big run in the past two seasons, it was likely one of the tackles that sprung them. And Klein and Hubert broke out for big gains a lot the past two years.
The Wildcats' offensive line is stacked with talent, but Lucas stands out as the best of them all.
Expect him to be a potential first- to second-round pick next spring.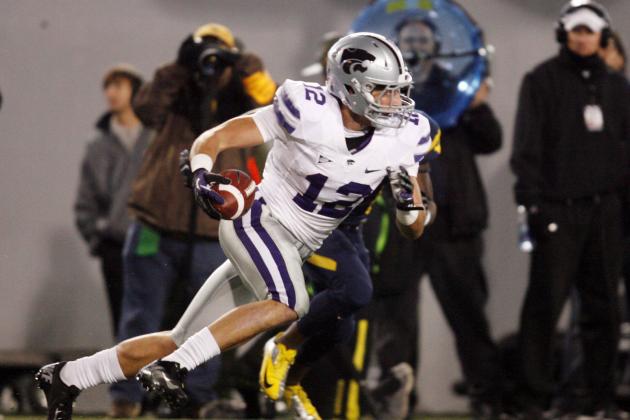 Charles LeClaire-USA TODAY Sports
Ty Zimmerman is the best draft prospect at Kansas State.
Ranked as the second-best strong safety in his class by NFLDraftScout.com, Ty Zimmerman is hands down the best prospect for the Wildcats.
Zimmerman will enter the 2013 season with lofty expectations, and he'll be asked to lead a defense that lost a lot of starters after being one of the best units in the country.
In 2012, Zimmerman racked up 50 tackles and five interceptions.
At 6'1" and 204 pounds, Zimmerman also has the desirable physical traits of a safety in the NFL.
Zimmerman suffered a left leg injury last year that caused him to miss the last two games of the regular season for the Wildcats.
The first game he missed was against the Baylor Bears, the only loss for Kansas State in the regular season which knocked Bill Snyder's group out of contention for the national title.
Perhaps no other game showed how good and how valuable Zimmerman is than that loss against Baylor. In that game, Bears quarterback Nick Florence torched the Wildcats' secondary to the tune of 238 yards and two touchdowns. Most of his passes came over the top as well.
While it's never healthy to wonder about the "what ifs," the feeling around Manhattan after that loss was that, had Zimmerman not been injured against Baylor, the Wildcats may have won that game and therefore played for the BCS title.