NBA Players Who Would Thrive in Another Professional Sport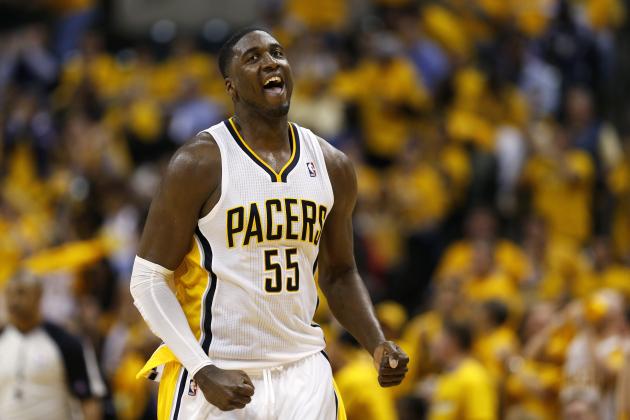 Joe Robbins/Getty Images

NBA players are among the most athletic and physically skilled human beings on the planet. As a result of their elite talents, it would not be unusual to see those players thrive in other professional sports.
The marquee examples of dual sport athletes include Deion Sanders and Bo Jackson. Both were prominent athletes in the NFL and Major League Baseball throughout their careers.
Even lesser known cases like Chicago Cubs pitcher Jeff Samardzija (who played wide receiver at Notre Dame) and New England Patriots quarterback Tom Brady (who was drafted by the Montreal Expos before attending the University of Michigan) are interesting examples of the talent today's athletes possess.
So which NBA players could not only play a different sport professionally but also succeed in doing so?
Begin Slideshow

»
Please take a moment to watch the embedded video of Chase Budinger's volleyball "warm up spike."
By all means, take the four seconds needed to watch it again.
Okay, now that we've all been significantly wowed by that masterful display of athleticism, I think it's fair to say Budinger would thrive as a professional volleyball player.
No disrespect to Olympians in the sport today, but I think teams would jump at the opportunity to add Budinger to their squad (so long as he didn't cripple team chemistry).
Unfortunately for volleyball fans, the sport isn't nearly as lucrative as life in the NBA. Budinger certainly made the correct decision by pursuing a future in basketball at the University of Arizona before getting drafted in the second round of the 2009 NBA draft.
Although Budinger is a freak athlete, he won't be able to play either sport if he doesn't stay healthy.
Because Budinger was rehabbing a knee injury, he played in just 23 total games for the Minnesota Timberwolves during the 2012-13 season. He had some solid performances near the end of the year, but he was no doubt trying to knock off some rust.
The Minnesota Timberwolves will be a dangerous, perhaps even playoff-bound team next season if they get healthy. However, their front office will have to make a decision regarding Budinger, who will be a free agent this summer.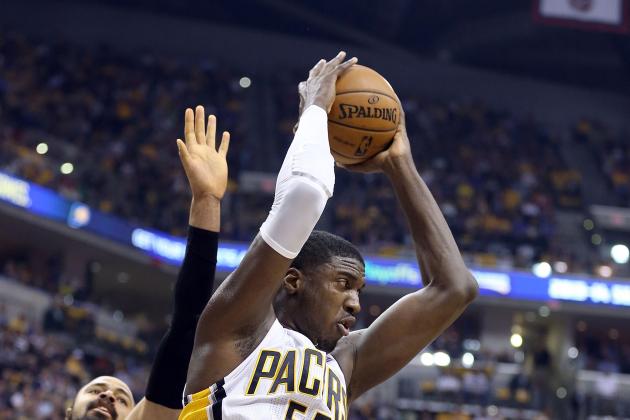 Andy Lyons/Getty Images

Given the talent level, drive and sheer tenacity of Mixed Martial Arts fighters, saying that Roy Hibbert would "thrive" in the MMA is a stretch. But you certainly can't say it wouldn't be interesting.
If you aren't familiar with Hibbert's offseason training, the comparison between the big man and MMA is an alien concept. However, the Indiana Pacers center did, in fact, work out at Integrated Fighting Academy in Indianapolis last summer, according to an article by Zach Schonbrun of The New York Times.
The training Hibbert received was meant to help him establish dominance against his NBA brethren. After a rough regular season, Hibbert finally met the expectations of his max contract by bullying Tyson Chandler and the New York Knicks in Round 2.
Hibbert averaged 13.3 points, 10.3 rebounds and 3.2 blocks per game against the Knicks. Chandler, meanwhile, was visibly frustrated throughout the entire series. He averaged just 6.2 points and six rebounds per game. He also fouled out of Games 1 and 6 (both New York losses).
Hibbert outplayed Chandler in every way. Perhaps he was conditioned to be tougher by last summer's training.
If nothing else, Hibbert would be able to throw punches downhill and keep his head out of harms way as the tallest person to ever enter the octagon.
Provided Carmelo Anthony's size (6'8", 230 pounds), it's a no-brainer that he decided to pursue a career playing professional basketball.
But still, one can't help but wonder what could have been if 'Melo trained for a career in boxing instead of simply embracing it as a hobby.
Anthony won a national championship in college at Syracuse, was selected third overall by the Denver Nuggets in 2003 and has averaged 25 points per game over the course of a 10-year NBA career. And he won the 2013 NBA scoring title by averaging 28.7 points per game.
His career accolades in basketball have been very impressive, but what if that same drive, passion and practice was funneled into boxing?
Throughout his NBA career, Anthony has averaged 36.3 minutes per game in the regular season and 39.1 minutes per game in the playoffs, so there's no doubting his endurance and stamina.
However, even Anthony acknowledges that the stamina needed to box is an entirely different animal (via Esquire).
ESQUIRE.COM: How'd you get involved in boxing?

CARMELO ANTHONY: Being born Brooklyn, I've always been a fan of boxing. It's in our blood. But as I got older, it was a matter of really digging into how hard it is and how much time and conditioning it takes for a boxer to be in top notch shape to only fight for 45 or 48 minutes. It's unbelievable.

ESQ: But you're going about 45 to 48 minutes a night for the Knicks.

CA: Yeah, but it's different. It's a different workout. You can't really compare the two, you just have to go through the experience to understand it.
We'd need an alternate reality to know if Anthony could truly thrive as a boxer. But how wild would it be to see him, as a heavyweight, squaring off with one of the Klitschko brothers?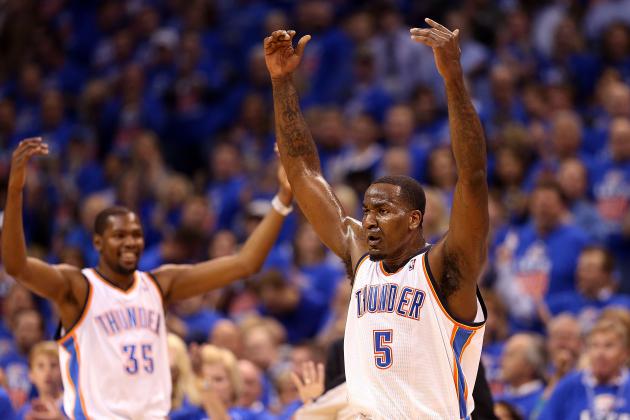 Christian Petersen/Getty Images

Kendrick Perkins' agent should consider exploring different career paths for the 28-year-old center, following a historically bad playoff run.
In 11 postseason games for the Oklahoma City Thunder, Perk posted a negative Player Efficiency Rating and shot just 27 percent from the field. For all the gory details, read Tom Ley's article on Deadspin.com.
Perkins would probably need some acting lessons for a WWE career, but his infamous scowl alone would give him a leg up on the competition.
Perkins' disgruntled demeanor and intimidating frame would endear him as a WWE heel.
Of course, riding out the remainder of a five-year deal worth more than $39.2 million certainly isn't a bad gig.
Nate Robinson is short, stocky, fast, agile, durable and plays with a lot of heart.
In other words, he's just about everything you want from an NFL running back.
As a matter of fact, Robinson was recruited to play football and played defensive back for one season at the University of Washington.
According to an article by Nick Friedell of ESPN, Robinson considered trying out for an NFL team if he wasn't offered a job in the NBA. The 5'9" fireball intended to try out for the Seattle Seahawks because of his familiarity with coach Pete Carroll, who had recruited Robinson to play at USC.
"If no team wanted me to play basketball, I was going to go play football," Robinson said.
Given the concussion issues in the NFL, coupled with the short shelf life of most NFL players, it's difficult to argue that Robinson should have pursued football over basketball.
Of course, if he had, the NBA community wouldn't have been treated to his phenomenal postseason performances in 2013.
You can't be completely up to date on Chris Paul news without knowing about his passion for bowling.
The six-time NBA All-Star hosted the fifth annual "Chris Paul PBA All-Stars Invitational" earlier this year, per the Los Angeles Sentinel. The charity bowling tournament pairs a celebrity with a PBA tour pro. The events can occasionally be spotted on ESPN, and they're mighty fun to watch.
CP3 is arguably the best point guard in the NBA today, but he takes his bowling seriously as well.
I love bowling, but I'd be very upset if Paul pursued a PBA career over a life on the basketball court. At least he's utilizing his hobby to support a noble cause.
I think it's safe to say that the NBA community is happy LeBron James chose basketball as a career. (Well, except maybe Cleveland Cavaliers fans, but winning yet another draft lottery should help heal that wound).
Unlike Michael Jordan's desire to change sports and play baseball, if LBJ decided to play football, he could easily dominate.
The four-time NBA MVP is built like a train. At 6'8", 250 pounds, he would be downright game changing as an NFL wide receiver or tight end.
At St. Vincent-St. Mary High School (Akron, OH), James was an all-state receiver as a sophomore and junior before giving up football to pursue his basketball career, per Tim Graham of ESPN. His football prowess in high school attracted the attention of scouts from Ohio State and Notre Dame.
Considering that the average height of NFL defensive backs is somewhere in the 5'9"-6'0" range, LeBron's height, weight and speed would be a matchup nightmare.
Although James' physical tools likely made NFL scouts salivate, he wouldn't be able to influence the outcome of games as significantly in football as he does in the NBA.
I doubt James has many regrets as he charges toward his second NBA championship.