5 Eye-Popping Statistics from New York Rangers' 2013 Playoff Campaign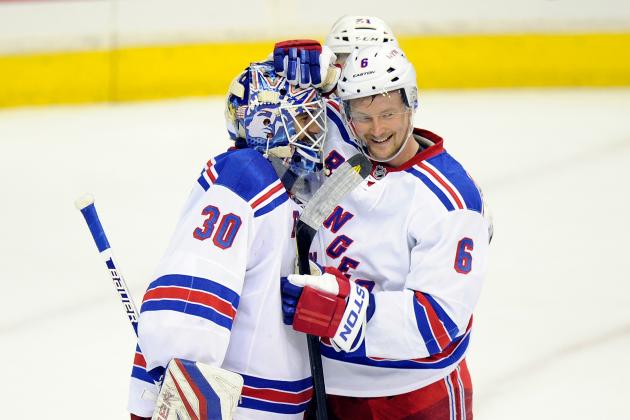 Greg Fiume/Getty Images

Now that the New York Rangers are 10 games into the 2013 playoff campaign, there are enough meaningful stats that can be properly analyzed.
Of all the stats—goals scored, plus/minus, ice time, faceoffs, etc—which are the ones that are the most interesting? Which are the most impressive, and which are the most head-scratching?
What are the five most eye-popping stats for the Rangers in the 2013 playoff campaign?
Read on to find out.
Begin Slideshow

»
Jared Wickerham/Getty Images

The Rangers have had 38 power-play opportunities in the playoffs. They have scored on just two of them.
That's right. The Rangers have converted on just 5.3 percent of their power-play chances. This has hurt the Rangers in all sorts of ways.
They haven't been able to score goals in big moments. There have been countless power plays that have come when the Rangers have needed a goal, and they couldn't convert.
It also gives the opposing team momentum. Every time the Bruins, for example, get a big kill, they steal any momentum the Rangers could have had by scoring.
The Rangers power play has just been a nightmare. They have trouble gaining the zone, and when they do, they have a hard time getting shots off. Any shots they do get off are usually weak. There is zero traffic in front.
The team obviously needs a major re-tooling of their power play, and it will most likely come during the offseason. It will be hard to make drastic changes when the Rangers are facing elimination.
If and when they do get eliminated, however, their lack of success on the power play will be a big reason why.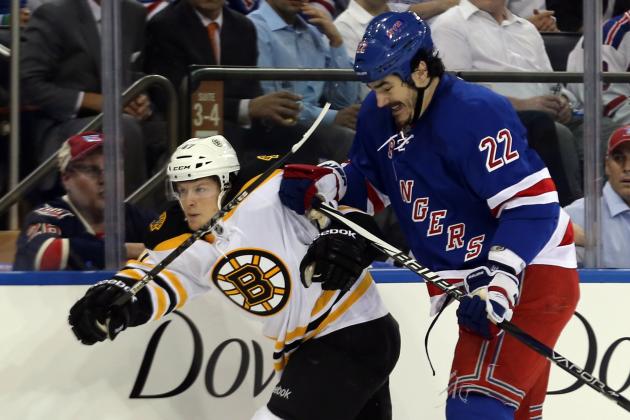 Bruce Bennett/Getty Images

Brian Boyle has won 47.8 percent of his faceoff attempts in the playoffs. That is eighth-best in the league in the playoffs.
He's been so reliable that he will take defensive-zone draws even when his line is not on the ice. He'll win the draw, wait until the Rangers get out of the zone and then get off the ice.
Boyle is not the same player that scored 21 goals in 2010-11. He scored just three this year. However, he is one of the most important players on the Rangers. He kills penalties, wins faceoffs, plays physically and plays excellent defense. He's the type of players that teams need to win.
Playing on a line with Taylor Pyatt and Derek Dorsett has been a good thing for Boyle. That line is one of the Rangers' best, and Boyle is the key cog on that line. His size and excellent awareness lead to plenty of scoring chances.
If the Rangers are going to come back in this series, then players like Boyle are going to have to continue to play, and even elevate their game. The more Boyle can do, the better.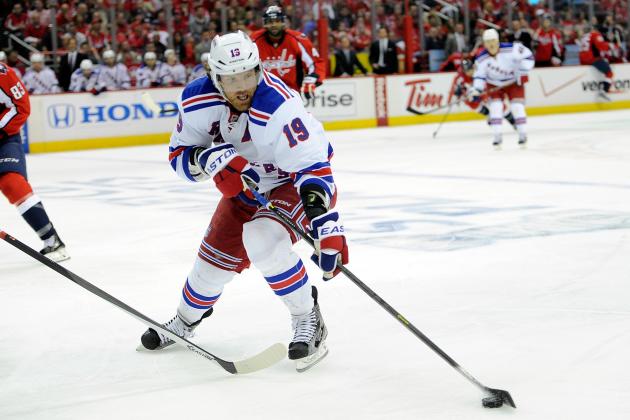 Greg Fiume/Getty Images

In three games against the Bruins, Brad Richards has been on the ice for just 31 minutes and one second. That's an average of about 10 minutes and 33 seconds per game.
In Game 3, which was a must-win for the Rangers and the most important game of their season thus far, Richards played just over eight minutes.
In last season's playoffs, Richards averaged a little over 22 minutes per game, including nearly 40 minutes of ice in a triple-overtime win against the Capitals.
Richards won't come near 22 minutes per game this postseason. He's obviously a shell of himself. He's not as fast; his passes aren't as crisp, and he looks lost defensively. But the drop from one year to the next is staggering. Last year he was playing important, first-line minutes. Now, he can barely get on the ice when it matters most.
Usually, players decline gradually, getting a little worse each year. Not Richards. His decline has been rapid and steep, and the Rangers will have to decide in the offseason if they want to buy him out or not.
It goes without saying that the Rangers would probably be in a different position if Richards was playing better. But he's not and the Rangers find themselves on the brink of elimination. That's not a coincidence.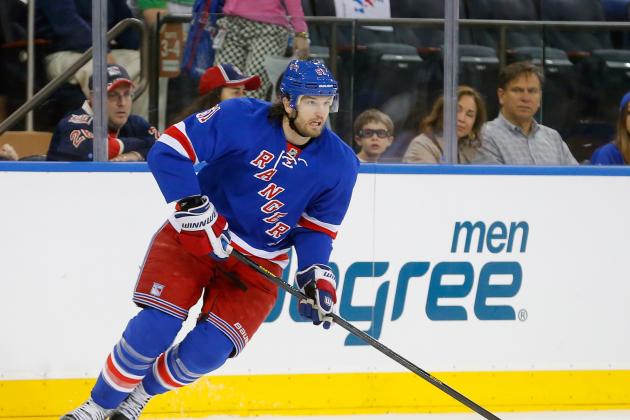 Paul Bereswill/Getty Images

Rick Nash has shot the puck on net 35 times in the playoffs. He has scored just once. That means he is converting on just 2.8 percent of his shots.
In the regular season, Nash converted on 11.9 percent of his shots. In March, he scored on 16.7 percent of his shots, and in April, he converted on 15.3 percent of his shots.
For his career, Nash has converted on 12.6 percent of his shots. For comparison's sake, Teemu Selanne, a surefire Hall of Famer, has converted on 15.2 percent of his shots. So maybe it's not time to induct Nash into the Hall of Fame. But he's still been, over the course of his career, a remarkable offensive player.
However, he just hasn't been able to do that in the playoffs. One goal is simply unacceptable. A 2.8 percent conversion rate is simply unacceptable. It's impossible to know what the Rangers' postseason would look like if Nash was scoring at his usual rate. But it would probably look a lot different.
The Rangers survived the first round with Nash not scoring. Now, with Nash having just one goal in this series, they are on the verge of elimination. Once again, that is not a coincidence.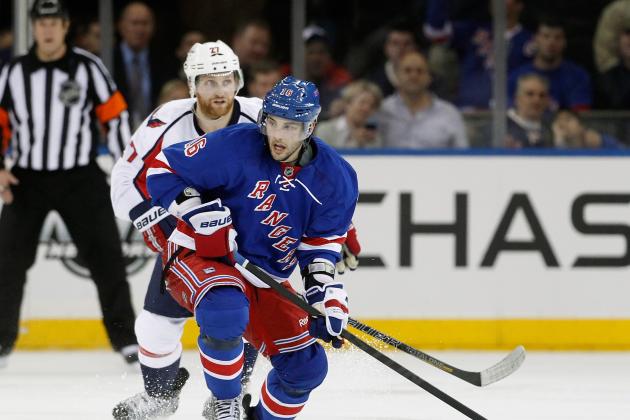 Paul Bereswill/Getty Images

Derick Brassard leads the Rangers with 10 points in the playoffs. If anyone had guessed that before the postseason started, they were probably lying.
Brassard has been absolutely terrific in this postseason. He's a dynamic passer with terrific vision. He's a great skater and has a good shot too.
While the Rangers may be nearing the end of their postseason lives, one positive they can take from these past few weeks is the play of Brassard. He looks like a legitimate No. 1 center.
The former No.6 overall pick in the 2006 NHL Draft has not, to date, lived up to those lofty expectations. He was never consistent and never totaled more than 50 points.
Now, however, it looks like he's starting to play to his potential. He's playing with confidence and has been the best player for the Rangers all postseason long.
If Brassard can carry over this play into next season, then the Rangers will have a lot of depth down the middle. Between Derek Stepan—who has had a terrific season—Brassard and Brian Boyle, the Rangers are set down the middle for years.