Best NFL QBs the Big Ten Has Produced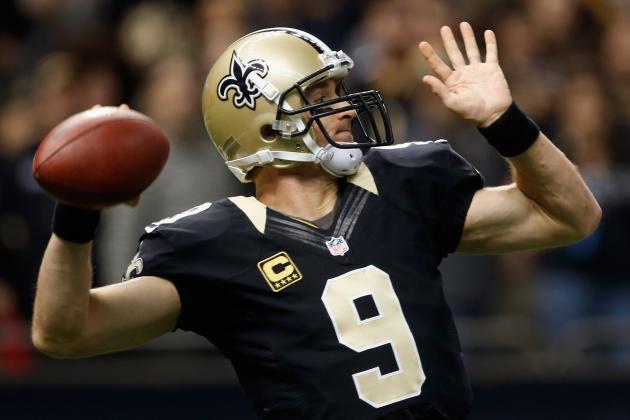 Chris Graythen/Getty Images

It may hard to believe with today's Big Ten style of play, but this conference has produced some quality NFL starting quarterbacks. This is somewhat surprising when you consider that the Big Ten has earned the reputation of being an old school conference that prefers to run the ball and wear the opposing defense down.
Some of the best quarterbacks to ever play have come from Big Ten schools. There are a couple of Hall of Famers on this list, as well as two guys who will be giving a Hall of Fame speech once they retire. There are also a few guys who were slightly underrated during their NFL playing days.
The list of successful quarterbacks from this conference is much better than the running back position has provided.
Begin Slideshow

»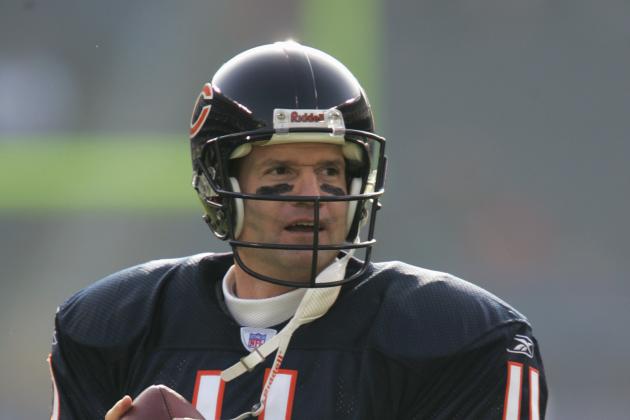 Jonathan Daniel/Getty Images

Jeff George is considered by many to be an NFL bust. He was drafted with the first overall pick by the Indianapolis Colts in the 1990 NFL draft.
As far as team success, George was a bust. His 46-78 career record and constantly getting into fights with his coaches on the sidelines wasn't professional. But George did have a solid career when you are discussing strictly statistics.
George passed for more than 3,700 yards three times, including leading the league with 3,917 passing yards in 1997. He also had at least 23 passing touchdowns four times in his career, while he averaged at least seven yards per attempt in seven of his 12 years.
George wasn't much of a team player and was released by different teams because of it. But he still ranks 54th in NFL history with 27,602 career passing yards, which isn't too shabby.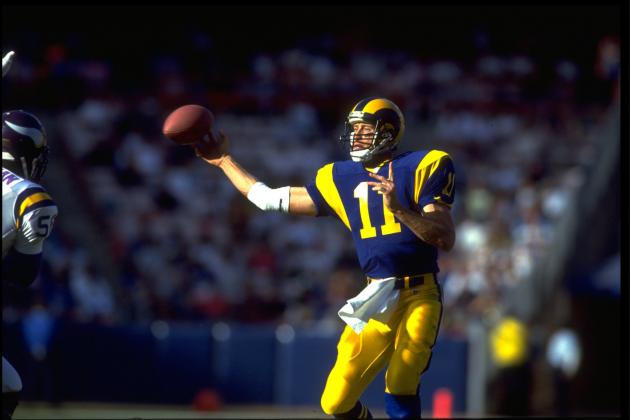 Stephen Dunn/Getty Images

Jim Everett only reached the playoffs three times in his 12-year career and was only selected to one Pro Bowl, but he was always up there as far as statistics are concerned. He spent most of his years with the Los Angeles Rams and finished his career with teams like the New Orleans Saints and San Diego Chargers.
Everett led the NFL in touchdown passes in both 1988 (31) and 1989 (29), as he led the Rams to playoff appearances both seasons. After that, he spent his career playing for bad teams and couldn't accomplish much team success.
As far as individual stats are cornered, Everett ranks 19th in NFL history with 34,837 passing yards, 21st with 2,841 passes completed and 31st with 201 passing touchdowns. Everett always put up big numbers, but his 64-89 career record will always put a damper on those accomplishments.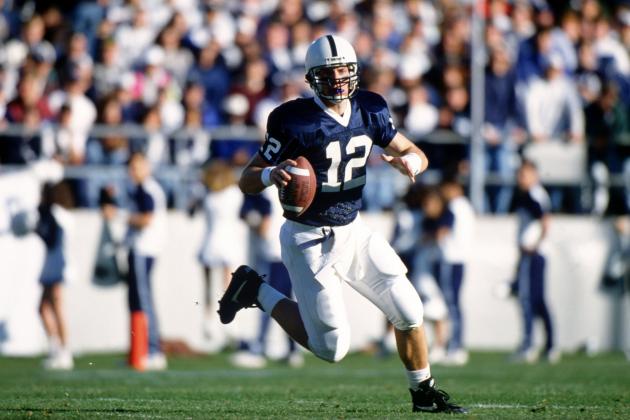 Rick Stewart/Getty Images

Kerry Collins spent his 17-year career as an NFL journeyman. He played for six different teams and experienced his fair share of ups and downs.
His best years were a five-year stretch with the New York Giants (1999-2003), where he passed for 16,875 yards and 81 touchdowns. In 2000, the Giants were crowned NFC Champions and in 2002, Collins set a single-season Giants record with 4,073 passing yards, which was later passed by Eli Manning in 2011.
Collins was a two-time Pro Bowl selection and finished his career with 40,922 passing yards and 208 touchdowns.
At times, Collins was a shaky and mediocre quarterback, but he was reliable for many years and capable of getting hot at the right moment and putting together a string of victories (see the 2008 Tennessee Titans).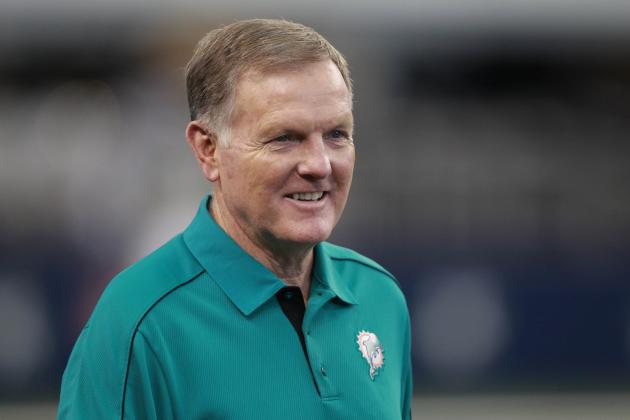 Tim Heitman-USA TODAY Sports

The first member of the Pro Football Hall of Fame on this list is Bob Griese.
He was selected in the first-round of the 1967 NFL draft by the Miami Dolphins, and he certainly didn't disappoint. He played all 14 years with the franchise, leading the Fish to two Super Bowl victories and double-digit wins in four seasons.
Griese was a two-time AFL All Star and a six-time Pro Bowl selection. He finished his career with 25,092 passing yards and 192 touchdowns. He led the Dolphins to seven playoff appearances, including a stretch of five straight (1970-74).
Griese's No. 12 jersey is retired by the Miami Dolphins, and he is also one of the few members of the Miami Dolphins Honor Roll.
Len Dawson was an AFL legend and eventually inducted into the Pro Football Hall of Fame in 1987.
Dawson spent most of his years with the Dallas Texans and Kansas City Chiefs, but he also played for the Pittsburgh Steelers and Cleveland Browns. He finished his career with 28,711 passing yards and 239 touchdowns. He still holds the AFL/NFL record for most times leading the league in completion percentage with five and was one of the most efficient quarterbacks ever.
The accurate quarterback was a six-time AFL All Star and was named to the Pro Bowl in 1971. Dawson also led the Chiefs to a victory in Super Bowl IV, which was the last game ever played by an AFL team. His No. 16 jersey has also been retired by the Chiefs.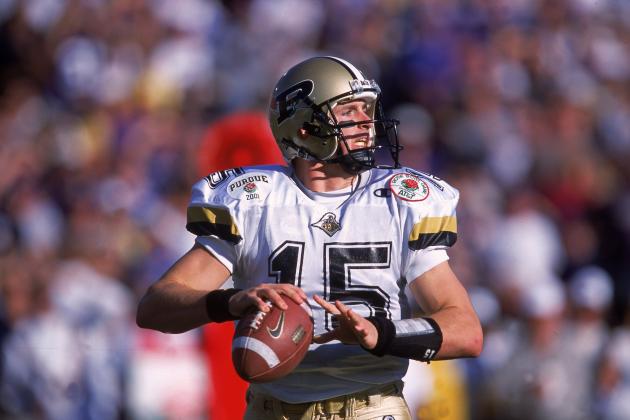 Stephen Dunn/Getty Images

There are few quarterbacks that have been as consistent as Drew Brees has been.
He's thrown for at least 4,400 yards in six of his last seven seasons, including three seasons of topping 5,000 passing yards—all seasons in which he led the league in that category. Brees has also led the league in touchdown passes in four of the last five seasons and completion percentage in three of the last four years.
Brees has been named to seven Pro Bowls, is a four-time All Pro, and has been named the NFL Offensive Player of the Year twice. He holds the all-time single-season passing record with 5,476 passing yards and is the fastest to surpass the 40,000 passing yards career mark. He also helped turn the New Orleans franchise around by winning a Super Bowl during the 2009-10 season.
The current New Orleans Saints quarterback is one of the best from this era and should go down as one of the greatest of all time.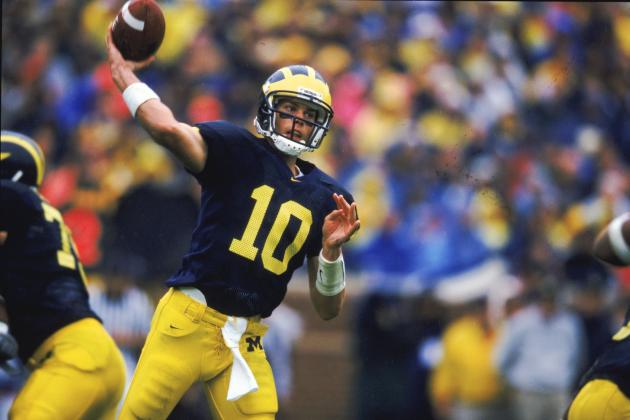 Harry How/Getty Images

If Tom Brady isn't the best quarterback in NFL history, he is at least in the top 10, arguably the top five. He really needs no introduction and his accomplishments speak for themselves.
He was one of the most slept-on quarterbacks coming out of college, as he was a sixth-round pick in the 2000 NFL draft. It didn't take long for him to get his chance in 2001 when starter Drew Bledsoe got hurt against the New York Jets. The rest was history once Brady stepped onto the field.
Brady has since won two MVP awards, been named to eight Pro Bowls, and is a three-time Super Bowl champion. He also holds New England Patriots records for most touchdown passes (334) and career passing yards (44,806).
Easily one of the best to ever do it and a guaranteed first-ballot Hall of Famer, it would be hard for a Big Ten quarterback to ever top Brady's accomplishments.