What We've Learned About Each NBA Conference Finalist This Postseason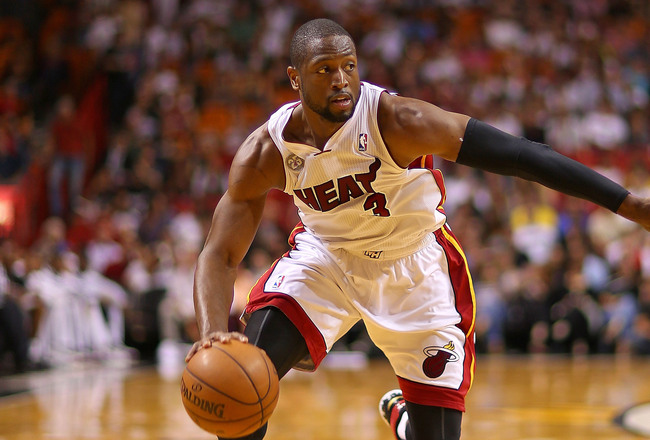 Miami doesn't need Dwyane Wade at full strength to dominate.
Mike Ehrmann/Getty Images
Even in the conference finals of the NBA playoffs, we are still learning new things about the teams left standing.
After nearly seven months of games, the league's best have revealed their strengths and flaws on the biggest scale possible. That's what happens when the best of the best face off in seven-game series—everything is more pronounced.
But it's not just questions from the regular season that have been answered. A handful of genuine surprises have popped up this postseason, shaping the action in unexpected and exciting ways.
We've been watching these teams all season, yet each of them has shown us that there's more to it than meets the eye. How their opponents adjust to these discoveries will go a long way toward deciding the 2013 NBA title.
Memphis Cannot Afford to Lose a Scorer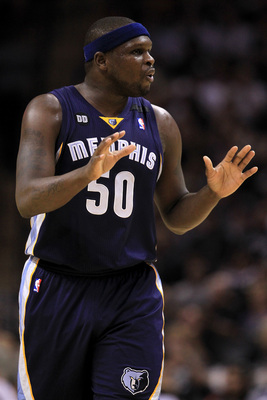 Ronald Martinez/Getty Images
Through two conference finals games against the San Antonio Spurs, Zach Randolph has scored just 17 points on 7-of-26 shooting—including a putrid two points as the Memphis Grizzlies got blown out 105-83 in Game 1.
Memphis is unapologetically a defense-first team, and the Grizz have gotten by with an egalitarian offensive philosophy. As long as they limit their opponent on the opposite end, the Grizz don't have a preference regarding who carries the scoring load.
However, they lack the offensive depth for a scorer to get shut down entirely.
Randolph, Marc Gasol and Mike Conley have each averaged over 17 points per game this postseason—accounting for more than half of Memphis' scoring. The Spurs demonstrated how difficult of a task Memphis faces if any of those guys has an off night.
That's the downside to Memphis' grit-and-grind strategy: It doesn't demand much offense, but the margin of error on that end is razor thin.
Grizzlies Need Perimeter Offense to Win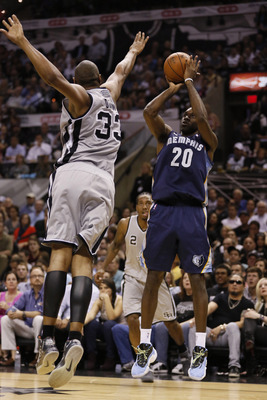 Soobum Im-USA TODAY Sports
So how do the Grizzlies ensure their point guard and big men—the combined engine of their pick-and-roll offense—can operate as planned?
Ironically, it's the pieces around the core that need to produce.
Conley, Gasol and Randolph have run into clogged lanes against San Antonio because the wings haven't caused much concern offensively. While starters Tony Allen and Tayshaun Prince fit within Memphis' defensive philosophy, they're not making the Spurs run out to contest them on the perimeter.
So it shouldn't come as a surprise that Quincy Pondexter and Jerryd Bayless got bigger chunks of minutes as Memphis forced overtime in Game 2. Though the Grizz weren't able to surpass the Spurs, they upped their three-point attempts from 12 to 17, putting up more long-range pressure to open up the middle.
Only five of those 17 treys fell in the Game 2 loss, but Memphis' odds are demonstrably better if only a couple more of those shots go in.
Matt Bonner Is the Spurs' Secret Weapon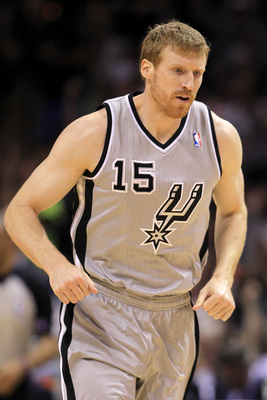 Ronald Martinez/Getty Images
Yet Duncan isn't the only reason Memphis' traditional two-big lineup hasn't cracked San Antonio. Matt Bonner has more to do with that than you would expect.
Throwing out a true big man who knocked down 44 percent of his three-point tries during the regular season causes all sorts of problems for Spurs opponents—and the reserve forward is especially terrifying for a team like the Grizz.
Bonner fits perfectly into San Antonio's floor-stretching attack. When he's spotting up beyond the arc, a Memphis big must venture out to contest him, opening holes in the defense for others to exploit. If the Grizz leave him open or switch a wing onto him, however, Bonner will shoot them out of the game.
He's an unassuming threat, but Bonner badly stresses the opposing defense without compromising San Antonio's interior play. That's what makes this second-unit weapon so valuable.
Tim Duncan Is the Best Big Man Remaining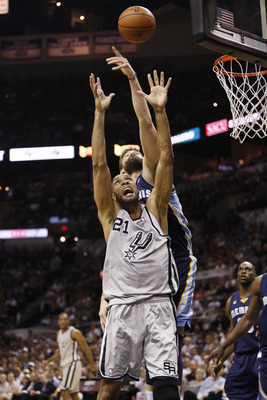 Soobum Im-USA TODAY Sports
We had been hearing all season how scary Tim Duncan's consistency is—how his stats per 36 minutes have barely shifted over the past decade-and-a-half.
The story has been no different in the playoffs. Of all starting power forwards playing in the postseason, Duncan leads the league with 25.1 points per 48 minutes.
Zach Randolph led Timmy before the venerable Spur began systematically ruining Randolph's life. That's a testament to just how effective Duncan is at the heart of San Antonio's interior defense. Not only have Duncan and company locked down one of the best post scorers in the league, they have done so cleanly. As evidence, note that Randolph did not attempt a free throw until Game 2 of the conference finals.
On both ends of the floor, Marc Gasol rivals Duncan's play, yet the results clearly favor the Spurs big so far. The Duncan-led unit is smacking around the Gasol-led squad. Even at age 37, Tim Duncan has been great, same as always.
Indiana Cannot Function Without George Hill
Andy Lyons/Getty Images
No Eastern Conference playoff team turned the ball over more during the regular season than the Indiana Pacers—14.5 times per game, eighth-worst in the NBA.
When George Hill missed Game 5 of the Eastern Conference semis with a concussion, Indy coughed it up 19 times. D.J. Augustin failed to record an assist as he replaced Hill at the starting point guard spot, and the Pacers offense looked discombobulated without its orchestrator.
Hill is back and healthy again, but the concerns raised in his absence still apply. If he gets into foul trouble, the Pacers will have to play extended minutes with their one viable point guard on the bench.
Considering Indiana's offense doesn't exactly scream "firepower," such a stretch could prove insurmountable. The Pacers can't succeed unless they can put their few scoring options in a position to do so; without Hill, that is not possible.
Lance Stephenson Is a Threat for the Pacers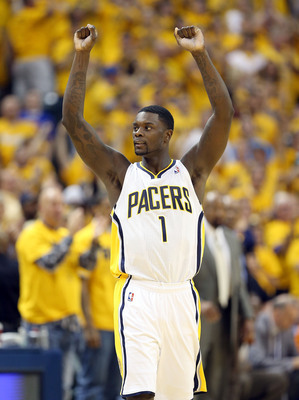 Andy Lyons/Getty Images
No longer is Lance Stephenson just a hothead at the end of the bench. He's now a scoring threat in his own right.
For a team strapped for points like the Pacers, Stephenson can be a significant asset just by making opposing defenses respect his ability on the perimeter.
Stephenson made his presence felt with 25 points and 10 rebounds as Indy clinched the conference semis against the New York Knicks. The third-year wing ran the Knicks guards ragged, employing his size and strength to beat smaller defenders for points off the bounce.
That's an important wrinkle for the Pacers against the Miami Heat. Stephenson's potential means Miami can't hide a defender on him to focus on George Hill and Paul George, and his ability to crash the boards will bother the Heat's small-ball sensibilities.
Prior to Danny Granger's injury, no one knew if Stephenson would contribute in any capacity for Indiana. Now he's coming through in a bigger way than anyone foresaw.
Miami Can't Count on a Healthy Dwyane Wade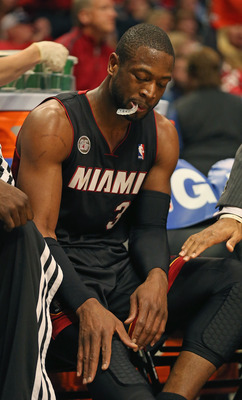 Jonathan Daniel/Getty Images
Dwyane Wade has looked like a shell of his former self in this year's playoffs.
Although he sat out nine of Miami's final 14 regular-season games to rest his bruised left knee, the injury is still bothering Wade and showing no signs of letting up.
Through eight postseason games, D-Wade is averaging just 13 points on 45.3 percent shooting. Small sample size aside, he has never put up a scoring output that low in any single season. The eye test backs up the superstar's struggles; Wade just doesn't have his trademark explosiveness right now.
After two undramatic series wins over deeply flawed opponents, the Heat now face an imposing Indiana team that won two of three against Miami this season. Yet if Miami wants to win the East, it will have to do so with a limited Wade.
The Heat Don't Need a Healthy Dwyane Wade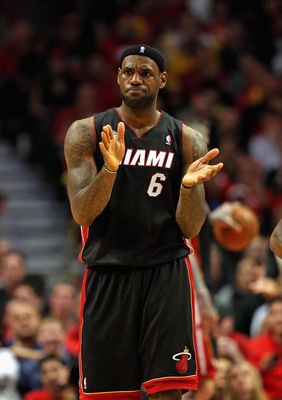 Jonathan Daniel/Getty Images
Here's the thing about Wade's limitations, though—they have simply given us yet another reminder of how otherworldly superb LeBron James is.
Though James isn't putting up ridiculous numbers by his standards—24.0 points, 7.3 rebounds and 7.3 assists per game are pretty much par for the course, as wild as that is—neither of his star teammates is playing up to their reputation.
We have already touched on Wade, but Chris Bosh is putting up just 13.2 points himself. He doesn't have an injury to blame, but his slippage actually supports Miami's current design: LeBron is the lone star, and everyone else is there to complement him.
No Heat player currently holds the burden of stepping up as James' sidekick. Miami smacked around the staunch Chicago Bulls D with just a collection of floor-stretchers and heady defenders—and a four-time NBA MVP, of course.
With and without a healthy Wade, that formula has won Miami 40 of its last 42 games in which James has played. The best player on the planet is the key to the Heat's success.
Having Wade at full strength would be nice, but Miami's dominance has essentially rendered it a moot point.
Keep Reading