Nate Diaz's Manager Fighting a Losing Battle Regarding Diaz's Offensive Tweet
Use your ← → (arrow) keys to browse more stories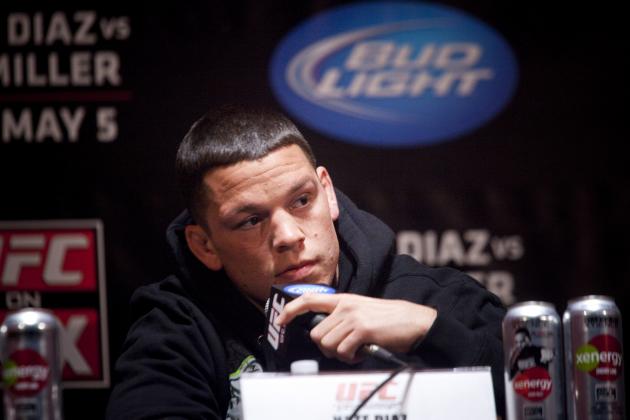 Michael Nagle/Getty Images

Totally and utterly baffling, that's the only way to describe the manner in which Nate Diaz's manager is handling the suspension and fine that were handed down to his client late last week.
On Thursday Diaz decided it was a good idea to throw the below tweet out there (since deleted):
I feel bad for pat Healy that they took a innocent mans money and I think the guy who took the money is the biggest Fag in the world ..
— Nathan Diaz (@NateDiaz209) May 16, 2013
The tweet was directed at Bryan Caraway, the fighter that benefited, to the tune of $65,000, when Pat Healy's "Submission of the Night" award from UFC 159 was stripped away after Healy failed his post-fight drug test. (via MMAJunkie.com)
On Friday the UFC decided that Diaz's use of a homophobic slur was a violation of the promotions code of conduct and that it was worthy of a 90-day suspension and $20,000 fine.
In a statement on the UFC website, the promotion spelled out the reasons for the penalty. That statement said, in part, "The language used in his tweet was regrettable, offensive and inconsistent with the values and culture of the organization, and is not tolerated."
On Monday Diaz's manager, Mike Kogan appeared on the MMA Hour (via MMAFighting.com) and did what a manager is supposed to do: He defended his client. The problem with the defense was that it totally missed the point of why Diaz was punished for his tweet. Kogan told MMA Hour host Ariel Helwani:
Nate doesn't feel remorse for what he said. I don't feel remorse for what he said. I don't feel remorse for defending what he said or elaborating on what he said. Because it was not a homophobic statement. It was not intended to offend homosexuals. We weren't even talking about homosexuals. One can debate the multiple uses of this term.
Kogan can defend Diaz's use of the particular slur all he wants, but as Aaron McQuade, director of news and field media at GLAAD, wrote in a Twitter exchange with Yahoo.com's Maggie Hendricks,
When you use an anti-gay slur, even not to describe a gay person, what you tell all gay people is "my subconscious wanted to find the worst insult it could, and what it came up with ... was you." Those slurs are almost never intended to actually hurt gay people, but they do.
Kogan is probably correct, Diaz probably didn't mean it as a homophobic statement, but it was, and McQuade's tweets explain in perfectly plain language exactly why it was homophobic and hateful.
Kogan also seemingly questioned the UFC's reasoning behind the code of conduct, saying, "The mere fact that there is a protocol to deal with these crisis situation implies its lack of sincerity."
The code of conduct is there to avoid situations that make the UFC look bad in the court of public opinion. In other words, the UFC is acting like every other major sport, in that it wants their athletes to represent the promotion in the best possible light. Everything a UFC fighter does reflects back on the promotion. When a UFC fighter calls refers to another individual in a derogatory manner the general public will remember that. No business that is trying to grow needs that. No sports league would tolerate that.
Kogan has the option to file an appeal, but the odds of he and Diaz winning that appeal are slim; after all the tweet violated two clauses in the code of conduct:
Derogatory or offensive conduct, including without limitation insulting language, symbols, or about a person's ethnic background, heritage, color, race, national origin, age, religion, disability, gender or sexual orientation.

Inappropriate physical, verbal, and online behavior (such as inappropriate statements made via e-mail, text messaging or social networks).
Kogan's defense of his client is admirable, it's also not going to help him in any way. The best thing Kogan and Diaz can do at this point is pay the fine, have Diaz serve the suspension and move on.
To think that there will be a lesson learned here for the Diaz camp is probably too much to ask for, but hopefully at least one fighter will see what happened with Diaz and realize the UFC means business with its code of conduct.