What to Expect from Each Kansas City Chiefs Starter in 2013-14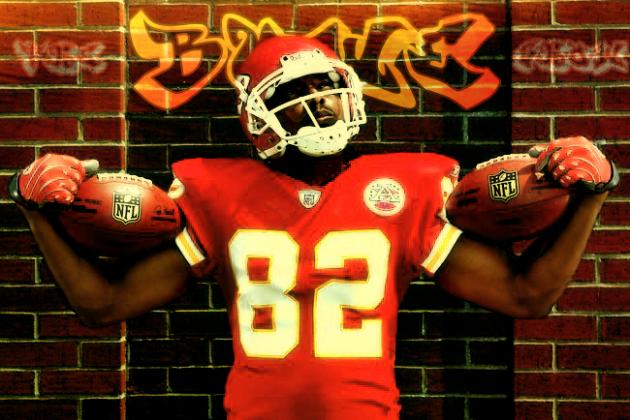 Jamie Squire/Getty Images
Image edited by Brett Gering
On August 29, your love for football was tested in a way that it hadn't been in exactly 364 days.
Yes, a rejuvenated Andy Reid accompanied his revamped Kansas City Chiefs out of their tunnel and into a blood-red nucleus of noise.
Yes, boos showered the field as the Discount Double Checking demigod, Aaron Rodgers, jogged onto rival territory while flaunting his signature smug grin.
Yes, I'm selling that Game 4 of the preseason was must-see TV and flunking by the character.
The truth? Alex Smith didn't participate in a single series, and Reid was more protective of Jamaal Charles than he was with his first daughter on prom night.
The Green Bay Packers would've tempted fate if Rodgers dared take a snap. If Cheesehead nation witnessed No. 12 suffer the same fate as Mark Sanchez, Chick-fil-A cows would've paratrooped down on Mike McCarthy's patio by midnight. He was rendered a sideline spectator as well.
A Tyler Bray-led Kansas City squad trampled its Wisconsin guests by 22 points.
But still, Week 4 preseason games are only played because they're required to be. They're like the kid who's always picked last in basketball because he shoots double-handed and dribbles the ball like he's whacking a mole.
Opening day is next on the menu, and now it's all about the starters. The Chiefs' group of 22 is one weekend away from unshackling the playbook and unveiling their best-kept secrets. But what should you expect? And from whom?
PFF (Pro Football Focus) gauges how the Chiefs' starters performed in 2012, juxtaposing them with their league-wide counterparts who partook in 25 percent of their team's offensive or defensive snaps.
Statistics provided by Pro Football Focus (subscription required).
Begin Slideshow

»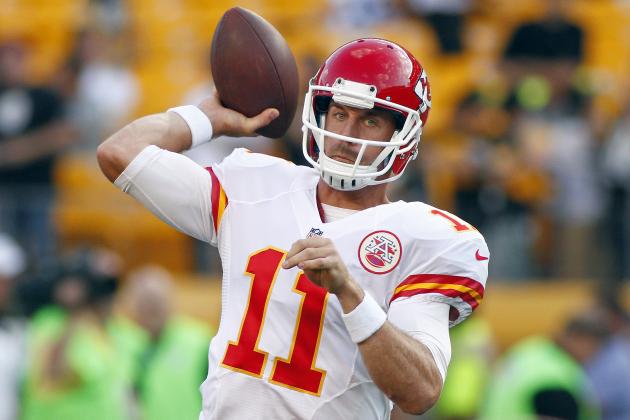 Justin K. Aller/Getty Images

Skeptics will equate Alex Smith to Matt Cassel, then immediately link their skill sets by citing average arm strength. Richard Simmons and Clark Kent both wear spandex—that doesn't make them equals.
The Chiefs offense springs a jumble of questions heading into the regular season. If drops are erased and throwaways and spikes are subtracted, Smith's preseason completion percentage balloons to 82.2 percent. Very few of the aforementioned concerns are rooted in No. 11's right arm.
However, the offensive line, while undeniably talented, hasn't shown any semblance of cohesion on a consistent basis. Running backs have become accustomed to backfield visitors. Andy Reid's aerial fetish, in combination with the conciseness of a West Coast passing game, will help in negating any potential rushing woes.
That being said, if Charles doesn't enjoy the same flavor of (rushing) success as years past, safeties won't be as inclined to cheat up in run support. And if Smith's closest ally, play-action, loses its seductive magic, his downfield passing will reap the consequences.
Expect: Accuracy, mobility, leadership, hot routes, ball security.
Don't Expect: Bullets, verticality (don't fall victim to the hype).
PFF position ranking (2012), QBs: No. 18 of 38.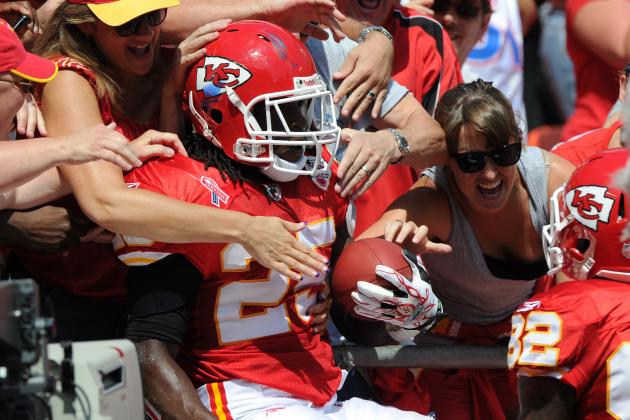 Peter Aiken/Getty Images

The lion's share of NFL enthusiasts will tell you that Reid is extremely partial to passing—that's true. The same group will also claim that Reid's running backs don't see a lot carries—that's false.
Charles received 285 handoffs throughout 15 starts last season. Reid's former star, LeSean McCoy, started 15 contests—but participated in one fewer game—in 2011 and tallied 273 attempts. He also led the league with 17 rushing touchdowns.
While Kansas City's coach favors airing it out, his passing attacks, in comparison to recent Chiefs offenses, have churned out significantly more fist downs. Thus, his halfbacks take part in a greater amount of play calls.
Like Smith, Charles' effectiveness largely hinges on the stability up front. The Chiefs' linemen display striking athleticism in the open field, which will help Charles in a variety of scenarios. Reid will spread out the defense with multiple wideouts and bank on his blockers dominating the second and third levels of defenders. But that becomes a moot capability if they can't defeat the first.
Expect: draws, counters, screens, splitting out, career-high total yardage.
Don't Expect: balanced rushing-to-passing ratio, dives, typical rushing yardage.
PFF Position Ranking, 2012 RBs: No. 14 of 59.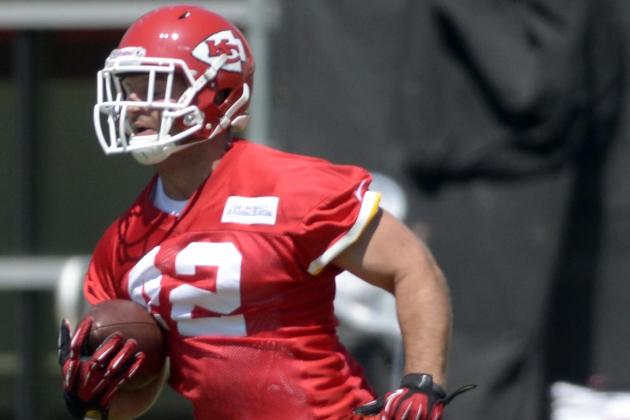 Denny Medley-USA TODAY Sports

Anthony Sherman was severely underutilized as a member of the Arizona Cardinals.
That will change in his third season.
At Connecticut, Sherman was a known commodity in the passing game.
Reid will undoubtedly capitalize on that facet of the fullback's repertoire, but the primary chores for the backfield wrecking ball will still entail paving paths for Charles.
Expect: bone-jarring blocks, occasional flat routes.
Don't Expect: handoffs, consistent playing time.
PFF Position Ranking, 2012 FBs: No. 20 of 25.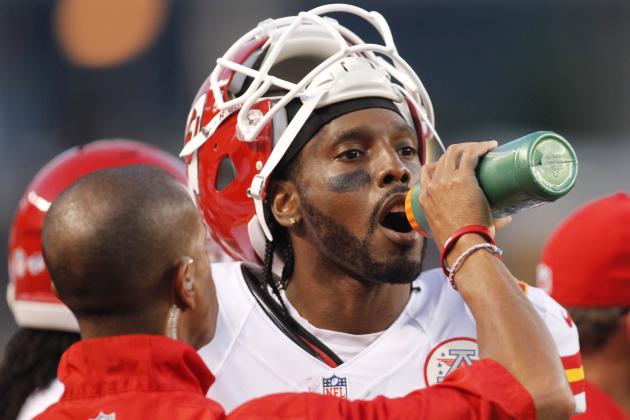 Charles LeClaire-USA TODAY Sport

Unlike Cassel, Smith won't resort to forcing throws in Dwayne Bowe's vicinity. If the longtime standout is blanketed by double coverage? So be it.
Defenses keyed in on the former Pro Bowler throughout the first two preseason games, which resulted in a donut under Bowe's receptions column.
Pittsburgh didn't feel the need to follow in those footsteps, leading to six catches for the star in the first half.
Jon Baldwin wasn't a threat to torch man coverage; Donnie Avery is. If secondaries assign additional help on Bowe, they'll be daring his fleet-footed counterpart across the way.
Bowe's skill set will make for a seamless fit in Andy Reid's West Coast system.
Expect: intermediate routes (in routes, out routes, comebacks, curls), occasional play-action bombs, career high in yards after the catch; 1,000-plus yards receiving.
Don't Expect: hoards of downfield passes, drastic difference in reception total, career-high touchdown total.
PFF Position Ranking, 2012 WRs: No. 26 of 105.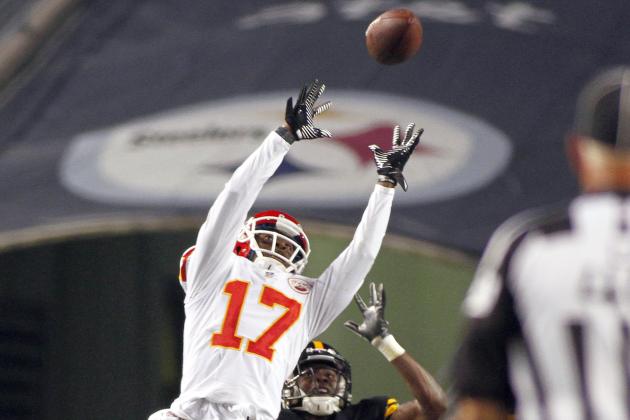 Justin K. Aller/Getty Images

If anything, the preseason hinted that the Chiefs will execute a creative, pass-oriented offense that will open up opportunities underneath by stretching the field with speed.
Jon Baldwin brings little to the table in that equation, so promoting Donnie Avery to No. 2 receiver was a no-brainer.
Avery's 12 drops were tied for the fourth most in the NFL last season. He was targeted on 112 occasions, but still, 12 drops are 12 drops. Dwayne Bowe saw only five less intended passes but limited himself to half of Avery's mishaps.
Regardless, the newcomer's straight-line speed is reason enough not to gamble in press coverage. However, his agility allows him to exploit cushions in off-man as well.
Expect: wide array of routes, drops, infinitely more production at No. 2 spot than years past.
Don't Expect: game-breaking plays, reliable blocking.
PFF Position Ranking, 2012 WRs: No. 100 of 105.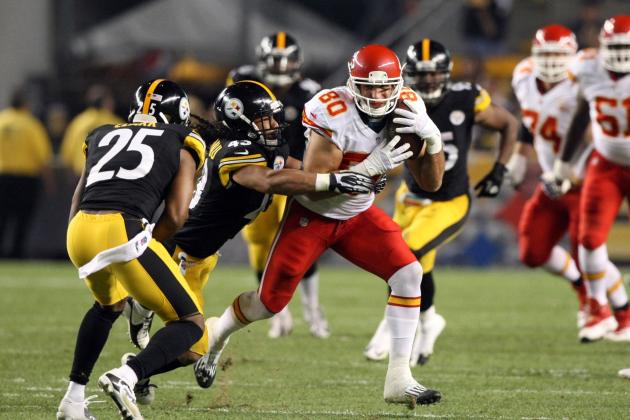 Jason Bridge-USA TODAY Sports

Anthony Fasano is the personification of durability: The Chiefs' offseason addition has only missed four games over the span of his entire seven-year NFL career.
No. 80 is the antonym of flashy. He's not going to reel in jaw-dropping receptions that urge you to rewind the DVR. Average speed also limits his efforts at creating separation.
But Fasano is a model of consistency. He's a revered blocker (pass and run) and underrated receiver. Fasano amassed 73 regular-season receptions in the previous two seasons. His eight preseason grabs led the Chiefs' starters as well.
Kansas City's starting tight end hasn't recorded a dropped pass since 2010.
Expect: textbook in-line blocking, impeccable hands, perfect attendance.
Don't Expect: yards after the catch, elusiveness, separation.
PFF Position Ranking, 2012 TEs: No. 21 of 62.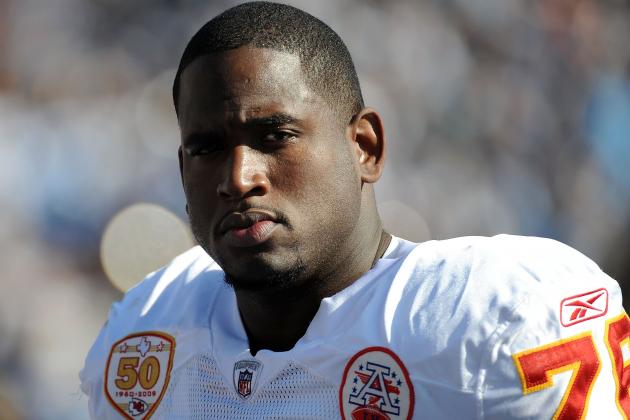 Harry How/Getty Images

When Kansas City renewed Branden Albert's lease, the club re-upped its pass protection.
In 2012, the Chiefs' left tackle allowed just one sack throughout 13 games.
But nobody's perfect, and Albert's run blocking is far from it. On tape, you're bound to see No. 76 lunge with an unsuccessful cut-block attempt.
Obviously, protecting Smith is paramount in Reid's offense, and Albert has doubled as a 316-pound shield since the beginning of the 2011 season.
Expect: trustworthy blindside protection.
Don't Expect: rushing lanes in the (left) B and C gaps.
PFF Position Ranking, 2012 Ts: No. 25 of 80.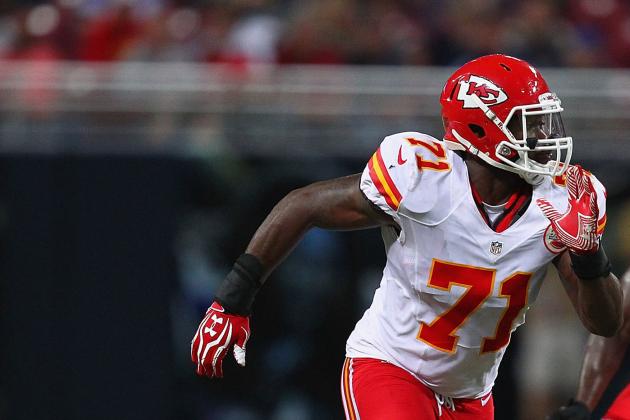 Dilip Vishwanat/Getty Images

I tip my 59Fifty to you, Jeff Allen.
Last year, PFF ranked the then-rookie 78th out of 81 guards. A look at film substantiated the claim: Allen was routinely overpowered at the point of attack, oftentimes leaving him sunbathing with his back flat on the ground.
And at times, Kansas City's left guard still evokes flashbacks of those troubled tendencies.
Allen has seemingly made strides during the offseason, though. Last season's No. 78 PFF ranking skyrocketed to No. 24 this preseason. He's a 306-pounder who moves well in space, which will always earn points in Reid's eyes.
Expect: Solid pass-blocking, pulling, impactful screen-blocking.
Don't Expect: consistent run-blocking.
PFF Position Ranking, 2012 Gs: No. 78 of 81.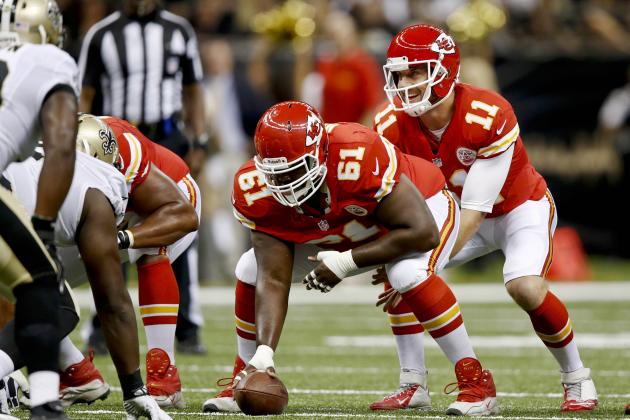 Derick E. Hingle-USA TODAY Sport

Allen and Rodney Hudson traded identities during the summer.
Hudson only played in a trio of games in 2012 before forfeiting his season due to a broken leg.
But in those three games, Hudson seemingly looked like he was becoming an anchor of the line.
The tides have turned this preseason: According to PFF, there are only two centers rated below No. 61. He has been bull rushed into the backfield a number of times, forcing running backs to detour and reroute.
Expect: adequate pass protection, average run-blocking that gradually improves.
Don't Expect: consistency.
PFF Position Ranking, 2012 Cs: N/A (didn't participate in 25 percent of the team's snaps).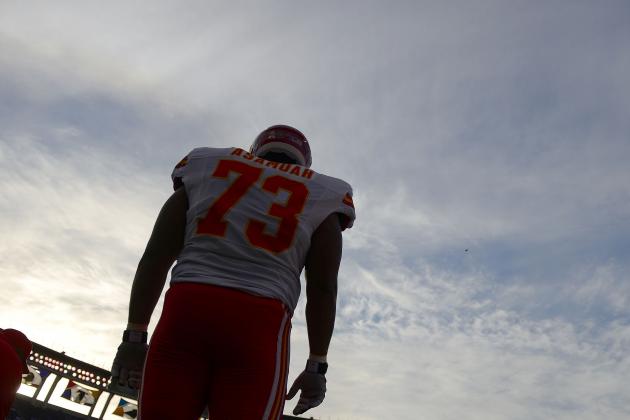 Donald Miralle/Getty Images

Jon Asamoah has a bright future ahead of him.
To no surprise, the fourth-year pro proved to be the most well-rounded of his peers this preseason.
He's a quick learner with deceptive agility and athleticism.
There's a reason why Charles rushed behind Asamoah (89 attempts between the surrounding A and B gaps) more than any other lineman in 2012.
Throughout his 54 preseason snaps, Asamoah didn't open the door for one quarterback hurry or sack.
Expect: reliable run-blocking, first-rate quarterback protection, better-than-average screen effectiveness.
Don't Expect: run-blocking success at the level of 2012.
PFF Position Ranking, 2012 Gs: No. 10 of 81.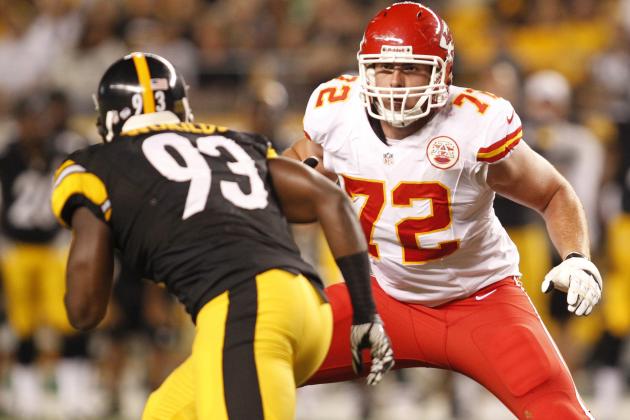 Charles LeClaire-USA TODAY Sport

Eric Fisher had rough outings in his first pair of preseason exhibitions, especially versus San Francisco.
However, he fared better against Pittsburgh.
PFF's Ben Stockwell writes, "A better showing from Eric Fisher this week, as the No. 1 overall pick played a preseason high 39 snaps, surrendered only one hurry, and earned a +0.9 overall grade."
The No. 1 overall pick seems to be adapting to life at right tackle. He has battled through three injuries in the past handful of weeks, but the extra week of rest should help heal his battle wounds.
Expect: fluctuating success on both fronts, weekly improvement, quick recovery when beaten.
Don't Expect: flawless performances.
PFF Position Ranking, 2012 Ts: N/A (rookie).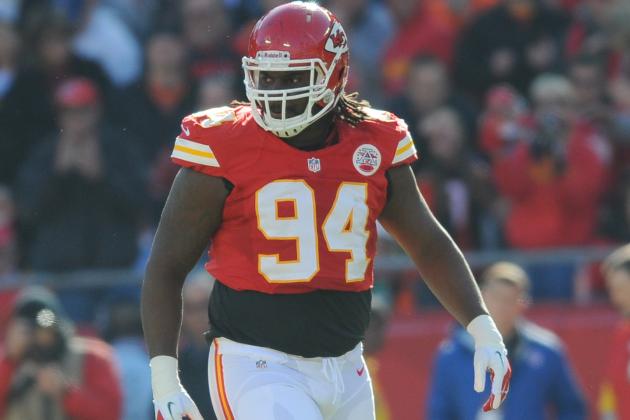 Denny Medley-USA TODAY Sports

Midway through 2012, Tyson Jackson was justifiably written off as a bust.
Romeo Crennel then began inserting Jackson in pass-rushing situations, and the former first-rounder began to slowly but surely flourish.
Jackson has picked up where he left off.
Although his 51 snaps are a small sampling size, the defensive end has maintained gap discipline and controlled his blockers.
Is he going to post double-digit sacks? No, but he could rival his meager career total of five.
Expect: better pass-rushing production, stingy run support, batted passes.
Don't Expect: gaudy sack total.
Overall PFF Ranking (2012), 3-4 DEs: No. 30 of 34.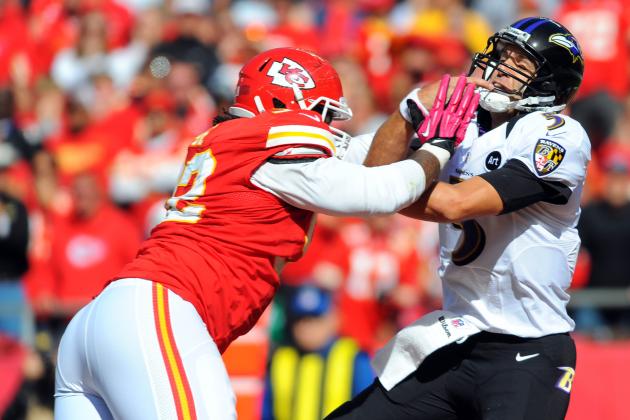 Denny Medley-USA TODAY Sports

The talent jump and scheme switch proved to be problematic for last year's first-round selection.
Throughout the 2013 preseason, Dontari Poe has looked like some kind of freakish mobile mountain who runs like the wind and mauls centers like a polar bear with anger-management issues. (Poe-lar bear?)
You can't block the nose tackle with one person.
Bob Sutton's newly implemented attack-first-ask-questions-later defensive mentality has served as a springboard for Poe's development.
Barring an injury, 2013 will mark a breakout season for the second-year minotaur.
Expect: double-teams, run-stuffing road blocks, vastly improved pass-rushing.
Don't Expect: long-lasting stamina, Haloti Ngata-like numbers (yet).
PFF Position Ranking, 2012 DTs/NTs: No. 72 of 85.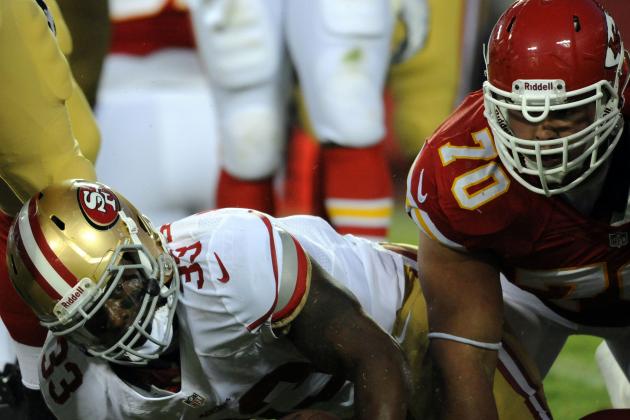 Denny Medley-USA TODAY Sports

From afar, Mike DeVito doesn't resemble your typical professional athlete. He looks like someone who should be tossing pizza dough in the background of a Sopranos episode.
But, as everybody knows, looks can be deceiving.
DeVito isn't going to wow you with a swim move and cause quarterback pressure. However, he will wow you with his explosiveness off the line before devouring running backs.
Kansas City's new defensive end routinely bolts from his stance, gains leverage on the opposition and bullies them into the backfield.
Expect: textbook run-stuffing, surprising athleticism.
Don't Expect: sacks, penalties.
PFF Position Ranking, 2012 3-4 DEs: No. 9 of 34.
Justin K. Aller/Getty Images

The Chiefs' longtime edge-rusher is a mixed bag of pros and cons.
He remains a top-tier sack artist—last week, he managed four quarterback hurries in one half versus Pittsburgh—but he's subpar in defending the run and pass.
Does he still make cameos in offensive coordinators' nightmares? Without a doubt.
His game comes packaged with its share of bugs, though.
Expect: more sacks (9) and forced fumbles (1) than last season.
Don't Expect: discipline in the run game, effective coverage.
PFF Position Ranking, 2012 3-4 OLBs: No. 15 of 34.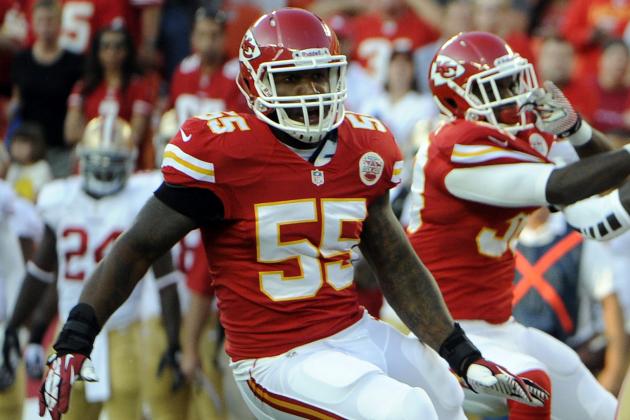 John Rieger-USA TODAY Sports

In 2012, Akeem Jordan lined up in a 4-3 as an outside linebacker. In 2013, he lines up in a 3-4 as an inside linebacker.
Throughout the past month of scrimmages, you wouldn't be able to notice.
Jordan's skill set is reminiscent of former LSU standout (and now Arizona Cardinals rookie) Kevin Minter's: Both tote sharp fundamentals, quick feet and crave contact despite being undersized.
The strong-side starter squares his shoulders and shucks off blockers before darting to the ball-carrier.
Nico Johnson is a promising prospect, but he needs to shore up his coverage skills if he hopes to threaten Jordan's starting status.
Expect: above-average pass defense, more tackles for loss and turnovers than his predecessors.
Don't Expect: instances where he's not overpowered or makes the wrong read.
PFF Position Ranking, 2012 4-3 OLBs (converted): No. 24 of 43.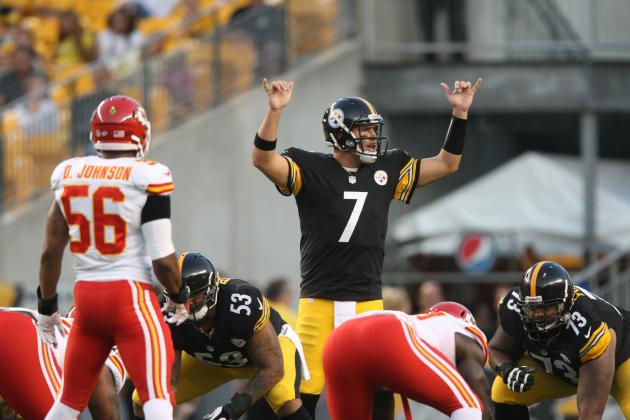 Jason Bridge-USA TODAY Sports

Ever since Todd Haley confronted Derrick Johnson with his opossum-like spitefulness, the inside linebacker has arguably been the most consistent member of the Chiefs defense (although, I would personally lean toward Brandon Flowers).
Johnson tackles everything in sight. He has also been an underutilized blitzer, but that should change with Bob Sutton at the helm.
The Chiefs' staple isn't particularly vocal.
He has, however, evolved into the closest resemblance of a defensive leader that the Chiefs have had in recent memory.
Expect: an extra dose of run and pass blitzing, hoards of tackles.
Don't Expect: picture-perfect pass coverage.
PFF Position Ranking, 2012 ILBs: No. 5 of 53.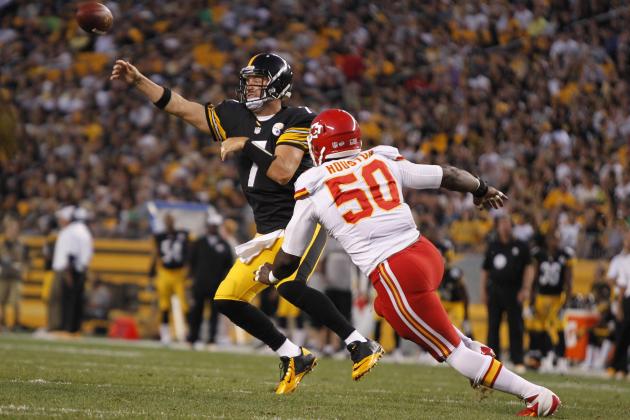 Charles LeClaire-USA TODAY Sport

By the end of the season, Justin Houston could emerge as the most complete 3-4 outside linebacker in the NFL. While that's high praise, it's definitely warranted.
Houston finished as the only 3-4 edge-rusher to score positive marks from PFF in pass-rushing, run support, coverage and penalties.
If penalties are discounted, the only linebacker with more well-rounded stats was the Dallas Cowboys' Anthony Spencer.
By the way, he's just now entering his third season in the league.
Expect: sacks, handful of turnovers, batted passes, run discipline.
Don't Expect: flawless zone coverage.
PFF Position Ranking, 2012 3-4 OLBs: No. 4 of 34.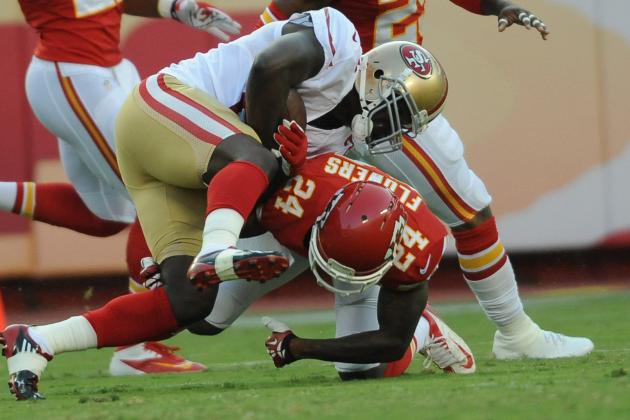 Denny Medley-USA TODAY Sports

No cornerback has been as consistently dominant (in all facets of the game) over the past five years as Flowers. Darrelle Revis missed 14 games last year due to a torn ACL and enjoyed a (very) good but not great 2010 season.
In chronological order, here are Flowers' overall PFF rankings amongst cornerbacks, beginning in 2009: No. 5, No. 2, No. 5 and No. 7.
Yet, somehow, he still hasn't been invited to the Pro Bowl. No, he has never netted more than five interceptions in a single season, but that's because quarterbacks normally defer to targeting the other cornerback(s). Darrelle Revis made the Pro Bowl in 2010 with a zero in the interception column.
Voters, stop robbing this man of the recognition he deserves—sincerely yours, all of Kansas City.
Expect: airtight press coverage, solid tackling.
Don't Expect: uncommon interception total.
PFF Position Ranking, 2012 CBs: No. 7 of 113.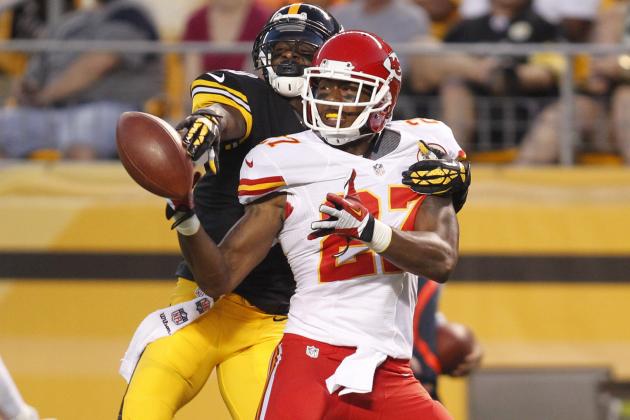 Charles LeClaire-USA TODAY Sport

Despite holding quarterbacks to a 54.9 completion percentage, Sean Smith was targeted a league-leading 113 times in 2012.
He's a tall, physical corner who, due to his towering frame, can be beaten by quicker receivers. He's also a willing tackler.
Smith is a significant upgrade from Stanford Routt and Javier Arenas.
No. 27 imposes his will on smaller receivers releasing from the line and swats sideline-pinching go routes like flies.
Expect: physicality at the line, deflections due to distinctive reach.
Don't Expect: dependable hands, above-average zone coverage, impressive interception total.
PFF Position Ranking, 2012 CBs: No. 74 of 113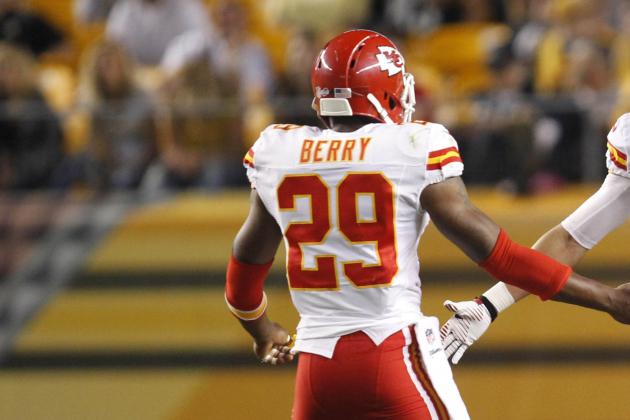 Charles LeClaire-USA TODAY Sport

In 2012, the Week 7 bye served as the line in the sand for Eric Berry.
In the weeks leading up to it, he looked like an unconfident, debilitated shell of himself after rehabbing from a torn ACL. The playmaking safety resembled anything but, and he was afraid to plant his surgically repaired knee while in coverage.
In the weeks following the bye, Berry looked like a gridiron warmonger. His stats and general performance trended on an upswing, and he was back to rocketing past protection and bruising skeletons.
Throughout the 2013 preseason, the longest pass recorded on Berry's watch was five yards (and he subsequently flung that tight end out of bounds like he was throwing a discus.)
Assuming he remains healthy, Berry could finally live up to lofty expectations this year.
Expect: frequent blitzing, cringeworthy hits, sharper man coverage.
Don't Expect: mistake-free coverage, significant time in Cover 2.
PFF Position Ranking, 2012 Ss: No. 43 of 88.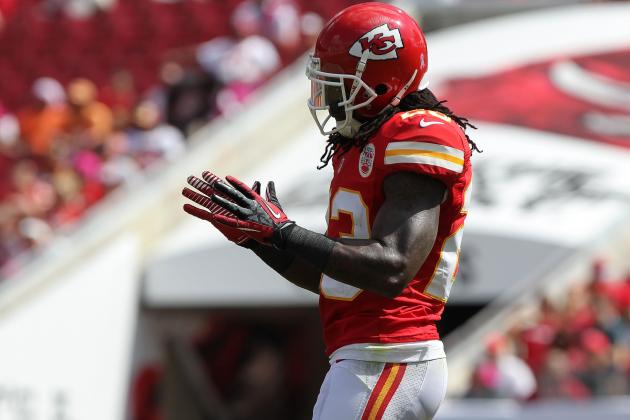 Kim Klement-USA TODAY Sports

Kendrick Lewis is a sufficient safety and the brains behind the secondary's operation.
No part of his game distinguishes itself from others, but he's a smart center fielder who, when healthy, excels in his role as the safety valve.
That's the problem, though: He hasn't been healthy since 2011, and Husain Abdullah is quickly catching the eyes of Kansas City's coaching staff. Also, Sanders Commings, a rookie who has been sidelined during the preseason with a broken collarbone, is a more talented athlete than the aforementioned two.
Lewis will spend 2013 attempting to fend off his competition and will only do so if he returns to his 2010 and 2011 form.
Expect: high football IQ, few mistakes.
Don't Expect: jaw-dropping highlights, spectacular statistics.
PFF Position Ranking, 2012 Ss: No. 81 of 88.
For daily doses of Chiefs news, follow Brett on Twitter: