Preview and Prediction for Omar Narvaez vs. Felipe Orucuta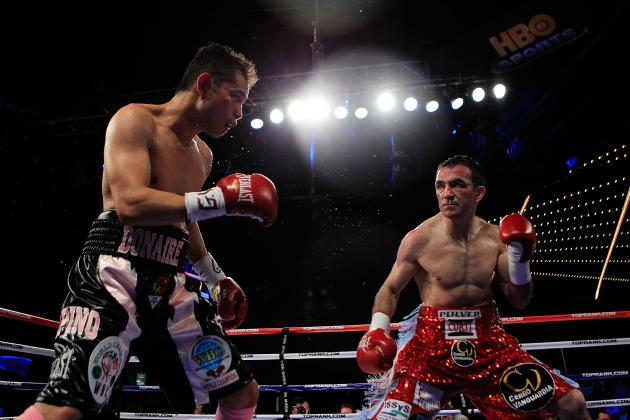 Chris Trotman/Getty Images
Narvaez's lone loss came to Nonito Donaire in 2011.
The WBO super flyweight championship will be on the line this Saturday night in Argentina, as Omar Narvaez defends his title against No. 1 ranked contender Felipe Orucuta.
Narvaez (38-1-2, 20 KO) won the title in 2010 and has successfully defended it six times. His lone career loss came when he jumped up in weight to challenge for a share of the bantamweight title, and was easily defeated by Nonito Donaire.
Felipe Orucuta (27-1, 23 KO) is the WBO's top contender at 115-pounds and will enter the fight on a nine fight knockout streak, including two consecutive first round knockouts. But he has never faced anyone the caliber of Narvaez and will be fighting for the first time in a hostile environment.
Read on for our preview and predictions for this Saturday's super flyweight championship fight!
Begin Slideshow

»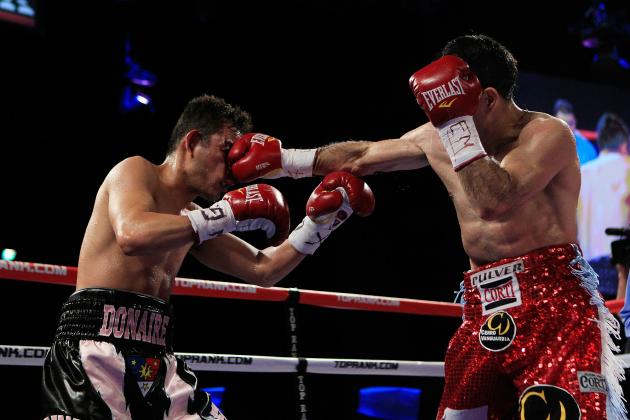 Chris Trotman/Getty Images
Narvaez has a huge edge in competition and experience.
At 37-years-old, Omar Narvaez enters this bout with a huge edge in experience. He's been a world champion since 2005, first at flyweight and now at super flyweight, and has faced a higher quality of opposition.
Narvaez presents a tricky, hard to solve, southpaw stance that has frustrated all his opponents, save for Nonito Donaire, who dominated him for an easy unanimous decision win back in 2011.
Felipe Orucuta will enter the ring as the taller fighter and appears, at least on paper, to be the stronger puncher. But most of his wins have been against unknown fighters, with less than stellar records so it's very difficult to tell whether his punching power is legit.
He will be fighting outside his native Mexico for the first time.
Record:

Narvaez

38-1-2, 20 KOs

Orucuta

27-1, 23 KOs

Height:
5'3"
5'7"

Reach:

Unlisted
Unlisted
Weight:
115
115
Stance:
Southpaw
Orthodox
Hometown:
Trelew, Chubut, Argentina

Atizapan de Zaragoza, México
Rounds:

346
96
*All stats courtesy of Boxrec.com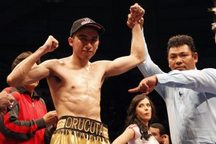 http://deportes.univision.com/boxeo/noticias/article/2013-01-27/felipe-gallo-orucuta-en-camino
This fight features a few of boxing's classic storylines. You'll see the older, established champion putting his belt on the line against a younger, less experienced opponent. You'll see a boxer in Narvaez—eight of his last nine fights have gone the distance—against a puncher in Orucuta, who has knocked out his last nine opponents.
Narvaez is 37-years-old now and considered by many to be amongst the top, if not the top, super flyweights in the world. He's held a world championship since 2005, since before Orucuta even began fighting, and has only been defeated once, at the hands of Nonito Donaire. He likes to box and has a tricky southpaw style that confuses many foes.
Orucuta is a young, power-punching Mexican fighter who will be making his first trip outside of his country for a fight. If you believe the pure numbers, this kid can really punch. But his resume of opponents doesn't feature any big name opponents
Orucuta did beat Fernando Vargas in 2009, just not the Fernando Vargas you are thinking about.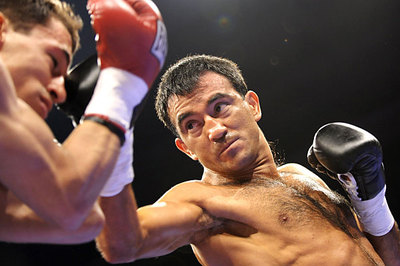 http://espn.go.com/boxing/story/_/id/7131322/nonito-donaire-says-omar-narvaez-saturday-fight-just-beginning
Omar Narvaez has a massive edge in experience, and quality of opposition. He's simply been in the ring with a a higher level of competition, and he's beaten nearly all the guys who have been put in front of him. He prefers to fight at distance, but has underrated in-fighting abilities as well.
Narvaez is a southpaw boxer, who likes to move around a lot in the ring. That makes him a difficult target for most fighters to find. He is anything but a conventional southpaw, using herky-jerky movements, and throwing punches from all sorts of different angles to keep his opponents off balance.
Felipe Orucuta is the younger, and possibly fresher fighter. He's got a 10-year advantage in age, and is taller and longer than his opponent.
Orucuta is a patient power-puncher. He's ended his last nine fights inside the distance, and likes to bang. But he will need to be able to crack through the tough guard Narvaez will present him with if he hopes to make his power the difference in the fight.
http://www.fightnews.com/Boxing/orucuta-stops-ex-champ-pingo-miranda-134678
Omar Narvaez keeps going strong even as he now sits in his late 30's. That's not old by any stretch, but can be tricky for a fighter, particularly one who relies on movement. We've seen it hundreds of times before in boxing, where a fighter suddenly ages overnight.
That's not to say that this is inevitable. Narvaez has shown no signs of slowing down since his defeat by Donaire, but it's just that it's something to watch out for in any fighter this age.
Felipe Orucuta will be fighting away from his home turf for the first time in his career. He is light years behind Narvaez in experience and it will be interesting to see how he handles both it, and the hostile environment.
We don't really have much to gauge Orucuta on, since he hasn't faced many notable opponents. It can't be said whether his punching power is legit or the function of weak opposition.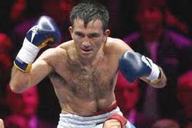 http://www.esmas.com/deportes/otrosdeportes/764886.html
Omar Narvaez will win this fight if he still has enough in the tank to fight his style of fight. He likes to box, and in his recent fights hasn't lost many rounds on the scorecards.
He is a tricky southpaw who likes to fight at very strange angles. That presents his opponents with difficulty finding a target. Even in his loss to Nonito Donaire he was able to effectively stifle his opponent's offensive attack.
That doesn't always make for exciting or intriguing matchups, but it's led him to a career of 38 wins, with multiple world titles in different weight classes.
If Narvaez is able to box effectively and stay away from Orucuta's punching power, he should be in line for another decision victory.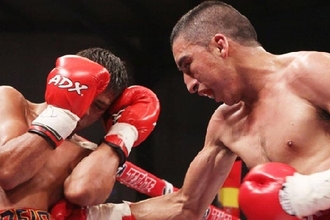 http://www.aztecadeportes.com/notas/box-azteca/90117/se-cambia-el-rival-para-felipe-orucuta
Felipe Orucuta sure seems to have some decent punching power. The 27-year-old has gotten 23 of his 27 victories inside the distance, including his last nine in a row. Unless we are missing some key bit of information, that would indicate that Orucuta can punch, and that's his best chance of winning the fight.
He will need to break through Narvaez's tough guard and connect cleanly with something that will force his opponent to respect him. Otherwise he risks getting comprehensively outboxed by his slick, southpaw opponent.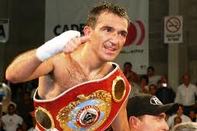 http://www.eldia.com.ar/edis/20130510/Omar-Narvaez-cargo-duro-contra-Maravilla__-20130510191750.htm
Unless he gets old overnight, which isn't out of the question, its hard to see Omar Narvaez losing this fight. He will be fighting in front of a supportive home crowd, against an opponent who has never really beaten an opponent of much note.
Look for Narvaez to exploit all the little things you pick up in nearly 400 rounds of professional boxing, and use his experience to frustrate his younger opponent.
Orucuta enters the fight with the proverbial puncher's chance, but Narvaez is too tight defensively, and too smart to get caught with something. It's gonna be a very frustrating night for the 27-year-old Mexican, as Narvaez will win a unanimous decision somewhere in the 116-112 score range.
Prediction: Omar Narvaez UD 12