7 Position Players New York Mets Should Target in the 2013 Draft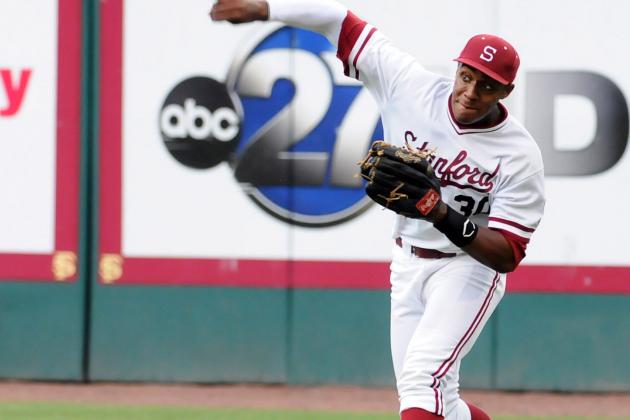 Melina Vastola-USA TODAY Sports

Ah, the Major League Baseball draft; the one draft in the four major professional sports that is essentially a crap shoot. You just never know what is going to happen. For every Ken Griffey Jr., there are seven or eight Brien Taylors just waiting to decimate a team's future.
There will never be another Griffey Jr., but here's hoping that the New York Mets find someone closer to him than Taylor with their No. 11 overall pick in the 2013 MLB draft.
Sandy Alderson has done a good job of putting together some high-potential arms down in the minor league ranks, so it would make sense for this year's draft to be about acquiring a top-notch hitter who can rise fast and contribute relatively soon.
While that is the perfect scenario, it is nowhere near a foregone conclusion. More often than not, front office executives look for the best—or closest to can't miss—player on the board because of the unpredictability of the talent pool.
Here are seven position players that the Mets should consider taking in the 2013 draft.
Begin Slideshow

»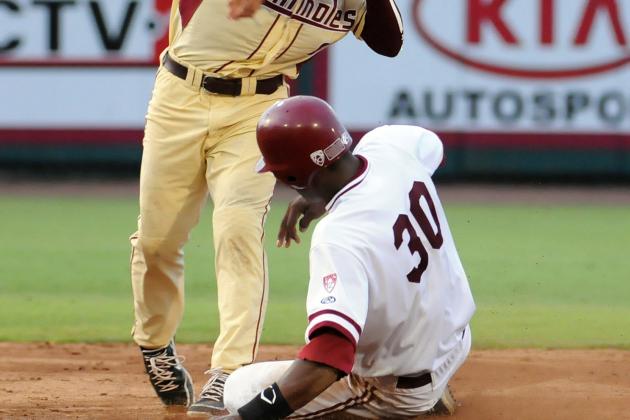 Melina Vastola-USA TODAY Sports

The first thing that comes to mind with Stanford outfielder Austin Wilson is his size. At 6'5", 245 pounds, he has that Giancarlo Stanton power build that so many teams are looking for in their young corner outfielders to be.
He has shown some signs of that potential power, especially through 24 games with the Cardinal this season, and his strength will only increase as he ages.
Wilson passed up on the draft when he came out of high school, which means that scouts have known of his potential for the last few years. He'd obviously be closer to the majors than a high school prospect, making him especially attractive to the New York Mets due to the absence of outfielders with major league ready skill sets in the system.
Will Wilson be on the board when the Mets make their pick? We won't know until draft night. If he is, don't be surprised if Sandy Alderson and Paul DePodesta snatch him up.
Loganville High School outfielder Clint Frazier is a line drive machine and it's easy to tell from a little bit of tape. The object of a home run derby isn't to hit line drives, but Frazier put on a nice little display at the various showcases included in this video.
ESPN analyst Keith Law asserted that Frazier has "some of the best bat speed that [he has] ever seen on an amateur prospect." Law clearly holds Frazier in high regard, but went on to say that he isn't too advanced at the plate in terms of pitch recognition and what pitches are coming in what circumstances.
That's going to change with experience as it does with most hitters who want to remain relevant.
My favorite part about Frazier at the dish is his quick wrists. Maybe I'm just sick of watching New York Mets players strike out due to slow bat speed, but there's something about watching a guy flick his wrists and effortlessly turn on a fastball.
Austin Meadows out of Grayson High School is one of the top physical tools prospect in the 2013 draft due to his prototypical major league outfielder height and weight. He doesn't have that long, sweeping swing that many lefties do, which should enable him to hit for contact as well as power at the next level.
Meadows wouldn't be an ideal prospect for the New York Mets, as he is just 18 years old and very far away from having the skills to be a major league starter. Think of him as a Brandon Nimmo kind of guy—great tools, but they won't be seen in the majors for quite some time.
The risks are clear when drafting a guy straight out of high school. Meadows is currently committed to Clemson, so there's always a chance that the team that drafts him could lose out on his services.
But, if he's still on the board and the Mets could successfully sign him to a deal, there is middle of the order capability in the 6'3", 200 pound center fielder.
The following video doesn't show much in terms of Hunter Renfroe's overall game, but it does tell you one thing: Renfroe is country strong.
He's going to be fun to watch down the line strictly because he's one of those guys who swings out of his shoes every pitch. Renfroe's herky-jerky swing may concern some teams, but he somehow manages to keep his hed perfectly straight despite the torque he produces.
Another plus about Renfroe is that he's already 21 and will be 22 before next season kicks off.
But there's no denying that Renfroe is benefitting from one of the weaker drafts in recent years. The 2013 class has its gems, but it isn't particularly deep toward the front end of the first round. He'll definitely show some power when he's drafted, but he'll need to raise his average to become a great major leaguer.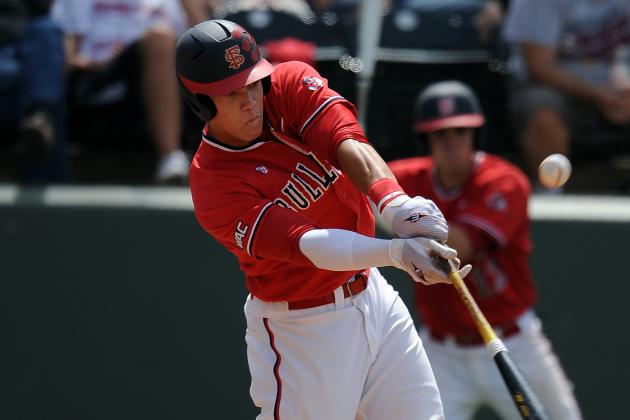 Jayne Kamin-Oncea-USA TODAY Sports

If you thought Austin Wilson was big, go ahead and watch some tape on Aaron Judge. There isn't a surplus of 6'7", 250 pound outfielders in Major League Baseball, so the Fresno State corner outfielder is raising eyebrows before the draft.
We'll start with the knocks on Judge before getting into the positives. He's going to strike out a lot at every single level he plays at. There's no way around it. It doesn't take a major league scout to realize that his strike zone is larger than the average hitter, as well as the fact that his long swing has substantial holes in it.
But for all the downsides, there are positives to be gleaned from Judge's game.
First off, Judge had a two-homer game off of top prospect Mark Appel, who figures to be one of the top young pitching prospects in the game a few years down the line. Judge has crazy power (duh) and gets on base at a respectable clip. He's a good on the defensive side, both in terms of his glove and arm, and doesn't display that clumsiness that many his size do.
Serra prospect Dominic Smith is the jack of all trades of this year's draft, as he plays first base, outfield and is even renowned for his pitching prowess. However, he's nowhere near as good of an outfielder as he is a first baseman, but he plays first particularly well.
Don't expect Smith to play anything other than first base at the major league level despite his plus arm in the field. His worth will come from his ability at the dish, though. While Smith is a big, powerful prospect, he has the type of swing that will translate to contact throughout the minor leagues.
It's a smooth, level swing that is quick through the zone and has translated to a whopping .482 batting average this season to go with his .625 on-base percentage (via maxpreps.com).
Chances are that Smith may not be around when the New York Mets make their pick. He's that high on every team's list. But if he is, don't be surprised if you see him in an orange and blue hate.
DJ Peterson won't have a set position when he is drafted, but that doesn't mean he's not defensively sound, as he most certainly is at both corner infield positions.
But, as is the case for most prospects in every draft, it's his bat that has teams interested. Peterson ranks in the top-10 with a .400 batting average (eighth), 16 home runs (sixth), .514 on-base percentage (fifth), 64 runs (fourth), 67 RBI (fourth) and an .805 slugging percentage (second),
He does it all at the dish and all signs point to him winding up as a successful prospect in any major league system. He doesn't get all the recognition he should because of the team he plays for, but executives and scouts undoubtedly have him as one of their top-ranked corner infielders.
Keep Peterson's name in your mind. Maybe he'll replace Ike Davis one day (although that day won't be any time soon).