Predicting Which NBA Stars and Coaches Will Sign Extensions This Offseason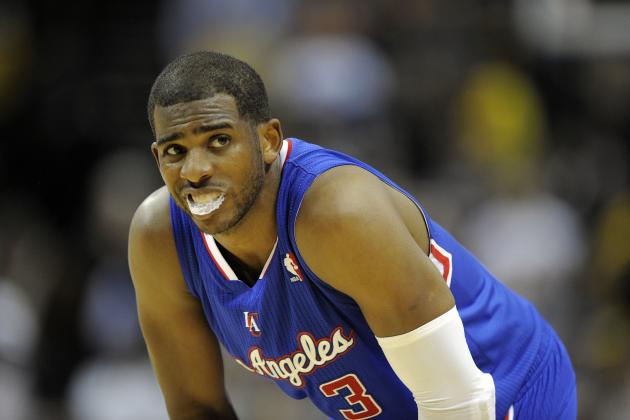 John David Mercer-USA TODAY Spor
Los Angeles Clippers' Chris Paul
This list is predicting which NBA stars and coaches will sign contract extensions with their current team this offseason specifically.
It features players and coaches who are on expiring contracts as well as those signed through the 2013-14 campaign. Early extension candidates from the 2010 draft class were highlighted, along with those free agents most likely to re-up with their current team.
The stars on this list are more likely to stay with their current team than other free agent stars like Josh Smith of the Atlanta Hawks.
The coaches listed are also more likely to sign an extension this offseason than Vinny Del Negro, for example, of the Los Angeles Clippers.
Begin Slideshow

»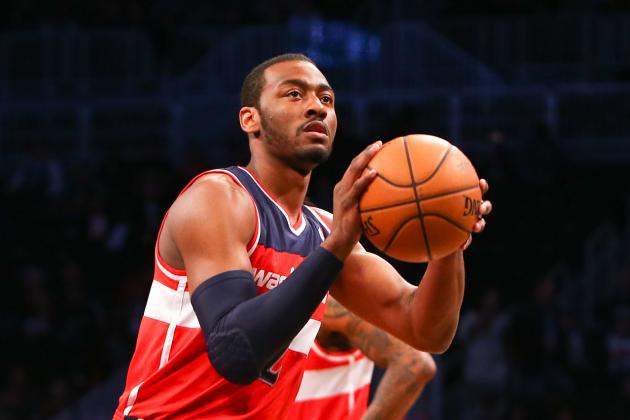 USA TODAY Sports
Washington Wizards' John Wall
Early Extension Candidate
2013-14 Salary: $9.7 million
There are two distinct possibilities for John Wall and the Washington Wizards this summer.
One could include signing an early extension offer similar to the one Stephen Curry did this past October with the Golden State Warriors for somewhere in the neighborhood of four years, $44 million.
This would save Washington money under the max-salary threshold while also allowing Wall to bank a whole ton of cash without the threat of suffering another injury like he just returned from in 2012-13.
The other option for Wall could include holding out, balling out in 2013-14 and then trying to sign for max dollars after next season.
In the end, expect Wall and the Wizards to come to terms on a contract extension at a figure near but under the maximum salary threshold that will keep him in Washington for years to come.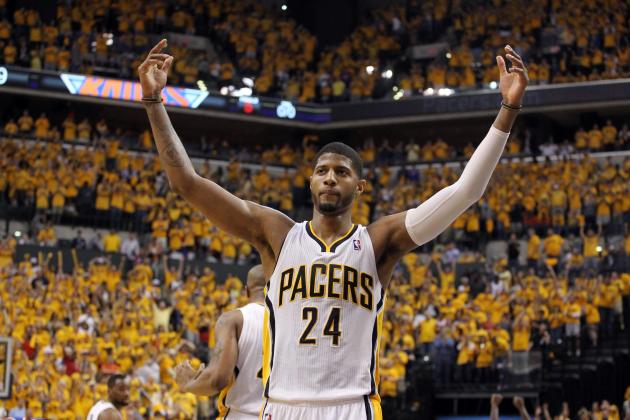 Brian Spurlock-USA TODAY Sports
Indiana Pacers' Paul George
Early Extension Candidate
2013-14 Salary: $4.5 million
After being selected 10th overall out of Fresno State in 2010, Paul George will become an early extension candidate this summer.
The Indiana Pacers will do everything they can to build their franchise around the 2013 All-Star, which could include a max contract extension this offseason.
George averaged 17.4 points, 7.6 rebounds and 4.1 assists during the regular season before improving those numbers across the board to 19.1 points, 8.3 rebounds and five assists in the playoffs.
Expect the contract offered to George as a result to be similar to the extension James Harden just received from the Houston Rockets, in the five years, $80 million territory.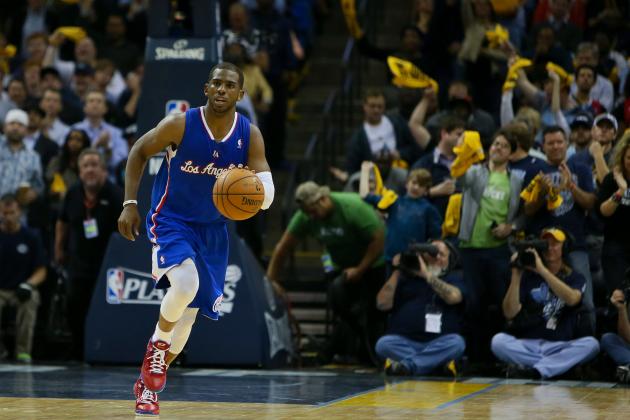 Spruce Derden-USA TODAY Sports
Los Angeles Clippers' Chris Paul
Unrestricted Free Agent
2012-13: $17.8 million
The maximum contract offer from the Los Angeles Clippers is on the table.
The decision to re-sign a long-term extension that will keep Chris Paul with the Clippers moving forward will be CP3's to make exclusively.
Any team with cap space this summer will undoubtedly attempt to emerge as a potential suitor, but it appears Paul will inevitably stay in Los Angeles.
Head coach Vinny Del Negro, on the other hand—after failing to make the adjustments necessary to advance out of the first round this postseason—might not be back to coach Paul next year.
Whether he is or isn't, though, I predict that CP3 returns to continue building with Blake Griffin and company while learning from the collective experience gained in 2012-13.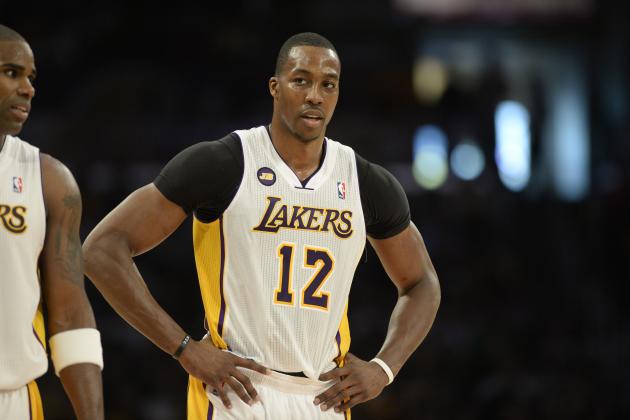 Richard Mackson-USA TODAY Sports
Los Angeles Lakers' Dwight Howard
Unrestricted Free Agent
2012-13 Salary: $19.5 million
Dwight Howard may spend the offseason confirming that the NBA universe still loves him by engaging in the wooing process associated with superstar free agency.
In the end, however—after making even more fanbases upset by projecting the false possibility that he's close to signing with their favorite team—expect Howard to re-sign a long-term extension that will keep him with the Los Angeles Lakers for as long as possible.
Howard needs the Lakers as much as the Lakers need Howard.
He will have the opportunity to not only win in L.A., but to continue playing for a fanbase that has supported him through a challenging season both on and off the court.
Howard will realize all that at the end of the day, I think, and sign a max extension with Los Angeles this summer.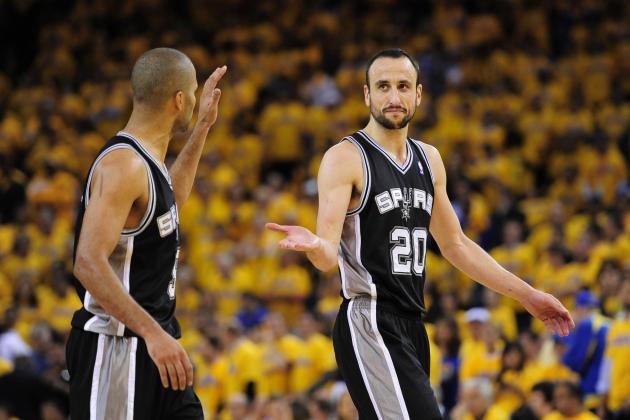 Kyle Terada-USA TODAY Sports
San Antonio Spurs' Manu Ginobili
Unrestricted Free Agent
2012-13 Salary: $14.1 million
Manu Ginobili will not earn the same type of money he did in 2012-13 ever again, but expect a contract extension at a lesser value to be offered by the Spurs this summer.
While Ginobili's scoring average of 11.7 points represents his lowest postseason output since 2003, he is still very much the same X-factor he's always been for coach Popovich and the Spurs offensively.
Despite the fact that Manu is now 35 years old with a series of injuries on his resume, there will still be interest around the league in a player of his stature who averaged 11 points during the regular season.
In the end, however, enough interest will be shown by San Antonio to keep Ginobili in a Spurs uniform.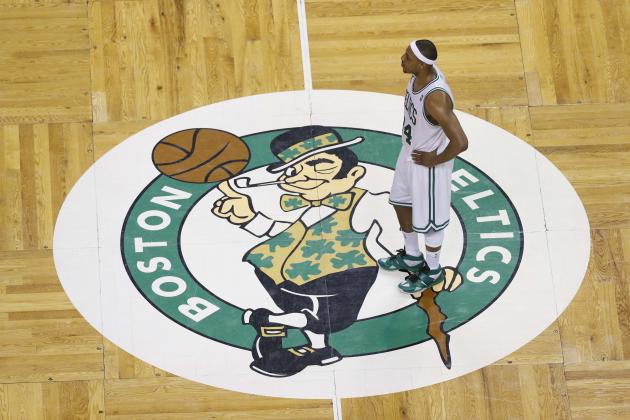 Greg M. Cooper-USA TODAY Sports
Boston Celtics' Paul Pierce
Player Option / Partially Guaranteed
2013-14 Salary: $15.3 M ($5 M guaranteed)
Maybe it's because I can't see Paul Pierce playing in any other uniform than Celtics' green.
Or maybe it's because Pierce is still a more-than-capable player in this league, having just averaged 18.6 points, 6.3 rebounds and 4.8 assists in 2012-13.
Whatever the reason, I predict the Celtics will do the right thing by working out an extension this offseason that allows Pierce the opportunity to retire in Boston.
With Doc Rivers under contract for three more years, the Celtics will continue to have a chance to win with Pierce on board.
I understand it might be smarter to part ways with an aging talent now, before his productivity falls off, but some things in sports are bigger than statistics and contracts.
Pierce's lifelong marriage with the Celtics being one of those things.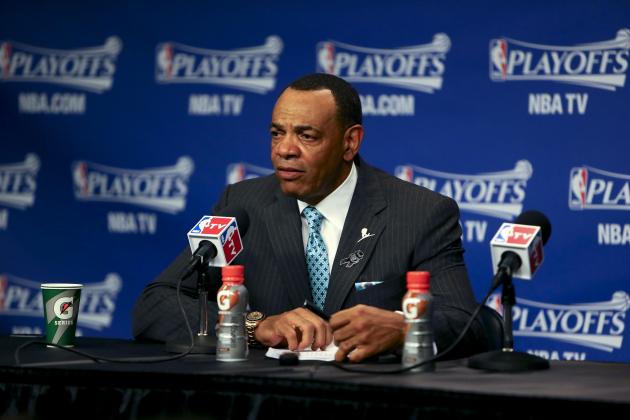 Spruce Derden-USA TODAY Sports
Memphis Grizzlies' Coach Lionel Hollins
Lionel Hollins' coaching contract with the Memphis Grizzlies is set to expire at the conclusion of the 2012-13 campaign.
That conclusion has been delayed, of course, because Hollins' Grizzlies are currently playing for the Western Conference championship.
Despite that, though, there is speculation that Hollins will not receive an extension to stay in Memphis beyond this year.
But while I understand there is a fundamental disconnect in terms of basketball philosophy between the metrics-based front office of the Grizzlies and the old school, no data approach of Hollins, I simply don't see how a coach who leads his team to the Western Conference finals doesn't get an extension.
Besides simply playing for a chance at an NBA Finals berth, Hollins also navigated through the midseason trade of leading scorer Rudy Gay as his team continued to play stifling defense throughout his tenure on the sidelines.
In response to those efforts, expect that extension to eventually come for Hollins this offseason.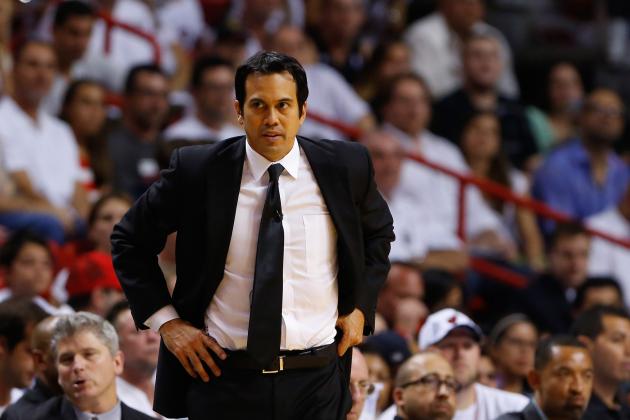 Robert Mayer-USA TODAY Sports
Miami Heat coach Erik Spoelstra
The contract extension that Erik Spoelstra signed with the Miami Heat in December of 2011 is set to expire at the conclusion of the 2013-14 campaign.
In the event this Heat team goes on to win their second consecutive NBA championship in 2013, which appears likely at this point, expect Coach Spo to receive another extension this offseason that would keep him in Miami beyond 2014.
During his five seasons as head coach, Spoelstra has led the Heat to a winning record each year while compiling an overall regular-season mark of 394-260.
While he has had the most talented roster in the league since 2010, Spoelstra has also done what he's needed to do in order to put that talented roster in a position to maximize their abilities.