The NFL's Top 10 Passers of 2009
You might think, "Well, it is draft time and I should be talking about that," but I thought it would be more fitting to do this. The NFL, as we know, is a pass-happy league nowadays, and that's how it is, so it got me thinking of QB performances. So I compiled a list of who I think will lead in passing this year.
None of the players listed are rookies because I don't see a breakout year for rookie QBs like we saw last year. And the man shown above, Jake Delhomme, just got kicked out of my top 10, so anyways, on with the show.
(Note: I originally intended to publish this before the draft, but I waited a a little bit to put it together because I've been busy.)
No. 10: Carson Palmer, Cincinnati Bengals (3,558 Yards, 20 TDs)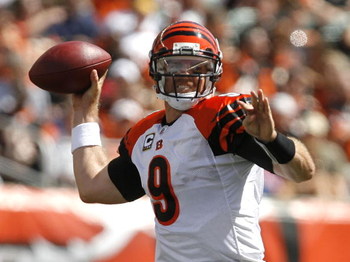 Palmer is destined to have a comeback season this year. You know he is looking to lead his team to some type of success. Although the troubles of Ocho Cinco are in his face, I'm still expecting him to do well this year.
No. 9: Matt Ryan, Atlanta Falcons (3,609 Yards, 21 TDs)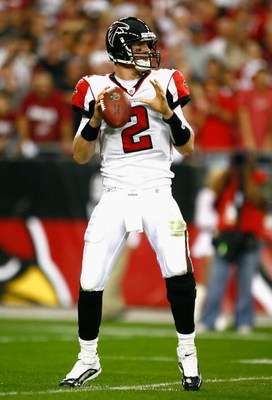 You thought he was good last year. Expect more. With a returning team that they had last year, and a new weapon in Tony Gonzalez, I am expecting Atlanta to return to the playoffs with an even stronger surge. I expect them to win the NFC South, although you can never predict that division. Anyways, expect more from this kid than what he did last year.
No. 8: Kurt Warner, Arizona Cardinals (3,771 Yards, 23 TDs)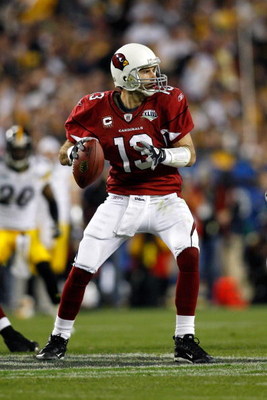 He got his new contract, and now he's looking to get back to the Super Bowl. I just don't expect him to have more yards than last year though. He's aging, and with how the seven above him look, I wouldn't expect too much. Plus throw in the factor that he's probably going to lose one of his weapons in Anquan Boldin, and I don't expect as much as last year. I still predict many yards because he will still have Larry Fitzgerald to throw to.
No. 7: Jay Cutler, Chicago Bears (3,850 Yards, 23 TDs)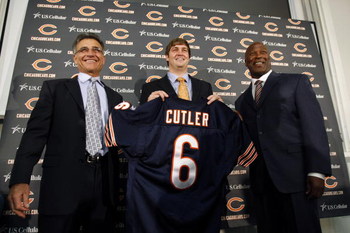 Now I have my mixed thoughts about Cutler. In my opinion, I think he's a stubborn crybaby who got what he wanted just because he almost got traded and his Butt-Buddy Mike Shanahan was fired. But that doesn't mean he won't bring up some numbers this year. I expect his totals to go down from last year because he needs some weapons other than Devin Hester.
No. 6: Matt Cassel, Kansas City Chiefs (3,930 Yards, 23 TDs)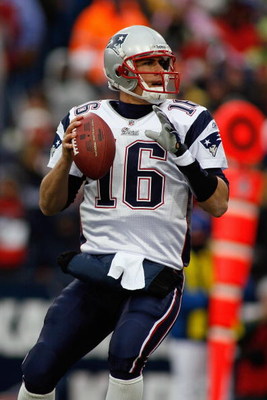 I'm expecting Cassel to be as good as he was last year. He may not have receivers as talented as he had in New England, but he still has Dwayne Bowe, the newly acquired Bobby Engram, and others in a well put-together group of receivers that could help Kansas City bounce back.
No. 5: Ben Roethlisberger, Pittsburgh Steelers (4,012 Yards, 25 TDs)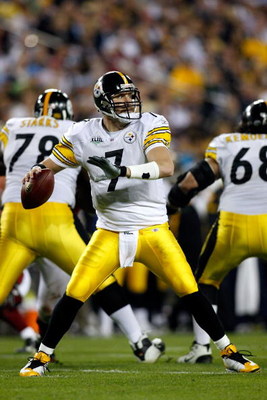 Although he has never thrown for over 4,000 yards in a season, this is very possible this year. Although he likes to scramble more and they're more of a run the ball team, I don't think "Big Ben" will be running as much—especially after that scare they had with him in week 17 vs. Cleveland last year. He also has the receivers to try to make another Super Bowl run. I'm expecting Ben to try to get even better.
No. 4: Philip Rivers, San Diego Chargers (4,120 Yards, 28 TDs)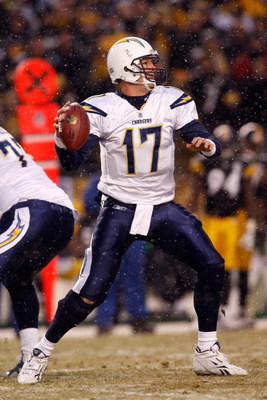 With a huge passing year last season, I'm expecting Rivers to be even better this year. He is looking to get some redemption and a better record than 8-8, and he's not getting any younger. Neither is LT and some of the other veterans on the Chargers squad. If they're gonna make a run, it has to be soon—and if Rivers passes this well, that may just be the answer.
No. 3: Tom Brady, New England Patriots (4,193 Yards, 28 TDs)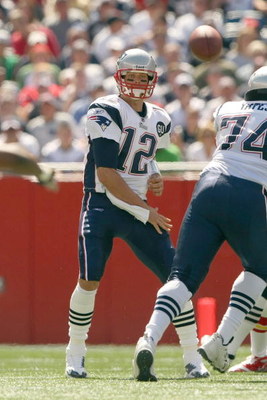 Barring that he's no good after all the surgery (which I highly doubt), Brady is going to look to make a huge bounce-back year and get back right where he left off in 2007. With Randy Moss, Wes Welker, and now Joey Galloway, you can expect big things from Brady (which kinda puts your spirits down if you're a Buffalo fan like me).
No. 2: Peyton Manning, Indianapolis Colts (4,320 Yards, 29 TDs)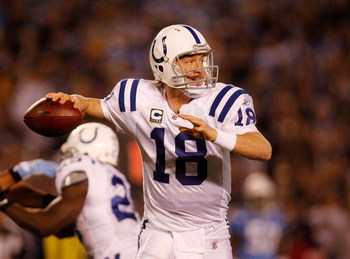 Now I know you're thinking, "Peyton doesn't ever throw that many yards and looks more at the short passing game, and he's getting much older." Well, those numbers eventually add up and pan out very well for Peyton. Now of course I'm not expecting him to be the 2004 Peyton with 4,557 yards and 49 TDs, but I'm expecting him to get high numbers with Reggie Wayne, Anthony Gonzalez, and Dallas Clark. Plus, they are trying to prove themselves after last year's OT defeat to San Diego.
No. 1: Drew Brees, New Orleans Saints (4,773 Yards, 35 TDs)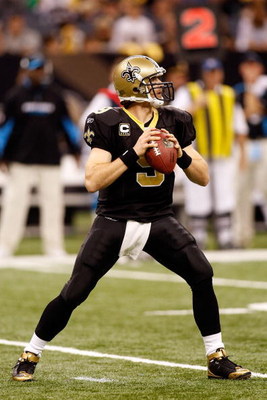 I'm not expecting him to get that close to Dan Marino like he did last year, but I am expecting him to once again turn up the heat on the Saints offense, which could lead them to a division title. But like I said about Matt Ryan and the Falcons, you never know who's going to win that division.
Keep Reading