5 MLB Teams Watching Jurickson Profar's Performance for Summer Trades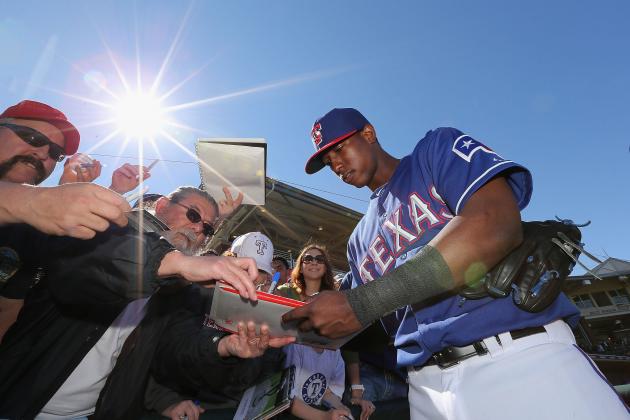 Christian Petersen/Getty Images
Ian Kinsler's injury has opened up an opportunity for Profar to at least temporarily showcase his talent in the majors.
Now that Jurickson Profar will be a semi-regular in the Texas lineup for at least the next couple of weeks as Ian Kinsler recovers from a strained intercostal, per Todd Wills of ESPNDallas.com, we can put those trade rumors from early in the season to rest for good, right? We could, but that's not fun. Here are a few trade ideas that I had in early April involving Profar.
Kinsler will be back. He was having a very good season (.869 OPS). And it's doubtful that he'll switch positions at this point of the season, especially coming back from an injury. So Profar might not have a big role for the Rangers, if any at all, as we approach the trade deadline.
Not that the 20-year-old Profar's trade value isn't already very high, but a few very solid weeks in the majors and he'll ensure that he's a top trade chip that would help the Rangers acquire any of the top players available this summer.
Who those top players will be is yet to be determined. We do know that the Rangers' current rotation includes two rookies, Justin Grimm and Nicholas Tepesch, and Josh Lindblom, whom the Rangers moved back into a starting role after spending the past few years as a reliever. Not exactly the kind of guys that strike fear into opposing teams.
Alexi Ogando is on the disabled list with biceps tendinitis. Colby Lewis, who is coming back from elbow surgery, isn't close to being ready after he was throwing in the mid-80s in a rehab start, and Matt Harrison won't return before August after back surgery. Starting pitching could be a target for the Rangers, and they could be very aggressive if the AL West battle is close. They currently have a 6.5-game lead over the second-place A's.
For a prospect like Profar to change teams, there will be need to be an All-Star-caliber player (or top prospect, as uncommon as those trades are) coming back. Here are five teams that could be keeping tabs on Profar—three with a top-of-the-rotation starter they might be willing to part with, a fourth with a top pitching prospect who could be major league-ready soon and another with a big-time power hitter who would make the Rangers' lineup downright scary.
Begin Slideshow

»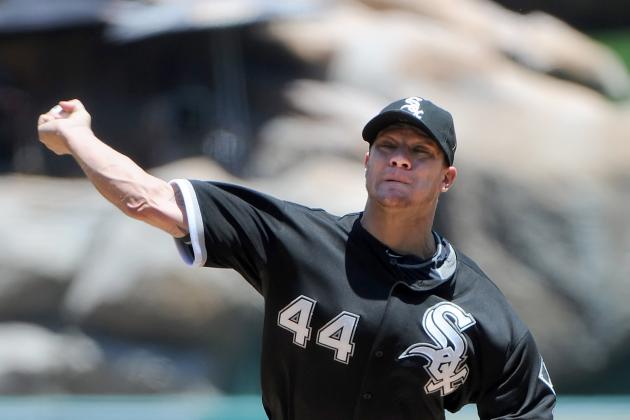 Lisa Blumenfeld/Getty Images

Jake Peavy's injury trouble over the past few years makes this a huge risk, although the 31-year-old has been healthy and very effective over his past 40 starts (3.36 ERA, 270.2 IP, 233 H, 62 BB, 252 K, 29 quality starts). He's signed through 2014 and has a possible player option for 2015 (if 200 IP in 2013-14, at least 190 in 2014; can't be on the DL at end of 2014).
If the White Sox also give back a middle infield prospect of their own —Carlos Sanchez (.568 OPS in 39 Triple-A games; .781 OPS, 26 SB between Triple-A, Double-A, High-A in 2012), Marcus Semien (.803 OPS in 42 Double-A games) and Micah Johnson (.814 OPS, 39 SB in 37 Low-A games) are options— the Rangers would still have something to show if Peavy gets hurt or doesn't pitch well.
And if it's still not enough for Profar and maybe a few fringe prospects, maybe the Sox would also part with Alex Rios, who is having another big season (.921 OPS) and is signed through 2014 with a club option for 2015. The Rangers would probably have to part with another good prospect, although most of the Rangers' good prospects are in the low minors and wouldn't affect the immediate future of the club.
Here's a look at what the Rangers roster could look like in a blockbuster deal that includes Peavy and Rios.
Lineup
Ian Kinsler, 2B
Elvis Andrus, SS
Alex Rios, RF
Lance Berkman, DH
Adrian Beltre, 3B
Nelson Cruz, LF
Mitch Moreland, 1B
A.J. Pierzynski, C
Leonys Martin, CF
Rotation
Yu Darvish
Jake Peavy
Derek Holland
Alexi Ogando
Colby Lewis/Justin Grimm/Nicholas Tepesch/Martin Perez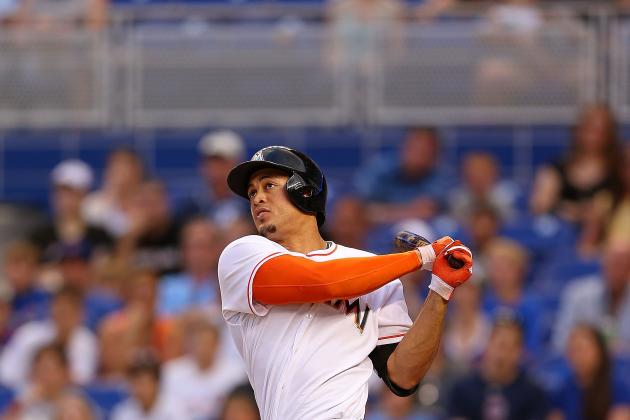 Mike Ehrmann/Getty Images

There's currently no timetable for Giancarlo Stanton's return from a hamstring injury, but it won't take too long for trade rumors to heat up once he does. And the Rangers are one of the few teams who have the minor league talent to acquire him, and Profar is the main reason why.
Back in April, I wrote about a potential Stanton deal involving Profar and third baseman Mike Olt and how it would benefit both the Marlins and Rangers. A reader poll taken at the time showed that 42 percent agreed that it was a win-win, and the rest of the voters were split on whether the Marlins or Rangers would win the deal.
A little over a month later, Olt's value has dropped after a terrible start that may or may not have been caused by vision problems, which he's seen a specialist for but has yet to have it diagnosed. Stanton being out also hurts his value some, but the three years of team control after 2013 and the 96 homers he's hit in 1,399 big league at-bats will ensure it doesn't drop very much.
The Marlins also don't have to trade him, so it's really their call and how high they set his value. They've made some questionable moves over the years, but they're probably not dumb enough to give away Stanton for anything less than Profar and three other very good prospects.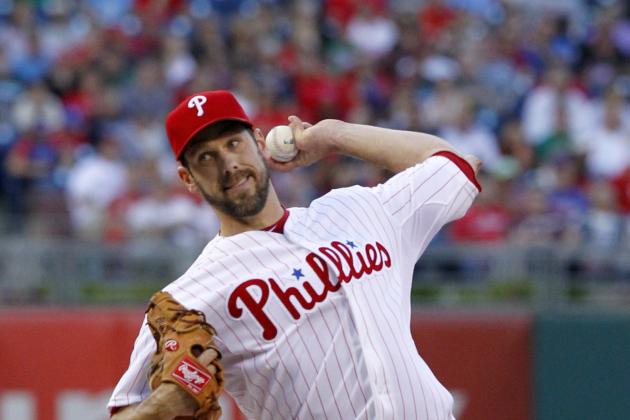 Hunter Martin/Getty Images

In 2010, the Rangers traded four prospects for three months of Cliff Lee and relief pitcher Mark Lowe. This time around, they'd be paying the price for a guy three years older, although just as effective but with $50 million guaranteed in 2014-2015 and another $12.5 million buyout if his $27.5 million option for 2016 doesn't vest.
The cost for Lee three years ago was Justin Smoak, who was a highly touted first base prospect, and three other fringe prospects (Blake Beavan, Josh Lueke, Matt Lawson) who haven't done much in the majors.
Acquiring him this time would not only cost a lot in terms of dollars, but they'd likely have to depart with Profar and more than just three fringe minor leaguers. The 34-year-old Lee, who has a 2.83 ERA in nine starts with 11 walks and 50 strikeouts in 63.2 innings, would also have to waive a partial no-trade clause if the Rangers are on his list of 21 teams where he can block a trade.
Profar would likely play second base in Philadelphia unless Jimmy Rollins, signed through 2014 with a vesting option for 2015, is moved from shortstop. The team could have an opening at second and third base next season, so there's room for the two shortstops to co-exist.
J. Meric/Getty Images

Gerrit Cole and infield prospect Alen Hanson for Profar was one of my early-season trade ideas, and I'll stick by it as one that would benefit both teams. Profar would also step into a potential pennant race in this scenario, likely taking playing time from veteran Clint Barmes (.572 OPS).
Cole, Baseball Prospectus' pick for top pitching prospect in the game coming into the season (No. 3 overall), doesn't always get the results for how good his stuff is, but pitching every fifth day as the Rangers try to stay atop the division late in the season could bring out the best in him.
While the Pirates, 26-18 and tied for second place in the NL Central, could use Cole down the stretch, they appear to have a lot of pitching depth and another prospect, Jameson Taillon (3.02 ERA, 50.2 IP, 48 H, 19 BB, 57 K in nine Double-A starts), whom some scouts like better than Cole.
The 66th-ranked prospect in baseball by Baseball Prospectus coming into the season, Hanson is a switch-hitting shortstop with offensive potential who'll likely move to second base or the outfield in the future.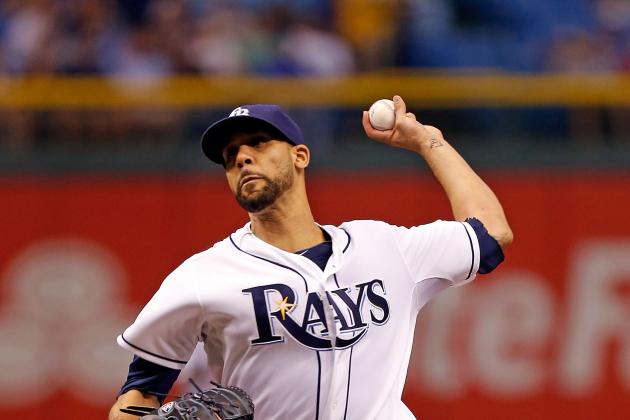 J. Meric/Getty Images

The Rangers were not one of three teams included in my April 19 article, "Assembling Top David Price Trade Packages", despite having the talent to be in the mix. A month later, with starting pitching becoming more of a concern in Texas, it's more likely they'd be in the mix should the Rays make Price available.
Currently on the disabled list with a strained triceps, Price must return in the next few weeks to convince interested teams he'll be able to help down the stretch. A bigger hurdle would be the Rays' position in the standings and their willingness to shop their ace now as opposed to the offseason when they can get more teams involved.
Profar, top catching prospect Jorge Alfaro (.809 OPS in Low-A) and at least one other of the Rangers' top prospects would likely be required to start the conversation. Price, 27, is under team control through 2015 and will be getting a raise on his current $10.11 million salary through arbitration in each of the next two offseasons.